Usersnap – A Platform for Bug-free Online Projects
Are you employed online? Do you have your business online? Is your computer your God father? If so then all your web projects need Usersnap. A visual bug tracker for all your web projects.
Most of us don't know, don't realize that there might be glitches in the regular online methods we use and the glitches are nothing but software bugs. Usersnap is an excellent solution for a problem like this.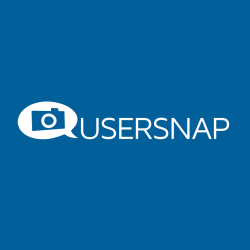 How does it work?
Usersnap.com enables you to create bug reports and collect website feedback without complex feedback forms and endless emails. The Usersnap feedback widget adds in-page reporting to your web site and web project meaning you can co-relate the problems your users are facing and find the exact problem running through your page. The process not only gets simpler but gets smarter and efficient too. The only step you have to take is click on the button to send a bug report or give website feedback with an attached screenshot. No plugins required. It's not only a generic approach to problem solving but it also allows you the functionality on every browser, even on mobile covering all interfaces.
The Usersnap dashboard is a unique feature that collects all bug reports and helps you to fix them faster whilst organizing your feedback & bug reports, easily. The dashboard has prominently three major features –The Viewer, Search and Team collaboration.
The Viewer
The viewer allows you to see the browser screenshot and every information you need to represent the issue: Meta Data, Comments, JS errors and more. You can access bug reports and browser screenshots with the Viewer with an exact visual glimpse of different issues and front-end bugs immediately. The Additional meta-information feature allows you to create website screenshots directly in your browser with the bug tracking and feedback widget. It also lets you assign bugs to your web developers in charge and discuss change requests in the Usersnap dashboard.
It is a wonder how a single feature in the dashboard provides you an easy-to-use toolkit for working on bug reports. With the zooming feature you can zoom in and out on every created browser screenshot. You can give feedback, or make a comment in whatever language you choose. The platform realizes that designers and developers or project managers are people with very different approaches; but still manages to put it all on one page. It also offers a great tool for customer support and helps you to understand your clients better creating clear communication.
No one can know your browser better, Viewer gets quicker access to the needed information to reproduce bugs faster while providing information about installed browser plugins and browser versions. It also helps you to view and solve browser-specific issues inside.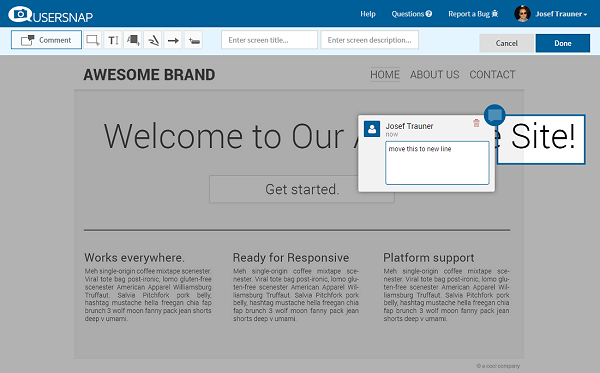 The Search
Search – as the name suggests – helps you find and track for a certain prioritized information on immediate basis. Search makes it all simple by exactly giving you the required information, screenshot or any bug report in an instant. You can look up by name, date or issue definitely upgrading your web experience.
The Usersnap Search is more than just searching. It literally gives your memory a break by offering you different options – such as Labels, Assignees and Reporters – in order to access the needed information faster. The Meta information or certain filters – can be easily accessed. It's a productive feature as it can look up info with the user's name or members name who have created or tested those files. Just type in the tester's name or scroll down to "reporter" and you can select one of your bug reporters and see all the files in similar concern. You can also type full text versions for example just type "Chrome" in the search and all screens will appear. You can even add labels to your full text search (label: bug) which have been reported with Chrome and they will all magically appear. Making hours of work done in seconds.
Team Collaboration
Team work is the spirit of every task, working with a team gives you more options suggestions and faster solutions, considering the same Usersnap allows you to invite your team members and co-workers to start working together on issues and front-end bugs. You can also assign bugs to your web developers in charge and discuss change requests directly in the Usersnap dashboard.
With the bug tracking management tool provided by Usersnap you can manage your bug tracking team and work together on solving bugs. You can give feedback, create browser screenshots or make a comment in whatever language you choose. The Usersnap dashboard is available 24/7 and functionality works for every team member, in every location; even the Moon. It's user-friendly and gives your website testing team all the quality assurance it needs.
Super power for Web developers
Usersnap has a beautiful beneficial edge for web developers. It allows them to get visual bug reports with advanced client-side JavaScript error recording making their work extremely simple and reducing thousands of possible scenarios to one.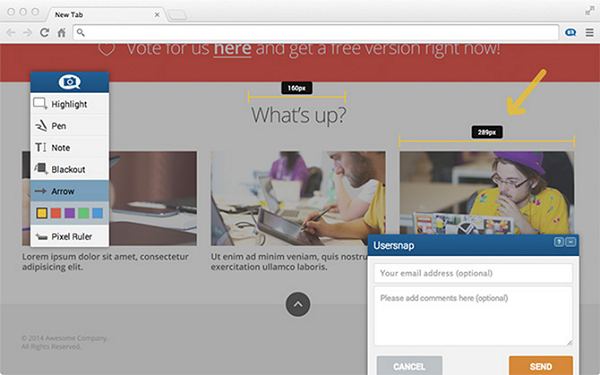 XMLHttpRequest logging comes with every report, allowing your development team to know what actually happens when a user clicks on a button and it doesn't work. It's like giving your developers direct access to the Matrix. The feature also records JavaScript errors as they happen, along with a host of other information needed for super-faster bug reproduction and debugging. It is great to provide data as to which file and on which line the problem is along with even more information.
It also helps in recording user actions to submit with the bug report. In some cases the local time of the user is incorrect, so it's harmonized with server time as well.
Website Interface
The interface is well laid out, visually attractive and very user friendly. There are familiar tools like highlight, pen, note etc. to help you to express yourself & provide feedback. The speed and function are not affected by the websites loading time. You can choose your look and themes as per your corporate identity. Custom made forms for easy information exchange.
Never ask for a screenshot again. Get it from the visual bug tracker @usersnap usersnap.com/ via @supermonitoring
Pricing
Usersnap gives you 15 days free unlimited access, so you can take some time to find the best plan for you. There are three major plans starting at a minimum of $19, $49 and $99. The plans are focused on the no. of projects you are associated with for starters 1 Project with Dashboard and e-mail integration is available at $19 only. There are team and agency packages as well as per your use. Easy and affordable so start now.
Sticky notes, a pen, the pixel ruler will no longer be required as now everything is simple with Usersnap
Get notified about our new posts
By submitting this form I accept the
Privacy Policy
and I agree to receive blog-related information from Super Monitoring.