Track your work time and more in a few clicks with Harvest
In every organization there are a zillion trivial tasks associated with the core work; work force management, sales, human resources and what not. While most of these tasks are the organization's headache, there's one activity that takes up much of the employees' and employer's time and is often a boring but necessary chore. We're talking about none other than work time tracking.
If you've ever worked with a time tracking tool you know that creating user stories, assigning them to employees and subsequent filling in of data by the employees is a rather lengthy procedure and often ends up in wastage of crucial working hours. Having an automatic tool that's easy to understand, use and maintain is the need of the hour. Enter – Harvest!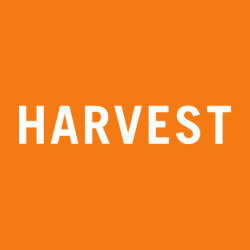 Harvest – Time Tracking was never this easy!
Harvest is an online time tracking tool that's fast gaining momentum. An attractive user interface, easy to use modules and an almost absent learning curve make this tool the optimum choice most corporates are turning to when it comes to work time management.
So what makes it worth all the hype? Here is a short list of its features:
Start-Stop Timers
Harvest gives people the option to enter their work time manually or simply start the timer at the beginning of an activity and stop it at the end – with just a click. Neat, simple and quick!
Omni-access
Since it is an online tool, you can track time using Harvest through Mac, PC, iPhone or any Android device, anywhere, anytime.
Automatic Reminders
Perfect for team management, Harvest lets you set automatic reminders for employees to submit their timesheets. Staff permission adjusting is also possible.
Compare time devoted to different projects
This unique feature lets you comparatively assess the time devoted to different projects, tasks and by employees.
Create invoices seamlessly
Harvest automatically pulls in data for hours and expenses and organizes them to make billing fast, accurate and easy. Plus, it lets you use filters to highlight billable, non-billable, employee or contractor hours.
Export reports
You can even export reports to CSV, Excel, Google Drive and more using this brilliant tool.
With features as impressive as these, Harvest surely seems to be one time tracking tool that is more than just a time tracking tool. It's a one-stop solution for corporates who wish to simplify the entire timesheet process and make their life easier.
How it works
You can check out how Harvest works through an instant free trial. Just click on the big green button on the homepage that says "Try Harvest Free" to start the 30 day free trial. You could also choose to watch a nice little film directed at marketing the tool.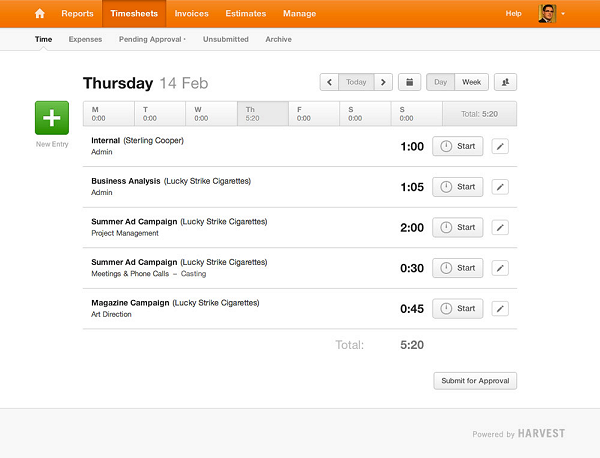 Once you've completed the sign-up (which is free by the way), you're shown a pop-up where you need to verify your currency format and let the makers know how you got to know about the tool.
The next thing you see is a Welcome page and a prompt to "Create your first project". You can get straight to the point or choose to browse through available Webinars (Live online classes), Help Center or Support. If you choose to go ahead with creating a fresh project, you'll see another form asking you for details about the project you want to create. Fill in details like Client name, Project title, dates, invoice method, budget, tasks etc. You can even choose to add people to this project and send them invites to join the project on Harvest.
Once you're through, add tasks to the project if you wish to and Save it. That's actually it! You have a project set up and ready to be tracked with timesheets and all the works. And all it took was 5 minutes, a little information and few clicks. An easy tabbed menu lets you navigate between your timesheets, projects, reports, invoices and management giving the whole thing a very relaxed, even fashionable feel.
Major Advantages of Harvest
The plus point of this tool lies in its professionalism and flexibility. The terminology used in Harvest is very professional and at par with that used in other time tracking tools. You'll find that this tool has everything you need in a time tracking tool with the additional advantage of a sense of ease. The click-next phenomenon, easy creation of projects and tasks make it a definite winner.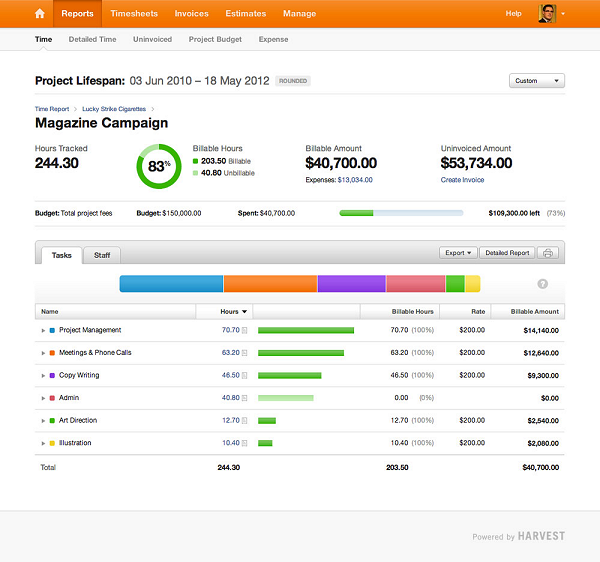 Add to that the easy accessibility factor. As compared to other tools which restrict you to using them within the company's intranet or VPN (virtual private network), Harvest lets you access it and track time from any location as well as any device. That gives the employees a sense of freedom when it comes to working from a location other than office. They can take their work home and manage their time as they wish. This factor can play a major role in boosting productivity and creativity.
Another benefit of this tool's working model can be seen if a company hires freelancers in addition to the regular workforce. With Harvest, the regular employees and the freelancers can work as one team without any technical hindrances. All times can be tracked and maintained as one. That is the actual power Harvest brings with it.
The Bad
The only downside to this tool is the price associated with it. Most organizations today use in-built timesheet tracking tools which are frankly not that difficult to develop and are of course more reasonable to maintain. That said, a tool such as Harvest that comes with a full-fledged set of features, professional feel, far reach, flexibility and user-friendliness is well worth its price.
Track your work time with a few clicks with @harvest getharvest.com/ via @supermonitoring
Final Words
Tracking time should surely not be a time taking activity. However, it unfortunately becomes so quite often. If you're interested in letting go of the headache of maintaining a competent tool that lets you spend less time in tracking and more time in doing, choosing Harvest would be the way to go. So what if it comes for a price? That's an aspect you'll happily overlook once you experience it.
Get notified about our new posts
By submitting this form I accept the
Privacy Policy
and I agree to receive blog-related information from Super Monitoring.