What's Better: WebWork Time Tracker or Toggl Track?
Time Trackers and Their Importance
The rise of remote work has brought forward relatively new software products called time trackers. As more and more companies were going remote, they needed a way to monitor their employees' work to ensure proper workflow. That's when they started to use time trackers.
Despite the general resistance towards time trackers, time and proper use proved them important. Both companies and employees realized how beneficial time trackers can be both for the company and for personal use.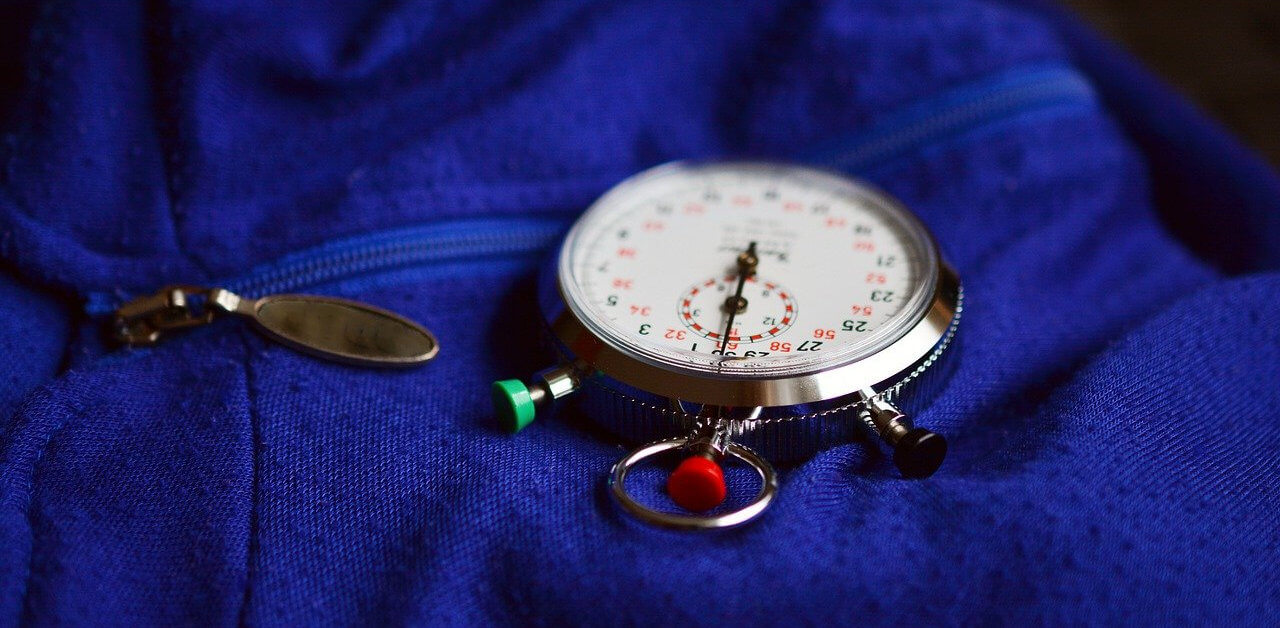 The main benefits of time trackers include increased productivity, better time management, improved sense of responsibility in employees, and saved time.
However, when it came to choosing the right tracker, it wasn't an easy task, as the market was filled with different types of time trackers. Two of these choices were Toggl Track and WebWork Time Tracker.
In the following article, we will look at both time trackers, compare them and decide which is better.
WebWork Time Tracker or Toggl Track?
Let's compare different aspects of both trackers to have a clear view of their differences.
Which one has more features?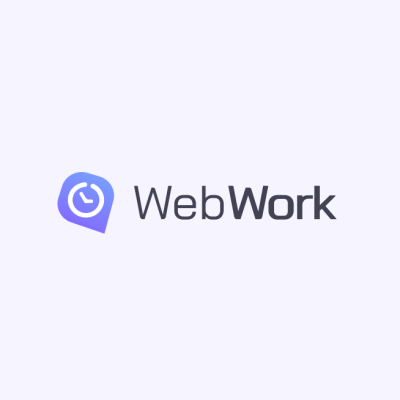 WebWork Time Tracker
WebWork Time Tracker is known for its big range of features, not only for time tracking but for other purposes as well.
Time Tracking
WebWork is originally a time tracker. It tracks the user's time spent on work and creates reports.
It shows the user's timeline, including working and break time intervals.
When the tracker detects no movement on the device for 7 minutes, it stops tracking and starts back when the device is back in use.
WebWork works on the web, desktop, mobile and Chrome extensions.
Screenshots
WebWork Time Tracker has 4 screenshot modes for more detailed work monitoring. These modes allow the user to decide and be able to choose whether they want screenshots or what type of screenshots. The modes are Screenshot, Blurred Screenshot, Background, and No Screenshot.
Attendance Monitoring
To automate the process of attendance tracking, WebWork records employee attendance automatically. It does so using the time tracking information. When the user starts the tracker and finishes at the required time, WebWork records that as attendance for that day.
In case the user is late or leaves early, WebWork asks for the reason.
App and Website Usage
WebWork tracks the use of apps and websites as well. It records the time spent on a website, its name, and the URL. This tracked information is then turned into reports.
The employee can mark certain apps and websites as productive, neutral, and non-productive. Then when the user spends time on those platforms, WebWork determines their productivity level based on how much time they spend on them.
Activity Level
Depending on how active the user is on the device, WebWork determines their activity level. The tracker records the number of mouse clicks and keystrokes and uses that information to create activity-level reports.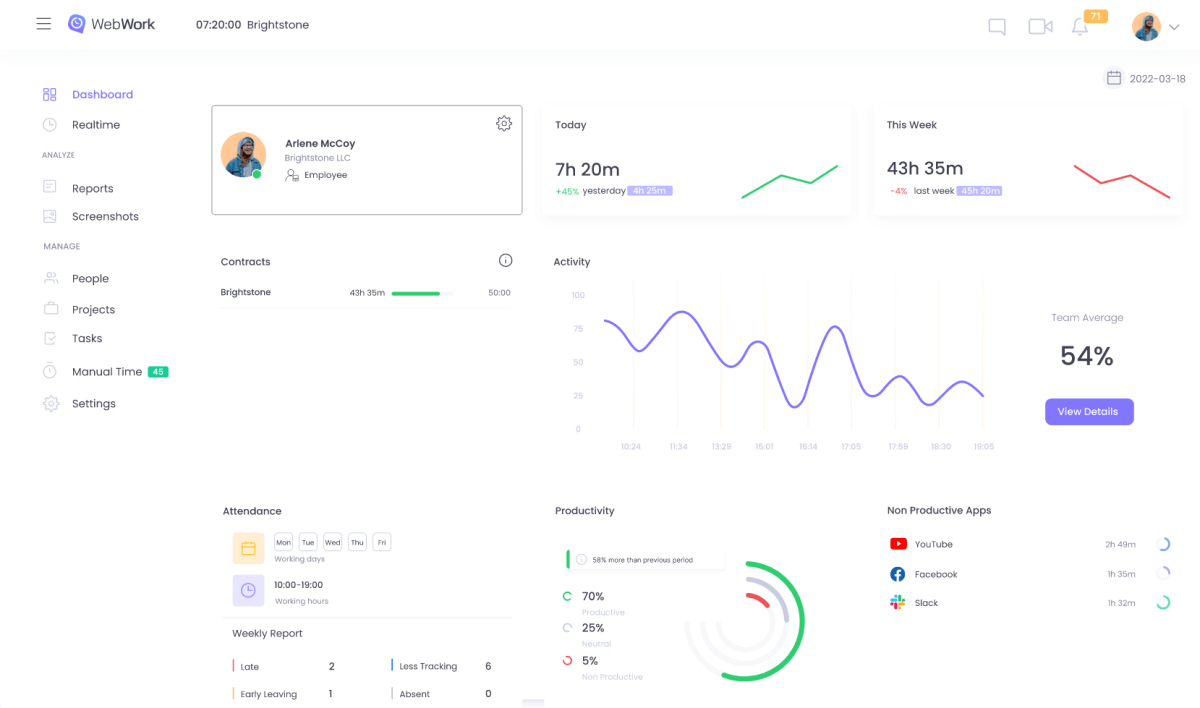 Billable Hours and Invoice
On WebWork Time Tracker, users who work on an hourly basis can turn their tracked hours into billable hours. They simply need to set their hourly rate and WebWork will calculate their earned amount.
Then the users can create an invoice right inside WebWork, using the billing information. WebWork's invoice feature enables users to create an invoice by filling out the necessary information and then send it to the client.
Task Management
WebWork is now also a project management platform. Users can create projects, break them into tasks, assign the tasks to team members and discuss their execution. They can attach files, set deadlines, write comments, and everything else for complete project management.
Team Chat
On WebWork, users can communicate while working and tracking time. WebWork has a Team Chat where users and teams can chat, discuss work, and share files.
Geolocation Tracking
WebWork's mobile app can track not only time but also location. The user needs to give it the necessary permission and WebWork will track their coordinates. These are then provided to the employer if, for example, the employee's work requires them to be on the road.
Leave and Holiday Management
Other than time tracking and project management, WebWork also has an HR feature. That is Leave Management, which simplifies the process of arranging or requesting time off. Employees can request leave, and the managers can either approve or reject it.
Managers can also add public holidays and memorial days to the workspace. WebWork will use that information to notify the employees whether those days will be working or non-working.
Reports
WebWork turns all the tracked data into reports. These include time tracking, attendance tracking, app/website usage, activity level, productivity, and geolocation.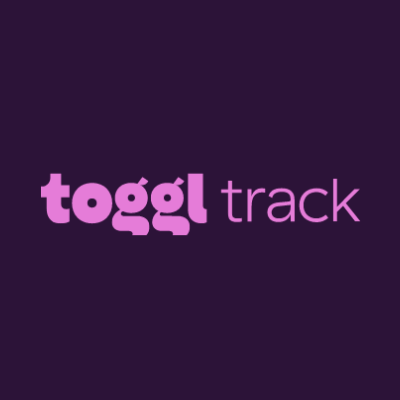 Toggl Track
Toggl Track is a well-known time tracker that's been in the market for a longer period of time. The main thing that sets Toggl apart from other trackers is its lack of screenshots. However, users still love it.
Time Tracking
Toggl Track tracks time with one click. Users can track time on the web, desktop, mobile and browser extensions.
Background Tracking
The background tracking mode automatically starts tracking time on any platform the user spends time for more than 10 seconds.
Calendar Integration
Users can integrate Outlook and Google Calendar with Toggl Track and start tracking time, based on the calendar events. This feature works on the web and mobile apps.
Autotracker
Toggl Track has a feature of autotracking which reminds the user to track time depending on what software they are using.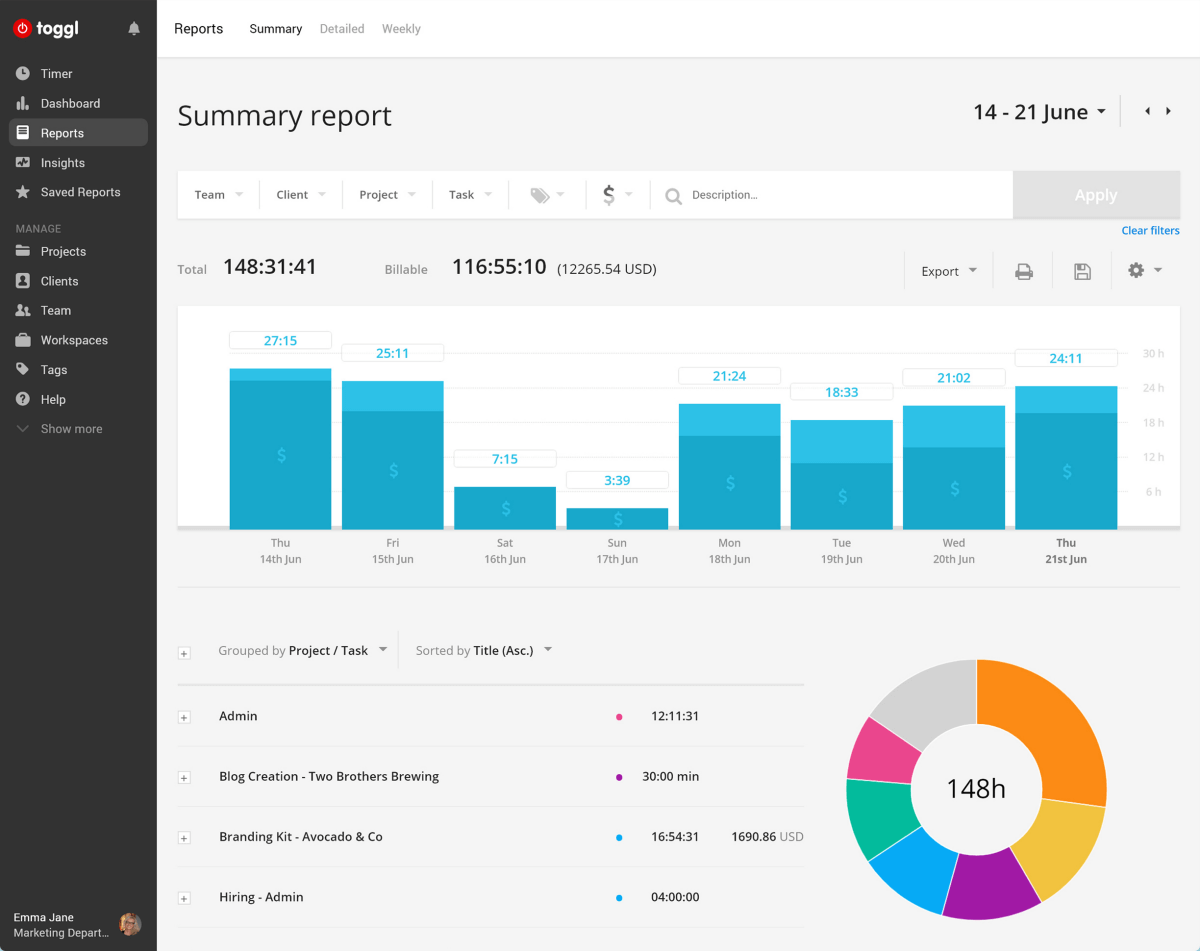 Favorite Time Entries
Users can pin their most used time entries and access them faster. Then they simply need to click on the needed entry and Toggl will start tracking time.
Reports
Toggl Track has 3 types of reports, namely Summary, Detailed, and Weekly. These are categorized based on the level of details and can be exported as CSV and PDF.
These can also be shared with clients through a link.
To keep track of the reports without checking Toggle Track, users can also turn on the feature of receiving regular emails with the reports.
Billable Rates and Fixed Fees
Users can assign billable rates by project, team member, and workspace in order to see what activities are generating revenue. They can also set fixed fees for projects and see whether the hourly billed amount is enough.
Project Estimates
Users can set project estimates and get alerts when approaching those estimates.
Which One Is More Affordable?
WebWork Time Tracker
WebWork Time Tracker has 3 plans:
Free – 14-day trial
Basic – $2.99 per user/month with all features
Enterprise – custom price for teams with 40+ members
Toggl Track
Free – the very basics free for up to 5 users
Starter – $10 per user/month with more features than the Free plan
Premium – $20 per user/month and includes all features
Enterprise – Custom price for large teams
The Final Verdict
WebWork Time Tracker is obviously ahead of Toggl Track in terms of both features and price. While Toggl also has a great variety of features, the lack of most time-tracking features limits the user. WebWork offers all possible features so that the user is free to decide which ones to choose. Moreover, WebWork offers the same features as Toggl, plus much more, and at a price much cheaper than Toggl.
---
About the Author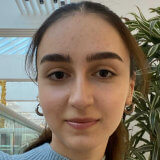 Liana Papyan is a content writer and an English language enthusiast. The only thing she likes more than writing is reading. Her current writing niches are remote work, productivity, time tracking, and the like.
Get notified about our new posts
By submitting this form I accept the
Privacy Policy
and I agree to receive blog-related information from Super Monitoring.