Take Your Task Management to a Whole New Level with Insightly
Modern business organizations understand that they need to find good tech solutions in order to be efficient and competitive on the market. One of the areas in which a lot of business try to improve is their communication both external and internal.
All business organizations need to have contact with their employees and clients. More importantly, there is a huge need for data concerning previous conversations, when they happened and what they were about. A regular business person cannot remember so many things and this is why businesses use CRM tools.
Today, I will talk about a CRM tool called "Insightly" and I'll try to tell you about the impression I got, based on its upsides, downsides, price and features.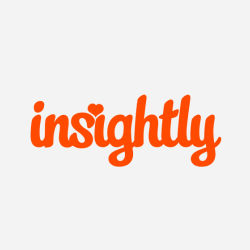 Pricing
There are 5 package options you can get for Insightly, and these are Basic, Free, Professional, Plus and Enterprise. It is also possible to get a 14-day free trial for any of these options. The completely free option allows for two users and you cannot sync the app with anything.
At $15 per month, you can take the Basic package that has unlimited users. It includes lead management with 25,000 records and 1GB of storage space. With Plus, the price is $29, and the capacity is significantly higher; up to 2,500 emails on daily basis, 10GB of space and 100,000 records with 250 added customer fields.
If your needs are even bigger, you can get the Professional package for $49. It has 100 GB, 5,000 emails, and around 500 custom fields with 250,000 records.
If you need even more, you can get the Enterprise package that costs $99 and gives you 10,000 emails, 1,000 fields, and 500,000 records, with 150GB of storage.
Whatever the needs you have, with Insightly, you can get an appropriate package for your business and they are all quite cheap for what they offer.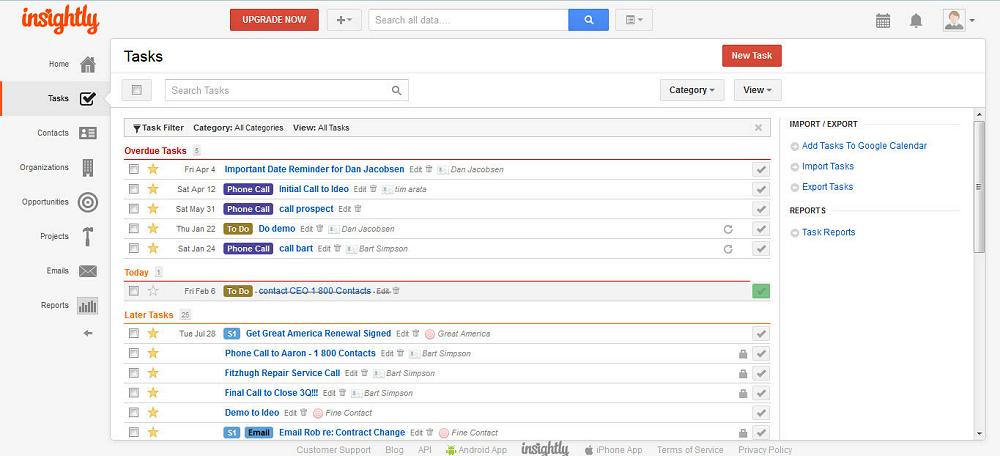 Insightly is easy to use
Most business organizations don't have time to work and learn to use complicated CRM tools. Insightly is truly a simple user-friendly piece of software and even those people who have poor technical skills can get a hang of it quickly. When you first log into Insightly, you will instantly like the intuitive and clean dashboard. With the left sidebar, you can find all the functions you need and they are divided into several categories.
There is one feature I liked particularly. At the top corner of all sections, you will find a toolbar that allows you to find the things you need. This toolbar has a search bar and the only thing you have to do is type in the first three letters of what you need and you will find what you're looking for. If not, you can add filters or sort items for better search results.
Exceptional project management capabilities
A single feature I, as a small business owner, liked the most about Insightly, is the project management capability. This software can help you save a lot of time, as it provides an automated, all-in-one place for task managing, project and event managing. This eliminates the need for using multiple tools.
The project management option also has features such as email, pipeline and task tracking, project reports, automatic reminders sent by email, and you can create milestones. It is also possible to link projects to team members or contacts if you need a quick reference.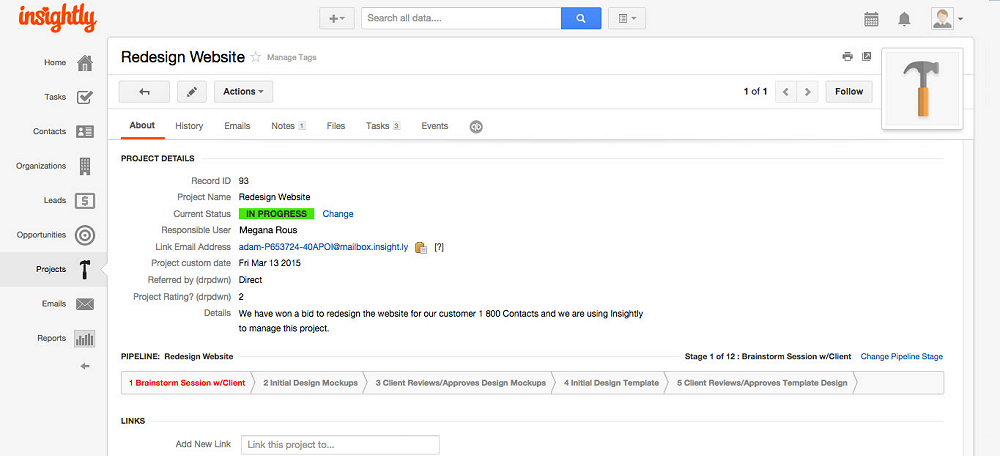 Other interesting benefits
All modern business organizations rely on more than one app. One of the greatest benefits of Insightly is that it can integrate with a lot of useful small business tools. Insightly is a CRM with integrated Gmail, Google Apps, Google Drive, Outlook, and QuickBooks Online.
It also integrates with various file-sharing and cloud storage options, such as Dropbox or Box.
Great on-line #CRM, especially for for smaller organizations: insightly.com/ @insightlyapp via @supermonitoring
Verdict
In my opinion, Insightly is a great CRM you can use for your business, although I think that smaller business organizations would make much better use of it than big ones.
About the Author
Marco is a professional writer and blogger. He will help you understand the power and reach social media for your blog or website. You can find him on First Site Guide and tweet the First Site Guide team @firstsiteguide.
Get notified about our new posts
By submitting this form I accept the
Privacy Policy
and I agree to receive blog-related information from Super Monitoring.