Surfer – SEO Analytics and Data on your plate
SEO is an important aspect of web and the growing trend of Internet shopping has made SEO an essential aspect to achieve success in any online endeavors. We live in a modern age where our digital world surpasses our physical one and just having a basic understanding of it is not going to take you anywhere.
While the internet offers you a goldmine of information about every topic including SEO, sometimes you need an expert to desiccate things for you to help you make improvements, move faster and tap business opportunities that would be otherwise be lost. That's where the cloud-based on-page optimization tool Surfer comes into picture.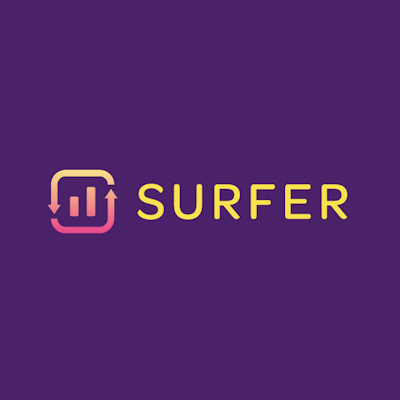 Surfer – Making SEO simple for you
Surfer analyzes SERPs on a deeper level and helps you fine-tune your pages for better ranking. The cloud-based on-page optimization tool compares the key on-page factors of around 40 of the top-ranked website in your business niche. Surfer has many advanced SEO tools that make on-page optimization easier for you. With a detailed analysis of your competitors, you know what needs to be done to surge ahead and achieve top position in SERPs.
Some of the best features of Surfer include:
User-friendly interface – Surfer easy to navigate interface has a menu containing different sections which contain ranking factors that can be displayed on the chart. You can easily switch to the desired section and the tool processes relevant data and presents it in an easy to understand visual format.
Data-driven content optimization – Surfer offers you detailed content optimization. For example, it analyzes every page factor that affects the ranking and gives you a detailed analysis of the performance of every element on the page
Content Editor – It is a newly added feature that helps in the creation of optimized content. This feature allows the writer to create quality content while the Content Editor calculates the spot-on density for primary, secondary, and prominent keywords for your business niche. Besides analyzing important structural elements, it provides a content structure that will help you outrank your competitors.
Technical Insights – Surfer examines top pages across the globe and allows you to understand the strategic advantages quickly and accurately.
500+ Ranking Factors – Surfer allows you to analyze almost every ranking factor in detail and helps you understand the issues that plague your website. It presents you the ranking factors for every section of the website and where you and your competitors stand.
Chart View – This displays data of each website; top 40 websites to be particular. The Y-axis shows the selected factor count while the X-axis shows each website in SERP order. Through the Chart View, you can easily find the correlation between each factor and its impact on ranking.
Google Bot Screenshot – This feature helps you understand how Google search engine views your page. It gives you important information about page resources and the screenshot of how Google renders the page.
Link Analysis – Surfer offers tools for on-page link analysis, a back-link analysis that will help you build a strong link profile.
Additionally, the tool lets you backlink effectively to drive more traffic to your pages. Currently, backlinks are only available for Poland and England, but in the coming weeks 20+ new markets are going to be introduced, including Australia, Canada and most European countries.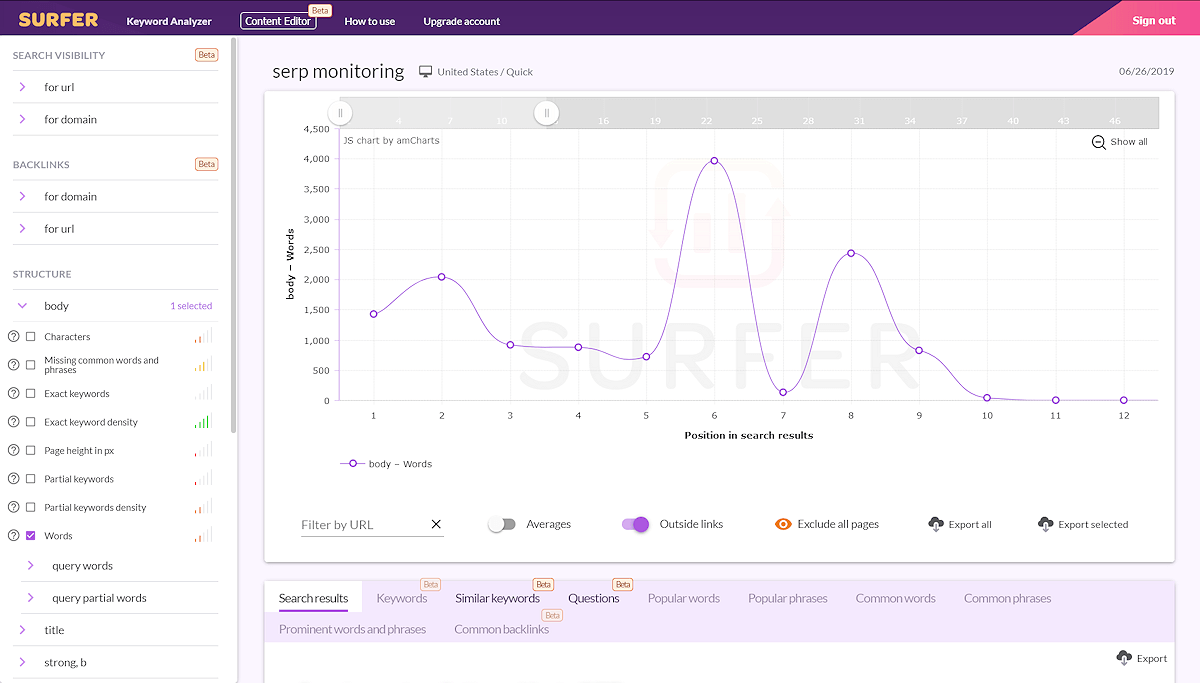 How does Surfer work?
Here's how the tool works:
You need to register to use the tool. Based on the membership plan, you can analyze a number of links or domain.
You can either enter one of your target keywords or URL in the main dashboard to begin with.
You need to choose between desktop and mobile and also select the location by clicking on the country or flag it represents.
The Surfer then runs a deep analysis and presents you with results that actually match with real search results.
The dashboard is divided into different sections that hold different data and you can get information exact popular phrases used by the competitors (top 40 websites). Surfer SEO will find the most popular keywords and phrases appearing in each URL from the top ten websites in your business niche.
You can also check the SERP ranking of every page in your SEO and find out what the top ten websites have and what your page lacks.
In simple words, Surfer analyzes every aspect of your domain that has a role to play in SERP rankings. Besides, it also helps you understand what top competitors are doing which gives you an idea what needs to be done to beat them.
Surfer Explained in 2 Minutes Video:
Pros & Cons
Pros
Provides deep analysis of every SEO aspect
Helps you understand competition better
Location-based analysis
Easy to understand visual presentations
14-day trial offer to test the cloud-based tool
Cons
The limited number of queries for accounts. Even the $100 fee Agency account has a daily query limited account (50).
Currently, the link analysis is only limited to Poland which can be a drawback for global users. But that is going to change soon.
Data-driven SEO: Compare on-page factors of top 40+ ranked websites with @surfer_seo surferseo.com/ via @supermonitoring
Final Words
Google is always updating its algorithms to improve user experience. Without the right SEO tools, there are no chances you can beat your competitors. Surfer is a new age SEO tool that makes SEO analytics simple for you and helps you understand what needs to be done to bring your website in top position.
Get notified about our new posts
By submitting this form I accept the
Privacy Policy
and I agree to receive blog-related information from Super Monitoring.