Starget – Your Safest Bet for Expanding Facebook Reach
Over the past decade, the digital form of marketing has picked up tremendous pace. It's evident from the fact that a social media giant like Facebook has introduced a marketplace! Although expanding mediums of marketing are largely advantageous as they can provide a much wider reach, they come with the disadvantage of having to come up with newer strategies to locate prospects from a pool of online buyers.
In this sort of scenario, if you as a business owner aren't up to speed with the latest marketing trends, you should be prepared to lose out on potential revenue.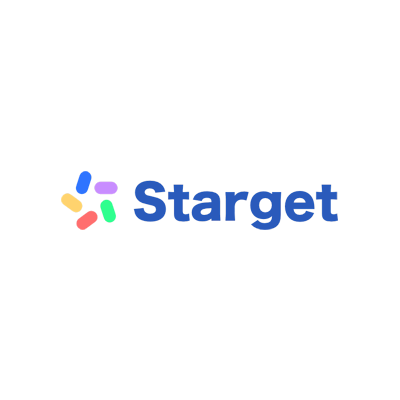 Need a little help there? Well, what if we told you there was a tool which can help you find new audiences as well as push your ads to them without having to fear teeth-to-teeth competition? If that intrigues you, we're certain you'll like Starget.
Starget – Dedicated Facebook marketing manager
In order to gain the upper hand on your rivals, you need to switch away from the traditional ways of manually going through lists of Facebook interest suggestions. It's high time you adapt to the newer approach of searching targetable prospects and sorting the most relevant ones with an automated tool like Starget.
Starget is quite handy when it comes to increasing audience reach since the algorithms it follows are quite different from the ones that Facebook generally offers. It helps you look for genuine consumers instead of compiling a list out accounts of which many could be inactive, dummy accounts, or imposters.
Although the tool is a complete wonder when it comes to dealing with Facebook ad campaign management, there are certain features which have yet to be brought about. Here's a quick look at a few of the ones already available:
Starget helps you engage with audiences which can't be reached out via the default Facebook ad manager. It helps you widen your pool of prospects since the newer people you engage with can help spread the word about your products.
Connecting with newer audiences can help you not only understand the various trends in the market, it might also enable you to note a thing or two about the current wants of the consumers. This information will help you to better target then, and further down the road, retain them.
Find new targets
The tool helps you identify and locate consumers who have previously interacted with you. These aren't the ones taken from the lists drawn up by Facebook, but those which you probably never knew existed.
Identifying the target market is one of the most crucial steps for any business. It consists of those customers who are bound to purchase your product. Identifying and communicating with the right consumers is necessary as it not only generates revenue, but if targeted the right way, helps you hold onto them for the long run.
Stay ahead of your rivals
Starget helps you conduct a full-fledged yet cost effective Facebook ad campaign. It helps you reduce and adjust costs which, in the Facebook ad manager, are invisible and can't be played with.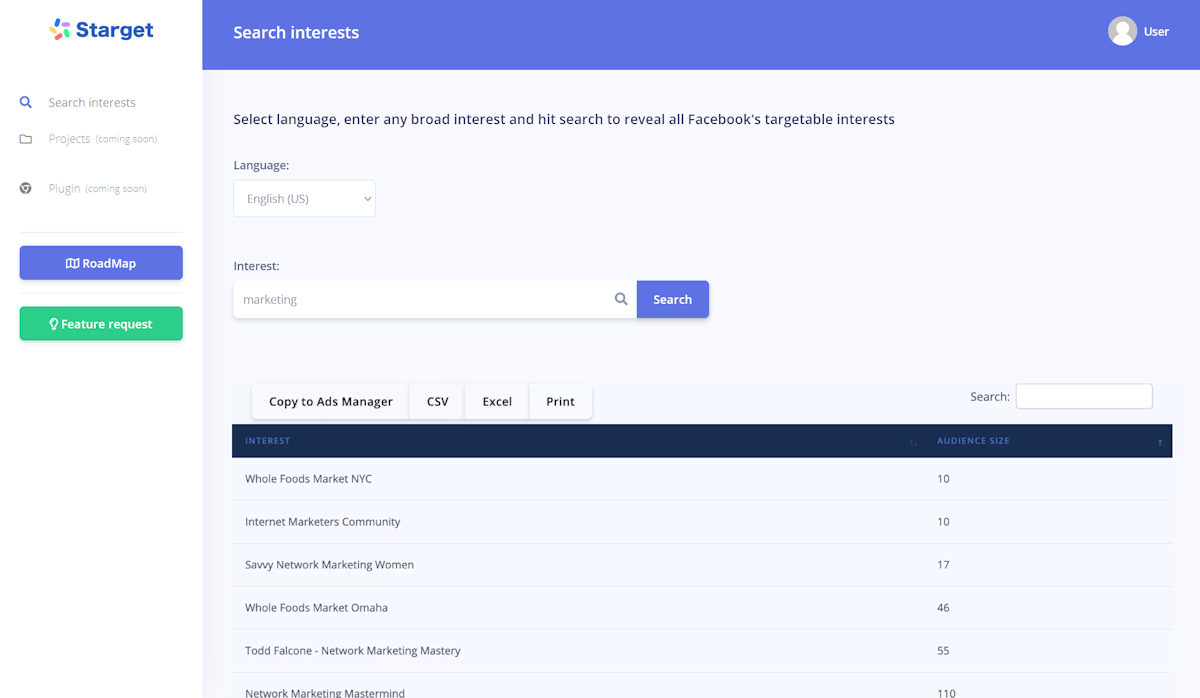 How does it work?
Following are a few steps which can be followed to effectively use Starget:
You can very easily create an account with Starget using just your name and Google credentials.
Once you have an account, at the next step you'll have to purchase a plan from the choices available.
After this you'll be redirected to the dashboard wherein you'll be able to see two empty fields – one for the language and the other one for the interest you're looking to set up your campaign for. You'll be able to choose the interest from a list.
From this list of interests, you can select the ones that you are looking for and copy these options to an inbuilt clipboard.
At the next and final step, you'll be taken to a page wherein you will paste your choices on the field of 'Detailed targeting' which will help you connect directly with your prospects without any hassle.
Evaluating Starget
Starget is quite a handy Facebook ad manager. Although it has its perks, it also has certain cons which may hinder your flawless campaigning process. Let's have a quick look at the pluses and minuses of the tool.
Pros
Starget helps you on the continuous run for acquiring leads and chasing them to build a consumer base.
The tool helps you get an edge over your rivals by conducting efficient and smooth campaigns without putting a hole in your wallet.
You also get a thorough idea of the market flow by staying constantly connected with your prospects.
You get a variety of languages to pick from and a host of interests which can help you better identify your consumers.
Cons
It has a pretty basic dashboard and not a lot of features to play with.
When it comes to creating an effective Facebook ad campaign, certain desirable features of the tool are still in development.
Ace your Facebook ad campaigns and reach more audiences with Starget starget.io/ via @supermonitoring
Final Verdict
In our opinion, Starget is a very practical tool if you're looking to specifically increase your reach on Facebook. It has certain features which are dedicated to help you acquire new consumers and constantly be in touch with them as well. Moreover, it helps you push off customized ads to specific consumers in order to ensure a purchase.
What we particularly liked about it was its affordability. It offers you basic features of any ad campaign manager tool at a price that's way better than its rivals. Although certain features are still in development, we believe that this tool can take you a long way if you're looking to effectively carry out an ad campaign on the social media platform.
Get notified about our new posts
By submitting this form I accept the
Privacy Policy
and I agree to receive blog-related information from Super Monitoring.