5 Best Software Management Tools for 2023
Seeing someone manage big projects makes it seem like an easy job. How long would it take to send emails to employees? It probably takes a minute to check your inbox or call a member of your team to give them an assignment.
Actual project managers will tell you that this cannot be further from the truth. Sure, all those small tasks take a small amount of time but group them all and you get a shocking amount of time. Very often, this is more than a person can handle even if they are the most organized people in the world.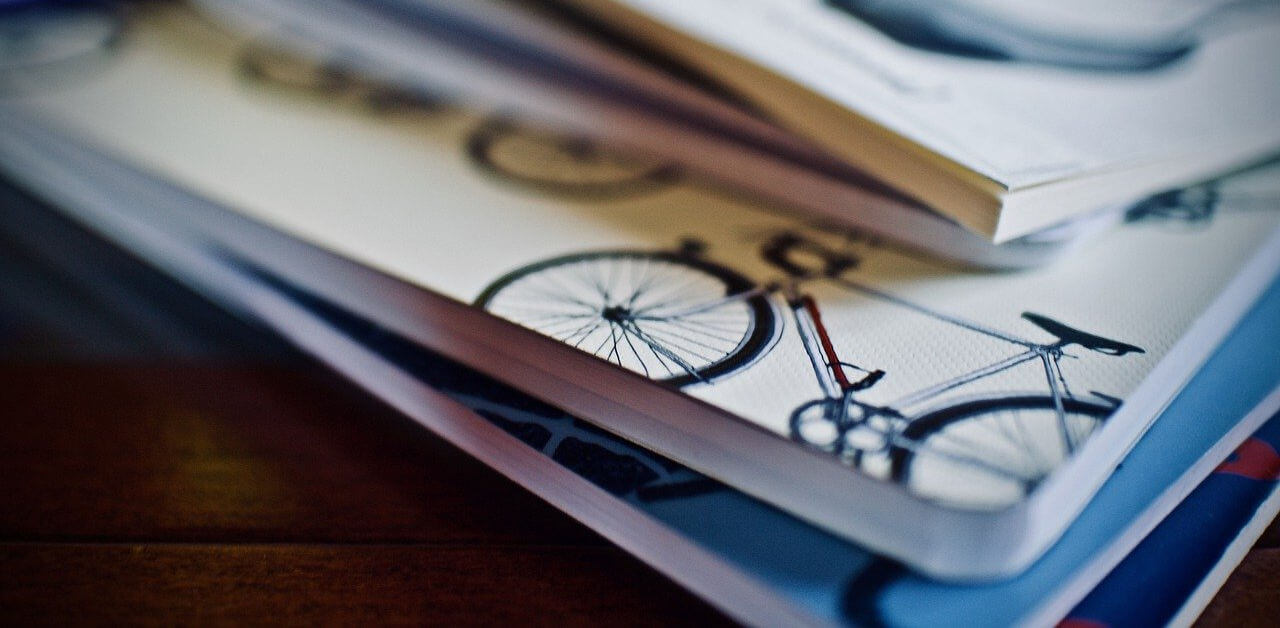 According to TechRepublic, you need to assign 15% of your effort hours into project management. Project management is overwhelming, but that's where software comes in. Luckily for today's managers, technology has offered them countless solutions to their woes, starting from the simplest to the most time-consuming.
What's Management Software?
Imagine a house. That's the thing you need to manage. When you do it, you have a full list of tasks to complete. Windows need to be installed, you need new doors, new tiles, furniture, etc. This makes for a lengthy list, but hiring some people and picking some materials won't do the job. Things go in their order. You need to put up walls first to install doors and windows. You need to build an actual house before you put furniture in it.
To make all of this happen for you, you need proper management. This is easily accomplished with the right software.
Best Software Management Tools to Use in 2021
By now you are probably wondering which tools you can use to make your life better. Your options online are limitless, which makes it harder to choose.
But, you're in luck. In this article, you will learn about the top five project management software tools that you and your team should use this year.
1. Slite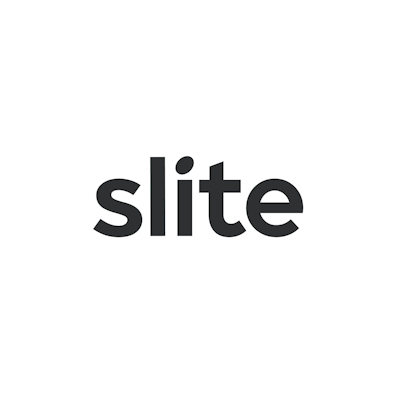 Slite is a user-friendly, creative tool that is developed to facilitate two things – remote teamwork and collaborative content development. This software management tool is now used by thousands of managers and teams, as well as startups and remote workers.
Slite is a collective workspace where teams of different sizes gather to work together without the need to meet. It's used in a variety of industries and for diverse projects. Thanks to the many customizable project templates, this tool saves hours you'd otherwise spend on small, seemingly short tasks.
When you check this software's templates, you'll be able to search by categories that include:
Startups
Product development and management
Project management and documentation
Design
Remote work
Human resources and management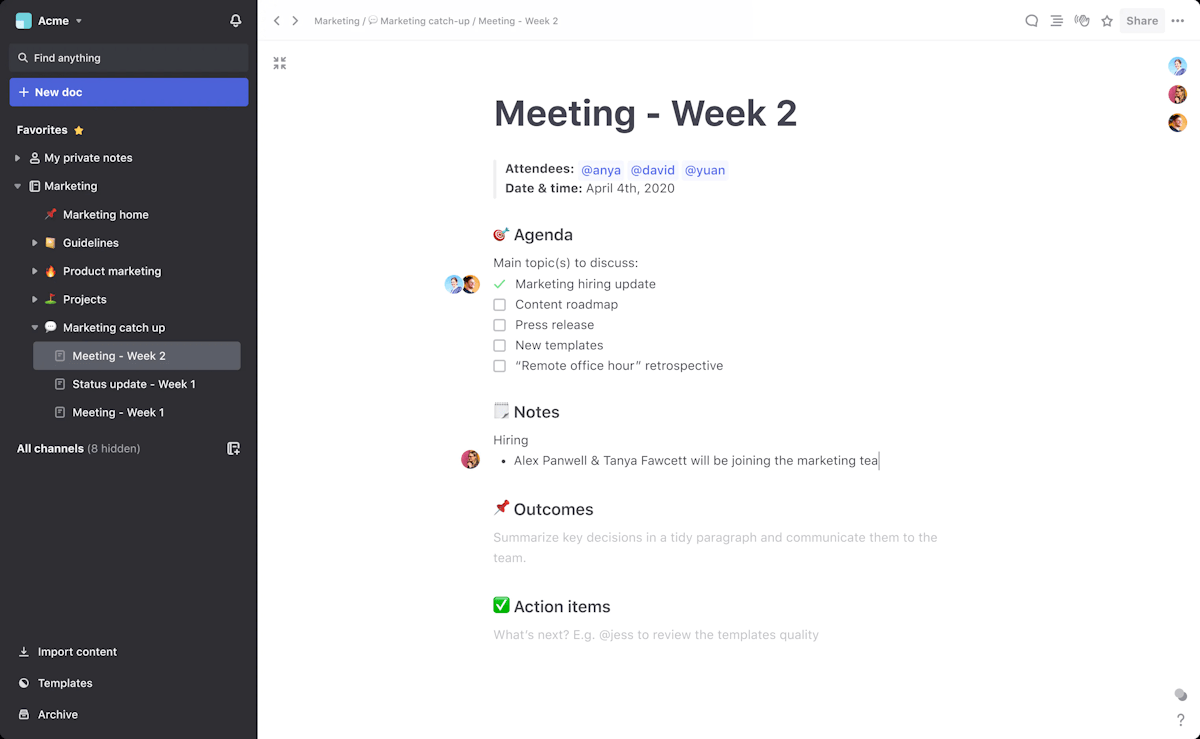 Generally speaking, Slite eliminates the need to spend valuable time on email project documentation, a list of tasks, sheets in Excel, and similar files back and forth. All information for you and your team is easily accessible and centralized. The best part about this is that Slite has a free plan that you can use to test out its functionality and decide whether you want to opt for the paid version. Their standard plan is very affordable, too – $6.67 per month per member.
2. Hive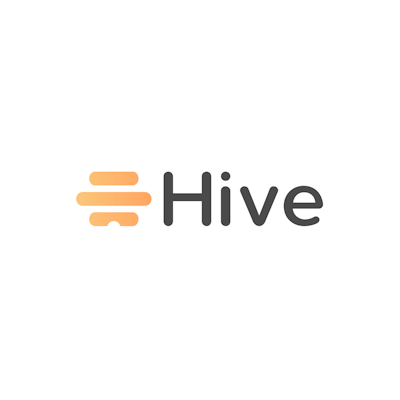 Hive is an easy-to-use project management tool, as well as a platform for collaboration between team members. This software is used by giants such as Starbucks, WeWork, and Uber. It features thousands of integrations, has AI-based analytics, and streamlines all work in a centralized platform. By using this tool, you can do the following:
Plan your projects and tasks
Assign team members to tasks
Track their progress
Time-track projects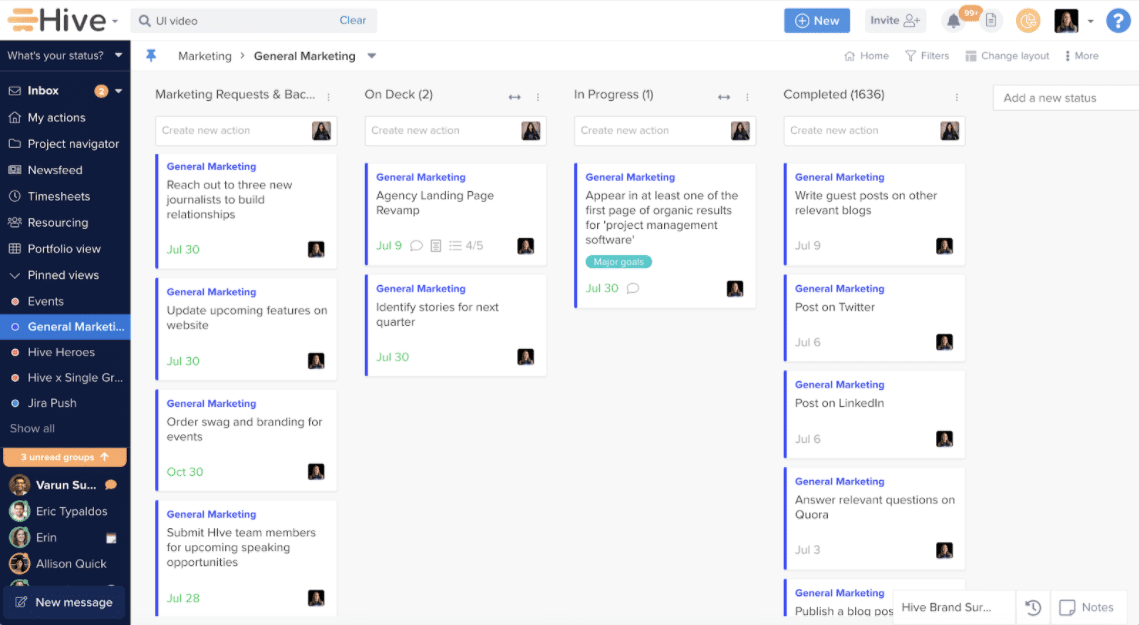 Hive has versatile applications. Its Kanban-style boards are available to small teams of only 10 people to big teams of 1,000. This makes it a popular option for a diverse range of organizations, teams, and companies.
From the available app, users can send and receive Gmail and Outlook messages. The tool has a very attractive basic price of $12, but it also has many add-ons that are paid extra, many of which you'll probably want to get your hands on.
3. Forecast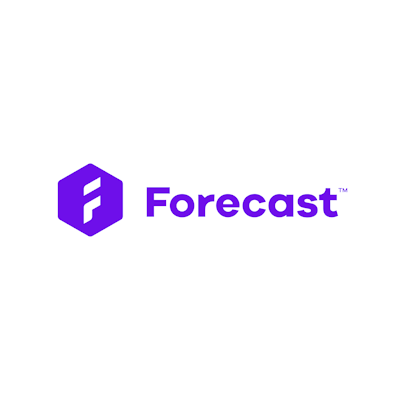 Forecast is an amazing tool for automating operations and finances for your organization or company. By using this tool, users can track hours and compare them with estimated hours, as well as get full control over their tasks' progress. This is a platform that's ideal for project and resource management. As such, it's used in over 40 countries on a worldwide level and by agencies, consulting companies, small businesses, and software companies.
This tool is equipped with everything from intelligent automation that predicts the delivery dates for projects to sending out quotes and making invoices. It also gives users an insight into their capacity needs and teaches them how to be more efficient. Some of its best features are:
Auto-schedule – automatically assigns resources to tasks
Estimate feature
Drag-and-drop module
Automatic budget-builder for every product (provides metrics for actual vs. planned)
Support of various billing types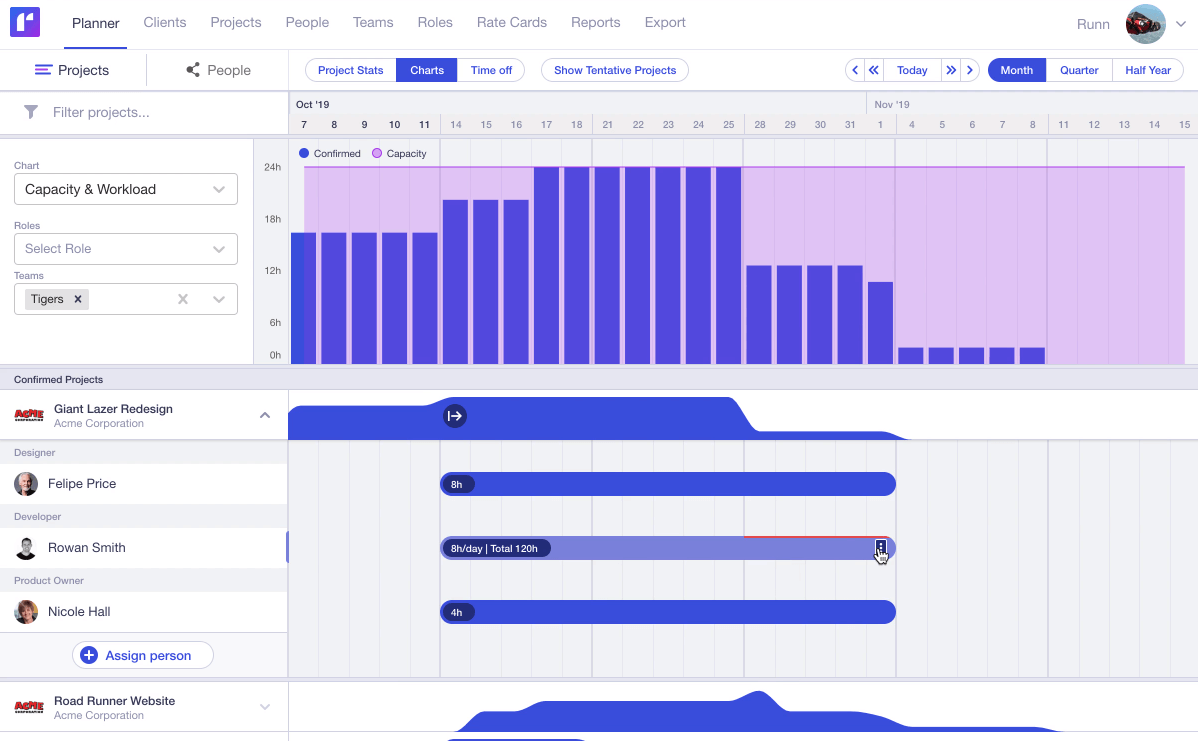 In terms of payment, Forecast has several plans that start at $29 per seat per month with the minimum requirement of 10 seats. You can also try a free trial version that lasts for 14 days.
4. Teamwork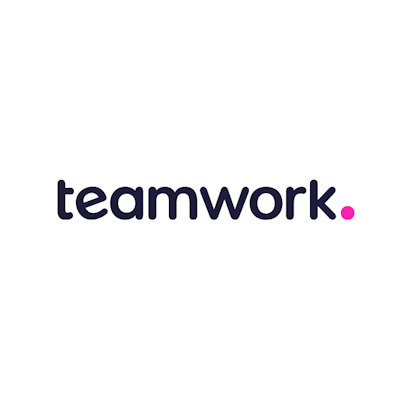 If you like to have things set in front of you and find visualization to be endearing, this is a great tool for you. Teamwork allows its users to visualize all tasks on a well-organized board, as well as keep track of their files, messages, and milestones.
This project and work management software help agencies and teams to improve their accountability, collaboration, and results. It's highly flexible and has features that allow users to:
Structure their milestones and projects by creating tasks lists, due dates, descriptions, supporting documents, etc.
Workload feature that gives a visual image of your team's capacity
Collaboration feature that allows for easy communication with team members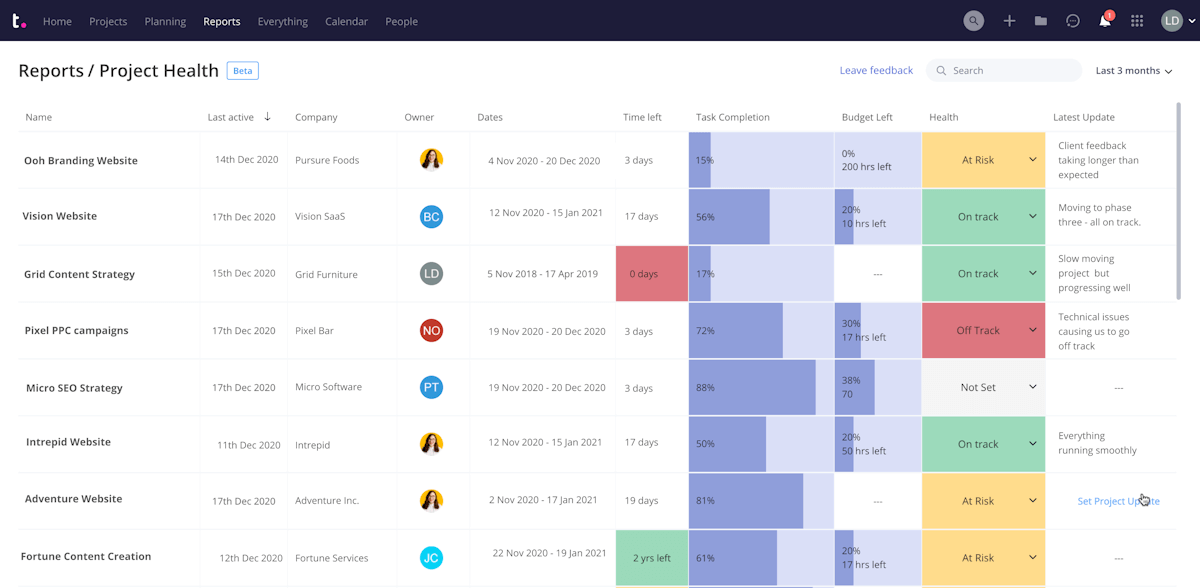 In addition to a fairly limited, but free plan, Teamwork also offers several paid plans that begin at $12.5 per month.
5. Trello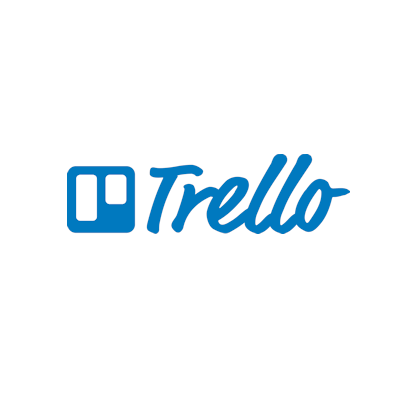 Trello is yet another very successful tool based around the Kanban card-based management system. It features a very simple interface and has a free tier for those who want it. As such, it's used by many small teams and individuals who want something basic for their project management.
Even though it does not include a myriad of features, Trello makes management simple and less time-consuming. In a very short time, it allows users to manage several projects and ongoing workflows. Their cards can include attached files, images, hyperlinks, due dates, custom dropdowns, and more.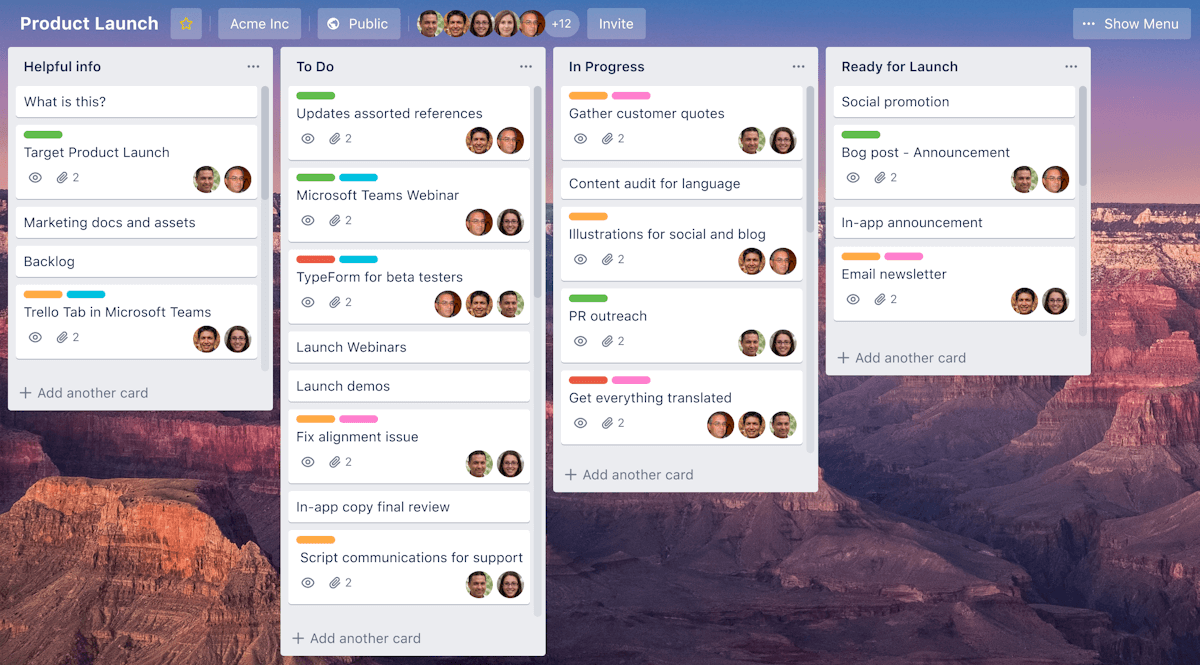 When you're done with a board or a card, you can archive it and use it in the future. With the free tier, you get unlimited cards, users and boards, but it has a file size restriction and a single integration per board. Their paid plans start at $9.99 per month.
Final Thoughts
A software management tool won't do the job for you, but it will help you a lot. It will organize things so that you can better track and complete them, remind you of what needs to be done, and complete some of the tasks that take hours of every day. Picking the right tool can make your life much, much easier.
---
About the Author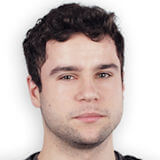 Jake Stainer joined Typeform as employee #29 and the second person in the marketing team. After optimising Typeform's viral loop, Jake spent 3 and half years scaling the SEO and PPC channels, thus building a cross-functional growth marketing team of 10 people. Recently, he co-founded Outreach Humans, which helps B2B SaaS companies seriously scale SEO.
Get notified about our new posts
By submitting this form I accept the
Privacy Policy
and I agree to receive blog-related information from Super Monitoring.