Really Good Emails – Takes the Guesswork out of Designing Great Email
Anyone can send an email, but if you want to make sure your email stands out in the recipient's inbox, it should be designed exceptionally well. But with so many emails flooding your customers' inboxes, how can you ensure that yours attracts the required attention and helps fulfill your objective? After all, even with good HTML/CSS skills, email coding is difficult for many. The best of coders often struggle with tables and inline CSS.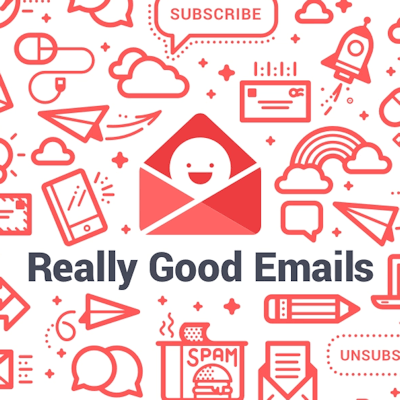 In such a setting, what's the easiest way to do this? Well, using a specialized email designer tool can definitely be a good start. And that's why today we're introducing you to Really Good Emails, one of the best email designer tools out there. Join us as we explore the tool in detail.
Really Good Emails – Great Email Design and Content on the Web
Really Good Emails is an email inspiration site that will help you improve workplace communication. The site has a good collection of email templates in an organized and easily accessible format. You can use these email templates for your marketing campaigns or any business communication that needs to be spruced up.
Really Good Emails has a curated collection of more than 5824 emails spread in diverse categories. You can access any email template in the collection and see the complete visual design and the code behind its awesome design. The website provides you with transparency into the customer email and product email cycles that are not available elsewhere. It also allows community submissions where you can submit an email template you liked in the collection. The website is a good source for email design, email marketing, wmail inspiration, and email content.
A prominent feature of Really Good Emails is its awesome email collection. It has 7 main categories with each having several sub-categories. The list of main categories includes:
Behavioral
Inaugural
Promotional
Miscellaneous
Industry
Punctual
Enhancement
If you take a closer look at the curated email template collection, you can find one for every business event and purpose. You also have an email template for sending wishes on festivals or important personal celebrations like Birthdays, Father's Day, Halloween, Earth Day, New Year, Independence Day, and many more.
Two Approaches for Coding Mobile Emails
Really Good Emails offers two approaches for coding mobile emails – responsive and hybrid. The responsive style of coding overrides the existing styles when the email is viewed on a small display. The hybrid style of coding uses a fluid layout that grows and shrinks with the size of the display.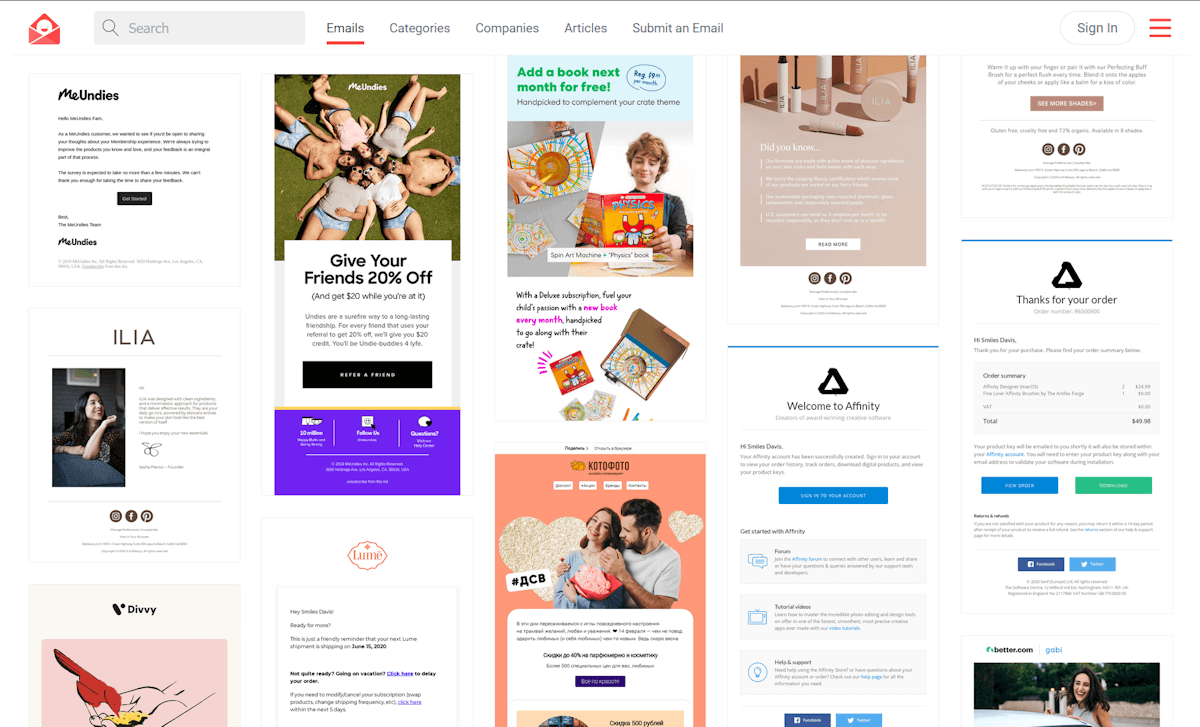 How does Really Good Emails work?
As mentioned earlier, Really Good Emails is a micro-site with a superb collection of good email templates. The site lists thousands of email templates spread in different categories. To use the email templates, you need to sign up first.
Step 1 – Create an account
To get started, first you need to create an account at Really Good Emails and log in.
Step 2 – Search for Templates
Use the search functionality to search for the desired email templates. Alternatively, you can also browse the categories and look at different templates available. After you've found the desired email template you need to add it to your collection. All email templates added to your collection can be accessed anytime.
Step 3 – Access and Edit the email template
Open the desired template from your collection and analyze the design. When you access the template, you can see how it looks in Outlook 2018, iPhone X, and iPhone 8. You can also view its Code by clicking on the View Code option.
Step 4 – Edit the HTML code
When you click the View Code button, a template opens in Live View which shows the code and the email template in one tab side by side. The HTML code is completely editable and you can make changes to any section.
As you make the changes, the visual design of the email template also changes in real-time. This allows you to try different changes in the template by altering the code and see how it affects the overall design.
Once you're done with all the changes, you can copy the entire HTML/CSS code and save it as HTML. You can then use the saved HTML template to create your email campaigns and send marketing campaign emails.
Important Elements of Email Marketing Campaigns
Now that you know how to modify the code for your email marketing campaign, you need to also learn about good email design practices and the important elements.
Pre-header
A pre-header adds valuable context to an email's subject line. Your marketing campaign pre-header can be visible in the inbox preview and also in the body of your email. Keep it short and to the point. You can use the subject line and pre-header to show the customer why the email is important for them.
Dynamic content
Content is an important part of the email. If you are serious about personalization, you can dynamically change the entire content section of the email. Customizing the content will make the email relevant and more appealing to the subscribers.
One-column emails
One-column emails look great on desktop and mobile. Such emails adapt to the desktop size and automatically scale images allowing the consumers to navigate easily. The one-column design also allows you to place important information in a sequential order from top to bottom. The design is a visual cue – what you want the customer to do next.
Really Good Emails – the Good and the Bad
Pros
Good site design and search functionality
Diverse categories
Responsive email templates
Cons
No conversion rates included in A/B tests
Ensure your emails don't end up in your customers' Trash with this awesome email designer tool: @reallygoodemail reallygoodemails.com/ via @supermonitoring
Wrapping Up
Sending a beautiful email has become a necessity to attract customers and steer clear of the online noise. Really Good Emails is a good resource for designing attractive, reasonably effective, and well-designed emails that serve the customer well. The email templates at Really Good Emails presents you with a fresh outlook in designing emails and help you steer away from hectic over-linked emails driven by spam.
Get notified about our new posts
By submitting this form I accept the
Privacy Policy
and I agree to receive blog-related information from Super Monitoring.