Warm-up Your Cold Email Address with Warmbox
Having to send cold emails to attract leads and traffic can be difficult. You may have to spend hours creating the ideal email, and yet end up disappointed when such emails end up in your recipients' junk folder, or worse, never get read at all. This is a major issue for businesses wanting to expand through lead generating initiatives.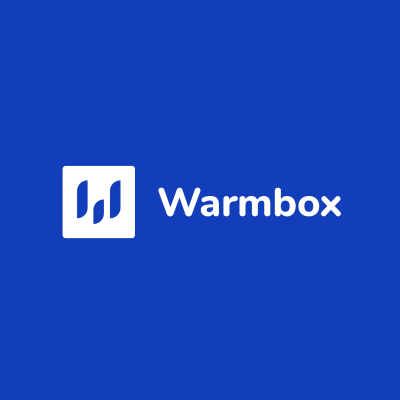 Warmbox is a platform that offers millions of templates for creating "real-looking" emails, as well as the opportunity to have genuine dialogues with your recipients' inbox over private networks. This ensures optimum email reputation while saving you time. Warmbox's algorithm talks with the destination inbox as if it were a human being, increasing your deliverability. You can link the tool to your mailbox in seconds and start generating and sending emails.
Allow us to give you a thorough walk-through of Warmbox.
Warmbox – Your cold email campaign savior
E-marketing is a difficult industry to master. You can't get away with spamming and flooding your consumer's inbox. Further, you must be cautious of your email provider restricting your domain, which might result in major implications such as leads not being likely to access your emails. In all this hustle, several emails sent out by you may automatically be sent to the spam folder.
Warmbox is an AI-powered application that assists you to "warm up" your recipients' cold inbox so that your emails never end up in spam again. According to statistics, Warmbox reports that 51% of emails from outbound campaigns go directly to spam, placing your domain at danger of delisting with a network operator if you don't warm up beforehand.
This is exactly where Warmbox can help. It is a tool that can automatically send emails from your account while engaging with your recipients' inboxes in the same way that ideal prospects would. This, in turn, boosts result rates for each email you send out.
Features
Some of the significant features offered by Warmbox include:
Auto email reply powered by GPT-3 technology
This enables busy entrepreneurs to interact with leads more quickly by automating email answers or cultivating new leads.
Email layouts are both natural and realistic
Warmbox provides thousands of templates for creating "real-looking" emails, as well as the opportunity to have natural dialogues with recipient inboxes over private networks, for optimum email reputation while saving you time.
Reports & Analytics
With Warmbox's specialized inbox panel, you can manage your mailbox reputation by tracking the number of emails exchanged, the pace of responses, your spam score, and your warm-up schedule.
Blacklist Checker
Warmbox's Blacklist Checker allows you to verify your IP and domain blacklisted status using more than 120 checkpoints. You can simply review your site settings like SPF, DMARC, and DKIM to ensure that your emails are authentic and safe from potential fraud.
Integrations
Warmbox works with all preferred email providers, allowing you to send a warm greeting to everyone at once. It is compatible with Gmail, AOL Mail, Yahoo, Outlook, Mailgun, SMPT, Zoho mail, iCloud, and several other services.
Overall, the Warmbox tool aids you in improving your deliverability and reputation, and helps you reach out to more prospects so that you can execute more contracts.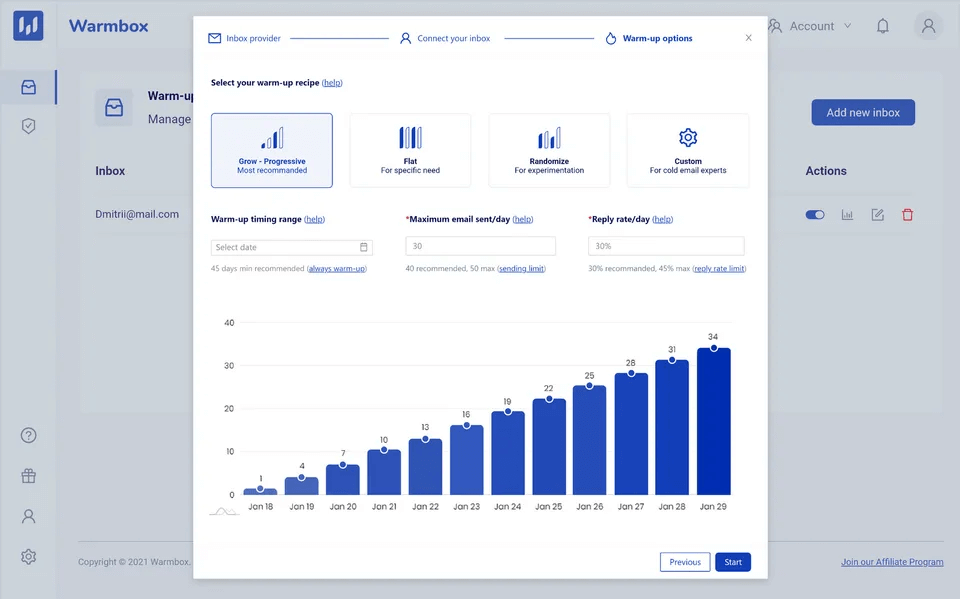 How does it work?
Following are the ways in which Warmbox functions and provides its features efficiently. Follow these steps to set up your account on Warmbox.
Step 1 – Visit Warmbox's website and sign up for free. You will have to enter your first and last name, email address, and create a password.
Step 2 – Before you begin working with Warmbox, you must first connect your inbox with the email service you use, like Gmail, Outlook 365, Yahoo Mail, etc. For this, click on the blue button that says 'Add Inbox' and enter your email provider and email id.
Step 3 – Create and confirm a password. Enter first and last name again and click on OK.
Step 4 – Move on to 'Sending Schedule'. Add in the necessary data like – Starting Baseline (suggested – 0), Increase per day (suggested – 3), Maximum sends per day (suggested – 40), and Reply rate (suggested – 30%).
Step 5 – Once you have entered the values, click on save. You'll get a message confirming that your inbox has been connected with the Warmbox account.
Step 6 – Now that the installation is done and you have set up your account, Warmbox will send realistic emails from your mailbox utilizing GPT-3 technology every day. Further, it will remove these emails from the junk folder, read and bookmark these emails, and create quality engagements with your inbox to improve your email forwarding reputation.
You can take advantage of a +10,000 private mailbox network composed of a mix of the most major email service providers to boost your email delivery and reputation worldwide. And in this way, Warmbox utilizes some of the best strategies to warm up your cold inbox.
Evaluating Warmbox
Every story has two sides, similarly, every product or service has pros and cons. Some of the pros and cons of Warmbox are listed below.
Pros
Provides a variety of paid solutions
Email deliverability checking
Tends to make email marketing a piece of cake
Excellent affiliate program
Number of paid option plans and a quick access to monitor if emails have reached inboxes
Cons
There are no theme options in the free plan
There are no inbox warmups on the free plan
But that is acceptable given that it is a basic and free service.
A great tool to warm up an email address for a cold mail campaign:@Warmbx warmbox.ai/ via @supermonitoring
Final Verdict
Warmbox can help you increase the return on your email marketing efforts by ensuring that your communications get in the inbox rather than the spam or trash folders. It also helps to create responses from cold emails, rather than getting disregarded or banned due to bad reputations, for a low monthly fee. As a result, if you're looking for a simple solution to help you increase email readability rates and improve your company's email marketing, Warmbox is the ideal tool for you.
Get notified about our new posts
By submitting this form I accept the
Privacy Policy
and I agree to receive blog-related information from Super Monitoring.