Preview outgoing emails and newsletters with Inbox Inspector
Lest you get confused by the title of this review, let us give you a brief about what email preview tools are and why they are needed.
In email marketing, what you see is not what your readers see. The email template you design and send to your own email account for testing may look great to you, but you should know that once that email lands in the inboxes of your contact list, it can look very different. And there are 3 main reasons for that:
There are no established standards for displaying emails, so emails rendered with different webmail services and different email clients have totally different look and feel.
Most users view emails on mobiles and handheld devices nowadays. So while you may have designed email templates on desktops, the final outgoing emails can look totally different on the devices your audiences use.
Most webmail services and email clients by default block images in emails unless the user takes specific otherwise action.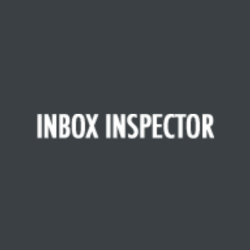 If the above reasons don't prompt you to preview your outgoing emails and get an idea of what they would look like at your users' end, we don't know what will.
Enter – Inbox Inspector.
Inbox Inspector – Preview Newsletters before they reach your customers
Inbox Inspector allows you to monitor and test your email / newsletter designs by previewing them on a number of popular desktop and mobile email clients. The tool enables you to see what the recipients of your newsletters would see when the mails you send them reach their inbox. That way, you can be sure that the hours of work you put into designing email and newsletter templates doesn't go waste owing to environment differences at your users' end.
Some of the most attractive features of Inbox Inspector are:
Allows you to preview your emails in more than 25 popular clients including standalone desktop clients, webmail and mobile email apps
Extremely responsive, as in, as soon as you choose an email message to preview, it displays it in the clients you've selected instantly
Enables you to see real email previews, even when images are blocked, and view how the subject line is displayed in an inbox
The tool is completely free, no strings attached
Tool Usage
Using Inbox Inspector is unbelievably simple. Just land on the tool's homepage, punch in your name and email id and click on "Preview my email". You'll be directed to a page that's simple – no flashy dashboards or confusing options. Just a left hand panel with 4 clickable options, viz. preview new email, watch video tutorial (which is quite self-explanatory by the way), FAQs, contact. Though you'll be able to see a "My Previews" button on the top right corner of the screen, we're not really sure why it's needed. There were no signups required so how would the tool keep a track of the previews for a particular visitor?
Note: We later found out that the tool maintained session history of each user. So clicking on "My Previews" button showed us all email previews we had seen in our current session.
Anyways, to proceed we clicked on "Preview New Email" and found ourselves on a option selecting page. Here we picked the email clients we wanted to test our newsletters on and clicked on "Next Step". Now came the time to provide the tool with the email we wanted it to preview. There were 3 options to do this:
Pasting HTML code – Clicking on this opened a panel with fields to enter email subject line and the HTML code for the email. There was a Preview button to be clicked once the code was pasted.
Sending the email – Here, the panel that opened listed instructions through which we could send the tool the email we wanted it to preview. We had to login to our inbox, choose the email for preview, and send it to the address provided by the tool. Then click on a button saying "Okay, I've sent it".
Entering the URL address – This required entering the URL of the email message if it was available online.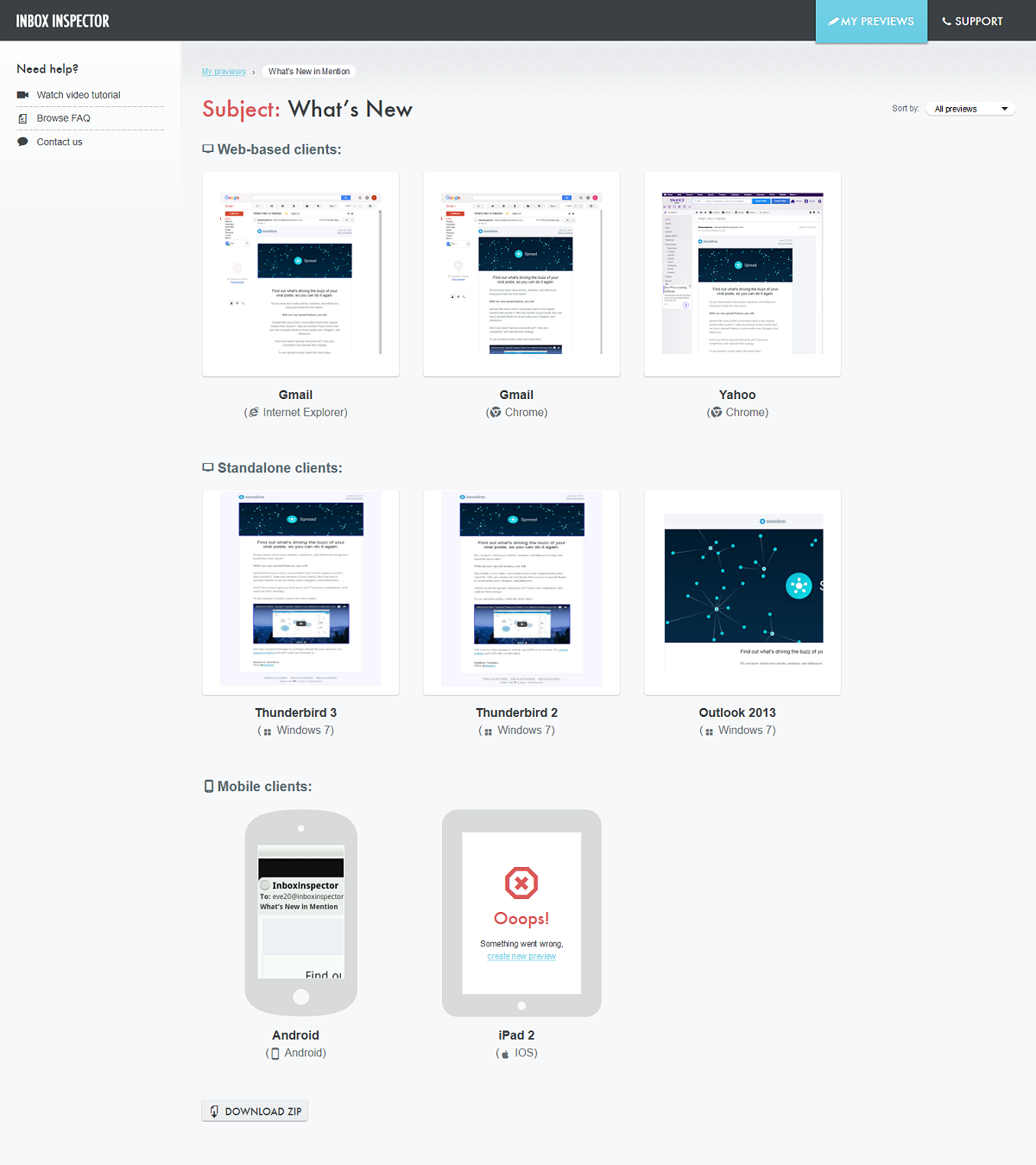 We picked the second option and sent a dummy email to the tool to test its working. It took just a few milliseconds to receive and load the email we'd sent and then we were directed to the results page. Here we could see the email's subject line highlighted on the top with all the previews for various email clients and devices displayed below. The results were kind of mixed:
For web-based clients – we could see the results of 2 out of the 3 clients selected
For standalone clients – we could see 3 out of 4 results
For mobile clients – we couldn't see any results
Clicking on each result opened it up on a new page so we could analyze the look and feel of our test email and make changes accordingly. There was no limit as to how many times we ran the tests, each time we needed fresh results or wanted to send a new email to the tool, all we had to do was repeat the basic steps.
Note: If for any reason you have to refresh the 'Preview New Email' page where you pick a method to send test email to the tool, remember to note the target email id the tool provides. It's different each time.
Pros VS Cons
We'd like to summarize the pros of the tool in a single line – it's neat, simple, and free.
The cons however need to be listed:
Many of the listed preview environments don't work (we couldn't see many results)
Loading results takes quite a lot of time
The tool doesn't have much appeal
Preview outgoing emails and make improvements before sending – inboxinspector.com/ by @getresponse via @supermonitoring
Verdict
After a long time, this was a tool that wasn't really impressive. Yes the purpose behind building it is genuine, but it doesn't strike as an extremely useful tool. There are better alternatives out there.
Get notified about our new posts
By submitting this form I accept the
Privacy Policy
and I agree to receive blog-related information from Super Monitoring.
One comment:
Salman:

I have to admit the Inbox inspector is cool and useful and best part is its free. I had used once but i didn't feel comfortable so I had move back to mailchimp.

July 2nd, 2017 at 1:27 am