Pulno – The Ideal Website Evaluator
If you've been working with SEO for some time, you'd know that although it's a reliable way of improving your website's searchability, it's often marred by the downside of being very time-consuming. Moreover, manual SEO strategies could easily fail to achieve the desired results because of the ever-increasing level of competition.
In such a scenario, an automated tool that helps you enhance your SEO efforts can prove to be a boon. It can save your time and effort while also helping you identify bottlenecks in your existing SEO methods so that you can revamp them for better results.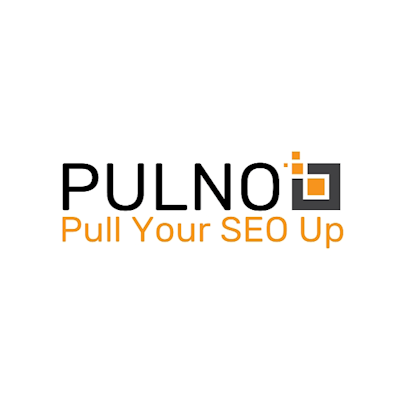 Among the number of SEO tools available online, we've found one that explicitly deals with all your SEO issues at the click of a button. Called Pulno, the tool helps individuals and small sized businesses optimize their SEO process quite easily.
Pulno – A Complete Website Analysis Tool
Pulno is a comprehensive website analysis tool that comes packed with numerous features to better your content as well as well your SEO tactics. It helps you spot potential issues in your website like poor performance, broken links, and content issues. Additionally, it keeps a tab on any and every change implemented on your website and can single out the duplicate content through its dedicated content analyzer.
The tool is capable of conducting very thorough website audits which are accompanied by comprehensive reports. These reports not only suggest preventive measures for underlying issues, but also suggest actions according to the evaluated performance.
Pulno comes loaded with features that are critical to SEO and website audit:
Technical SEO analysis: It analyzes whether your website confirms to the standards and parameters followed by most search engines.
SEO checklist: After conducting the analysis, Pulno prepares a list of tasks which you need to perform to improve your website's SEO rankings. You can add your custom logo to the report and present it to stakeholders.
Content quality analysis: Pulno analyzes the length and amount of the text on the website and sends you remarks on how it can be improved.
Title and Meta analysis: Not only does it analyze your website's headings and meta-data for inconsistencies, it also evaluates the titles and Meta descriptions to ensure they're not repeated or plagiarized.
Performance optimization: Pulno is capable of testing the various parameters of performance like the server response time, general server condition and the page loading time.
Optimization tools: It can help you download CSS files and optimized images in one go and can also remove unused fonts.
Pulno comes equipped with several other features. To know about them all, visit the tool's official homepage.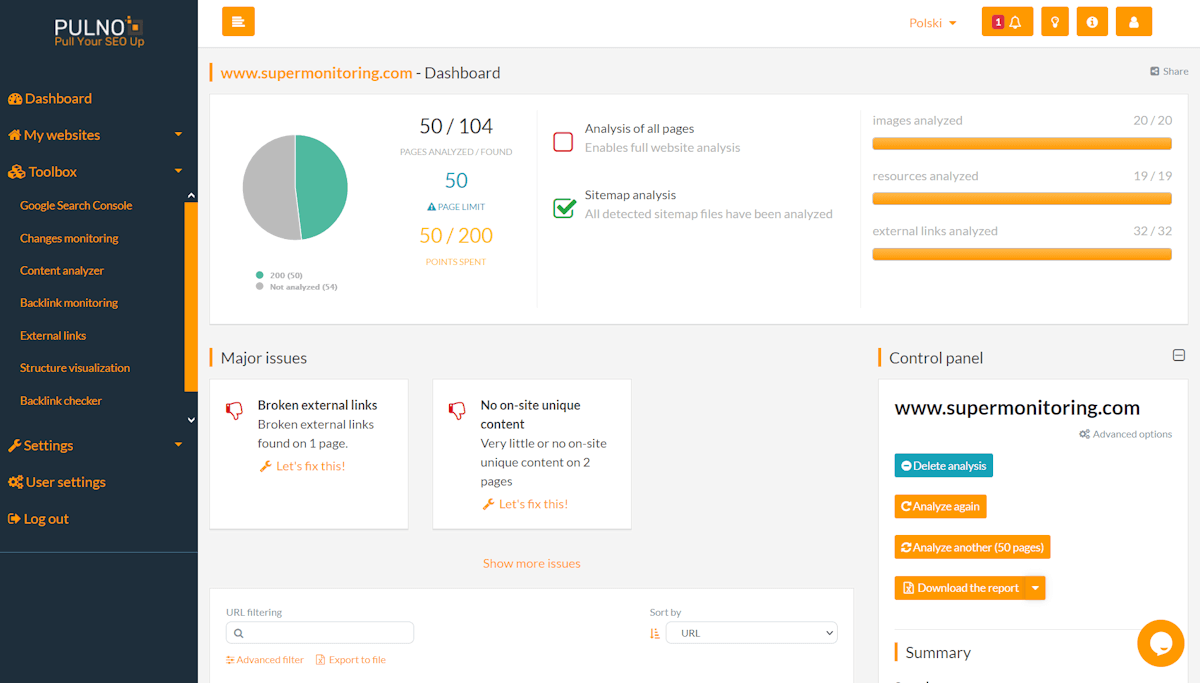 How it works?
The first step involves creating the account. You will be asked to enter a valid email id and a password. To try out the tool you can create a free account and use its basic plan which allows you to analyze 2 websites and a maximum of 200 pages in a month.
Once you've created and account and logged in, you can begin using the tool by entering the website URL which you wish to analyze. Pulno will also ask you to provide your registered email address where it can send you the complete website analysis report.
When the analysis for your website is completed, you'll receive the report on your email id. Open the report to look at the flagged issues, sorted by color as per criticality. The ones in red have to be tended to immediately while the ones in yellow are relatively less important.
After this step, you can either solve the SEO related queries, or the ones that have popped from the internal linkage analysis. These are the issues that have been found after 50-100 pages have been scanned by the tool.
After resolving the issues you also have the option to run a full website analysis which takes Google PageSpeed results, page monitoring, and website performance into account. This ensures that the major SEO related queries are brought to your notice and dealt with at the earliest.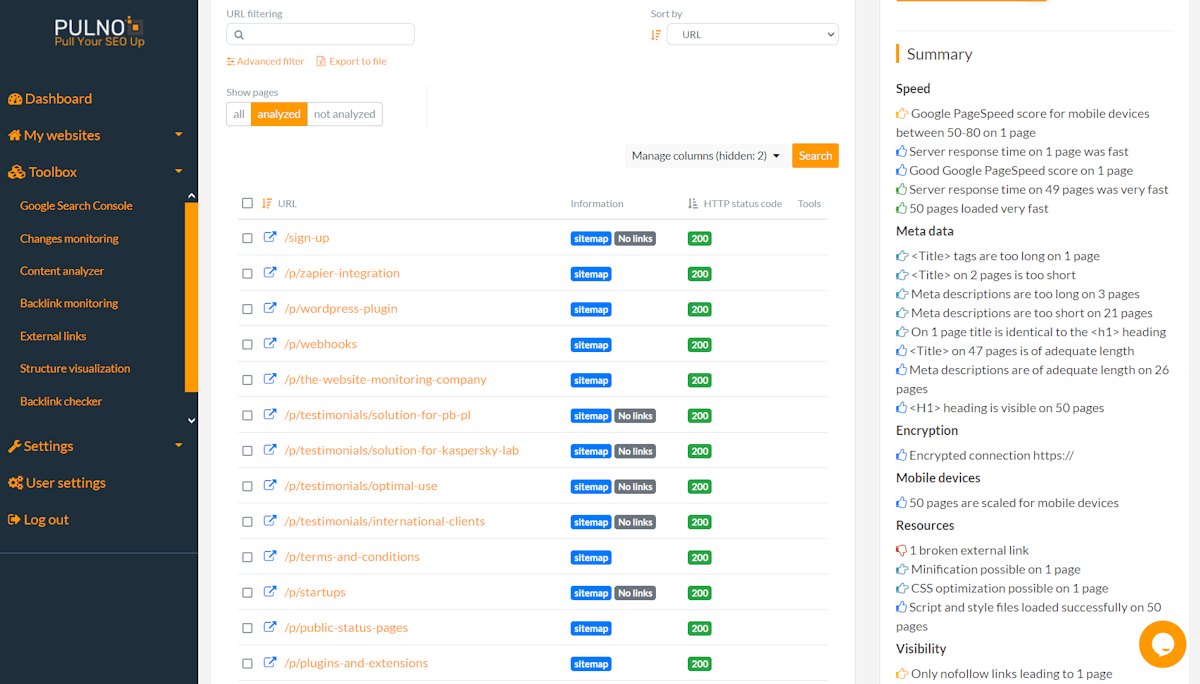 Evaluating Pulno
Pulno is an easy to interact with SEO tool which is very capable. You get to play with an array of helpful features along with 3 different types of analysis, which can help monitor your website and improve the discovered issues.
But like any other tool, Pulno also has certain pros and cons to its name, the most relevant of which are mentioned below:
Pros
Pulno can scan a website, one element at a time and bring any issue it finds to the spotlight.
The system of grading issues by color comes in handy when deciding what problems have to be resolved on a priority basis.
The feature that we like the most about Pulno is that not only does it single out the problem, but also hints as to how it can be solved.
Cons
The user experience with this tool can sometimes be overwhelming because it provides you very detailed information about any and every change done to your website.
The layout can be confusing at first glance and the minimalistic dashboard can make it difficult for a novice to navigate through the options.
Enhance your website's SEO ranking within clicks. Try Pulno today! pulno.com/ via @supermonitoring
Final Verdict
To give a final statement about Pulno, we'd say that it's quite a pragmatic tool for any startup looking to garner the consumer attention using SEO. Pulno is quite an effective tool when it comes to a full-fledged website analysis. What gives it the edge is that it's quite reliable in not only assessing and helping one improve their content but also flagging the issues which require immediate attention.
Get notified about our new posts
By submitting this form I accept the
Privacy Policy
and I agree to receive blog-related information from Super Monitoring.