SEMrush – Your End-to-end SEO Solution
In today's digital age, keeping up with market trends is exactly what a business has to do to stay ahead. Creating a solid online brand image plays a key role in this task, and to do it, dedicated SEO efforts go a long way. Crafting targeted keywords that can direct traffic to your webpages can work wonders in capturing a widespread customer base.
Now what if we were to tell you that instead of doing everything manually, you could rely on an automated tool to take care of things? This is where SEMrush steps in!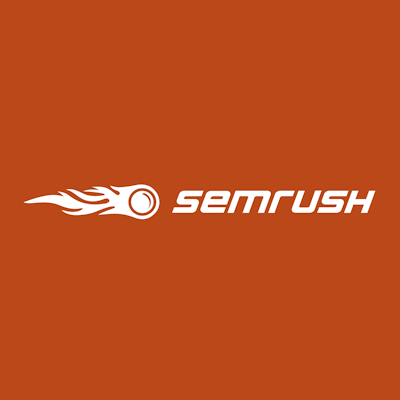 SEMrush lets you keep a tab on your rivals' promotional strategies and magic formulas, and plans your SEO efforts for you. After conducting a full-fledged market analysis in an extremely efficient way, this tool not only shows you the exact analogous keywords you should be using in your SEO strategies, but also helps you carry out multiple tasks like SMM, PPC, Keyword research and even Campaign management.
SEMrush – The ideal keyword specialist
SEMrush is a tool which single handedly has your work cut out for you. It conducts a thorough keyword research according to your business, keeps a track of the strategies adopted by your rivals, runs an SEO inspection of your blog, and looks for any inbound linking opportunities – all through a single interface. The tool is extremely useful for both, big and small businesses. To get it up and running, all you need to do is fill in the name of your site and that of the competitor that you want to analyze, post which it generates your rank (compared to the latter) based on the keywords available. You can also manually enter the keywords of your choice.
SEMrush is a complete package in itself. It comes laced with various dedicated toolkits which cater to all your needs. Here's a quick look at a few of them:
SEO toolkit: Here you will find solutions ranging from competitive analysis and keyword research all the way to improving your backlink profile and conducting a detailed audit of your website.
Content marketing toolkit: It takes into account the creation of SEO optimized content that can bring more traffic to your website.
Advertising toolkit: It offers you lots of insights and tools which can come in handy to prepare an excellent campaign.
Social media toolkit: It helps you view the strategies that your rivals use to interact with their audience, and this in turn helps you understand them better and adopt the same or better strategies as necessary.
SEMrush's domain and analytics report helps you get a bird's-eye-view of a domain's organic and paid search strategy. Apart from this, you also get access to the wealth of information about various pre-registered domains, subdomains, and URLs which can help you better understand the various plans of action taken by either your rivals or your idols.
The tool also helps you to analyze and learn about the SEO strategy of any website of your choice. This is facilitated because of its robust click-path data based on the real time interaction of millions of consumers. Furthermore, it also keeps a track of the audience traffic sources and the geography.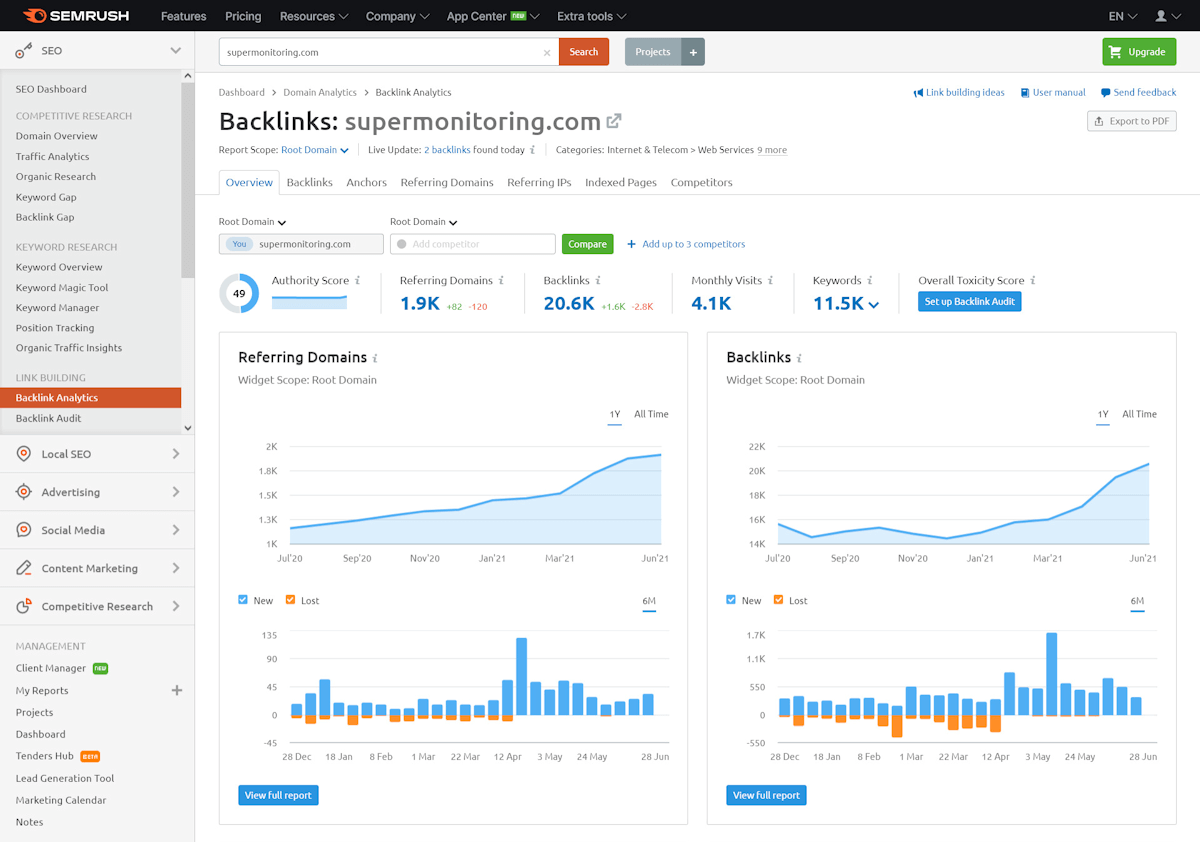 How does it work?
Below mentioned are the steps that you can follow to effectively use SEMrush:
1. Account setup
You can easily create a SEMrush account with your Google credentials after which you'll have to fill in your card details to either select a 7 day free trial or purchase one of the three plans (pro, guru, or business).
Start a project
After signing up, the next step is to start monitoring a website's ongoing visibility. You can fill in the details of the target website in the project setup window.
Use position tracking
You can use position tracking to keep a tab on the chosen target keywords for your campaign. Once you're done with your SEO campaign, you can easily determine how your website's visibility has increased.
Look for on page SEO ideas by on page SEO checker
The on-page SEO checker makes a list of the target keywords alongside the list of the pages on your site. This further helps you brainstorm to scan each page for the target keywords.
2. Discover and evaluate your rivals
After entering your domain in the search bar and tallying the organic research competitors' reports, you can easily find out the exact number of domains competing in your industry for a specific target keyword.
3. The keyword magic tool
According to the keywords you find in the previous step, you can alter your existing strategies to improve your website's search engine rankings and bump-up traffic to it. A key role here will be played by keywords SEMrush suggests to better the content on your site.
4. Create content in accordance with rank
As the SEO is improved, the content on your website also has to be updated. The SEO content template of the tool offers you a ready-made template where all you need to do is enter your target keyword and website page location for SEMrush to generate automatic content which you can later enhance.
5. Build reports easily
To view and analyze the reports of your SEO efforts, all you have to do is go to MyReports from 'Project and Analytics' and export the report to PDF builder. Adding text blocks and images can further help in giving a personal touch to the report.
SEMrush video overview:
Evaluating SEMrush
Like any other software, SEMrush has its pros and cons. Although the tool has more than 30 features to play with, there are certain drawbacks which may hinder your seamless researching process.
What we like
Vast pool of information: The keyword tool offers more than 7 billion keywords at your disposal. It also provides you with databases spanning over 118 countries.
Backlink analysis: The tool collects and keeps adding backlinks for all the domains and even displays them publicly after a certain period of time. This ensures you get a thorough evaluation of a particular website.
What we don't like
No of users: At a time, only 1 user can login with a particular account and plan, which can prove to be quite a waste for agencies who need multiple people working on the same website's SEO strategies.
Store search data: We feel that if SEMrush would store a specific URL that has been visited once, it will help the user to keep a tab on the pages that they want to follow instead of those which have the highest traffic or the top keywords.
Take your SEO strategy to the next level with @semrush semrush.com/ via @supermonitoring
Final Verdict
SEMrush is quite a useful tool for someone who is looking to get a detailed understanding of a particular website's search engine ranking and performance. The toolkits that this software offers come in quite handy for starting a full-fledged SEO campaign too. In our opinion, it's one of the best SEO tools in the market, but it can be a tad expensive for some users.
Get notified about our new posts
By submitting this form I accept the
Privacy Policy
and I agree to receive blog-related information from Super Monitoring.