Post better with Preepo
preepo.com is no longer available.
Facebook has captured the world's imagination. So much so, that the name of the platform has become synonymous to social networking. And it's not restricted to youngsters anymore. What started off as a place for young people to find close friends and connect with them, has evolved into a stage for sharing ideas, doing business, marketing and more for people of all age groups. Today, any and every thought that comes across your mind can be transformed into a Facebook post; be it a simple hello to an advertisement for your product.
However, often, many users don't realize the kind of versatility they can exercise while sharing posts about pages and feel content just by sharing simple text and maybe a few default images picked up by Facebook. Better put, users are not given all the access rights they would like to have in order to create the perfect Facebook post for sharing a page. Enter Preepo!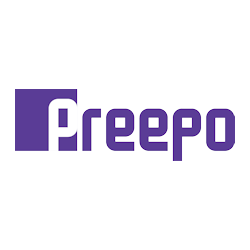 Preepo – The Facebook post wizard!
With Preepo, you can create an ideal Facebook post. This amazing and handy tool allows you to have full control of a post when sharing a page (an article, a product, etc.) on Facebook. It works outside of Facebook just like an editor. That means that you get all the freedom you'd like to play around with the post title, post description and any images you'd like to put in it. No sign-ups or registration required and no strings attached!
With Preepo, you get to experience tremendous creativity while creating custom posts about your Facebook pages. You can create posts reflecting the exact style that matches that of your page because Preepo lets you pick the text, description and images from the page you're sharing. That is, you can borrow your page's style and showcase your work better through improved posting techniques. It can prove to be a boon for creating a market buzz about your product page on Facebook too. Sounds cool doesn't it?
How it works
It's actually pretty simple. Visit the page www.preepo.com and enter the URL of your website (the one for which you have a Facebook page and want to share it on your wall) in the box indicated for the purpose. Then click 'Go'. The next page that you'll see will contain the URL you entered above followed by a larger box which showcases the content for the proposed post.
The first thing that you'll see in the large editor box is the homepage image at the URL you mentioned (default website image or cover photo). The image will have 2 options – edit and delete located on its upper right corner. Clicking on the scissors sign will open up an editor for the image. The editor will allow you to scale up / down the image or crop it. Pressing 'Esc' causes the editor to close. If you want a different image to be showcased in the post, you can simply click on the image and an option to "Upload Custom Image" will open up. You can then browse your system and pick any image you like for the purpose. A cool feature offered by this tool is that apart from loading images from the page being shared or enabling upload of a custom image, Preepo also provides an option to choose the page screenshot as an alternative. Next in the editor box is the post title followed by the post content. Both of these can be edited by clicking once on them. Finally you'll see the link of the URL which will be displayed at the end of the post. This is obviously not editable.
Though the process is very simple and straightforward, if you do get a little confused, just hover above any button or section and helpful tooltips will explain its significance to you.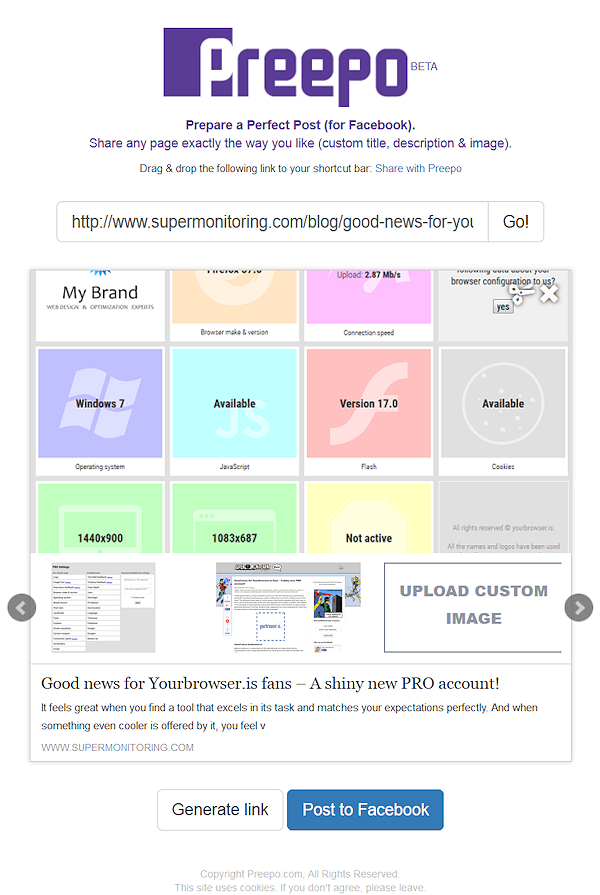 Sharing Options
Preepo allows you to share your custom posts in two ways. One – through a link generated instantly. This can be done by clicking on the "Generate Link" button just below the editor box. This link can be put on your blog and website. Two – through a direct Facebook post. There is a "Post to Facebook" button for this purpose too below the editor box. Clicking on this button naturally takes to the Facebook login page where after putting in the credentials, your post will be shared on your wall.
The Good vs the Bad
The good definitely includes the creative freedom. Options to alter the image, title and description of a page just the way you want them to be is a refreshing change and feels liberating compared to the setting of picking up the default version of everything by Facebook. Another plus is the no-sign in required policy. If you choose to go ahead with the "Generate Link" option, you actually don't have to give in any credentials at all. Plus, Preepo offers an easy to use bookmark for your browser that can be created by simply dragging and dropping a link to your shortcut bar.
There is actually no downside to this tool. It's simple to use, fulfills its purpose and works smoothly. What more could you ask of it!
Share web links on your #Facebook wall the best way possible with preepo.com/ #socialmedia via @supermonitoring
Wrapping it Up
For something to be perfect it needs to be done with complete freedom of thought and expression. That rule applies aptly to Preepo. Experience it today and unleash your true marketing skills!
Get notified about our new posts
By submitting this form I accept the
Privacy Policy
and I agree to receive blog-related information from Super Monitoring.