On-the-spot easy appointments with Appoint.ly
In today's busy world, it is very difficult to schedule/fix appointments as people are always on the move. Setting up a meeting may take ages as the person you want to meet may have little spare time. This is where the role of tools like Appoint.ly becomes important. Appoint.ly is a schedule management tool which helps people fix appointments at their own convenience. One can easily avoid the hassle of fixing and cancelling appointments many times over with this application. Appoint.ly is a must-have tool for individuals and companies dealing with dozens of appointments and allotting proper time for them all.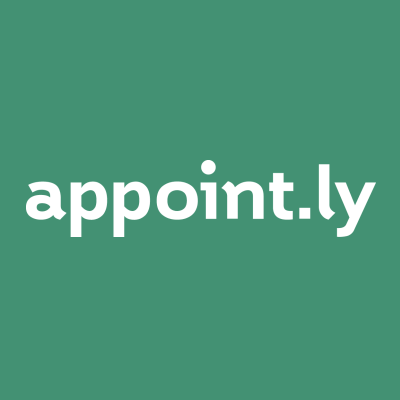 Scheduling an appointment is no joke. Both parties involved should be available at the given date and time and getting that right is always difficult. But, fret no more as Appoint.ly will do all the work for you. Once you have registered with Appoint.ly, it will consult the people you plan to meet and schedule appointments as per the availability of both parties. Thus, an association with Appoint.ly is a good idea as it reduces one's workload to a large extent.
Appoint.ly – Change the way you book appointments
At Appoint.ly, all it takes is a click to fix appointments, which otherwise would have taken lot of time and effort. Taking a look at how the software works we see that it first incorporates with the top online calendar applications. Then your potential clients can get to view the days when you are available. Accordingly, the appointments are booked without any clash/confusion regarding the dates. Appoint.ly not only helps with setting up appointments, it also assists with assessing team performances and progress. One can make use of this software to get important figures as well as get to know pages with the highest conversion rates.
Some of the main features of Appoint.ly are as follows:
Appoint.ly automatically integrates with all the major calendars once you have fixed an appointment. The date will immediately be added to your Google, Office and ICal calendars.
The software offers prompt e-mail notifications to you as well as your clients. Custom e-mail reminders are also sent as per request.
Appoint.ly helps with time zone management so that your appointments from across countries do not clash with one another.
One can physically set their availability and decide when to schedule various appointments.
With the help of Appoint.ly, people can create their own personalized links, which can be circulated among customers.
Appoint.ly assists one in fixing appointments as per their requirements.
It also offers complete analytics for the entire team, which can be used for various purposes.
The software does not schedule back-to-back appointments. It offers enough time gap between meetings to give one some free time.
Appoint.ly offers adjustable time slots for both the parties involved. With the presence of adjustable time slots, people can set up appointments as per their convenience.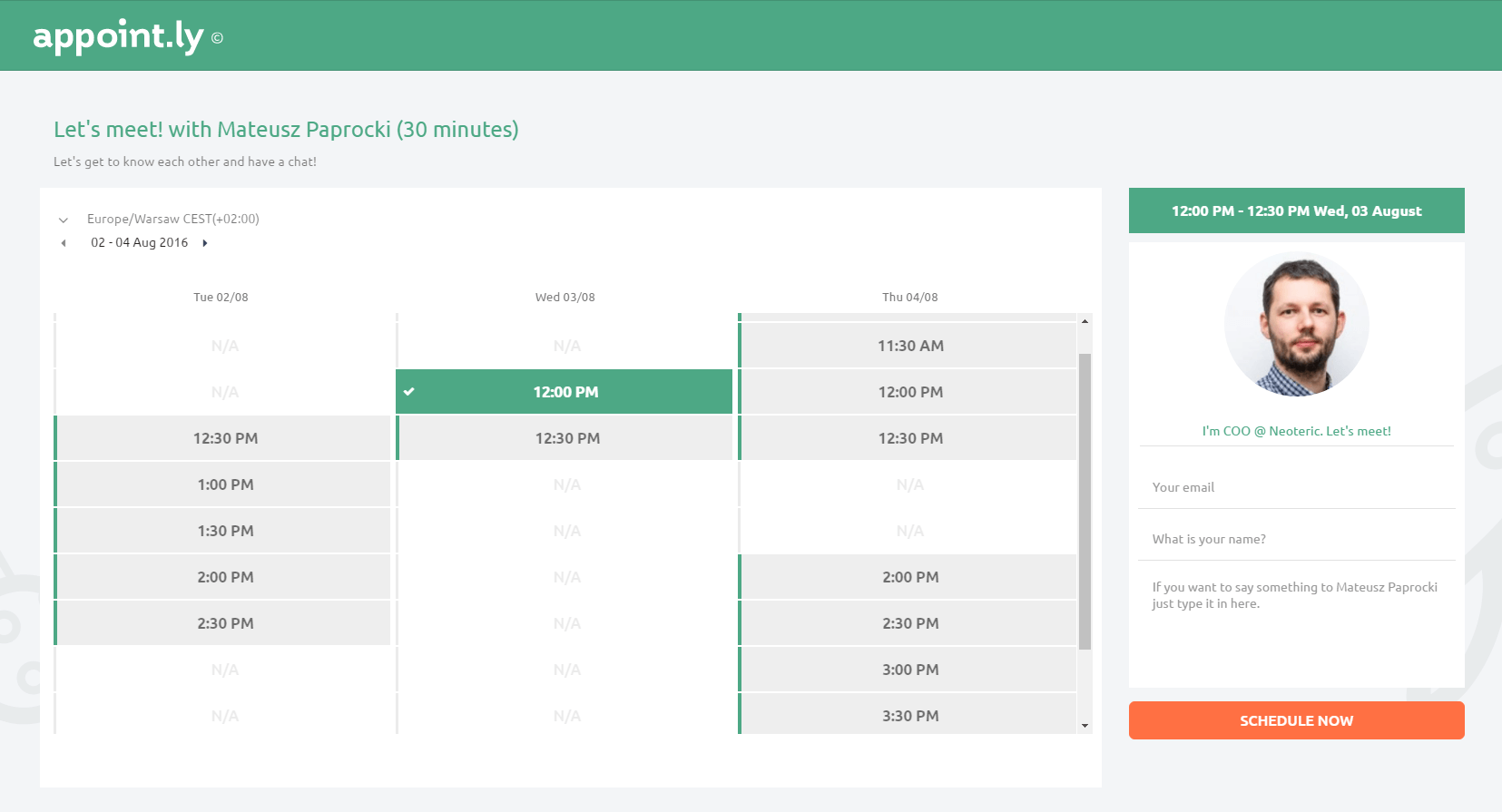 How it Works
Appoint.ly works in a very simple manner.
First, one needs to open an account with Appoint.ly, which is absolutely free.
Then when you open the page, you will find the different types of appointments, which are on offer. You need to set up your available time and date on the software.
That will be conveyed to the prospective client and they will pick up a predefined slot. In this manner, the time and date for the event is set and invitations are sent to both parties.
Once the appointment has been set, you can call on the client at the scheduled time.
All of this is done in such a simple manner that no extra time or effort is required.
Pros
Makes Your Schedule Known: A major benefit of the Appoint.ly software is that it makes your schedule known to all your clients and vice-versa. This goes a long way in fixing appointments without much confusion.
No Worry About Time Zones: As Appoint.ly works with clients across the world, there are bound to be doubts about time management. But, with the help of this software, one can easily fix appointments with clients across the world.
Never Miss an Appointment: The biggest benefit of using Appoint.ly is that you and your client will never miss any scheduled appointment. The e-mail notifications from Appoint.ly will always ensure that you never miss any meeting with your clients.
No ads: Another positive aspect about using the Appoint.ly software is that it is there are absolutely no ads. So while one is using the software, you or your clients will not be disturbed by any unnecessary advertisements.
Cons
Appointment for Only Two: The biggest drawback of using Appoint.ly is that it can set up appointment only between two people. One person cannot fix appointment with three or more people.
Book appointments without worrying about Time-Zones with @Appoint_ly appoint.ly/ via @supermonitoring
Verdict
Appoint.ly is a winning software as it helps people sort out one of the most common problems of fixing appointments. It conveniently arranges appointments as per the availability of the parties involved. Add to this adjustable time-slots, e-mail notifications about meetings and personalized intro messages, and you'll agree that Appoint.ly is a tool to treasure forever.
Get notified about our new posts
By submitting this form I accept the
Privacy Policy
and I agree to receive blog-related information from Super Monitoring.