MixMax – Powerful automation and analytics for outbound emails
One of the most critical aspects of email marketing is the want for the expected customer response. Companies typically dedicate a lot of their time and resources into creating the perfect marketing emails. But if such emails don't interest the target audience, it's all a waste. So how do they get to know if their emails worked? They track them.
Email tracking tools have become the new "in-thing" for outbound communications. Not just companies, individual professionals and freelancers too are investing in them to know if and when the email proposals for business opportunities they're sending across are being viewed by the recipients. And thanks to such tools, they also get to know if their emails are sent to trash without even being opened. And that information can be crucial in pinpointing exactly what it is about their outgoing emails that needs to be improved.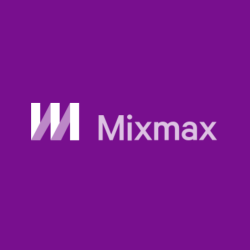 Needless to say, a tool which can offer that kind of insight into emailing can prove to be a valuable asset to any business. MixMax does exactly this and much more. In addition to real-time email tracking, the tool offers users the chance to schedule their emails, create them with a few clicks using prebuilt templates, analyze the response through analytics, and much more. Read all there is to know about MixMax in this post.
MixMax – Next Generation Email Tracking
Mixmax is the next generation of email tracking that improves your team's communication for unparalleled results. The all-in one platform gives users real-time email tracking, one-click scheduling, templates, sequences (mail merge), Salesforce integration, team sharing, accurate reporting and much more. Some of the most notable features of the tool include:
Email Management features like email monitoring, queue manager, routing, shared inboxes, etc.
One-click templates to create the perfect emails
Single click scheduling for meetings
Email scheduling so your email are sent to recipients on the exact time you know they will read it
Visual previews of links from Twitter, Google Maps, YouTube, and other social platforms
Email recalling support so that you can refine your message and then hit resend
Capability to write perfect, readable code snippets in Gmail with formatting and syntax highlight
Option to add surveys and polls inside messages
Integration with Giphy so you can insert animated gifs into your messages
Support for attaching files and documents from Google Drive, Dropbox, and Box
In addition to the above features, MixMax lets you personalize your emails with unique signatures for all of your email addresses. Moreover, you can look more professional with your company logo and name on all embedded content including polls, surveys, web previews, and invitations. All-in-all, if used the right way, MixMax is a great sales and marketing tool.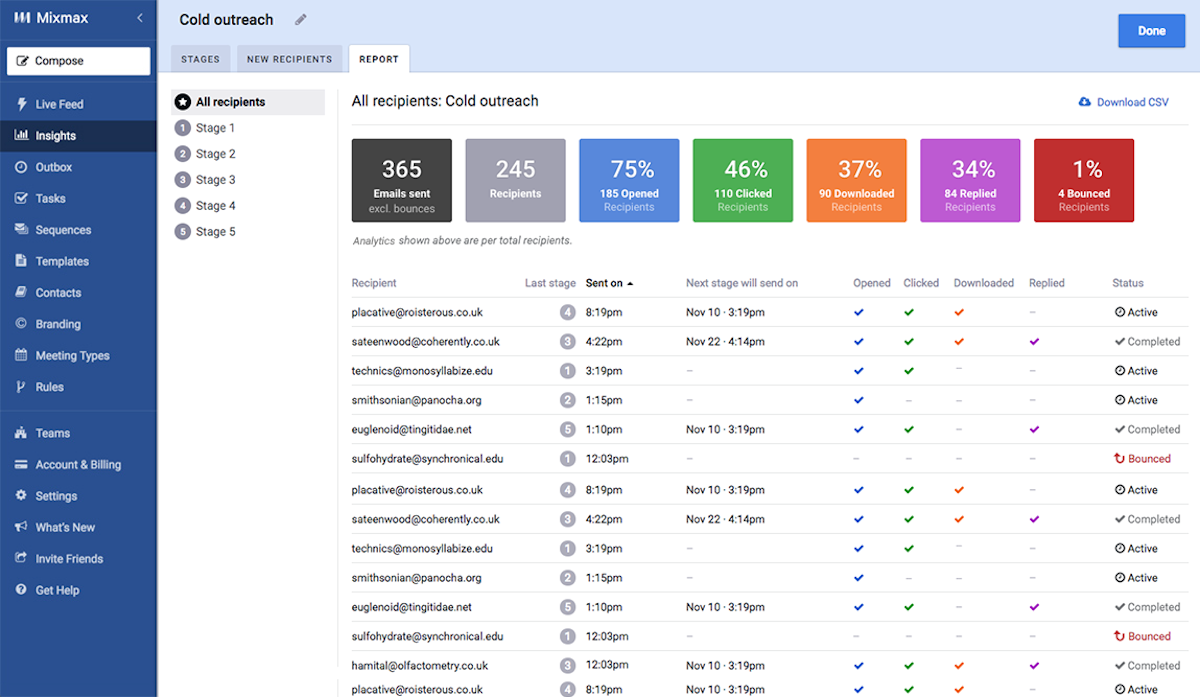 How it works
First things first, there are more than one ways to use MixMax; in fact, you can use it as differently as each of its features. The best way to learn how to use each feature is to visit the tool's website and hover on the "Product Tour" link in the main menu. Here you'll see a list of all features of the tool and on clicking each one, you'll be taken to a blog post explaining that feature and how it works.
You could also signup for the free trial to experience some hands-on action, of course!
Visit mixmax.com and click on "Install for free"
Sign in with your Google credentials and allow the application to access required information
You'll be shown a list of all the free features you're entitle to with the 14 day trial (and it will be a long list)
Click on "Get Started" to proceed
Quite interestingly, the tool will try to lure you with a "Free Upgrade" offer promising free Unlimited Tracking. To get the offer all you'll need to do is invite 7 or more of your friends to try MixMax (neat!). We skipped this one for the moment
Next you'll land at your dashboard with a floating top bar indicating the steps you should follow to use the tool (pretty handy). You can follow the indicated steps or click on the "Minimize" button on the top right corner of the screen to hide the top bar
By default, you'll be viewing the Live Feed of your emailing activity, but for first time users, this screen will be empty. So click on the "Outbox" option from the left side panel of the screen to start 'Composing' the first email you wish to track using MixMax
Since you'd have signed in with your Gmail credentials, your contacts will be imported into MixMax and won't give you any trouble picking the recipients for your emails. After you're done with the usual subject-line and content, take a look at the bottom of the compose window to find the following options given by MixMax:

Enhance: Options to add Surveys, Media, Link Previews to the email you're sending and the choice if you want something cool to happen with your email like self-destruct
Formatting
Attachment: Option to attach files from Google Drive, Dropbox, Box, or your Computer
Calendar
Poll
Image
Link
Emoticon

Once through, select if you wish to send the email immediately or after some time (schedule). You can automate when to send the email and if it is to be sent repeatedly
Select what all you wish to track for the email – opens, clicks, downloads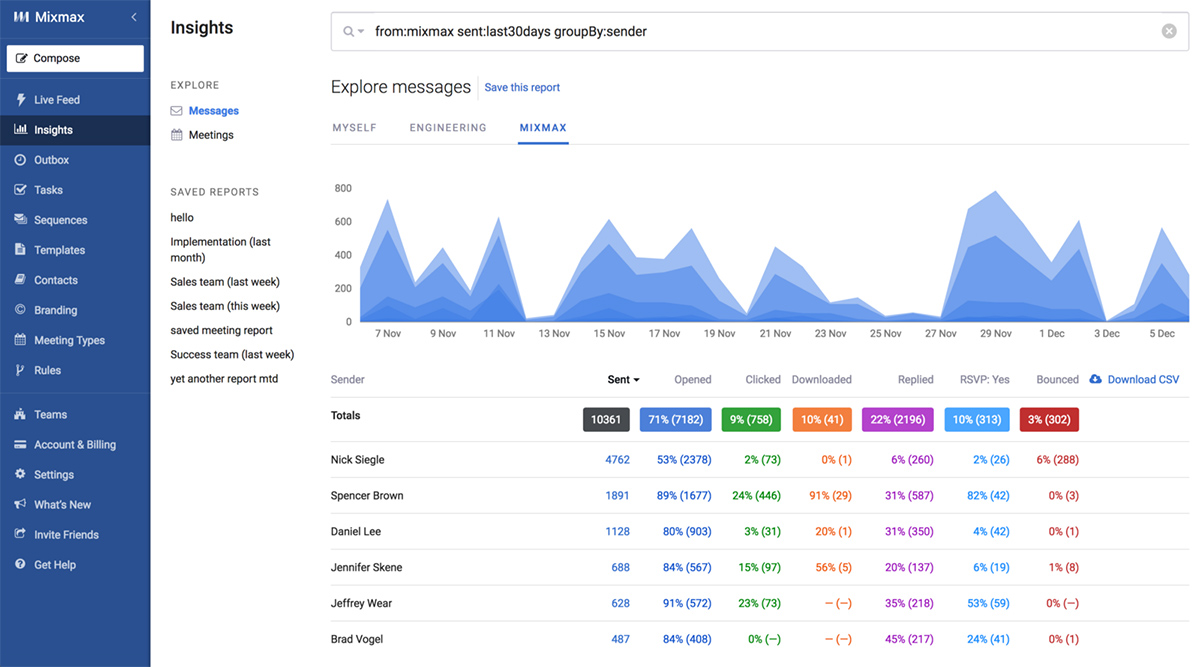 We followed these steps and sent a test email to an email id. Then we went back to the Live Feed section of MixMax to see real-time updates. Side by side, we opened up the email which was the recipient in another browser and read it. Sure enough, within a few seconds our Live Feed reported that the recipient had opened our email along with other helpful statistics as to whether the email was replied, clicked, downloaded, RSVP'd, bounced, etc.
So yes, MixMax really works!
Pros & Cons
Thousands of users who have worked with MixMax vouch for the following plus points of the tool:
Huge number of add-ons available to any standard mail, right from tracking to lists, email invites to link creation, file download to detailed analysis of email
UI is smooth, understandable and easy to use
Reports are great, email tracking is simple, template and sequence performance is great
Works with Inbox by Gmail
Zero friction to get up and running
Excellent snoozes and gentle reminders
While most users claim there isn't really any downside to MixMax, the following improvements are still desirable:
It sometimes messes with the general email functionality of POP mail accounts like Gmail
Group scheduling can be improved a bit
The customer service for the tool leaves something to be desired
It is a tool for those who can afford it (meaning it isn't very pocket friendly)
Track Outbound Emails, Schedule Meetings, Customize Email Marketing – try @mixmax today! mixmax.com/ via @supermonitoring
Verdict
For organizations and individuals who can afford MixMax, the tool's full version doesn't leave any stone unturned to help boost your sales and customer engagement. While that is true, the tool's free version is good too for basic things like tracking customer response to your emails, analyzing who clicked the links within them, etc. So we give MixMax a thumbs up!
Get notified about our new posts
By submitting this form I accept the
Privacy Policy
and I agree to receive blog-related information from Super Monitoring.