Easy scheduling and tracking of emails with Bananatag
Email tracking is becoming more and more important in this day and age. The traditional method of sending an email and waiting for an acknowledgement from the recipient requires a lot of patience. Today, technology allows you to track the life of your email, from the moment it was opened by your recipient to the time they downloaded your attachments. Email tracking is useful to cultivate relationships with your clients at a time when it has become increasingly difficult to maintain customer relationships in the cutthroat environment of the online marketing world.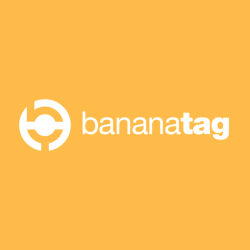 While we didn't previously have the option of tracking our emails, now there is an abundance of email tracking tools and applications that you can use. Of them is Bananatag. One added benefit with Bananatag's email tracking is that you can use it to schedule emails too.
Bananatag helps you stay competitive in the inbox world
With the options of tracking as well as scheduling emails, Bananatag will soon become indispensable to organizations. Designed for audiences wider than just sales guys, Bananatag's focus is also on the organization's internal communication. This greatly helps in monitoring and generating real-time data on employee management. With an interface that is simple to use, Bananatag also offers the following features:
Three different types of dashboards:

Metrics dashboards: Users can view data as opened emails versus unopened emails, unique clicks versus repeat clicks, and un-clicked emails versus clicked emails.
Resource dashboard: This dashboard provides downloads for plug-ins such as Gmail, Microsoft Outlook and so on.
User dashboard: Users can use this dashboard to view data such as the emails that they have already tracked, the amount of time that has passed between the sending and the opening of the emails, etc.

Email tracking: After you link an account to Bananatag for tracking your email messages, Bananatag sends you a notification for every email that was clicked by your recipient and every email that was opened.
Email scheduling: With just two clicks, you can use Bananatag to schedule your emails to be sent at a later time. You can select the date and time for an email to be sent. Also, you can set a recurring time for certain types of emails to be sent periodically, like newsfeeds or customer engagement emails.
Templates: If you have no time to compose basic messages, Bananatag has you covered in that area too. You can use variables (up to three variables per email) to customize the details of your email with the same basic template provided by Bananatag.
Attachment tracking: Probably one of the USPs of Bananatag, the application lets you view heat-maps for all your attachments, including presentations, documents, spreadsheets, and more file types. It will give you data such as the time spent on viewing each page of the attachment, the total page views, etc.
Email analytics: With this feature, you can view the success rate of your emails. It gives you a detailed view of the number of emails you sent on a particular day, the number of emails that were opened, the number of links that were clicked, the percentage of emails that were opened on a mobile device as compared to those that were opened on a desktop device, and the usage of the templates.

Tool working
Once you download Bananatag's Gmail or Outlook plug-in from their site, it is pretty simple to decide if you wish to take the 'For Sales Teams' or the 'For Internal Comms' plan. After buying and installing the plug-in, you will be able to schedule and track emails with the Schedule and Track buttons on your compose window. For tracking links and attachments, you need not perform an extra step. Only clicking the Track button in your compose window will do the trick. Your tracked emails are sent through your own server, which means that they arrive from your own email address. So you can always be assured of data security. You can use the dashboard to view the metrics of your email interaction.
To track emails, links and attachments, click the Track button on your compose window before sending the email.
To schedule an email to be sent later, click the Schedule button on your compose window. The Schedule window will display the calendar and the clock to set the preferred date and time for the email to be sent. Clicking the Recurring button will allow you to set an email for sending periodically.
Log on to their website with your log-in credentials to be able to view the metrics of your emails.

Pros and Cons
High points of the tool include:
Free tracking of 5 emails per day
Seamless tracking of all emails that are sent
Different plans for different purposes: sales and internal communication
There's one low point too:
Plug-ins available only for Gmail and Outlook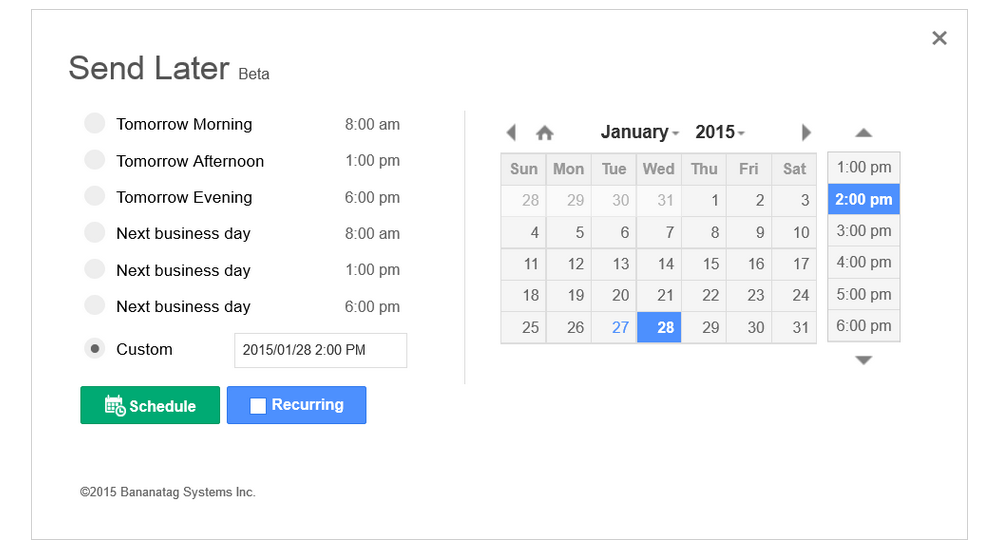 Pricing
The Pro plan can be bought for $6.25 with the capacity of tracking 100 emails a day. The Team plan is offered at $12.50 with the capacity of tracking 200 emails per day. The Internal Comms plan, although expensive at $200, allows you the capacity of tracking 200 emails a day along with the ability to send distribution lists and tracking internal communications.
Track your Gmail and Outlook emails with @bananatag bananatag.com/ via @supermonitoring
Verdict
With a free plan and different plans for different purposes, Bananatag is a star email tracking application. While it could do with plug-ins for more email applications, we are still okay with support for Google and Outlook. Better than its counterparts, Bananatag emerges a winner in this fight for the best email tracking application. We suggest you give it a try too!
Get notified about our new posts
By submitting this form I accept the
Privacy Policy
and I agree to receive blog-related information from Super Monitoring.