Make Your Research Easy with SurveyMonkey
Online survey tools have gained a lot of popularity in recent years. They produce a survey where every step is automated. As a consequence, creating and marketing a survey for a business is simplified.
However, because everything is automated and quick, people also find it simple to provide reviews. The effectiveness of a survey is significantly influenced by how quickly data can be obtained. If you want to gather information on customer satisfaction or performance analysis, it becomes much more crucial to conduct it efficiently. You can handle the correct problems at the right moment by gathering quick data.
Web surveys have always had substantially greater response rates than conventional survey formats. Web users may more easily answer surveys thanks to online survey technologies. The response rate might be as high as 50% on average. But you also need to think about how you relate to your intended audience.
Here, SurveyMonkey comes to mind as a platform that may offer both free and paid subscriptions and all the tools you need to build the perfect survey. Even with all the assistance you receive from online survey technologies, a high response rate is not guaranteed if you don't establish a positive relationship with your targeted audience.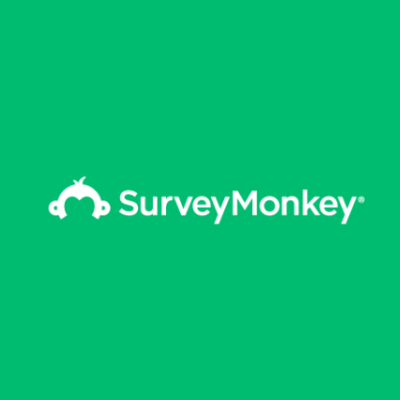 What is SurveyMonkey?
SurveyMonkey is a web tool that lets you conduct your online survey initiatives – such as in-depth market research, employee or customer feedback, and rapid polls. By using SurveyMonkey, you can modify the design of your survey to better suit your intended audience.
The platform contains several cutting-edge features that are intended to let you disseminate surveys online. When it reaches your millions of responders, its automatic capabilities let you examine results in real-time. After the information has been gathered, SurveyMonkey can handle a large amount of information using its range of reporting options to offer a detailed analysis. Additionally, both data and findings may be generated in a variety of formats and shared with other members to facilitate cooperation. As a result, it assists you in managing your business by enabling you to make choices based on SurveyMonkey data.
Features
SurveyMonkey has admin controls and dashboards, with the help of which you can manage numerous users and have access to all survey data gathered within your enterprise. It has encryption, SSO, and other features that help you stay in compliance with HIPAA and GDPR to assist you ensure that sensitive data is secured.
By connecting to important business systems with APIs and strong interfaces, such as Salesforce, Marketo, Tableau, and others, the input may be automated and made actionable.
Other important characteristics include:
Survey Templates
There are 150 plus survey templates available for any project like customer satisfaction, market research, employee engagement, education, etc.
Real-time results
SurveyMonkey automatically analyzes your results and provides powerful analysis features.
Customizable Survey Links and Design Themes
It provides adjustable layouts with ease of changing colors and fonts within your surveys. You can also remove SurveyMonkey's header and footer as per your convenience.
Custom branding
You can add your logo or other branded images for on-brand surveys.
Share survey templates
To securely share surveys, you can use flexible permission controls and display your findings in an appropriate format with personalized charts, graphs, and dashboards. You may export your data in a variety of file types including CSV, XLS, PDF, PPT, and SPSS.
Analyze your data in a snap
SurveyMonkey has automated charts and reports to gain rapid insights. It offers Sentiment Analysis and Word Cloud to analyze text replies. It utilizes cross-tab reports and combination filters to delve deeper into your data. Although it compares replies to industry standards.
Everything you need for best surveys
You can gain access to survey templates that are customized to your targeted audience, staff, or customers. To include in your surveys, you can pick from a variety of example questions developed by experts. Using SurveyMonkey Genius, you can assess your surveys to determine their success rates. It provides top suggestions for producing even the most complex surveys.
Create custom survey experiences
SurveyMonkey provides you the facility to remove header and footer. You can create a fully white-label surveys and choose from hundreds of survey themes.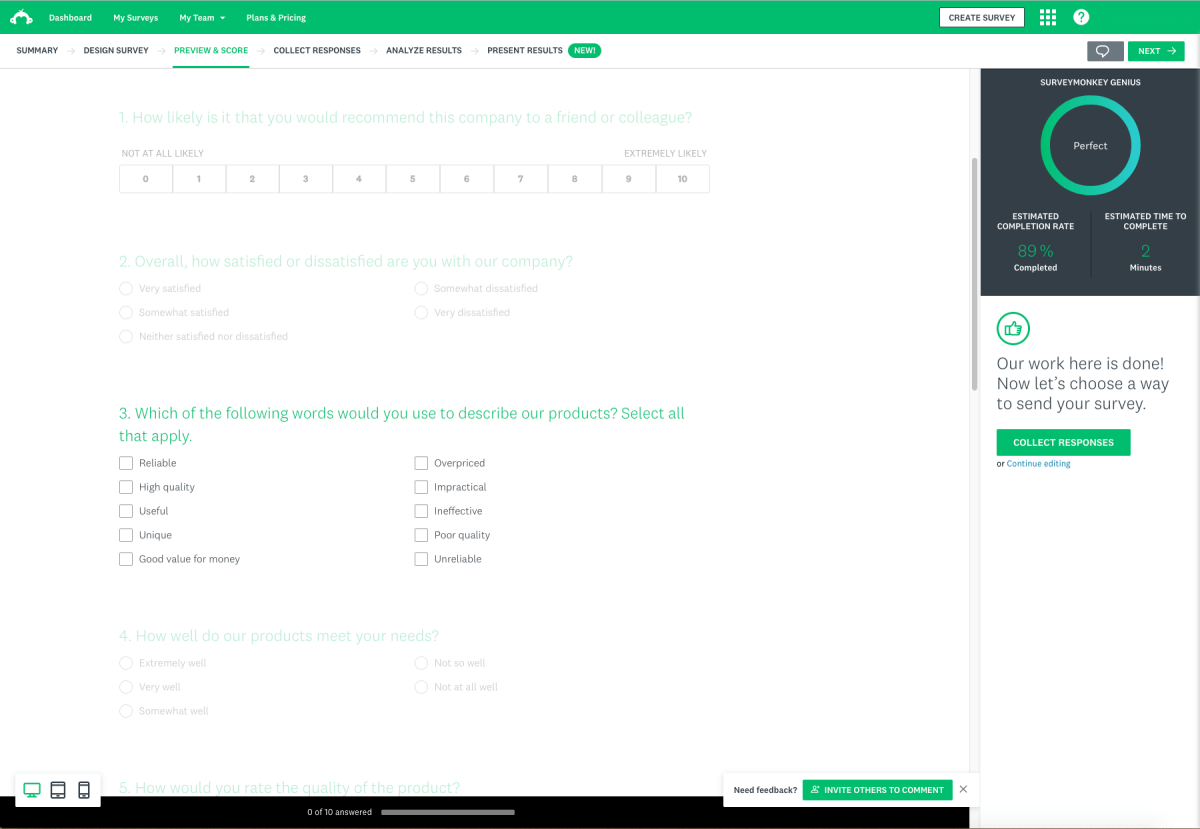 Pricing Plans
Within $34 per month SurveyMonkey provides tools to help one individual (create, send, and analyze surveys—in a snap).
There are two plans for multiple users:
"Advantage" costs $25 per user monthly and provides collaboration tools and survey features that help your team work more efficiently.
"Premier" costs $75 per user monthly. This best team feature helps you to launch advanced surveys and analyze results quickly.
Both of the subscriptions are billed annually.
SurveyMonkey Pros and Cons
Pros
Creating a survey with SurveyMonkey is pretty easy and simple, the steps are clear and not at all complicated.
SurveyMonkey has robust design features for survey variations.
You get recommendations throughout the setup and the onboarding on how to optimize your survey and collect better data.
Their question bank contains hundreds of questions that inspires you and makes the task even easier.
It offers great free plan features.
Cons
Design-wise, the forms created on SurveyMonkey are kind of outdated. They lack that attractive and engaging part that customers are expecting to see. This will not encourage the respondents to continue until the end of the survey.
Free plan has less customization for forms colors and design.
Analytics and reporting can't be revamped.
Create your questionnaire with the help of @SurveyMonkey surveymonkey.com/ via @supermonitoring
Lastly
With the help of SurveyMonkey's simple survey design tools, you can quickly start gathering data for a market study.
More than 300,000 organizations use SurveyMonkey to collect and analyze feedback, so they can improve choices and have a greater impact.
You can make subsequent business choices with the graphical reporting tools. You can export data from SurveyMonkey for use in other software packages, which increases both the return on investment (ROI) of SurveyMonkey and the ROI of other applications in your IT infrastructure. It helps you gain viewpoints and discover insightful strategies.
With SurveyMonkey's survey templates, you can get things going in a matter of minutes as a variety of questions come with these templates. More interestingly, you can change survey templates as per your need.
Additionally, there are customized toolkits tailored to certain jobs and sectors that add extra significance.
Creating surveys, feedback forms, quizzes, and more with SurveyMonkey is now easy. Check out their free plan; there is no restriction on the number of survey papers you generate.
Get notified about our new posts
By submitting this form I accept the
Privacy Policy
and I agree to receive blog-related information from Super Monitoring.