Gain insight into your customer's mind with Survicate
As an organization, what would you say is the most important step towards growth? The correct investment, the right workforce, market strategies? We believe the best way to get ahead is by knowing exactly what your customers want, when they want, and in what form they want. How would you know that, you think? Through a well constructed and well conducted survey, of course!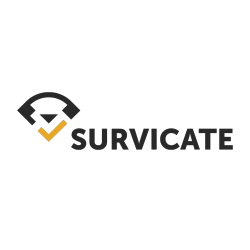 Online surveys have always been powerful tools for any business. They let organizations gain deep insight into the whims and fancies of their target consumer base. On the one hand they can help make a service better by collecting suggestions, on the other hand they can help find out the reason why a user doesn't want to use the service anymore thereby bringing about improvements. So come to think of it, conducting a short helpful survey is all about benefits for the organization and for the customers. And Survicate is an online tool that helps you create concise and effective surveys that always hit the bull's eye.
Survicate – The quickest way to collect customer feedback!
Survicate lets you gently survey your website visitors by conducting unobtrusive targeted surveys. It helps you to find out who your visitors are, what their needs are, and why they behave as they do. By making responding to surveys a matter of a tap or click, Survicate allows you to make surveys a natural part of your brand experience. With the help of this tool, you can safely get rid of guessing and base business decisions on actual customer responses.
Survicate enables you to create effective and attractive questionnaires that people actually don't mind filling out. It allows you to send the survey / questionnaire links to customers via email, text, or social media. Through a unique Net Promoter Score (NPS) feature, in which users rate how likely they are to refer your product / service to others, this tool lets you analyze how your product / service ranks among your customer base. You can couple the results of the NPS exercise by following it up with questions to understand why users rate you the way they do. You can even analyze your NPS in real time to spot the most common problems your customers face, solve them and reduce churn.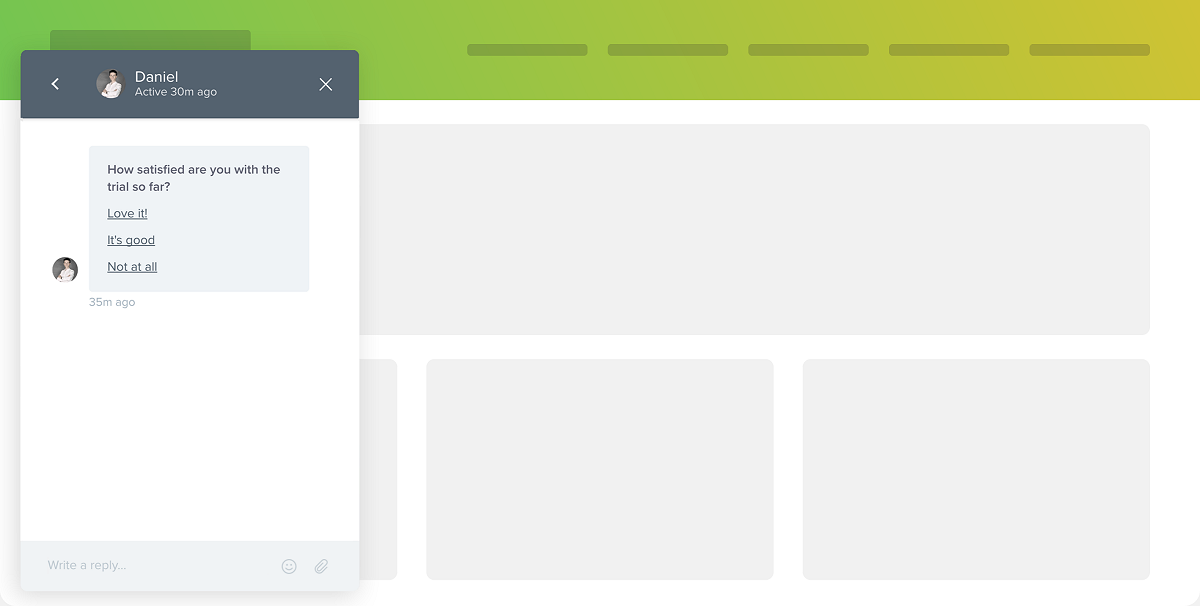 Here are some of Survicate's features that are worth looking into:
Lets you create surveys containing single questions with text answers or multiple choice questions
Lets you conduct surveys using Contact forms, Smiley face scales, and skip-logic
Lets you display custom 'Thank-you' messages at the end of surveys
Allows you to send survey invitations and target potential customers via Cookies
Allows you to chart changes in customer responses by referring to their past answers
Provides Reports and Analytics through CSV / XLS reports, Lead alerts, NPS analysis, etc
Enables you to customize surveys with color schemes, custom CSS, animations, delays and redirects
Offers robust security powered by daily backups, SSL certificate, and scalable infrastructure
Integrates seamlessly with the most popular marketing applications without the need of special technical skills or 3rd party connectors
How can you use Survicate?
Visit the tool's homepage and click on the button that says, "Sign Up Free". A simple, no-credit card signing up later, you'll come face to face with your tool dashboard. On the top right corner you'll find an easy option to alter your account settings and view your current membership plan (and an option to upgrade if needed). On the top left corner you'll find a drop-down listing the websites where you wish to post the surveys you create. You may add new domains by clicking on (+ Add new domain) from the drop-down.
To start creating your first survey, click on the large plus sign above the words "New Survey". A pop-up dialog will appear with the following choices:
Create New

Targeted Website Survey
Feedback Widget
Questionnaire
In-message Survey
Email NPS Survey

Use surveys library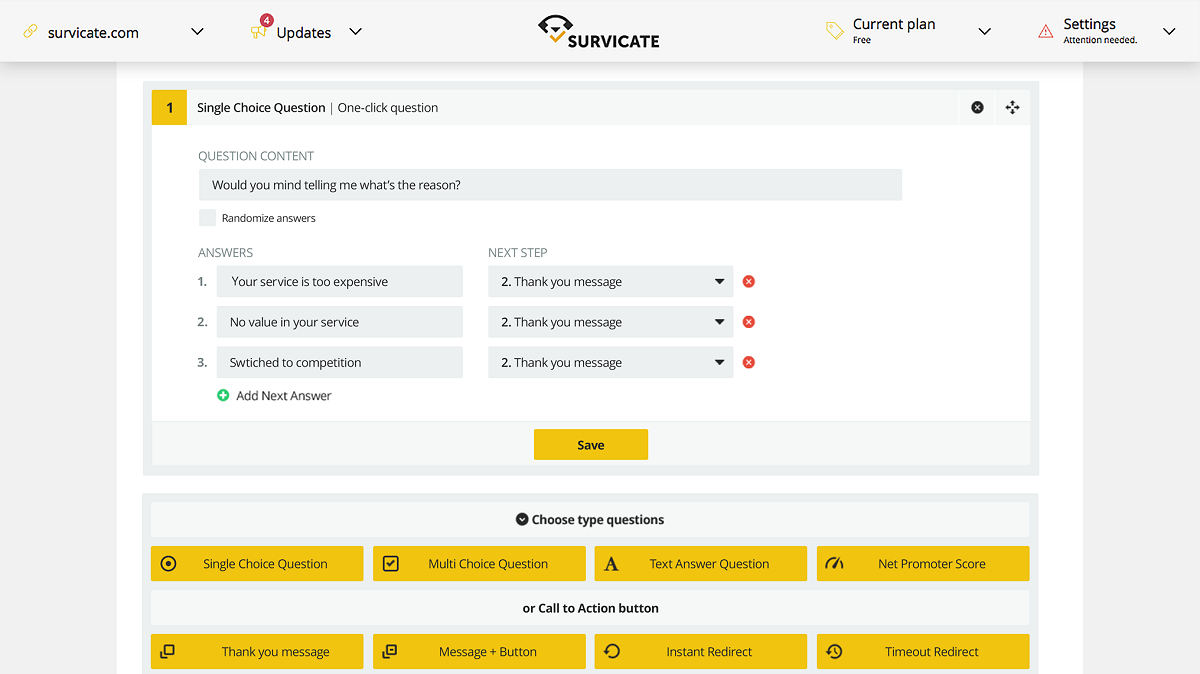 You could browse the surveys library to get an idea of how to create a good survey. The library has ample examples of Targeted Website Surveys, Full-page Questionnaires, and One-click Email Surveys / NPS to get you started.
If however, you choose to create a new survey, the options you will see next depends on which type of survey you want to create.
For Feedback Widget, you'll directly see a pop-up asking you to fill up informational texts where required. After that you can select add-ons if any to include in your survey.
For the other types, you'll be asked to enter a name for the survey and then proceed with adding type of questions, type of 'Call to Action', Design preferences if any, Appearance Settings, and finally, a button that activates the survey on your website.
The entire process is quite straightforward and easy to follow, really.
Pros VS Cons
It is after some time that we've come across a tool that has made it difficult to find cons with it. The pros are many, but the cons, well… not so much. Apart from a few more integrations we'd like to see supported by the too, there isn't anything to complain about. Even the price is pocket-friendly.
Get ahead of competition by tapping on customer feedback with @Survicate survicate.com/ via @supermonitoring
Final Words
So do we have a winner? We think so! Survicate is a tool that can prove to be imperative to your business's success. All you've got to do is know how to use it right. Create awesome surveys with it and keep monitoring the results for better chances of success.
Get notified about our new posts
By submitting this form I accept the
Privacy Policy
and I agree to receive blog-related information from Super Monitoring.