Make better Gantt charts with TeamGantt
If your organization uses Gantt charts for project planning, you know they're horizontal bar charts used to bring about better project management through production planning and control. Such charts provide a graphical illustration of a schedule that helps to plan, coordinate, and track specific tasks in a project. When they play such crucial role for organizations, even slight errors in them could lead to huge losses. It thus becomes pivotal to spend quality and ample time into their making and studying. Additionally, since Gantt charts are used in project planning, coworkers within a team or across teams need to share them among themselves and use them for frequent discussions.
With the advent of technology, everything literally, is moving to the online space. Taking the case of Gantt charts for instance, creating such charts to manage projects and sharing them with coworkers has now become an online thing. And this article is focused on an online tool that excels in the task. Presenting – TeamGantt.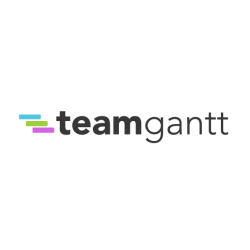 TeamGantt – Online Gantt chart software
TeamGantt is an online software that brings a new and easy feel to Gantt charts. The tool boasts of making the entire process so easy that you can create a project plan in minutes. Moreover, it enables inviting coworkers, teammates and friends to view and edit Gantt charts online thus making everything simpler. With a user-friendly approach, this online Gantt chart software helps you better understand your projects by helping you see what everyone is working on, check for tasks that are lagging behind schedule, better organize things and make comparisons between what was planned and what is actually achieved.
Key benefits that TeamGantt offers:
Quickly create and edit Gantt charts online through simple drag and drop approach.
File sharing becomes easy since the software is online. You can also receive comments on shared files to help you better collect information.
Particularly worthy for managers since they can easily see who is working on what on a daily basis
Makes tracking progress easier.
Eliminates the need to download or update software
Additional features that make TeamGantt stand apart from its competition include:
See the project taking shape in a step-wise fashion
Individual task management becomes a lot more enhanced. For example, Even if you only have one project open, you can still see if they are assigned a task in another project.
You can view multiple projects in one Gantt chart
A single TeamGantt screen lets you view all conversations, files, tasks, assignments, availability and more right in your Gantt chart.
Enables information filtering by person, due date, progress status and more to cut out the clutter.
Allows to print Gantt charts in PDF format
Allows you to create your own Gantt chart templates and use them within your team.
With features as awesome as these (and more), who wouldn't want to try it out?
How it works
Sign up for free through a convenient link on the homepage. Once that's done you'll be asked to login with the credentials you just created. Thereafter you'll be taken to your account's homepage. Here you'll see options to view your Active Projects, Task List, Week View etc. which will be empty initially.
You can start adding projects by clicking the "+ New Project" button. On doing so, you'll be given the option to create a new project from scratch or import an existing one from a CSV. You can even choose to duplicate an earlier project if you have one.
Once you're through this step, you will be redirected to a page where you can add people or resources to the project. Once done, click on the "Done" button at the bottom of the screen to arrive at the main software screen.
Here you can actually get down to business. Create tasks, assign them to people, drag to mark deadlines; basically do what you need to do to get the ball rolling. If you're into creating Gantt charts for some time, you'll know what to do. And if you need help, watch a tutorial video by clicking on the link that says "Watch this quick video to learn how".
In addition to this video, there are a lot of other tutorial videos that can be found on the TeamGantt "Learning Center". They're accompanied by Blog posts and articles on the topic to help newbies out. They also have a live chat option where a helpful assistant answers random queries you have and gives tips and pointers.
Strengths VS Weaknesses
The strengths of this tool are many and are basically evident from the list of features described above. Add to that the immensely powerful advantage of being omni-accessible owing to its web presence, and the tool is a clear winner.
The weakness of this tool lies in its pricing. For an account where you can create unlimited projects with unlimited users and 100 GB of file storage, you'll need to fish out almost $250 per month. There are other plans too with lesser charges but they have lower storage, user and project numbers allowed. While large organizations may be able to afford a tool so pricy, it might be a little too steep for small teams looking to better manage their short-term projects.
Make project planning fun and interactive with online Gantt chart software @teamgantt teamgantt.com/ via @supermonitoring
To sum it up
Overall, TeamGantt is a great online tool if you have the pocket for it. It anyways comes with a free 30 days trial so if the feature list is tempting you but you're unsure, try it out first. If you really like it, buy one of their plans. If you decided against it, well, who's stopping you from backing out?
Get notified about our new posts
By submitting this form I accept the
Privacy Policy
and I agree to receive blog-related information from Super Monitoring.