Live Chat Inc. – Offer Incredible Customer Service & Wow Your Customers
Live Chat, A web application that enables your sales or customer support team to interact with your customers through the website. It offers better engagement to the visitors with your website. Live Chat has numerous functions integrated and using facebook to know who your customer is and the ability to know more about the viewer or customer through their facebook profile is one feature that any ecommerce company or business would need.
Decreasing the customer service response time and increasing the customer satisfaction is what Live Chat does. A large number of people would love to get their queries solved immediately while browsing your website rather than waiting for customer service representatives to attend their call on phone. And on the other hand installing Live Chat would also cut down the cost for customer service.
Live Chat increases customer trust and confidence in your brand and also increases the number of sales as there is someone to guide the customer through the whole process especially when a customer is confused a sales representative would help them in making a sale for your brand.
Addressing customer's frustrations is what usually huge brands invest in social media for but having Live Chat installed enables companies to save investments on social media as well and they can have large reductions in the negative publicity on the social networking websites such as facebook and twitter. Using Live Chat you can make sure all your promotions and discount coupons work in the desired manner and ensure that your customers are happy with your service.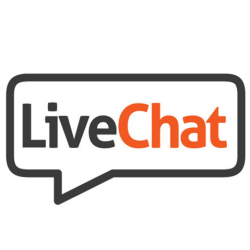 Live Chat Inc. offers same features to giant ecommerce brands as well as to those ecommerce platform which is run by some individual person so let it be a one man army or a full fledged mob of people working for your brand you'll have access to similar features.
Ease of Use, Appearance and Customization
Loaded with an easy to use bright and colourful interface which would suit any type of business and you have an option to customize the appearance of the chat window according to the colour scheme that matches your website or your company colours. Advanced users can edit the css and make changes to the widget. No credit card required for a signup and you just need to copy and paste a code to your website in order to integrate Live Chat. The ease of use is further accelerated by the clear and crisp instructions from the developers.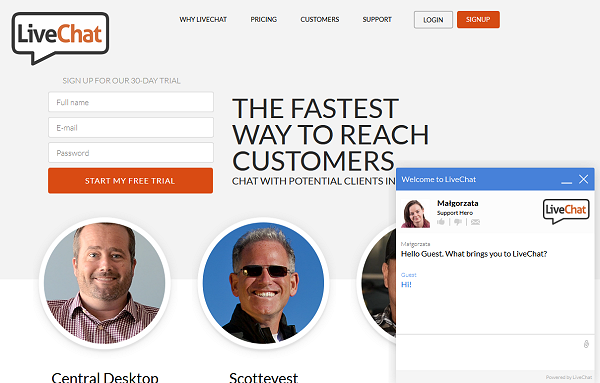 Chat Features
Client End – Ability to add company's logo and a picture of the operator who is responding to client or customer but this feature is optional. You can also add your social media accounts to the widget which informs the client/customer about your web presence.
Agent / Operator End – Wonderfully clean interface and has a software available for Mac or Windows. You are able to set a specific time for the tool to go offline when there is no activity performed.
Greetings, Canned Messages and Protocols – You can set greets and triggers for your customer and these can be customized in accordance with some specific rules. You can also set some phrases for quick response so that the customer wouldn't have to wait for a long time. After installing certain code snippets you'll be able to support multiple languages on the widget.
Analytics And Tracking – It shows the basic information about your customer including country, IP address and current webpage. It also allows you to know more about the customer using the social media and social network integration.
Integration And Support – Can be integrated with many applications such as Highrise , Salesforce, SugarCRM. It supports iPad, iPhone and Android devices.
Team Support and Integrations – Allows chat support representatives to work in teams and transfer chats from one gent to the other. Supports Agent Groups and people can select which department they would like to contact for their queries. It also creates a log history of chat for future reference.
Live Chat Customer Support – Helpful and easily reachable support and they give a quick response as well and answer all your queries related to the Live Chat widget.
Ticket System – Offline Messages can be handled easily using this feature on your website. Whenever the agent team is offline the client or customer messages would directly go to this system and has three status open, pending, resolved depending on whether your query is answered or not.
Reports and Stats – It shows a weekly report of all the live chat sessions and the quality of service your customers get through the customer service representative using the chat application. It also informs you about the missed chats and if your customers are satisfied with the response. It also informs you about the Queued visitors on your website who would like to chat and get their queries resolved and are waiting for an agent to respond this feature comes handy when you are thinking of expanding the live chat team. You should get in more operators when the number of people waiting for a chat goes up.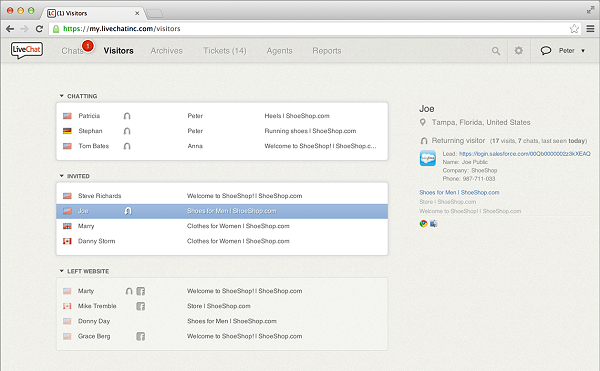 Pricing
[Updated 04/17/2015]
Live Chat Inc offers two different plans one for individuals and the other for team. The fee for solo plan is $36 per month and it includes unlimited chats, ticketing system enhanced security and reporting. The team plan is for $39 per month which includes all the solo plan features as well as chat routing and agent groups. They also offer a $59 per month enterprise plan which has some additional features such as credit card masking,multi brand customization, On demand reporting and work scheduler.
Live Chat offers five different plans, starting at $19 per seat/month. And you can try out the service for free for 30 days.
Live Chat support is always more convenient, you can offer competitive services, get instant feedback from customers and you can help more people at the same time.
Try the best customer chat support system available and win your customers – @LiveChat Inc. www.livechatinc.com/ via @supermonitoring
But there are some customers who wouldn't like specially those who aren't tech savvy. Also, chat support may not work well on all mobile platforms. Prank chats are also one of the problems people face when they install chat support systems on their business websites. Also, you should be careful as you would have to give a quick response to the customer or else he may get frustrated while using chat support unlike email or phone support systems.
Do take care of these points when you install Live Chat Inc widget, It'll surely help you making your business.
Get notified about our new posts
By submitting this form I accept the
Privacy Policy
and I agree to receive blog-related information from Super Monitoring.