5 Best Link Sharing Tools for Instagram and TikTok
Instagram and TikTok are two of the most popular visual platforms for brands and influencers to grow their online presence. Building an audience on these platforms is a lucrative endeavor for those who know how to monetize their content.
The biggest challenge, however, is getting users to move from your content directly to the link that allows you to earn an income. Instagram and TikTok only offer their users a single link in their bio's.
Managing that link is incredibly important if you wish to direct users to all of your monetized websites (product pages, YouTube, course, etc.). Enter the link-sharing services from the likes of Hypage, Linktree, Tap Bio, and more.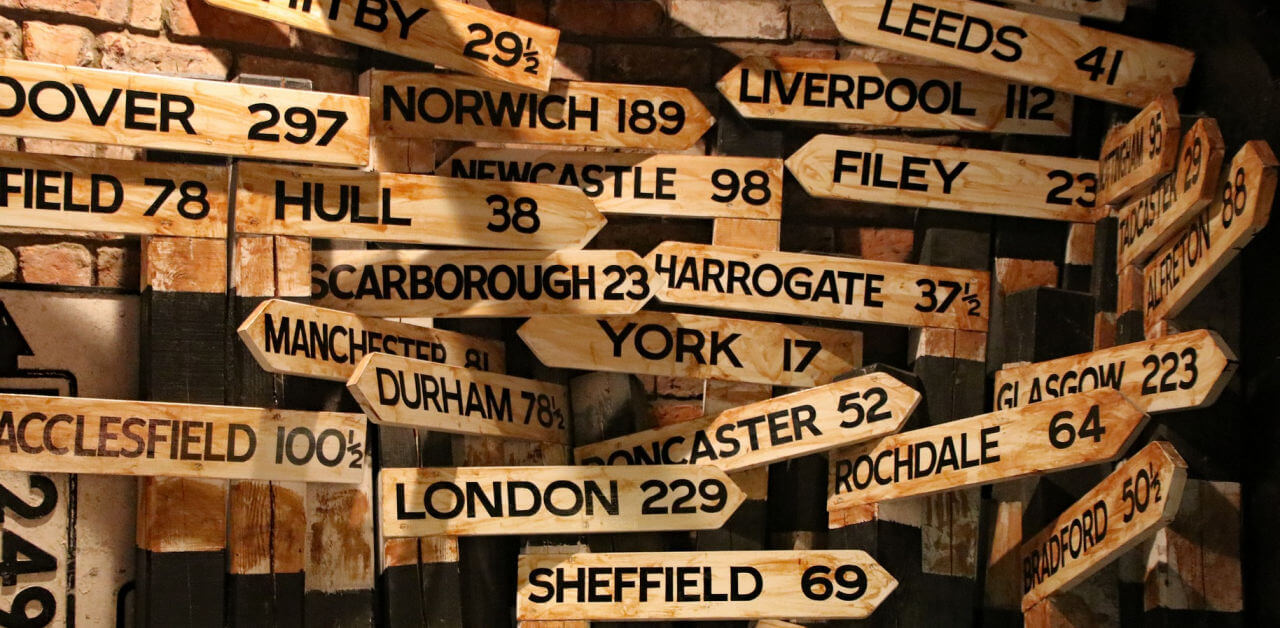 These link-sharing services allow you to use that single link in your bio to redirect traffic to multiple links. After a quick and easy setup, you can start moving Instagram users to your websites, social media pages, podcast networks, and many more.
So, where to start when choosing a link-sharing tool that best suits your needs? We reviewed 5 excellent offerings in this guide to help make your decision easier.
But first, Let's find out more about link-sharing tools.
What Are Link-Sharing Tools?
Link sharing tools allow you to build a webpage that neatly arranges all of your crucial links in one place. There are design elements that allow you to customize your link page to suit your brand requirements.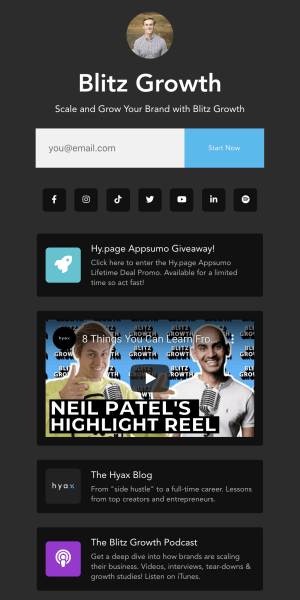 Once your link page is designed and ready, you can then insert the link for that page into your Instagram "link-in-bio." You can follow the step-by-step guide shared by Hyax. Your followers can now click on that link in bio to open your link page and access all of your crucial links.

Such a strategy is ideal for:
Podcasters – Link out to podcast networks and sponsor links
YouTubers – Link out to specific videos and sponsor links
Influencers – Link out to sponsors, other social networks, websites, etc.
Brands – Link out to current and special offers, landing pages, product pages, reviews, etc.
The 5 Best Link-Sharing Tools for Instagram and TikTok
Not all link services are created equal. While the concept of building a link page might sound simple, link-sharing services have created innovative features to take their offerings to the next level.
For instance, you can embed YouTube videos in some link pages so people can instantly watch the video without leaving the site. Other services offer built-in monetization options that allow you to sell products and courses within the link page.
Now, that you have an understanding of the potential behind these incredible services, let's dive into our 5 best link-sharing tools:
1. Hypage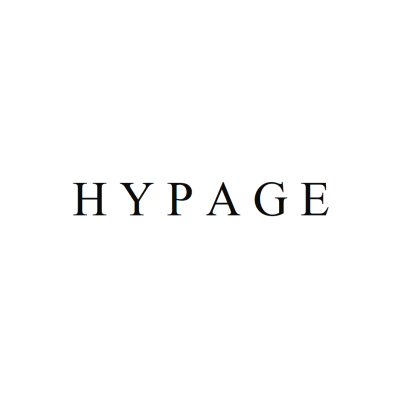 Hypage is a fairly new link-sharing tool that's beginning to show plenty of promise. It's free to sign up and get started. Setting up your link page is also straightforward.
Hypage offers tons of customization options. Users can create link pages that stand out, by working with an interface that's clean and easy to use. Designs look even more professional after embedding media such as audio, video, and social media posts.
Hypage is an absolute powerhouse because of the number of features it offers. Apart from its link-sharing and page-building tools, Hypage also offers tons of monetization options.
Creators, influencers, or just about any Instagram or TikTok user can use Hypage to monetize their social media profiles by following this ultimate guide prepared by Vyper. You can use hypage for free, but with limited features. It will cost you $19 per month to unlock its monetization features.
Pros:
Allows you to sell digital products
Accept tips, requests, and donations
An immense level of customization options
Accept recurring payments, build a membership platform for your brand
Free version available
Charge users for premium posts
Cons:
Pro Plan is expensive when compared to others
Still a very new service
2. Linktree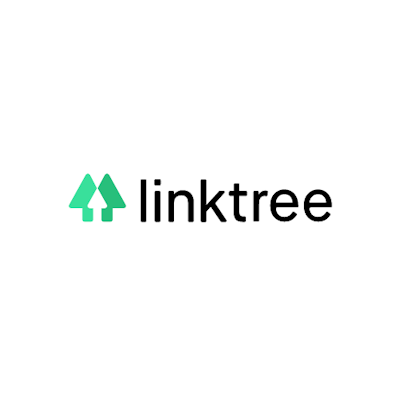 Linktree is one of the most popular link-sharing tools out there. Famous artists, influencers, and brands are known for using Linktree.
The customization options available on Linktree are impressive. You can create stunning mobile landing pages that best suit your brand image.
Apart from being a service that just shares web and social media links, Linktree also allows users to collect payments in the form of tips or donations. This is an excellent feature for content creators looking to get something back from their fans on Instagram.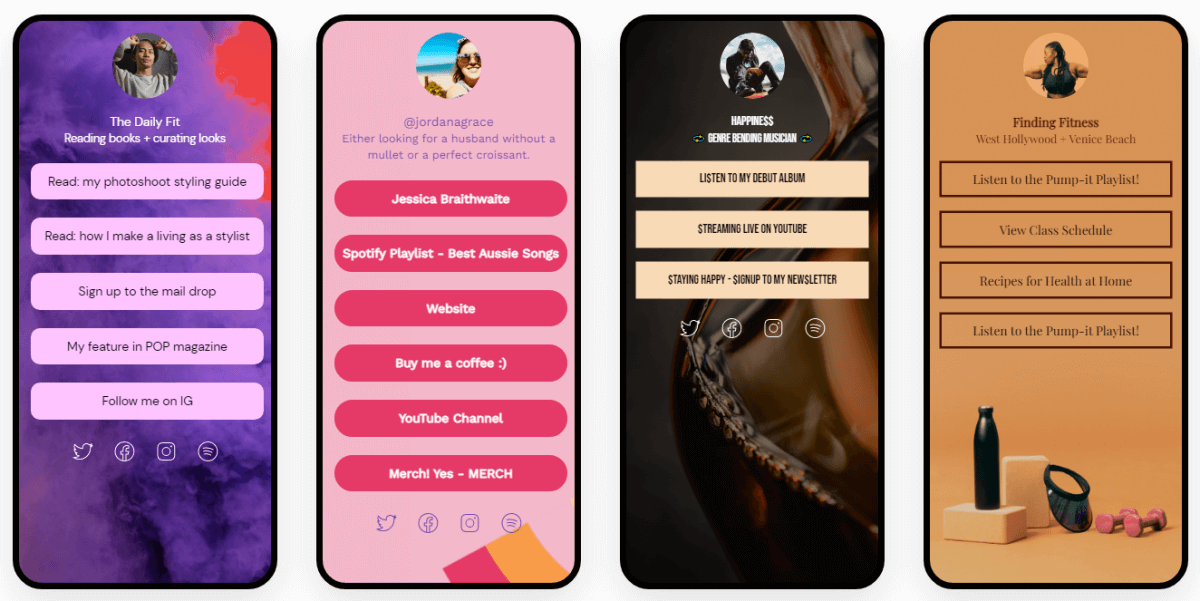 Linktree has recently partnered with Shopify, a leading e-commerce platform. This means that online stores can easily integrate their stores into Linktree.
By doing so, you open up the possibility of being able to sell wherever you place your Linktree URL. The Shopify integration is an excellent feature for brands looking to promote their Shopify store. Find the detailed guide published by TopGrowthMarketing.
Pros:
Allows you to sell products
Unlimited links
Accept tips and donations
Distinct templates that suit all kinds of niches
Schedule links
Free version available
Cons:
Pro plan might not be enticing for some
While there are many design options available, the layout is pretty standard
3. LNK.bio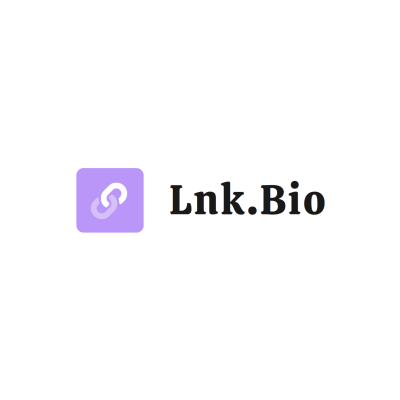 LNK.bio is a simple, no fuss no frills, link-sharing tool for Instagram. It is the most straightforward service here on the list.
LNK.bio is also one of the more affordable tools here that offer unlimited links on their free plan. It costs a mere $1 a month to unlock special design features and link tracking. You can unlock these features with a one-time purchase of $10.
LNK.bio offers a simple, yet effective landing page design that's ideal for bloggers. You can build an image-centric landing page for your links to match the images you have on your feed.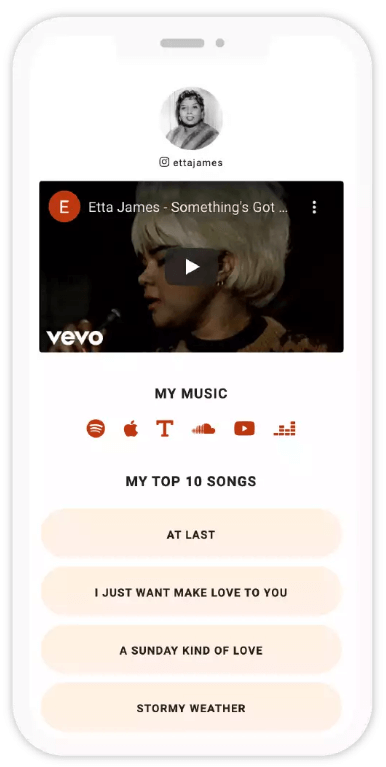 This way, your Instagram posts will correspond with the links in your LNK.bio landing page (which correspond to your blog). It's a great strategy for bloggers that want to show their work on Instagram.
Pros:
Great for 'blog-style' link-sharing landing pages
Unlimited links
Design language similar to Instagram
One Time price plans available (no subscription needed)
Free version available
Cons:
Design options are limited
Limited features
4. Tap Bio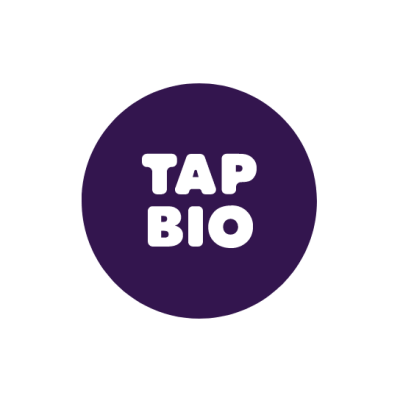 Tab Bio is another excellent link-sharing tool that has a fantastic feature. Instagram users that tap on the link in bio are taken to a mini-website that looks just like an Instagram Stories page.
The user can then swipe/tap to move to the next page (Tab Bio calls these pages cards). Similar to how you would navigate through a bunch of Instagram Stories.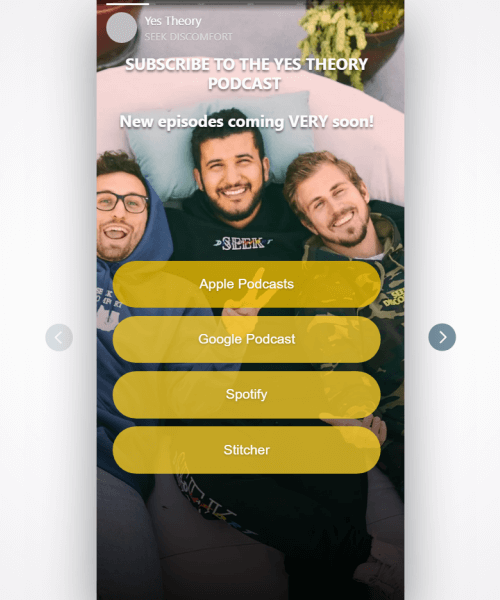 Tap Bio is an excellent option for creators that wish to display multiple pages of links. For example, Yes Theory uses Tab Bio to display the following link pages:
Podcast page with links to the various platforms where their podcast is featured
Two pages to promote their two YouTube channels
A contact page that allows users to send a text message to Yes Theory
An about page with all their social media links
You can simply click on the "next" arrow to move in between pages. Users can build similar link pages by selecting and editing templates. The YouTube video template looks great!
Pros: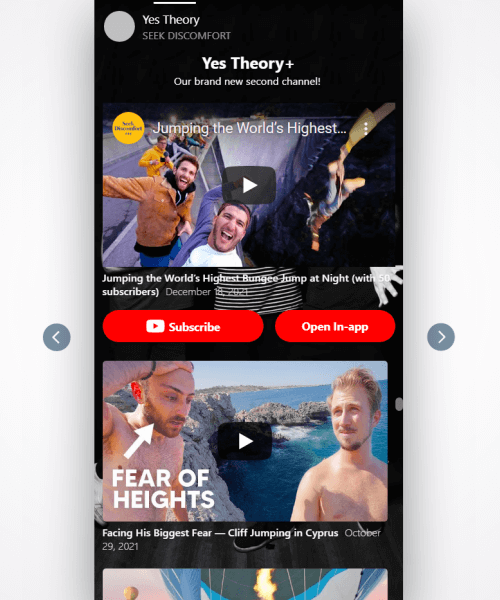 An excellent concept having multiple pages (cards) on one landing page
The Instagram Stories inspired layout looks fantastic on mobile
Perfect for YouTubers that have podcasts and are big on Instagram
Free plan available
Competitively priced paid plans
Cons:
Limited design options
Not many monetization options
5. Snipfeed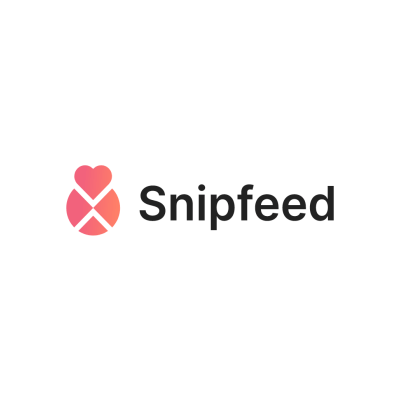 Snipfeed is an all-in-one tool that goes beyond basic link-in-bio sharing. You can use Snipfeed to accept tips and donations. There's also a feature that allows you to sell digital content like ebooks and courses.
The thing that sets Snipfeed apart from the other brands on this list is its Q&A and Livestream features. You can take requests, answer questions, or do shoutouts for eager fans.
The Livestream option allows your audience to book video calls with you for one-on-one consultations. The best part about these features is that they are monetizable. So, you can charge fans for shoutouts or consultations.
Snipfeed landing pages are basic and might not sport as many customization options as its competitors. However, the brand is still popular among TikTok users for its clean and user-friendly interface and its monetization features.
Pros:
An impressive list of features
Multiple monetization options
Earn money from consultations, shoutouts, and more
Free to use
No monthly fees, just commission (15%) payable to Snipfeed from sales
Cons:
Design options can be limiting
The layout needs improving. Only a few design elements (social media icons, email form) can take up the entire phone screen.
TL;DR
And there you have it! 5 Excellent link-sharing tools for you to choose from. Most of which have free versions available for you to test out.
If you are looking to earn an income from your audience, then we recommend Hypage and Snipfeed. Tab Bio is a simple, yet innovative offering for Podcasters and YouTubers. LNK.Bio is ideal for Bloggers and Lifestyle websites.
Tell us, which service on this list do you find the most appealing? Let us know in the comments below.
---
About the Author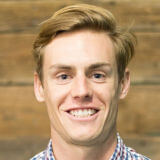 Jack Paxton is the co-founder of VYPER, a marketing tool that helps brands build email lists, social followings, and revenue using viral giveaways, referral, and reward programs. After millions of dollars spent testing different marketing strategies at his marketing agency. He then also co-founded Hyax a fast, conversion & design-focused course and funnel builder for creators.
Get notified about our new posts
By submitting this form I accept the
Privacy Policy
and I agree to receive blog-related information from Super Monitoring.