Highrise – Stay organized, track tasks and take notes at a click
Are you thinking about starting a business of your own? Starting a business is an exciting proposition, but it's also an incredibly challenging undertaking. Communicating your business, determining the key characteristics that will allow you to excel, exploring your opportunities that range from national and international, planning and preparing for every step in the process. You have a variety of options and tasks to manage all at once, wouldn't it be easier if you had an assist that can make everything easier. Here we have for you, your personal business manager an e-platform that allows you to conduct, save and share all the necessary requirements of a successful business running – Highrise.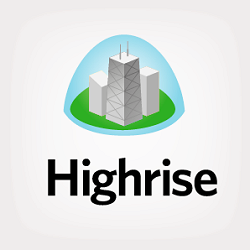 Features
Highrise enhances communication – it allows you to track contacts and manage all business relations by simply providing you the facility to share address books, store important emails, attach documents and files and control who sees what with easy privacy settings so that your team can view the status of any business deal or transaction in a couple of clicks. You can easily make notes and pointers on a meeting or project, share important emails in privacy sharing for the important negotiations on corporate level, or share tasks related to any contact or project. You can also mark information private to yourself or select team members, so that you share what you want, when you want.
Have difficulty in tracking your projects not any more, Highrise ensures easy tracking of your tasks & setting reminders. None of your deals will ever fall through the loopholes and there will be no miscommunication as everything will be crystal clear. It allows you to stay on top of your new business pipeline by creating tasks to follow up with leads and check in with customers. View tasks by company, contact, or project, and add reminders to tasks so that you never forget to send an email again. With this magical tool you can assign tasks to team members and get reminders via email or SMS.
The best part about this platform is that it links all your major communication platforms making it easy to import your contacts from Outlook, Gmail, Excel, and more thus collaborating all the essential details at one spot for a detailed go through. No more having to bounce to your Inbox, find the right thread to reply to, and remember to BCC your drop box address. Also what's awesome about this – it just augments Gmail. You can keep Gmail's fantastic sender reputation, and you can find Highrise generated messages in your sent mail over in Gmail. So you don't have to give up your inbox; you just don't have to open it as often, if you're using Highrise. Further it ensures your team to revert important emails at the right time with the right information. It allows you to send bulk promotional mails and add third parties via MailChimp. The imported files can be downloaded in simple CSV formats that can be forwarded on all professional fronts.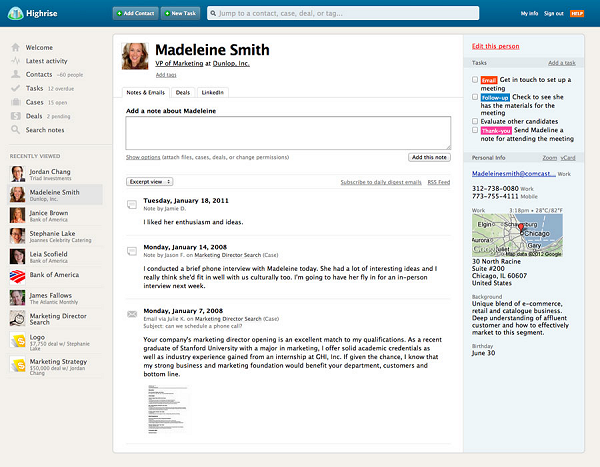 To summarize Highrise gives you freedom to keep important customer emails together on one page, review communications with your investors, see all the people your company knows at major business fronts and how to contact them, See all the follow-ups scheduled for the day and the following week, attach notes from a business call, review a colleagues notes before encountering him or her, set reminders on important meetings, business anniversaries, congratulation and thank you notes. If a group of contacts all share the same address because they work at the same company, just add those contacts to the same company record in Highrise. When you would look up that contact in Highrise, the shared company address appears in the sidebar. You can also set up follow-up sales call with a lead or client and schedule them easily over the months span in a period of 30 days.
Highrise makes it easier to conduct combined projects by allowing you to set a task for a co-worker to review a proposal, search and filter all your contacts, tag contacts for easy organization, customize data fields for people and companies Hence becoming a very handy professional tool.
Interface
As its name suggests, Highrise has a high quality and user friendly interface. It is built around a satisfyingly simple design that brings order to potentially chaotic information. The platforms primary purpose is to organize all the different component parts of your projects – notes, pictures, people and places – in a personalized, easy-to-understand way. The site has a user interface which uses a selection of gestures to create a grid structure for any given task, and organize it as you see fit. It's also fully collaborative, so users can share joint plans and contact each other from within the establishment and around.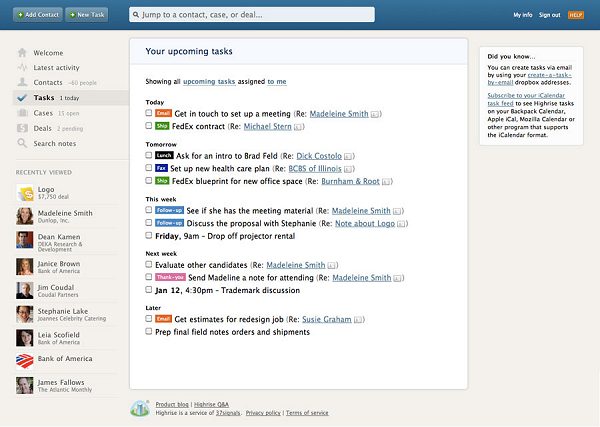 To start on Highrise
A 30 day trial is the best option to know that the platform is best suitable for you, it also gives you a fair idea of the features and the overall experience of the benefits of this platform for you. If you upgrade from a free account to a pay account you are not eligible for the 30-day free trial. The 30-day free trial on paying plans only applies if you sign up for a paying plan now. You can always downgrade later if you choose. Highrise is a pay-as-you-go service. There are no long term contracts or commitments on your part. You simply pay month-to-month. If you cancel, you'll be billed for the current month, but you won't be billed again.
The platform allows you to change the plan any time you want just click on the account tab and change your preferences any time during your usage. The website lets you pay via any medium accepting Visa, MasterCard, and American Express but it does not accept PayPal that might be a hindrance for now.
Highrise – the simplest online CRM that makes it easy for you to manage your business highrisehq.com/ @highrise via @supermonitoring
Improve your odds of business success by understanding your managing needs as well as the options that are available to help you organize, run and grow your business. Find out how you can successfully grow your company with Highrisehq.com. Give it a try.
Get notified about our new posts
By submitting this form I accept the
Privacy Policy
and I agree to receive blog-related information from Super Monitoring.