Dynamic Remote Collaboration under a single project management hub – Nifty
Project management is continuously evolving – among the other things toward a more efficient team and client collaboration. Considering the importance of communication in managing a project – it makes perfect sense.
If we start from a development point of view, the software can be quickly perfected to assist you as a powerful tool. But to achieve a high level of productivity, there must be a team that will utilize those tools. And it is inevitable to happen – the modern world is one big network of information that goes back and forth.
And to succeed in managing projects, cutting-edge premium software is not going to be enough. The other side of the coin are human resources, and your team is the fuel that will drive workload through those tools and create the final output – a successful project.
Having that in mind, some project management developers switched their focus toward an internal team collaboration and communication with a client – under one platform. Inspiring communication among team members, a workflow becomes transparent and flexible. Therefore, it will set the productivity bar high and enhance overall project performance.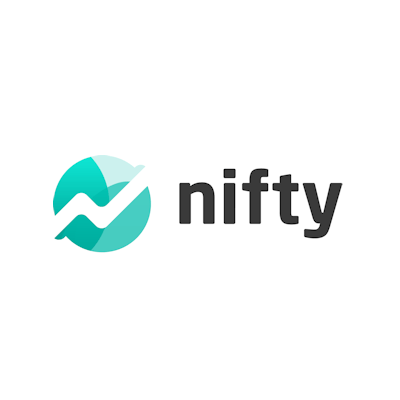 Nifty is a project management tool that allows you to do exactly so. Focusing on a workflow collaboration, Nifty project management software aligns project teams and clients, accelerates a project timeline, and automates progress reporting. It is designed to scope a wide range of business industries and niches, including internal teams of large companies, startups, and small local businesses, enabling them powerful features for managing tasks, track progress, and a team and client collaboration – from anywhere.
Dynamic Workflow Collaboration Hub
Nifty project management core features are anchored toward a centralized workspace for quick project tracking and collaboration support.
We know that communication is a dynamic process. Therefore, a Nifty tends to inspire teamwork as a foundation of team productivity, allowing team members to share feedback and improve workflow by turning plans into action simply by creating a task or sharing docs, files, or through a direct message. It creates a network of well-connected individuals into a highly productive team. On a larger scale, it gives you more comprehensive control of workflow and critical aspects of projects.
To avoid late delivery and extended due dates, Nifty assists you in aligning your team, automate processes, and create a timeline overview of your tasks, milestones, and projects in general.
Some of the core Nifty features are:
Different task views
Easy task assignment
Project Overview
Real-time Collaboration
Time Tracking
File Sharing
Milestone Dependencies
Progress Reporting
The software is designed as a central collaborative hub, which makes all project team members connect in real-time. Also, the software allows you to set manual project goals within a team and create individual timelines to track all processes at once effortlessly.
Visual Project Overview
Visual project overview allows you to have a bird-eye look on all your projects, tasks, and due dates. Nifty created multiple points of view so you can shift a perspective and have better feedback on your team productivity and real-time performance. So, you can easily manipulate your project tasks and oversee all critical processes before they become a severe issue.
Nifty task views include:
List view
Kanban-style view
Gantt charts view
Milestone view
Calendar view
Table view
Files view
Project task views help you to initiate, monitor, and execute tasks with high precision – minimizing the error rate of duplicate work and late deliveries.
Nifty allows you to have a transparent workflow, with precise guidelines toward a project execution.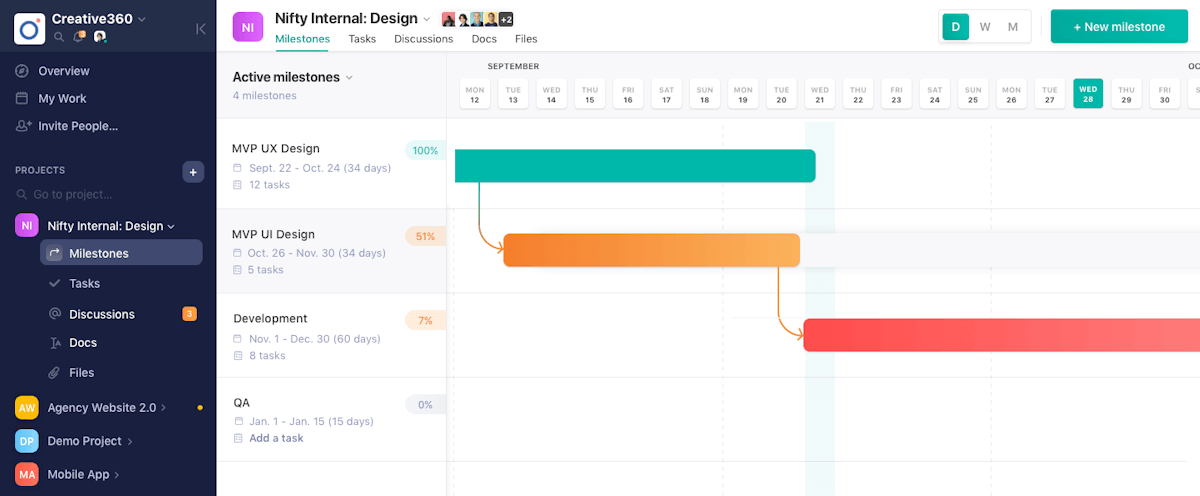 Sharing Files & Ideas
File view further increases transparency allowing your team members to share ideas and suggestions and offer additional value to the project. Nifty saves documents categorized by projects, and every team member can access them all the time. You can share files by Google Drive, Dropbox, and access on the computer or your mobile device – anywhere and anytime.
Also, Nifty allows you to form collaborative documents you can save then in the form of spreadsheets, Nifty Docs, or Google Docs, and it can be synced with Google Drive.
You can create feedback and notes on the document and even invite a team member into a discussion by creating a doc from Project Discussions.
Enhance Team Productivity
Team collaboration and transparent workflow lead to increased productivity. To avoid task accumulation and pressure on the team members – Nifty uses analysts and data to show you which team member or team is overwhelmed by the workload.
It is easily achievable by another excellent feature – Time tracking.
That way, you can monitor what the most significant time consumer is – and efficiently redistribute a workload to other team members. Time tracking also can assure you that the project will be delivered on time.
Having all these features under one platform. Nifty created a firm foundation for productivity rise, by transparent workflow, efficient distributed workloads, and monitoring a timeline. It leaves almost no space for significant errors.
Improve Client Communication
To make sure that your clients are up to date with all the project assets, one of the essential Nifty focuses is Client Communication.
You need to make sure that your clients are in line with project development all the time. Nifty created an Automate Progress Reporting.
It is quickly achievable by tying tasks to project milestones based on task competition. It creates a visual progress line of your project, giving you and your clients a quick look at the overall project timeline.
The second most important thing to improve your client communication is tool integration. It is essential that your clients can use other tools integrated into the project management platform, so the client onboarding process becomes faster and more stable.
Nifty has thousands of integration apps on the Zapier platform, creating a flexible workflow and document sharing project management platform.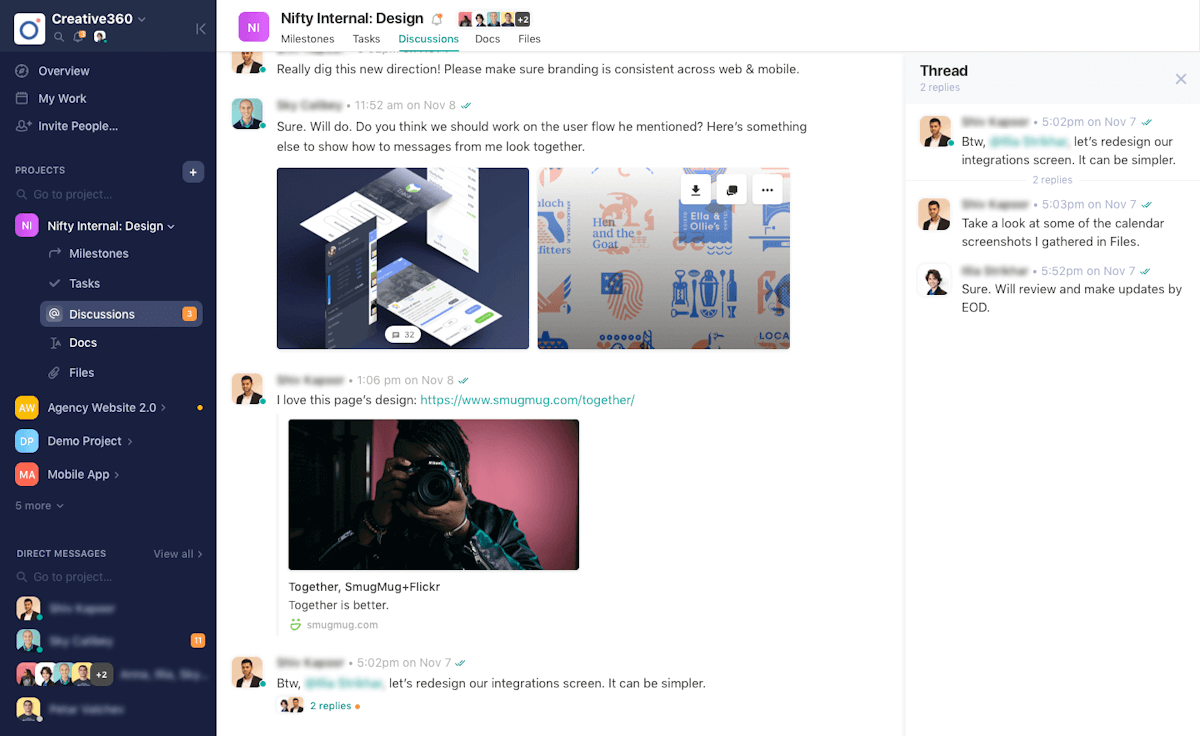 Final verdict
We can conclude that Nifty did an excellent job focusing on remote collaboration and team productivity. Now more than ever, remote work is essential for every company. Nifty concentrates on the team and client collaboration centralizing all workload through a single platform – and the result is a transparent workflow and easy overall progress monitoring and reporting. With a wide range of project task views, milestone reporting, and easy integration with other apps – and all of that combined with intuitive UX and UI design. Nifty is a pleasurable platform with incredibly powerful project management tools that you can use not only in the office but on the run, also.
And last but not least – the price. The good thing about Nifty is that it has a free trial of a full-feature version and also a free to use version but with limited options, which is excellent for small companies that need a powerful project management software to manage a small team and even for a team within large companies.
The bottom line is – test it before you buy it. And the Nifty is worth it, with its remote collaboration assets, tools, and features it can handle even the most challenging project – but only if you build a healthy work environment. Nifty will help you to utilize a productive team collaboration, with a transparent workflow and easily manageable workloads.
What are your opinions about team collaboration and project management software tools?
Please, leave a comment!
---
About the Author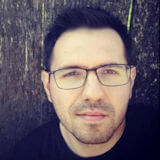 Aleksandar Radosevic – Tech-savvy and a productivity leadership writer. His writing is focused on the project management software evolution, productivity skills and habits. He is combining innovative and data-driven content to optimize digital content performance and user experience.
Get notified about our new posts
By submitting this form I accept the
Privacy Policy
and I agree to receive blog-related information from Super Monitoring.