Manage People, Projects, and Tasks Efficiently with Taagly
With technology playing an important role today, it is just logical for businesses to use software solutions to streamline communication, improve operations, and enhance efficiency. A large number of companies use task management applications to improve their operations and enhance productivity.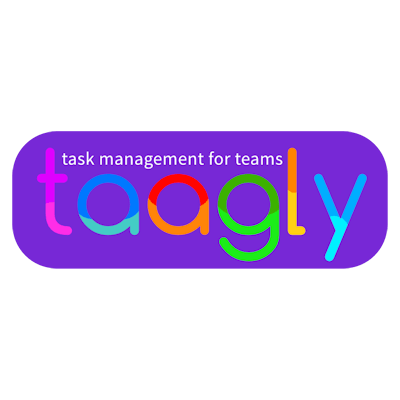 People and Tasks are two important elements that need to be managed well to eliminate bottlenecks and achieve success in business. Taggly is an easy to use task management application for projects and teams. The software features a user-friendly interface that helps teams to quickly realize their goals. Taggly also makes collaboration super easy as all team communication is kept in one place. With Taggly, you can create real-time plans, meet all deadlines, maintain a discipline of every aspect, and deliver products on time.
Taggly – Taking Complexity out of Project Management
Currently, Taggly offers free access to the platform (after registration) and the website does not list any subscription plans. The free Taggly account offers you 1GB of storage space and supports 9 users. You can access this information through links given in the user profile.
Some of the best features of the platform include:
Collaboration tools that allow the administrators and users to keep track of all tasks for the project through the dashboard.
Easy recurring task management automatically generates tasks based on repeating setup specified.
Can keep track of time spent on all tasks and helps in billing customers based on hours spent on projects.
The complete dashboard is available in a spreadsheet view which keeps all information in front of the eyes. No more digging into menus to get the required information.
Create subtasks to split work and for easy task management.
Get percent-complete tracking of all tasks and projects.
Detailed reporting of all active and completed task and progress report of all projects.
To-do-list view to remind the user of upcoming tasks.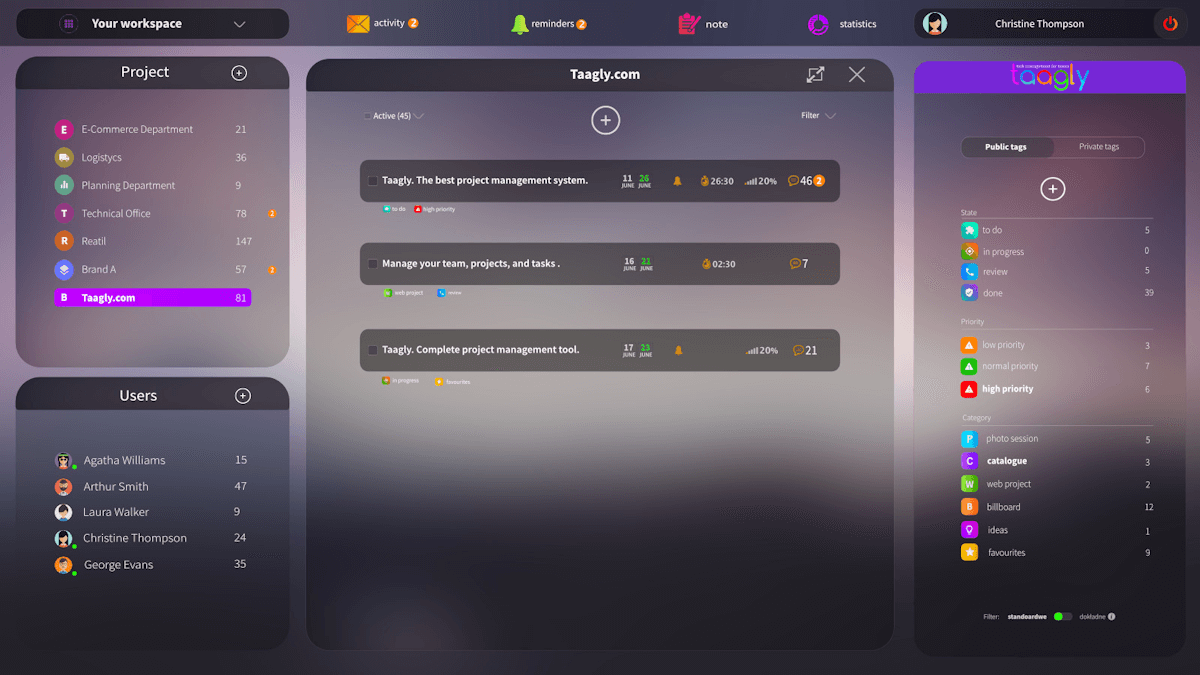 How does it work?
Taggly is a cloud-based application and you need an active internet connection to access the platform and use its features. You need to register with your email id to use Taggly. After you receive an account confirmation link in the email, click it to activate your Taggly account and log in with your credentials.
When you log in you can view the Networks related to your account. Networks refer to an organization/company that you have created in Taggly. To access your workspace, click any Network of your choice.
The Workspace
The Workspace is neatly divided into sections- Projects, Users, Tags (Public and Private Tags). The upper section of the workspace gives information about Activity, Reminders, Notes, and Statistics.
To add new projects you need to access the Project section in the dashboard which also allows you to view all tasks for a particular project in the list. The Users dashboard gives you a list of users in your network. Clicking the user's name will present you with a list of active tasks assigned to the user along with priorities. You can modify priorities for any task and the user will get a notification in real-time about the priority change. Tasks for any user can be sorted by date and time, priority, alphabetical, due date, progress, and estimated time. Thus, the Users dashboard gives you complete information about the user and his/her activity. This can be useful to manage teams and make collaboration on the project easier. You can also view completed tasks to get an idea about progress on each project.
You need to access your account profile to add users to your network. Click on manage network and then click on Users in the left-hand panel to add users. You need to enter information like user email id. The user's rights can be specified while adding a new user. Some of the rights that can be assigned to the user are observer, comment, tasks, projects, tags, workspace, users, and administrator. Moving the slider gives your ideas about the different functionalities and rights available to the user. You can also add a user to a particular project and give access to a particular workspace in your Taggly account. The user account control function ensures relevant information is only available to the relevant user in the network.
You can tag different tasks as per their importance. An administrator can create tags and assign them to any tasks. This helps in the easy categorization of tasks and filtering tasks as per tags.
Taggly provides you a spreadsheet view/summary of all projects, tasks, and user activity in the network. The Number of Users and Followers shows which tasks have the highest number of users while the Number of Users Assigned tells the highest number of users assigned for a project. The Progress section shows the progress of all projects while the estimated timeline shows the remaining time for each project as per the deadline set by you. The Work time section shows which projects and tasks users spend the most time on. The "Users Work Time" shows how many hours users have spent working on different tasks and projects.
The main dashboard displays function to add reminders and notes.
Taggly offers a commenting feature that can replace 3rd party chat applications in office and bring communication in one place. Through commenting features, users can ask questions, share feedback and collaborate with the team.
The AI Taggly analyzes available information about the project progress and can forecast whether a project would be completed within the deadline or not.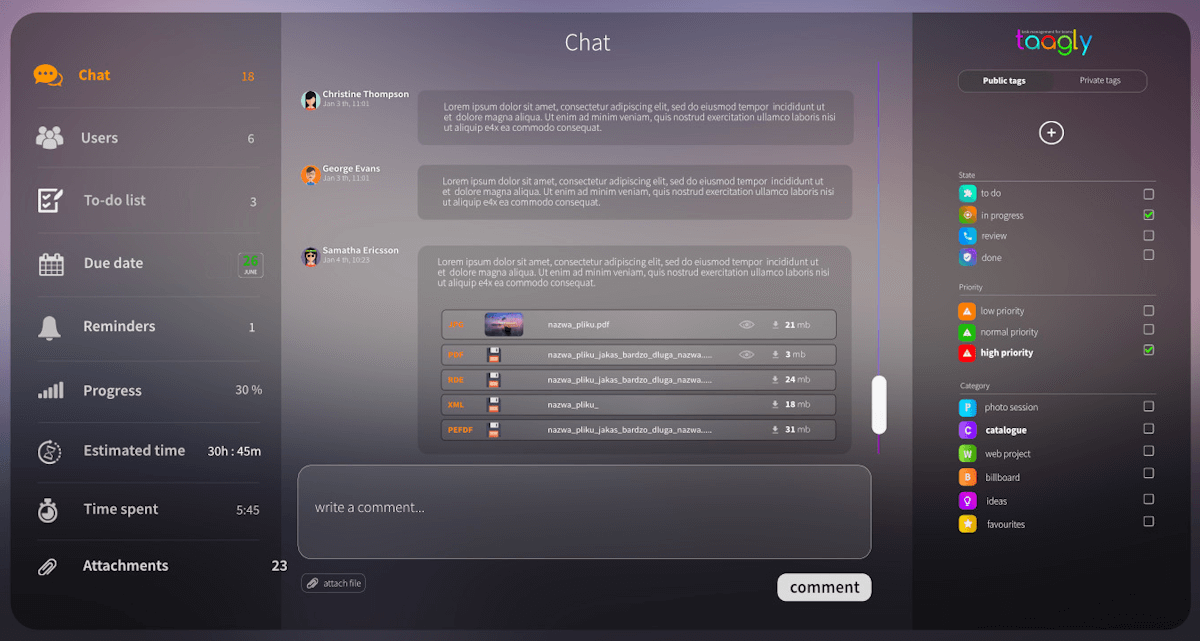 The good and bad
Pros
Good collaboration features
Unified dashboard/workspace for better project and team management
Add unlimited users to project
All features accessible during the trial period
3rd party integration supported
Cons
No pricing information available yet
Lack of proper documentation
Simple and flexible project and task management with @taagly taagly.com/ via @supermonitoring
Final Word
Taagly offers several handy functions that make collaboration between team members easy and enhances efficiency. Developers have given adequate attention to the security of the platform that is important for any project management application. The application offers almost every tool needed by the user to organize and complete them speedily.
Get notified about our new posts
By submitting this form I accept the
Privacy Policy
and I agree to receive blog-related information from Super Monitoring.
One comment:
Mateusz:

Hi, pricing is available on mail site in pricing page tab. Knowledge base will be in next month probably.

November 13th, 2019 at 1:56 am