Creatio: Low-code development Platform for Business
CRM or customer relationship management is not a new technical term businesses use for maintaining their contact in the market. The software is known for its automation commands which monitor a business's inside and outside activities. Including marketing strategies, lead generation, and customer support, companies rely on CRM for controlling a significant section of their business, which earns a better return for them.
With many developments and technical improvements, many CRM software are individually distinct in features and ways of analyzing business concepts.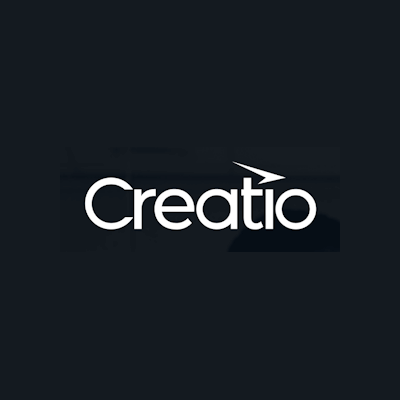 This article explains Creatio CRM and its professional features that are appreciated due to their extensions in each compartment. Not only managerial tasks but also Creatio's low-code platform for application development is another appealing station for developers and non-technical members, which promises oriented and customer-retaining app development by taking no time.
The subscription and usage of Creatio have marked a good rating for this CRM which states that it is a one-stop solution for accessing business problems and suggesting directional solutions.
With the emergence of the HR department in business communities, Creatio offers a human resource management dashboard. It involves recruitment, payroll, and other essential, employee-related features to control through one click, like a pro. Hence, of whatever size your business is, Creatio CRM will help you land in the active market by presenting your brand responsibly if you're starting off being a startup. So, let's explore below what advantages Creatio provides to its users is a CRM and how its low-code platform is an accessible business to start.
Advantages of Using Creatio CRM
Creatio acknowledges trends of today's online community and accordingly makes decisions to participate in the strategy-making process. Businesses are in profit using this CRM due to some prominent advantages. They are promising benefits because Creatio is:
A CRM and a BPM Program
While most Customer Relationship Management (CRM) software work only to maintain client engagement with a specific portal, Creatio can perform as a Business Process Management tool. It is another fantastic extension you will find in this software responsible for monetizing and dealing with the ins and outs of the business and its activities.
By performing as a CRM, Creatio tackles all the marketing strategies, including immediate lead generation tricks, advertisements, customer support, and much more. Its primary purpose remains to retain clients/customers to the website, which it makes possible by entertaining individually the users approaching the service/goods. It works well by giving them complete attention and sentimental focus.
On the other hand, Creatio is a BPM software whose task is to maintain internal business processes, particularly the issues and concerns related to workers. It manipulates weekly to monthly progress graphs made by each employee working in different departments, e.g., finance, marketing, development, etc. It then accordingly manages payroll and other tasks depending on historical movements.
Marketing Specialist
But with Creatio's marketing assistance, businesses can feel much lighter as multiple options can land customers through organic traffic. These processes can be operated automatically. Therefore, you can spend more time designing new strategies to implement, while Creatio will maintain your marketing plan fully functional on your behalf.
How does it work? So, you get a very user-friendly dashboard which tells the directions where even non-technical members can take entrance. Even if you are not good at using tools to execute essential operations such as marketing strategies, you can still efficiently run the processes with Creatio.
After launching and implementing the processes, you can monitor the engagements through graphs (qualitative analysis) to check how effective the strategy was. If it does not work up-to-the-mark, the tool will alarm some gaps, and you get the signs to upgrade some features that are no more entertaining in the market!
Easy-to-start Interface
Creatio is unique, and an upgraded version of CRMs demanded in revolutionized business communities. Still, at the same time, it offers an easy-to-start interface which means you don't need to understand the rocket science of tools. That is just a wrong fact in your mind.
Although many tools give users unlimited access to several features, they seem so complex that non-technical persons couldn't feel comfortable using them.
But Creatio ensures that those coming straight to it, carrying the purpose of solving their business problems, are more than welcome to get started in no time. You are not required to do a unique course of learning how this tool works. After getting the subscription key, you are all set to drive your business on the success path!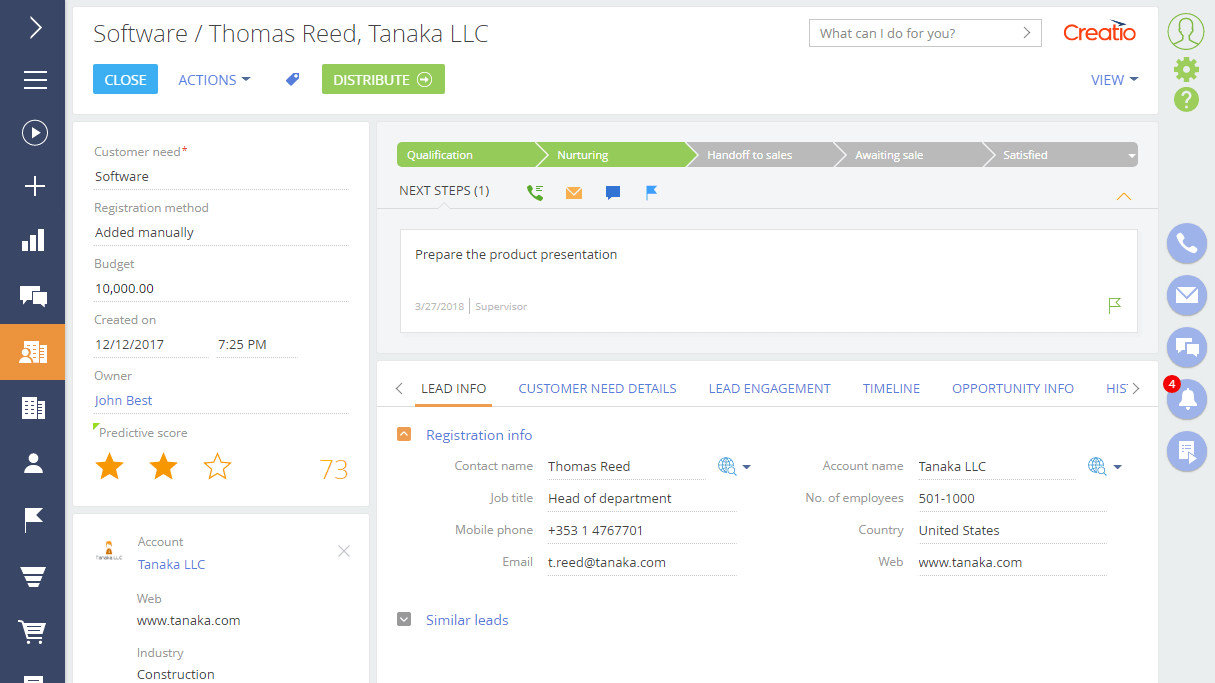 Creatio Low Code Benefits for App Developers
Besides being an effective customer relationships and business processes manager, Creatio has another excellent section to help developers develop optimistic applications using low code. This concept has been famous lately. Its use drives a crazy fascination for developers and non-technical workers in a company where both parties can take advantage of this latest technology.
Why is it beneficial and the need of the hour? Let's check out the reasons:
Develop Apps using visual methods
Developing apps using low code means you are holding a minor fraction of code in your brain, and even if you don't know about coding, you can create an app following visual signs of making features in the app. This is the finest way to handle specifications and areas of treating customers in the apps. The low code platform enables you to understand the simple visual methods of inserting blocks and editing in applications.
An out-of-the-box functionality
Creatio removes the need to build an app from scratch. It instead provides a sophisticated solution to launch an optimum application using less code professionally. It gives users the core of applications prebuilt, which they can pick out of the list. The further insertion and addition of APIs and features can be proceeded by simply dragging and dropping elements in the block. That's how Creatio offers an out-of-the-box OOTB functionality for app development.
Easy to assemble app features
To constantly develop an app and its features, it is very important the platform you are using has a drag and drop quality. It requires almost no effort to build apps, and Creatio's low code platform is based on this possibility. So, all the features, such as theme, language, dropbox, and more, can be easily assembled.
Easily customizable
Developers who know coding can further go deep inside customization of features to make distinctions so that the app doesn't resemble others. But to maintain a suggested layout of the app, all workers who are active on the management side can also run the application's development procedure using low code.
Secure and Scalable
Don't worry if your only concern for not using low code is app security. The code Creatio's low code platform uses all security standards already featured. As soon as a list of features is submitted to the app, its security evolves and makes it scalable and reliable.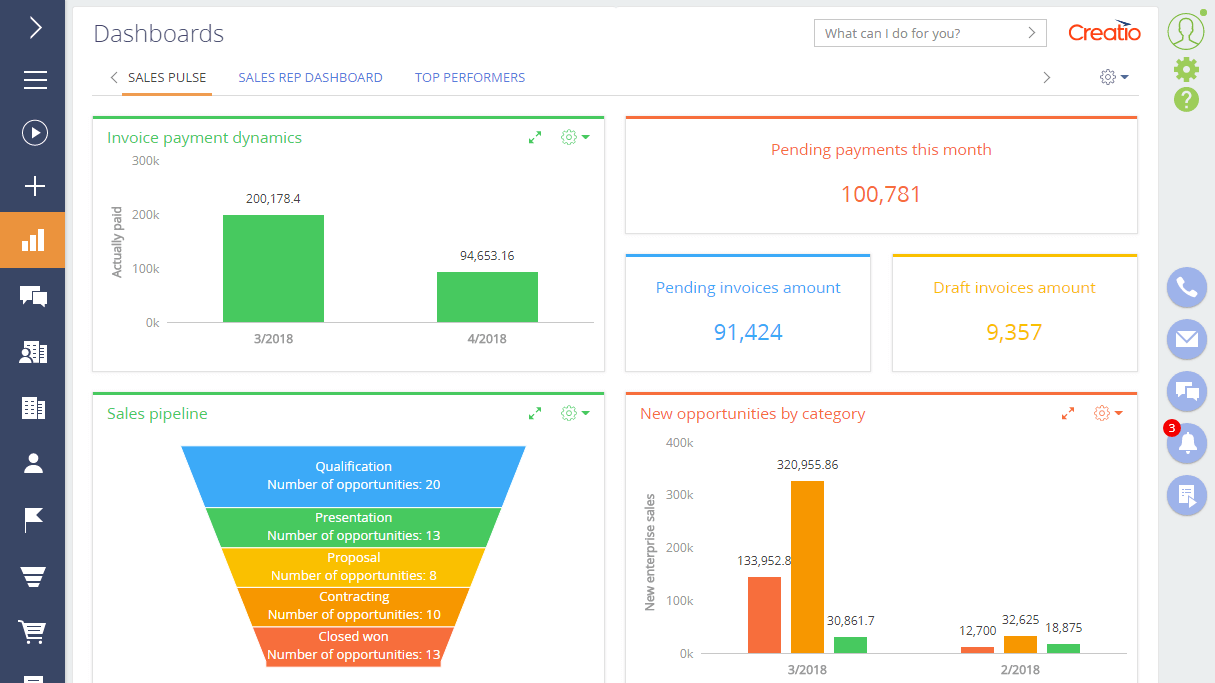 Final Thoughts
Each of Creatio's four programs is among the most beneficial in its course. Although it's costly, practicing a mixture of the four platforms will help you improve your business through impactful marketing, developed workplace performance, and an enhanced conversion rate.
On top of this, Creatio's administration interface is very user-friendly and simple to operate once you take control of it. Eventually, if you're consulting for persuasive CRM or BPM software, we'd suggest giving the free trial a push to examine if it struggles for you and your company.
---
About the Author
Mike Yudin is the Director of Engineering at Creatio with eight years of experience building with low-code/no-code platforms. In his current post, he is responsible for Creatio Marketplace growth. Previously, he was the Head of Engineering managing large Creatio implementations for enterprise customers worldwide, across various verticals including financial services, telecom, pharma etc. Mike has profound domain expertise in enterprise software solutions low-code/no-code and BPM technologies.
Get notified about our new posts
By submitting this form I accept the
Privacy Policy
and I agree to receive blog-related information from Super Monitoring.
One comment:
Amit Pawar:

Low Code Development is at boom and becoming highly popular process in development process. It allows to connect with AI and Cloud Services which ultimately makes the software project secure and highly effective. Creatio is the SaaS low code solution helping in development process with wide range of features including security, scalability, customization and easy to do interface creation options. Creatio is a complete set of options that helps a developer to put in the low code approach with add on facilities.

January 12th, 2022 at 4:55 am