Create stunning background-less images with ClippingMagic
Many artists today are taking the e-commerce road to market their talent. And that's actually a great idea. Amazon, eBay and other popular online selling platforms play a pivotal role in making art reach the right customers. But what do you think attracts users most when monitoring art online. It's true a low price is a crowd-puller, but to truly appeal the senses, an art-work needs to look absolutely stunning. The same logic applies to clothes, accessories, home décor, and pretty much everything that's available for sale online. Something that's low priced will never sell if its depiction or image on an e-commerce website isn't attractive. However, an item that looks ravishing tends to sell despite a slightly steep price.
Bottom line – to sell something online, its depiction / image / photograph should be perfect. We know where you're going – Photoshop? Nah, here's something simpler and more reasonable – ClippingMagic.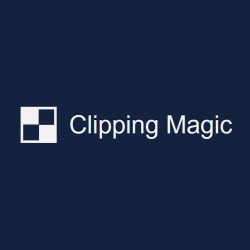 ClippingMagic – give photos a makeover!
ClippingMagic is an online tool that lets you accomplish all the editing tasks you need to publish great images. With a few clicks, it lets you remove image background, make them transparent, adjust colors, add / drop shadows, as well as crop the images to create an eye-popping result. Of course it doesn't have all the features of Photoshop but if editing photos to highlight your work / product online is what you're looking for, ClippingMagic is the perfect choice.
The tool's intuitive algorithms make complex tasks like removing image background seem like child's play. All you have to do is mark the foreground with a green line and the background with a red line and a click later, you'll have a great transparent image that you can post on Amazon and eBay to sell. And all that for a fraction of the hassle and cost – neat!
Here are some exciting features of ClippingMagic at a glance:
Allows you to pan and zoom images to deep levels for inspecting details and making changes accordingly
Auto-save and Undo-Redo options to help revert changes and save automatically
Configurable brush size to adapt to your zoom level dynamically
Scalpel to cut off uneven faint edges
Tools like refine edges, dedicated hair tool, color control, color cast removal, etc give you the kind of control you want to have while editing images and making them look perfect
Enables you to select preferred file format, DPI, color space, and JPEG quality
Facilitates advanced lossless or lossy web optimization to minimize image file sizes
Support for images up to 8 megapixels
With ClippingMagic you can quickly create a catalog of neat results by conveniently clipping a number if images simultaneously. The above mentioned features are just the tip of the iceberg. To find out about the complete spectrum of the tool's features, visit its homepage (https://clippingmagic.com/).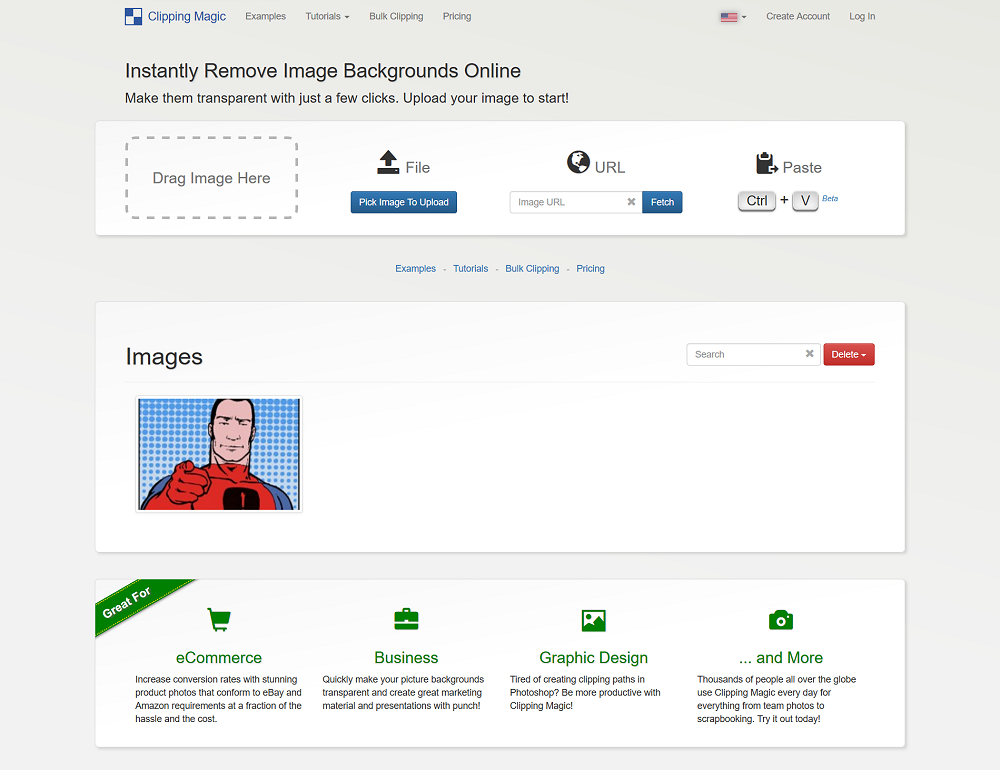 This is how it works
To say that ClippingMagic doesn't have a learning curve attached with it wouldn't be wrong. Depending upon how you wish to enhance your images, you can select which feature of the tool to use and view its dedicated tutorial on the website. Each tutorial includes a series of easy to understand steps and following them really isn't difficult.
To test how simple the tool actually is, we scrolled down the homepage to reach the link for Basics Tutorial. On clicking the link, we landed on a page where a sample image was edited to remove background. There was also an option to "Try Your Own Image". We clicked on the button to experiment with the tool first-hand.
Here are steps we followed to remove the background from our sample photo:
Dragged the image into the box outline on the web-page (there are also options to browse-upload, copy-paste, or fetch from URL)
Once the image loaded in the tool, a number of editing options appeared in the file menu
We only needed to remove the background, so as mentioned on the homepage, we highlighted the foreground with green color and the background with red
The results were updated in the adjacent panel in real-time. We could see the affect of each mouse click and movement which was quite interesting. A convenient 'undo' button helped revert any changes we didn't like in the result.
There was a variety of other editing options available including color changes (saturation, temperature, brightness, etc.), adding shadows, cropping, fine-tuning the edges, etc. Once all changes were done and we were satisfied, we tried downloading the image. That's when we were required to sign-up. To download even a single edited image you'll need to subscribe to one of the affordable plans.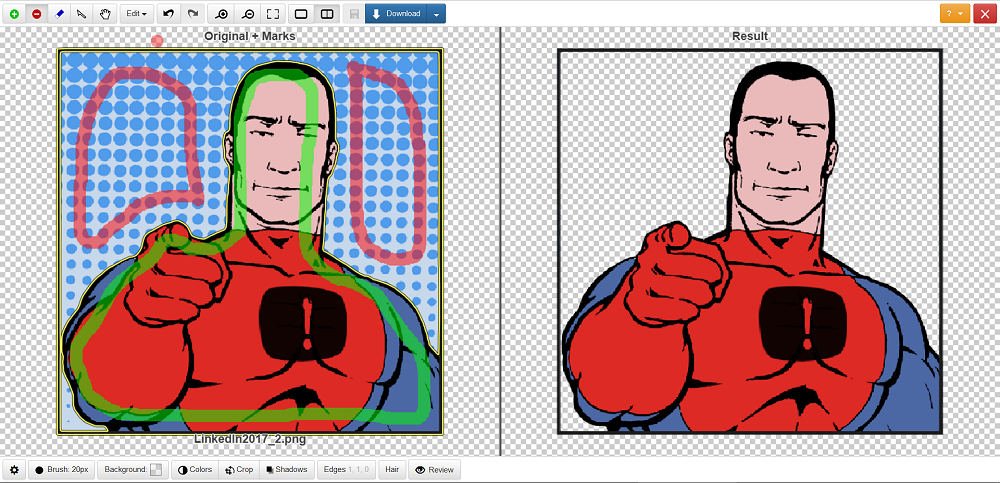 Pros VS Cons
We actually found the tool to be quite useful. You can upload and edit any number of images in any way you like. But to save edited images to your system, you'll need to subscribe. Fair enough!
As far as cons are concerned, we found only a single one. While marking image foreground and background you'll have to be really careful. The wrong kind of marking can cut off too much or too little of the image border or background or edge. The real-time preview window will help you out with this. Come to think of it, this isn't a con, just a precaution you'll have to follow while using the tool.
Make any image background transparent with a few clicks with clippingmagic.com/ via @supermonitoring
Final Verdict
We loved the tool – less hassle, less investment and a number of great photo editing features. Thumbs-up to the creators!
Get notified about our new posts
By submitting this form I accept the
Privacy Policy
and I agree to receive blog-related information from Super Monitoring.