Create Shoppable Images with LinkLay
Gone are the days when shopping needed people to step out of the comfort of their home. With facilities like multiple choice, cash-on-delivery payments, free first-hand trials, and easy returns, shopping for anything, from everyday essentials to luxury items to clothes and accessories, has become a sit-at-home thing. All you need is a hand held device or a laptop with an active Internet connection and you're set to go. Even leading product vendors realize the immense potential of the mobile device market which is why they come up with novel ways to entice more customers and make online shopping easier than ever before.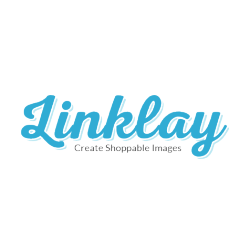 One of the newest trends to overtake the online shopping market is that of displaying shoppable images on websites. A shoppable image is one where you see a still photograph of a product in use and can click on it directly to see its price and purchase link. This setup saves you from the headache of having to browse through product catalogues and makes things a lot simpler. Some of the most popular clothing, accessory, make-up, and home decor brands are making use of this kind of direct marketing by simply putting shoppable images as advertisements on various blogs and webpages. If a user sees something he likes, he doesn't need to click on the image and be redirected to the vendor website where he has to browse through products. Instead, he is straightaway given small clickable icons on the exact products on display which when clicked give him the price of that product and the link to its purchase page. Direct and simple!
Want to try out this brilliant sales mechanism? Visit LinkLay!
LinkLay – Quickly make product images shoppable
LinkLay is a unique online tool developed with the aim to give bloggers, content creators, online marketers, and even businesses to increase their profits by increasing the click-through rates to product sales pages. It introduces website visitors to a new way of shopping – picking out the exact product they like from the advertisement they're attracted to.
How many times have you come across an advertisement for a dress or a bag maybe which you really liked but which on clicking led you to the vendor website where you had to sift through thousands of products to find it? Well, say goodbye to that with direct links to the "buy now" page of the exact product you click on in an advertisement, thanks to shoppable images created with LinkLay.
Getting the drift? For some more clarity, here are the best benefits of LinkLay at a glance:
It caters to the growing needs of internet users who want instant results and a seamless experience
It gives vendors the chance to keep their audience engaged by directly leading them to the sales page for the product they like and thus prevent a hot sale from going cold
With LinkLay, embedding a shoppable image on your site is as simple and copying and pasting code snippets where you want it to appear
Shoppable images created with LinkLay are kept free of any logos
The platform is Pinterest friendly, Google compliant, and mobile responsive. Plus it integrated with Google Analytics to let you monitor the user impact of your shoppable images
It is a great way for bloggers, content creators, and e-commerce vendors to convert more sales
LinkLay is compatible with all website builders and e-commerce platforms that accept HTML code like WordPress, Shopify, Wix, Magento, etc. It is powered by an extremely user friendly interface which makes creating shoppable images a matter of a few clicks.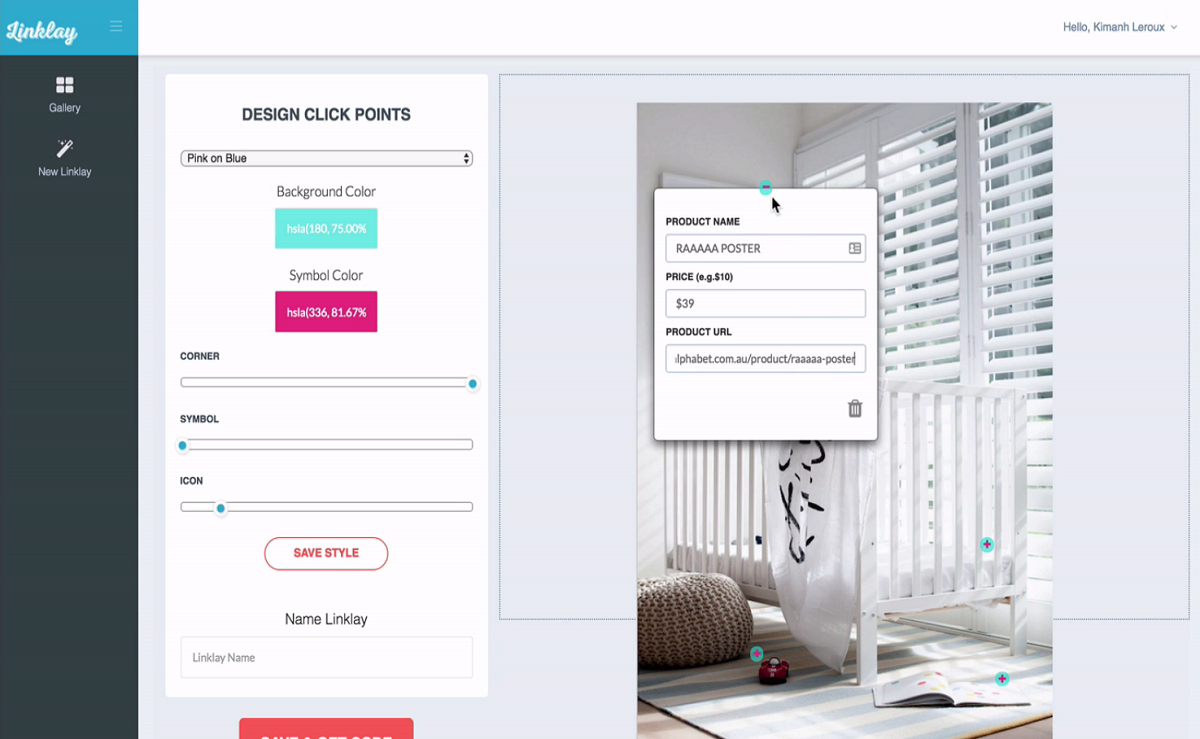 Here's how it works
To start using the tool, visit linklay.com and click on the red button that says "Start your 14-day trial". This should lead you to a signup page where you'll be required to fill in the usual new user information. Once through you'll reach the dashboard with the following options:
First, you'll be prompted to take a 37-second video demonstration of how to use the tool (first time users should take it). Close the video dialog when done.
Play around with the sample image provided by LinkLay to get a better hang of the product usage. Hover over the image to see 4 options – edit, copy code, analytics, and delete.
Since you've not added any clickable points on the image yet, select the 'edit' option.
You should now see the enlarged version of the sample image in the right-most panel of the screen and editing options in the middle panel.
To start adding click-points on the image, click anywhere on it. An instantaneous pop-up will appear containing the following fields

Product name
Price (indicating price with the appropriate currency symbol is recommended)
URL to the buying page for the product
Option whether or not you wish the user to open the link in same tab
Option to enable / disable a no-follow link
Option to enable / disable affiliate link disclosure
Option to delete this click-point

When you've filled all fields in this pop-up, close it. The cursor will automatically take you to the next required setting which is color, shape, and size of the clickable icon. Make the desired changes (you'll see the effects instantly on the image to the right) and click on 'Save'.
Scroll down and give the Call-To-Action button an appropriate name like "But Now" or "View on Vendor Site"
Give the shoppable image a name (this is for identification purpose only, the name will not be displayed on the image)
Select the gallery on your website where you wish to place this shoppable image
When everything looks the way it should, click on "Save and Get Code"
This will open a floating pop-up with the HTML code for your shoppable image. Copy this code and paste it into the HTML section of your blog post or webpage where you want the shoppable image to appear.
That's it, you're all done. To create a new shoppable image, click on "Create New" from the left hand panel of the dashboard and you'll be given the option to upload the image which you wish to edit with the same editing options displayed in the middle panel. To have a look at all your shoppable images, click on "Gallery" in the left hand panel.
Pricing & Licensing
For a tool that holds the potential to boosting direct sales, a monthly price of $7 (billed yearly) for a standard account is actually not bad. With an investment as low as that, you get to create 10 shoppable images a month that you can use on 1 website with Amazon Cloud Services backup, Google Analytics integration, no-logo images, as well as email support. Advanced higher priced packages come with even more features.
Not bad at all!
Boost product sales with shoppable images created through LinkLay linklay.com via @supermonitoring
Verdict
Quite as expected – a straight double-thumbs up!
Get notified about our new posts
By submitting this form I accept the
Privacy Policy
and I agree to receive blog-related information from Super Monitoring.