Convert files between multiple formats with Cloud Convert
Posted October 26th, 2015 in
Misc
. Tagged:
audio
,
converter
,
document
,
ebooks
,
file formats
,
fonts
,
image
,
presentation
,
spreadsheet
,
video
.
I've often found myself getting annoyed when a downloaded movie doesn't play on my movie player due to format incompatibilities. The same applies to music. Sometimes, format also hinders my work when a document or presentation created on one computer won't be accessible or viewable on another computer that doesn't have the software with which I created it. Such minor issues can transform into huge problems when your professional deadlines approach and you can't successfully transfer your work from one machine to another to discuss or share your team's opinions. And the worst scenario is when after spending hours into creating a presentation with effects, music and transitions you're up there trying to play it and it won't play as expected due to incompatibilities on the target computer.
We often find ourselves in similar situations stuck due to format incompatibilities. The smart way however to deal with such situations is to have the same material ready in multiple formats with you so that even if one doesn't work, the other can save the day. For that you need to rope in a trusty format converter. However, unfortunately, most format converters available online are either restricted to particular formats or don't complete the task until you pay a hefty sum for them or worse, are laden with malware.
But, with Cloud Convert, all such problems seem to be resolved at last!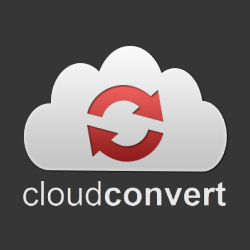 Cloud Convert – The ultimate format converter!
The purpose of Cloud Convert is instantly clear when you visit the tool's website. That is, to convert anything to anything. You read that right; it is actually a universal converter that can convert audios, videos, archive files, documents, spreadsheets, presentations, images as well as Ebooks from multiple formats into multiple formats. And that's not all. This brilliant online tool can also convert fonts, vectors, cad files and entire websites (html files). Wow!
The best part of this unique converter is that you don't need to install anything on your machine. Everything is online, on the cloud. Just select your source and target formats, upload your files and let the tool do its job. We know what you're thinking. You're probably worried about the safety of the files you upload right? Well, you don't need to worry. Cloud Convert doesn't let anyone else apart from you access your files. Plus, your files are deleted as soon as their conversion is completed.
With powerful API support, you can even use the full functionality of Cloud Convert in your own applications. So basically you can transform the converter into much more if you want to. To read more about it just click on the "API" link on the main menu of the website. Moreover, almost all conversion types support advanced options such as setting the codecs of audio / video files, folder monitoring and batch converting. With over 210 different files formats, Cloud Convert makes sure that once you've used it, you'll never even think about any other format converter.
How it works
On the homepage of the tool, you'll find a clearly placed line that says, "convert anything to anything" in large letters. On hovering the mouse over the underlined words 'anything', you'll find out they're actually links. Click on them to open a drop-down listing the type of conversions available. The following types of conversions are available:
Anything
Archive
Audio
Cad
Document
Ebook
Font
Image
Presentation
Spreadsheet
Vector
Video
Website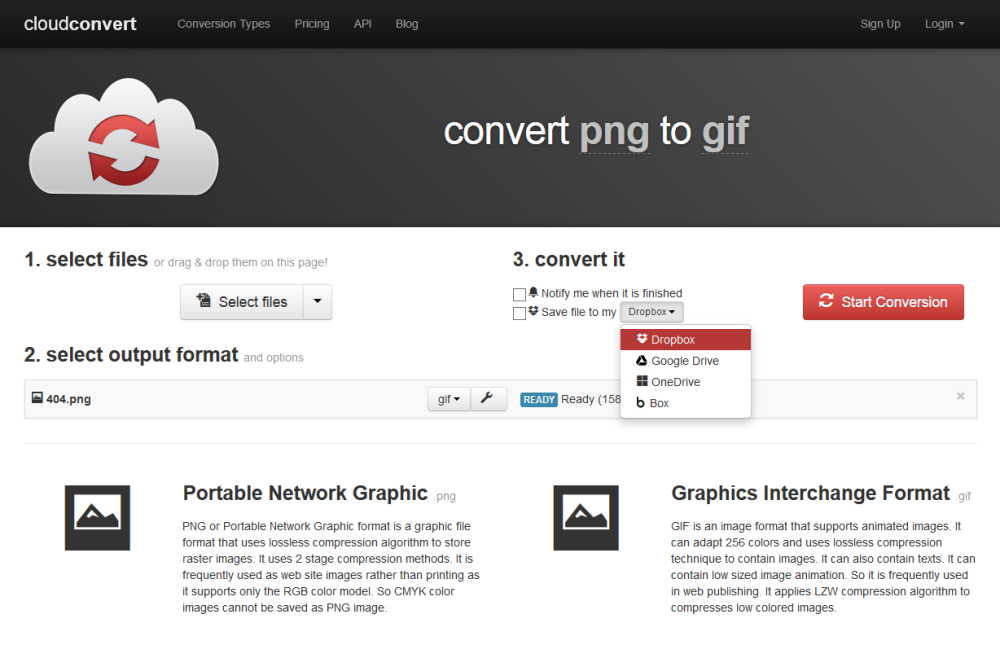 Each of these categories has a further categorization into the format that you wish to select as source and target. For example, you can select Presentation -> pptx (MS PowerPoint presentation) as source and Presentation -> odp (Open Office Presentation) as target. That way you can have your MS Office presentation working fine even if the target machine has Open Office installed.
If you let the selection stay at anything to anything, you have all options available to upload your files. These include:
Add from URL
Choose from Dropbox
Choose from Google Drive
Choose from OneDrive
Choose from Box
Depending upon the formats you choose as source and targets, these choices will become restricted. There's one small catch here – while all other options for uploading are available straightaway, to upload files through OneDrive, you'll need to sign up for a free Cloud Convert account first. Signing up is very easy, just a username, password, email and a verification code are required. No mess, no problem!
Once you've selected the files to be converted, you can choose to receive a notification once the conversion has finished and also pick where you wish the converted file to be stored – to your Dropbox, Google Drive, OneDrive or box account. After this, just click on the big red button that says "Start Conversion" and experience the magic!
Additional Features
The makers of Cloud Convert have offered easy app adding buttons on the bottom of the screen to add Cloud Convert to Chrome or an iOS app (like iTunes). Just click on these buttons and you'll be redirected to the respective pages where you can see detailed descriptions about these features. Additionally, to see what all formats can be converted and into which all formats, click on the "Conversion Types" link on the main menu of the website.
Pros VS Cons
Do we really need to repeat the pros? Conversion from anything to anything, literally; that too, accurate, reliable and free. This tool is a clear winner!
Honestly, we couldn't find a flaw. Even the pricing packages are so affordable that it would be wrong to call this tool expensive. Check out the pricing for Cloud Convert through the "Pricing" link on the main menu.
Convert between 200+ file formats with @CloudConvert cloudconvert.com/ via @supermonitoring
Final Words
This was one tool that made us go "Wow!" with its simplicity, usefulness and approach. Use it and experience its worth right now!
Get notified about our new posts
By submitting this form I accept the
Privacy Policy
and I agree to receive blog-related information from Super Monitoring.