Be in the Know with Mention
Perusing the media to know what people are saying about a company is common practice for many businesses. But it's not easy to keep up with every outlet around, especially when social media is in the mix.
The media monitoring market is booming as companies need to be in the know when it comes to their social media mentions. If a disgruntled customer complains about a business online, it's in the business's best interest to respond and do some damage control before things escalate.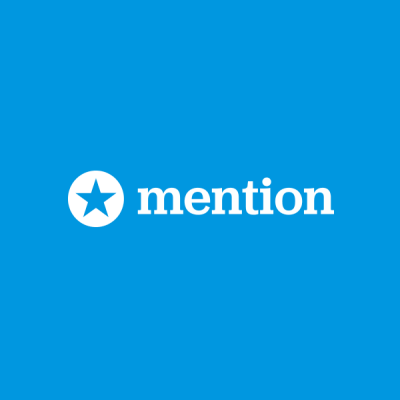 This is where Mention comes into play. This monitoring app allows companies to keep on track of their mentions across social media, allowing them to know how people perceive them. Let's learn more about Mention.
Monitor your mentions
Mention is a social media monitoring solution that allows businesses to understand exactly what consumers and the general population think about them and their services. It allows companies to listen to their audience by keeping tabs on specific keywords across a wide variety of media.
Popular keywords include the company's name, its products or services, and even its competitors. Users can create alerts for anything they wish to monitor and know what people are saying in real-time.
The app searches for content across the web and social media, keeping tabs on platforms like Facebook, Twitter, Instagram, and TikTok. Users can also use it to schedule publications and directly post on social media.
Pricing
Before jumping onto Mention's popular features, it's important to go over the app's different pricing plans and respective perks:
Free. includes 1 basic alert, 250 mentions, 1 social account, and 1 user
Solo. Costs $41 per month and includes 2 basic alerts, 5,000 mentions, 5 social accounts, and 1 user.
Pro. Costs $83 per month including 5 basic alerts, 10,000 mentions, 10 social accounts, and 10 users.
ProPlus. Costs $149 per month and includes 7 alerts, 20,000 mentions, 15 social accounts, and unlimited users.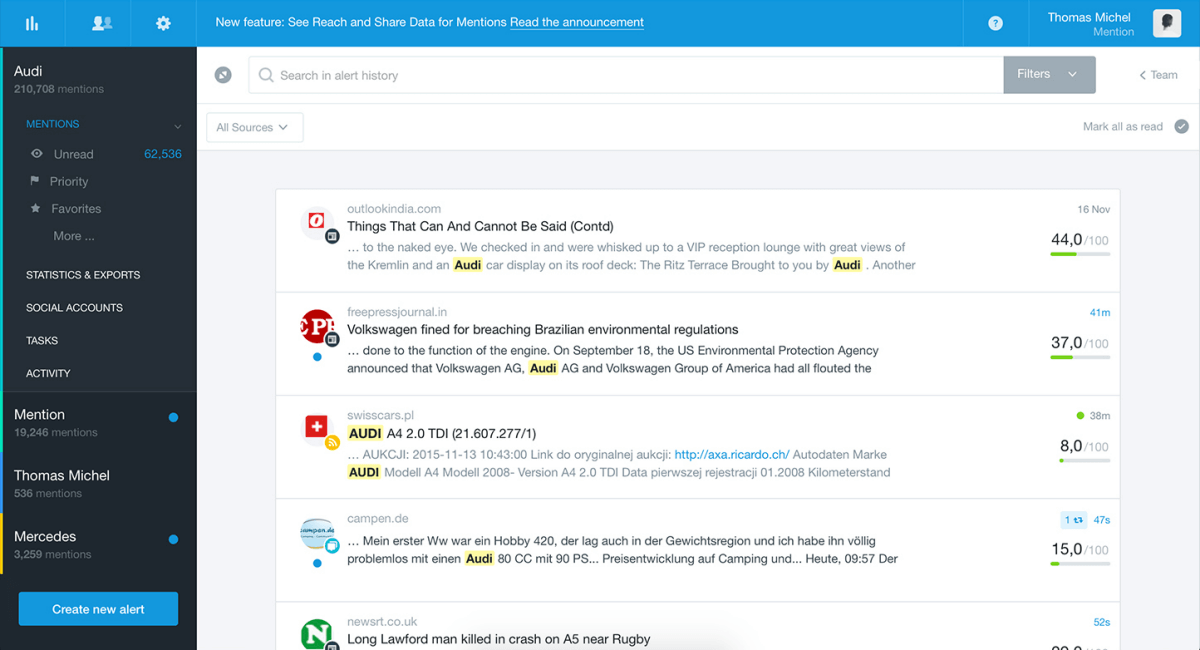 Features
The app's most popular features include mentions, alerts, tags, and many different integrations. Let's take a closer look at each of these handy features.
Mentions
Users can actively search for mentions whenever using the app. The intuitive interface captures the mentions related to the keywords entered and stores them in different folders that look like an email inbox.
The mentions can be found across the Inbox, Unread, Priority, Favorites, and Social Messages folders highlighted in yellow, which makes them easy to spot.
Alerts
Mention provides real-time alerts whenever a new mention is found on the web or social media. Users can opt to receive these alerts if they're interested in closely monitoring what's being said at all times.
They can decide to receive alerts regarding only specific topics. For instance, a company that's monitoring its name, products, and competitors and has just launched a product can activate an alert only when that new product is mentioned to keep tabs on customers' reviews.
Tags
For companies that receive many weekly mentions, the app can help categorize different types of mentions by using Tags. Users need to input the different Tags they wish to use once. After that, Mention automatically tags the different mentions, which is a major timesaver.
Integrations
Mention integrates with a wide variety of social media accounts and other useful platforms like Slack, allowing users to access many work tools from a single platform. They can connect to Facebook, Instagram, Twitter, LinkedIn, and other social accounts. Mention also integrates with Buffer, Zapier, and Feedly, for example.
Other Mention popular features include sentiment scoring, influencer tracking, daily and weekly reporting, and team collaborations.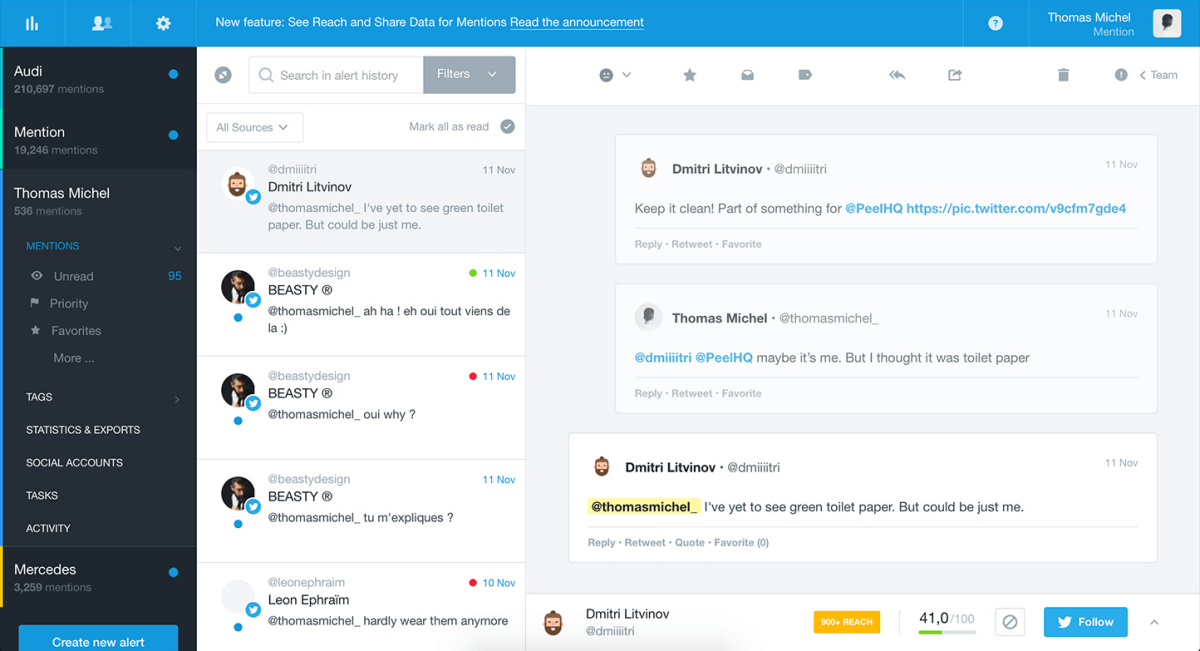 How it works
Mention is a versatile app, available for desktop and mobile devices.
Setting up an account is easy. Users can either provide a few basic details or sign up with a social media account to register. Once they're done, they can create their first alert right away by inputting their company name.
Then users can refine their keyword search, pick the sources and languages they want to monitor, add other social accounts, and invite team members. As soon as Mention starts picking up on mentions the Inbox folder begins to fill up.
Advanced settings will allow users to pick up on sentiment scoring to understand if people are happy or unhappy with the brand. They can also keep tabs on certain influencers that could potentially be relevant to the brand.
Finally, users can take advantage of Mention to compose, schedule, and post their publications directly to social media, without having to move from one platform to the next. Daily and weekly reports are available so that users can easily review what happened throughout the week.
Pros and Cons
Overall, Mention users are happy with the platform and most available reviews are very positive. The app ranks high in review websites like G2 and Capterra, in which it receives classifications of 4.5 – 4.7 out of 5 points.
Users praise how easy it is to set up Mention, how intuitive the interface is, and how easy it is to navigate. They also enjoy the different filters the app offers, the Boolean search option, and the real-time notifications.
Other pros of using Mention include cooperative customer care support, several integrations, accurate reports, and sentiment scoring.
Mention might be great in comparison with competitors, but there are also a few cons of using this app. Users mostly complain about prices, which might not be affordable for startups or smaller companies.
They also report that Mention has a hard time capturing abbreviations or mentions on smaller platforms and that it sometimes takes a while to load. Mention can be inaccurate and produce irrelevant results from time to time, especially when monitoring common keywords.
Learn what people are saying about your brand with @mention mention.com/ via @supermonitoring
Final Considerations
Keeping up with mentions is important for companies to know how people feel about them and their products. Knowing whether people are happy or unhappy with their services can help them create new strategies to improve.
Mention allows them to do just that. As a media monitoring platform, Mention allows companies to track specific keywords, monitor their competitors, and understand how their audiences are perceiving them.
It combines these features with the ability to create, schedule, and post to any social media platform directly from the dashboard. Mention also integrates with other apps like Slack which makes it easier for users to work and collaborate without leaving the platform.
Learn what people are saying about your brand by downloading Mention on any device. What are you waiting for?
Get notified about our new posts
By submitting this form I accept the
Privacy Policy
and I agree to receive blog-related information from Super Monitoring.