Animatron: Creating animations and videos made all the more effortless
At one point or another in a lifetime, we've all been addicted to animations and felt fascinated by them. If you've ever wanted to create your own animations and fascinate the world, well my friend, the time is now! Today, we're showcasing a super easy tool that will help you achieve what you have always wanted to do – create animations and videos effortlessly. The product we're talking about is called Animatron, and with renowned companies like Google, Dell, Facebook, and Amazon using it, you can't go wrong with this one.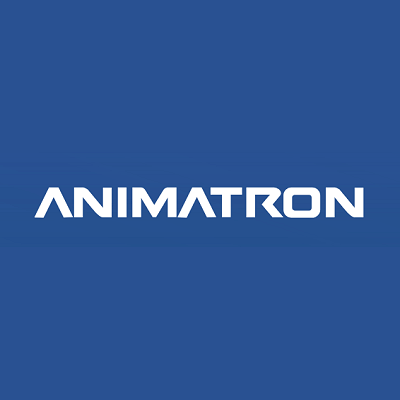 Animatron can easily be tagged as one of the most popular and simplest of tools with the utmost advanced features to create high quality, studio-like animations or videos. And if you're thinking that you need some basic coding experience to create such intricate videos, the answer is a big NO! There are two products which Animatron offers you to choose from depending on what kind of videos you want to create – Wave.video and Animatron Pro Studio. Both of them are free to try but are very limited and should definitely give you an idea of how things work.
Wave.video
This tool is ideal for users who want to create light animation videos, particularly marketers or social media managers. You can instantly resize your videos and import your own assets to create or add customizations. And it lets you instantly preview your results! What's more – you get access to over 200 million stock video clips. So create a basic and trigger your creativity.
How do I use Wave.video?
It is really simple to get things started with Wave.video. Follow this step-by-step guide.
Visit www.animatron.com which will give you the option to choose either Wave.video or Pro studio. Here, click Wave.video.
The subsequent page will ask you to sign up where you can enter your email details.
A verification link would be sent to your email through which your account can be set up.
Once this has been completed, you can start creating your first project.
Do this by clicking on the "Create Project" button.
The next page would lead you to all the predefined templates where you can choose something which suits your idea.
You can also start right from scratch! Go on – innovate!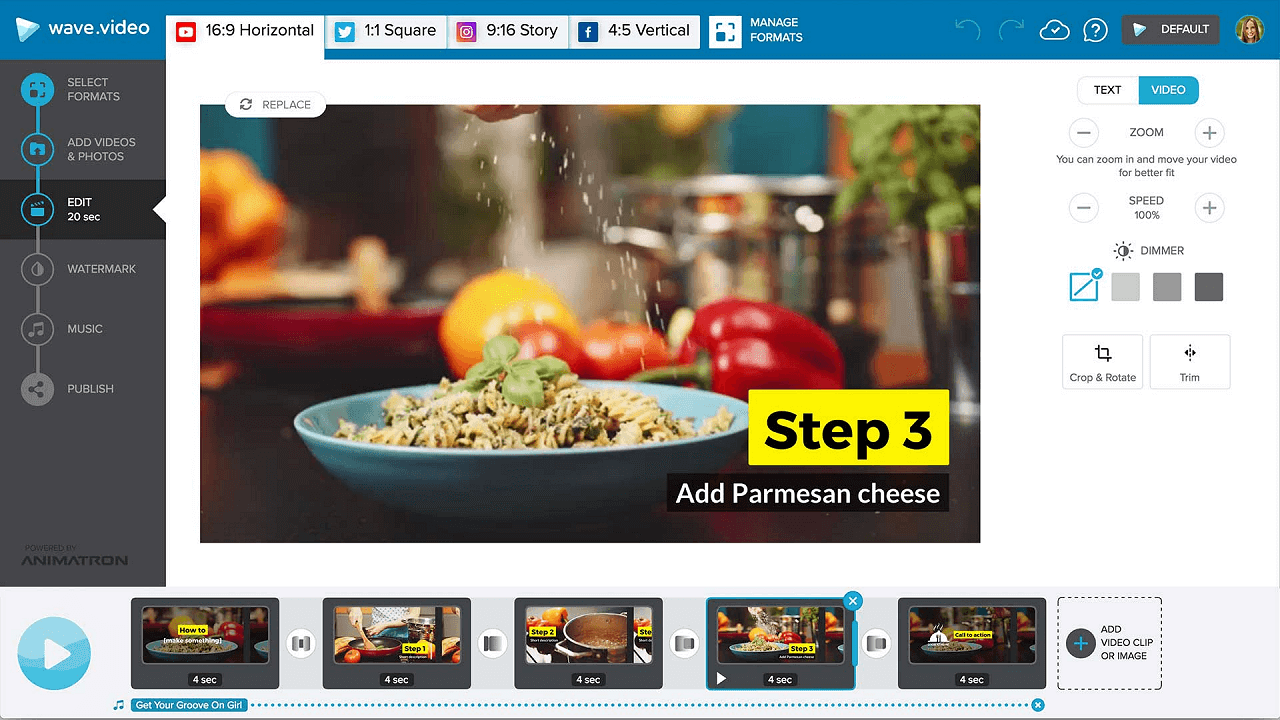 Pricing
Here comes the main part – the pricing. There are three plans from which you can choose –Pro, Agency, and Ultimate which are priced at $39, $49 and $149 per month respectively. The prices shoot up by approximately 40% when you choose a monthly plan. The agency plan is the most popular plan which most of the users prefer.
Apart from this, they have many resources which you get access to. Using these resources you can educate yourself in making professional videos. You can also see the tutorials on their website or walkthrough the workshops which they offer. This can give you a better idea about the tool.
Animatron Pro Studio
As the name suggests, this is for people who want to create heavy animations and is more suitable for small businesses and agencies. The word "Pro" might make you feel like you need prior experience in using this software. That's where the guys behind Animatron have cracked the puzzle. The "Lite Mode" of the Pro Studio is so simple that it does not require any prior knowledge of the tool. You can create animations using a drag-and-drop action from the huge marketplace content they have. Using the Lite mode, you can easily create Whiteboard animations, Object appearance effects, smooth butter like scene transitions, and record your own voice in the editor to give it a voiceover. Once you are used to this, you can start exploring the "Expert Mode" which gives you the options to create business marketing style videos, HTML5 banners, and stunning presentations. With this awesome tool, you can impress your audience with your new-found skills!
How do I use Animatron Pro Studio?
Before you ignite your creativity, you will need an account.
Create an account with Animatron. Click on "Studio" on their homepage – www.animatron.com
Click on the "Create Project" button which should take you to the tool directly.
There are a number of parts in the screen like the toolbar, the menu bar, the import function, the timeline, and the main canvas, to name a few.
You may want to explore your first video in the Lite Mode by clicking on the "Lite" button in the top bar.
Go on – explore the endless possibilities with this tool.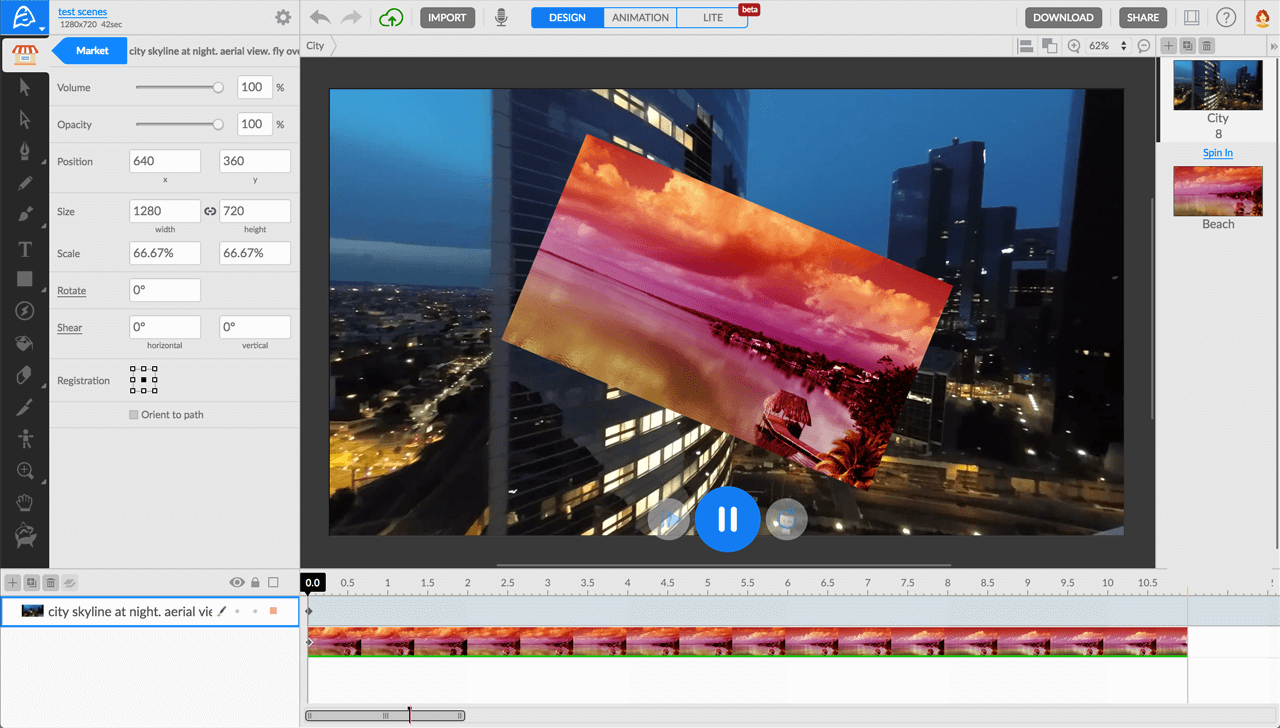 Pricing
Coming to the pricing plans, there are two pricing plans to choose from. They are named Pro and Business. They are priced at $15 and $30 per month respectively when priced annually. The same plans will cost you 50% higher when you opt for monthly billing. All the plans include the pro features such as HTML5 publishing, exporting to SVG, and SVG+SMIL, Social Sharing, Interactivity, and Scripting.
Pros VS Cons
While it has several pros like:
A fluidic UI design
Wide variety of customizable graphics
Focus on customer experience
There is a huge con to Animatron:
The UI can sometimes be a bit slow on the uptake because of the heavy animations
Create custom videos and animations, effortlessly, with @animatron animatron.com via @supermonitoring
Final Verdict
On the whole, we liked Animatron. It is a great tool to not just give a boost to your sales but also earn you a good return on investment. The company claims to have above 300% ROI, which is ultra-impressive. This tool definitely is worth a try. It runs in close competition to Adobe AfterEffects and you would never regret spending your dime on it.
Get notified about our new posts
By submitting this form I accept the
Privacy Policy
and I agree to receive blog-related information from Super Monitoring.