SVGator – SVG Animations Made Easy
SVG stands for Scalable Vector Graphics. It is a universal standard for vector graphics images. One of the best features of SVG is its internal animation markup language which allows designers to create, save and exchange vector animations between different platforms and software in the computer graphics world.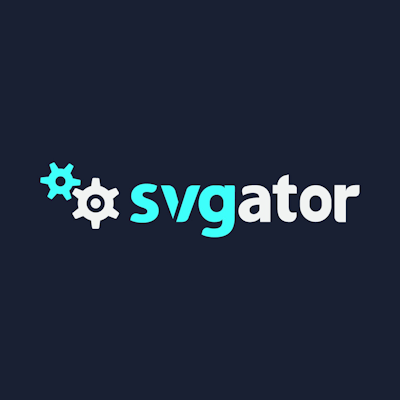 SVGator is a good SVG animation tool on the web that allows designers to upload scalable vector graphics and create vector animations for any graphics project. To use SVGator, you don't need to download and install any heavy software. The graphic editing tool is hosted on the Web which can be accessed easily from any device.
SVGator – Revolutionizing Design
SVGator is an online tool to create animations from static vector graphic. The online tool provides you with the necessary tools to create and save animations in one place. The easy to use interface requires no coding skills and even non-technical users can create animations with ease in a shorter time.
The website also offers a good number of video tutorials that explain the basics of animations and the procedures to understand different option and use them effectively. SVGator offers three premium plans; there is no free account option. You only get a 7-day trial offer when you register on SVGator to use the tool. After the trial period is over, you need to select from one of the three paid plans.
Monthly – $18 per month
Quarterly – $15 per month. You are billed $45 as a one-time payment
Annual – $12 per month. You are billed $144 as a one-time payment
SVGator does not restrict features for any paid plan. You get access to all features of the online graphic tool irrespective of the plan you choose. The free trial period gives you access to all features of the online tool except path animation.
Features of the tool
Create Animations – SVGator allows you to create simple to complex animations using the animation tools provided. To create complex animations you need to brainstorm ideas regarding using available tools.
Code Generator – SVGator generates a single animated SVG file with clean CSS code which can be directly used in any web design project. This helps in speeding of the development process.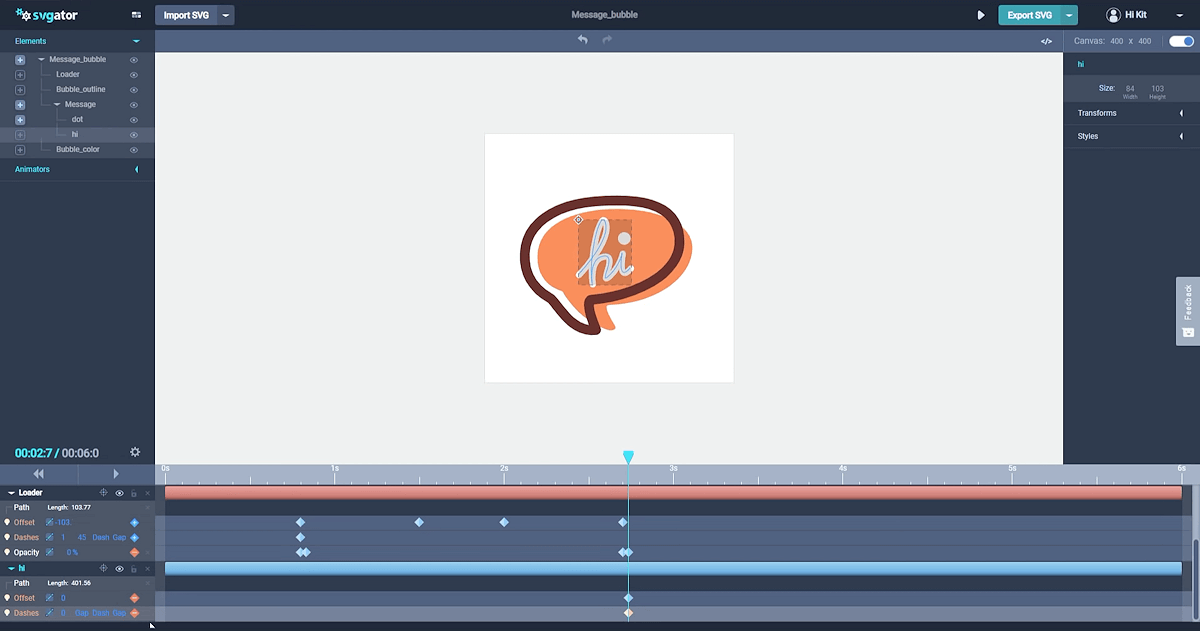 How does it work?
You need to first register at SVGator.com to use the online vector animation creation tool. You can also login using your Google+ or Facebook user credentials. If you select this option, you have to grant the SVGator app permissions to access your Google or Facebook profile information.
After successfully creating an account and logging in SVGator, you can proceed with the creation of SVG animation. Here are the steps to use SVGator online tool.
Click on Import New on the dashboard and upload a static SVG file you want to animate. This will create a new project and you can proceed to add animations
Go to the Element on the left panel. You can see a dropdown of all elements contained within the SVG file. The SVG layers might not be properly named but you can improve it by naming all SVG layers properly in your editing software before importing the SVG file to SVGator.
Select an element to animate. You can click the element itself on the stage or you can select it in the Elements list. If you want to add a layer to the timeline, click the + button.
After you have added the element to timeline, you need to select an Animator from the list. The available options are:

Position
Rotate
Scale
Opacity

You can also add properties to your animation but first, you need to add keyframes on the timeline.

A keypoint refers to a point on the timeline where specific properties change. To add keyframes, click +. Once you have added the keyframes, click the Play button and see your animation loop.
Highlights of the tool
Path Animator – SVGator allows you to create path-based animation in an easy way. The online tool allows controlling the position and rotation of the object along a curve. You start with creating an object that can be attached to the path curve. SVGator allows you to generate motion paths by animating object using Path animator option.
Note – Path animation is only one of the first premium feature released by SVGator. The online tool is expected to have more graphics editing and animation features soon. The new features will be available to all subscribed members irrespective of the payment plan.
A look at the good and the bad
Pros
A simple user interface which allows even novice to create animations using the tool
Well-defined menus and options. No deep menu structure
Tutorials provide an easy understanding of basic editing and animation tasks.
Cons
No free account option. Only 7 days of trial offered
No access to Path animation feature in the trial period
At $18 per month, the SVGator seems expensive
Create Vector Animations Online With Ease. Try @SVGatorApp svgator.com/ via @supermonitoring
Final Word
SVGator offers you an easy way to create animated graphics from static SVG. The online tool gives you fine control and allows you to save and edit projects with ease. The end results (export file) are super lightweight and scalable that makes it easy for designers to use it on any size of the online canvas.
Get notified about our new posts
By submitting this form I accept the
Privacy Policy
and I agree to receive blog-related information from Super Monitoring.