Aha – Project Management Roadmaps for Effective Business Solutions
Launched in 2013, today Aha is one of the fastest developing product roadmap and marketing planning applications in the world. The company offers exhaustive road mapping facilities alongside project organization, which clients can utilize to the maximum. Once the association is made, Aha works with companies on projects right from their conceptualization to a successful launch. At present, the company works with more than 25,000 people all over the world. The Aha software helps clients come up with feasible business roadmaps for their respective companies. The software is extremely user-friendly and is designed to help users navigate information so that they can accomplish their business targets in the most productive way possible.
Aha – Helping clients achieve targets with effective roadmap software
The basic principle, which Aha functions on, is very simple. It works with companies, especially their project heads, to decide upon different business targets on the basis of extensive study and analysis. The road maps designed by Aha go a long way in ensuring that all the desired business goals of the respective clients are achieved. A big advantage of working with Aha is that it gives equal importance to employees, as well other stakeholders, to present their ideas through the company's idea portal. The advantage of designing such an idea portal is that project managers get access to many ideas and these can be put to good use while designing roadmaps for prospective clients.
Now let us take a closer look at some of the main features of the Aha online tool:
When users decide to work with Aha, they can either start from nothing or work with the given 6 templates. These templates are designed in such a manner that they can be shared across products.
Aha has release tools which help users working in close connection with cross-functional teams bring out products, keep track of dates and events, and immediately know if there are any changes.
Other important features include making a release template, estimating work, different charts and sharing a ship release.
Once you come to the product roadmap software, you come across tools, which support crowd sourcing ideas, working with a dashboard, and collaborating with end users.
Clients can also add tags, attachments, custom fields, comments, and reviewers who need to work on them. Working with reviewers gives them ideas to grade their performance and on a later stage, make it a feature.
For first-timers, Aha has a starter roadmap, which can be used to move around goals, releases and features. All of the items can be customized and shared through different mediums like images, PDF, or a secured web page.
With the help of Aha, users can create multiple roadmaps like portfolio, strategy, releases, as well as, features. The roadmaps can also be customized as per their choice.
The analytics section of Aha helps clients develop charts to prioritize tasks, oversee the present status of ideas, and observe the number of features shipped over a certain period of time.
While using the Notebooks section, users can share any screen. It can also be sent to non-Aha users and can be branded as well.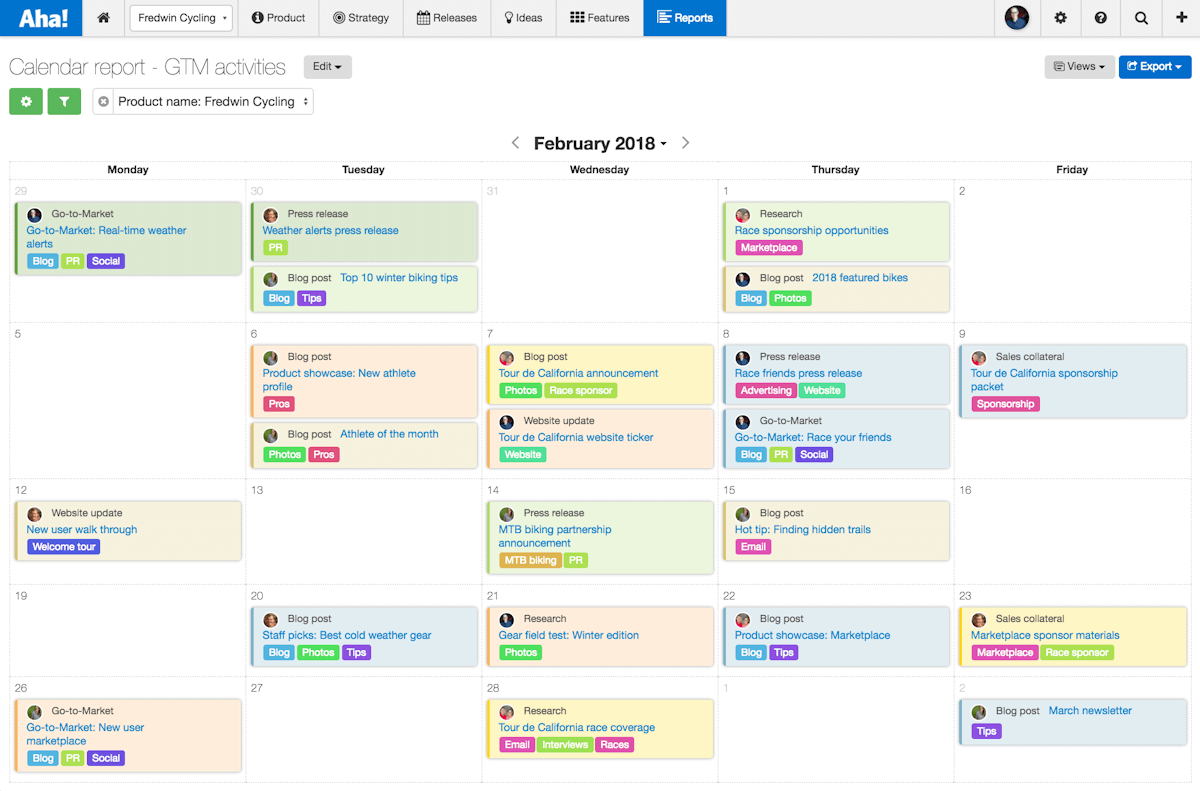 How It Works
Let us now take a look at how the Aha online tool functions:
When you login to the Aha page, go to the strategy section where you will have to select a business model. This will be the framework for the work ahead. It is from this framework that the user decides his value proposition, future market plans, and so on.
Next, you will have to define your vision, which sets the tone for the further strategy. This will help decide your team and bring clarity to your work.
With the vision in place, the online tool will work on your strengths, weaknesses, customer challenges, competitors and personas.
The next step is to find out where the client is positioned. The positioning of the product is very important as it will inform potential users about the benefits of using the said product.
In Aha tool, users can create a picture of the customer by using custom personas. You can add all the description about the customers and link the personas to actual features. This will help you get to know the client better.
Keeping an eye on your competition just became all the more easier with Aha! The tool helps users create complete profiles of key competitors and shares the data with your team. With Aha you can compare important parameters like revenue, customers, growth rate, and so on.
After the vision is in place, Aha will help clients decide on their specific goals and the KPIs they have in mind. After the goals are set, the tool also keeps a track of the progress made against these goals.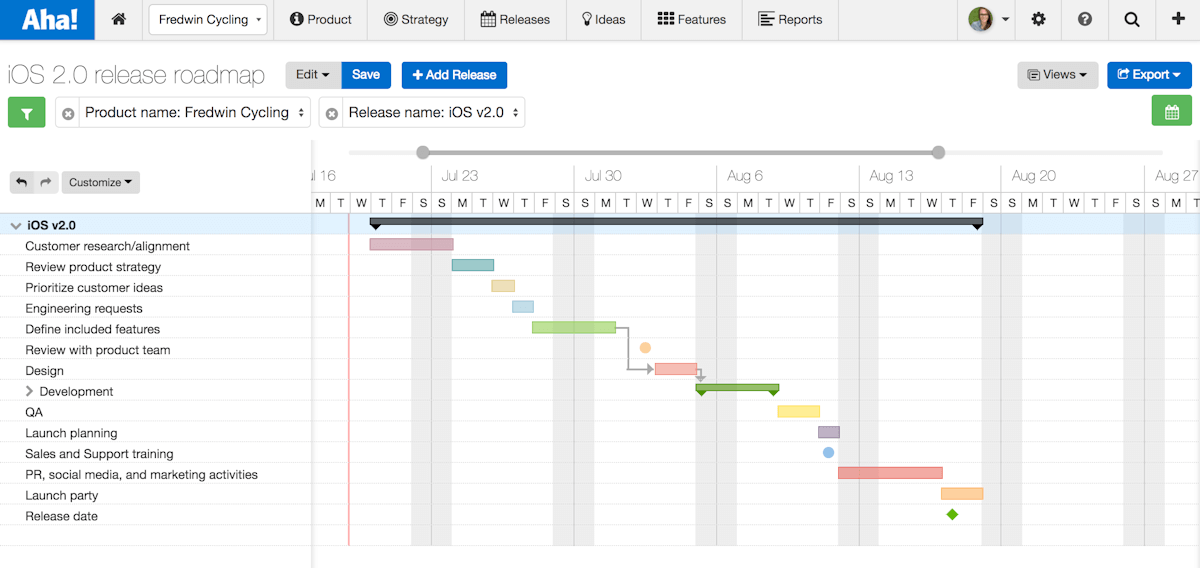 Pros and Cons
Pros
Excellent Customer Support: A big advantage of using Aha is that it offers high-quality customer support for its clients. There are many platforms where the user is excellently guided by the support staff on how to go about using the tool to the best of its capacity.
Highly functional: The Aha online tool is highly functional in all areas of project management. It has on offer, time management and scheduling tools all in one place. The tool also offers various types of data analysis features, which make graphs, charts and detailed reports.
Cons
Takes time to understand: A disadvantage about Aha online tool is that users take some time to get used to the functioning of the tool.
High pricing: The high prices of Aha for marketing and products may pose a problem for potential users.
Change the game with brilliant product roadmaps & marketing planning: @aha_io aha.io/ via @supermonitoring
Verdict
It's an overall positive verdict for Aha. The project management roadmaps designed by the tool go a long way in helping small and medium-sized enterprises create product, technology, manufacturing, marketing, and consulting roadmaps.
Get notified about our new posts
By submitting this form I accept the
Privacy Policy
and I agree to receive blog-related information from Super Monitoring.