What's The Best Employee Monitoring Software – ActivTrak or Insightful?
In the sea that is the SaaS market, there is an abundance of software for employee monitoring. This software, as the name suggests, is used for time tracking, monitoring, project management, and implementing safety measures. Widely used by companies that want to ensure that their employees are actually getting work done while on the clock, but that's not where the benefits of using these tools end.
Apart from making sure that employees are being productive, this solution usually also has added security features, time tracking, detailed activity reporting, and other integrations. It was made with the intention of making work life easier to manage, which it successfully does.
However, choosing the best employee monitoring tool for your company can get a little time-consuming and aggravating. In order to save you from tirelessly browsing through countless online reviews, here, we are going to compare two top contenders in the employee tracker world – Insightful and ActivTrak and see which solution is the best.
Insightful
Insightful Features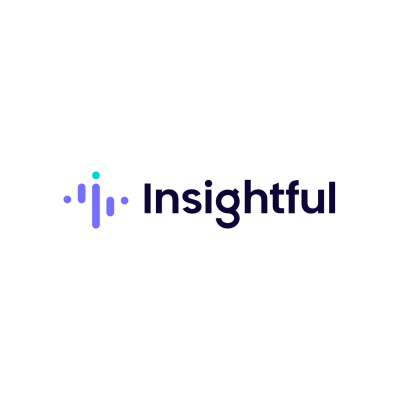 Insightful, formerly known as Workpuls, is easy-to-use workforce analytics software that improves efficiency, productivity, and benchmarks performance. This company was founded in 2016, and ever since its inception, Insightful has been used by all kinds of companies; from large-scale enterprises to small businesses all over the world. This software has gained its stellar reputation due to its simple and intuitive user interface, which makes using Insightful feel like second nature, and exceptional productivity data.
Time Tracking & Attendance
Most software for employee monitoring tracks time and attendance, however, this software can capture time and attendance across both company and personal devices. This solution also tracks time per project or task and allows you to automate clock-ins and clock-outs through activity-based time tracking.
For example, let's say you have a hybrid workforce whose work time starts between 8 am and 10 am. With this software, you can set up a certain time period for automatic clock-ins and clock-outs, making sure that you won't ever have to worry about an employee forgetting to punch in. Automatic clock-ins protect against employee time theft since employees can't manually edit their punch-in time. Time can be added manually, just not when automatic clock-ins are turned on.
This tool offers a real-time overview of completed tasks, tasks in progress, and overdue tasks. . Since you can track the time spent on any stage of your employee's project, you can gain a better estimate of the resources needed for future projects.
Insightful has two employee tracking modes: Company Computers and Personal Computers. The Personal Computer setting is ideal for remote and hourly workers. This setting has Visible mode, which promotes transparency as the employee gains insight into their own data if the admin enables it. The Company Computer setting also has Stealth mode, which makes the tracker invisible on company computers. It might be invisible, but it still tracks employee activity. When using this setting, employees can't access their productivity data.
Productivity Monitoring
This software tracks productivity and gives you access to deeper workforce productivity insights. Workplace productivity monitoring is supposed to help its users create an ideal workplace with balanced workloads. Productivity tracking and labeling automatically capture team productivity levels and efficiency trends across the hybrid workforce. Insightful quantifies this data by automatically capturing and categorizing behavioral activity and turning it into real-time productivity data.
Insightful's productivity monitoring can also pinpoint areas of work where an employee might need additional support, identifying top performers in the office or at home. These features make this software ideal for optimizing workflows and balancing workloads. Objective data can be used as the baseline to access and improve team productivity. Trend reports identify and address employee performance blockers, unbalanced workloads, as well as added training needs.
This solution offers in-depth reports and activity logs used to perform productivity audits. These audits identify and resolve issues in productivity, such as disconnected workflows, bottlenecks, and nonproductive processes. You can track productivity on an individual, team, and organizational level. Users can access data-based workforce analytics of an individual, project, or team.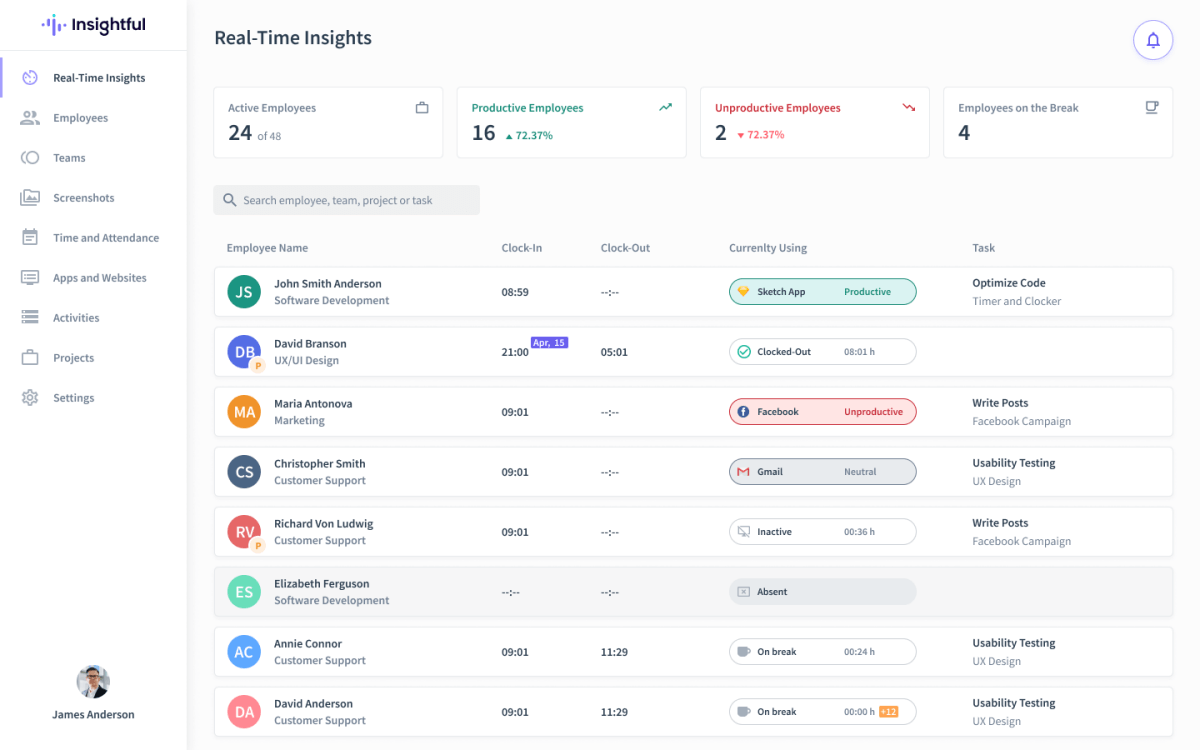 Screenshots
This workforce app takes screenshots of employee screens to show what they are working on at any time within work hours. With Insightful, you can switch screenshots on and off with ease. You can turn them on for a certain team while keeping them off for the rest of your organization through a labeling function.
Screenshots can be automatic, manual, or trigger based. You also have the ability to customize screenshotting based on user or user activity, and blur screenshots, if screenshot blurring is activated. Admins also have the option to screenshot on demand, at any time of the work day.
Screen Monitoring + Web/App Usage
Insightful's monitoring tool tracks which apps and websites were used, when, and for how long. When you use this tool, that means that you have access to real-time monitoring. Users also have an overview of their own activity through their dashboard. Whether or not the usage of a website is seen as productive, unproductive, or neutral depends on how the administrator labels them. If the user is away from their computer for longer than 3 minutes, that time is detected as idle time.
The analysis features and screen monitoring let you see which apps, websites, or software your team is using. Insightful gives you a complete overview of how an employee spends their time while on the clock – without breaching any privacy concerns. Monitoring data helps support employee training and makes creating employee reviews easier.
This software lets you see which apps or software is being used most productively in your team, letting you know which licenses you need to buy. Through analyzing app and software usage, you'll also be able to see how many licenses your team or employees need.
Managing the unique challenges that come along with hybrid work is made easy with data segmentation. Through data segmentation based on onsite and remote workers, you can have a deeper insight into worker productivity. Through deeper productivity analysis, you can see which employee works the best in which phase of a project.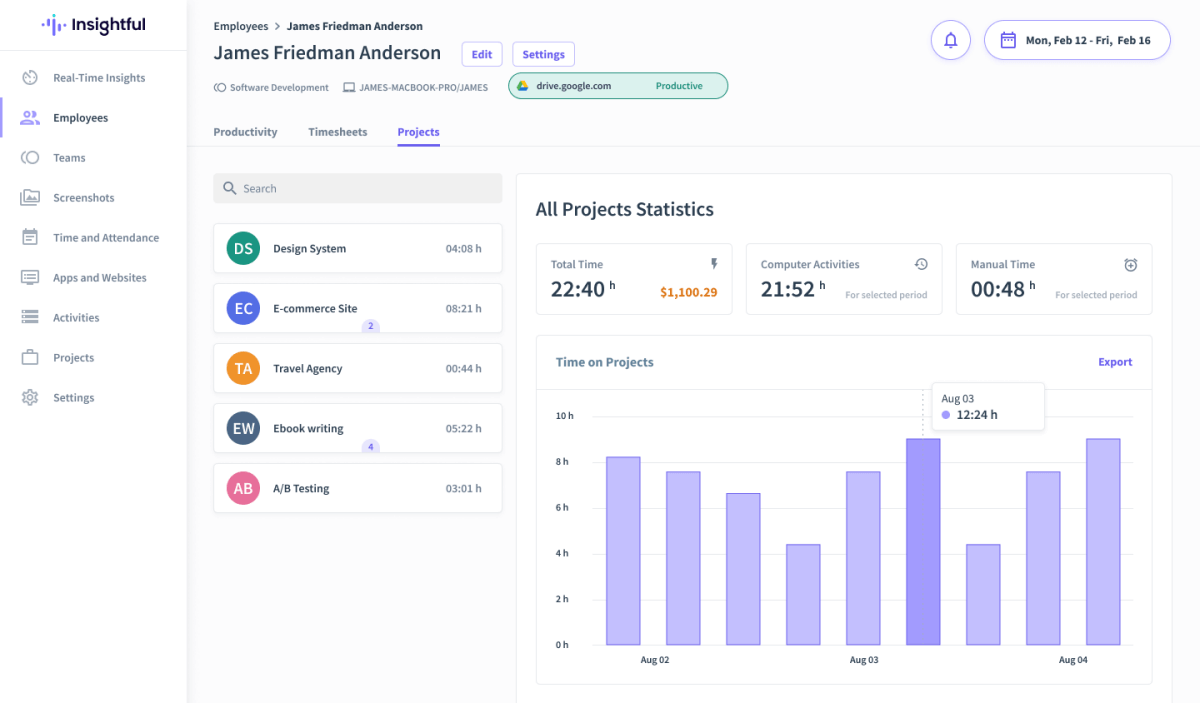 Reports
This is the perfect tool if you want to have a more detailed view of how your team manages their projects and work in general. Insightful lives up to its name, since its quantified productivity data, gives you unique insight into employee productivity. You can set up daily, weekly, or monthly reports for your employees, and you can filter through the reports by employee, team, and organization or date ranges. The admin has control over which activities are labeled as productive and unproductive
These reports can make it easier to create and deliver an employee review since you can gain an easy overview of your employee's productivity, attendance, app and website usage, time spent on projects, as well as an overview of your active and inactive time. Thanks to this data, you can understand productivity based on responsibilities and roles much better. You can share productivity data with employees in order to foster a work culture that promotes growth and self-improvement.
You'll receive monitoring reports via email, and it's easy to set up and use. You can select only the specific information you need and send the CSV reports to multiple email addresses directly from the app, on the schedule you want.
On-premise Installation
If you are looking for software for employee monitoring that can meet your strict compliance needs or a solution that gives you more control of your data, the on-premise solution is the answer to your needs. It's easily deployed, maintained, and backed with enterprise-grade security.
Once this software is installed on your servers, that's where your data stays forever. This tracking tool is built for scale, meaning that it can handle your team with ease; no matter if there are 10 or 10,000+ users.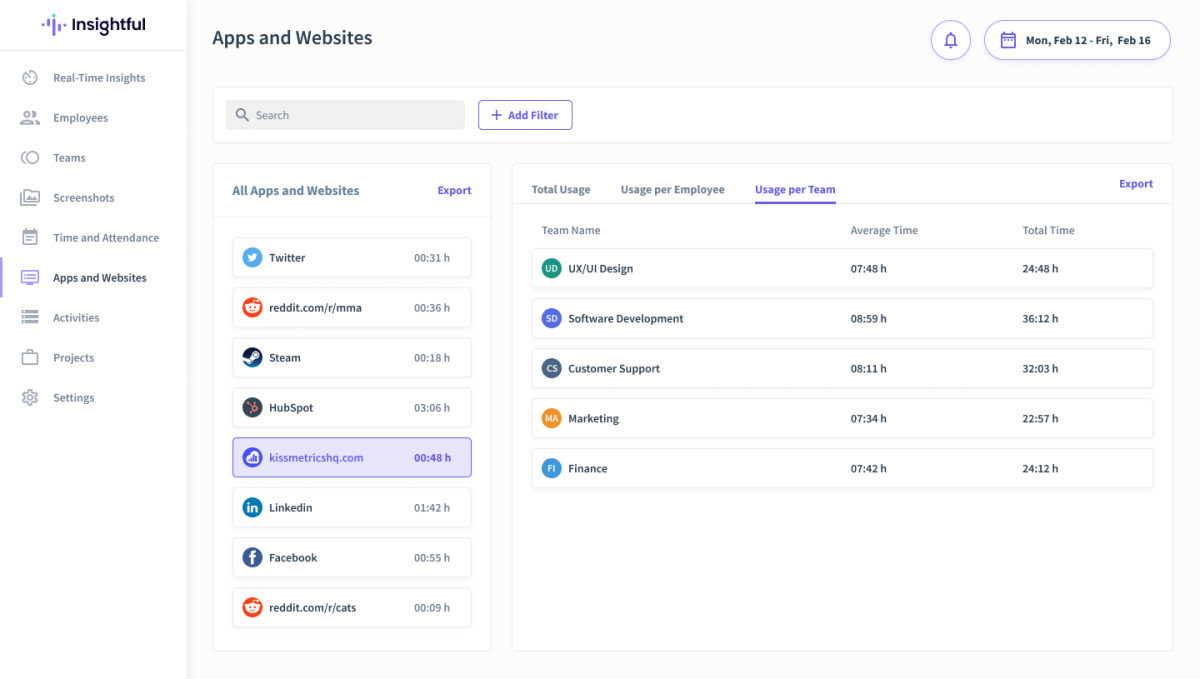 Security and Compliance
This SaaS solution lives up to the latest security and privacy standards. In order to provide their users with extra protection, Insightful's infrastructure and apps go through regular periods of security testing which identifies and resolves potential security threats. This monitoring app collects and stores data, which they secure through multi-level security at all access and storage points.
If you want full control of collected data, it can be stored on-premise – on your server or private cloud. The data is stored in a secure data center, managed and protected by Google Could Platform. Once you become a user of this solution, your data is encrypted, secured, and backed by multi-certificate compliance. This software is HIPAA, ISO 27001, and GDPR compliant by default to protect employee data.
This solution introduced audit logs, compliant with HIPAA, recently, which allow administrators to see all in-app activities of their employees. You can sort them per date & time, user, user role, action type, action, and object type.
App Integrations
App integrations are crucial for many employees from different industries since they need these integrations in order to complete their daily work. Insightful Rest API allows for easy integration of any application or tool from your tech stack. Currently, this monitoring solution doesn't have software integration, however, it's in the works.
Pricing
7-day free trial
Employee monitoring: This plan costs $6.40 per user per month
Time tracking: This plan costs $10 per user per month
Automatic time mapping: This plan costs $15 per user per month
Insightful Pros
Available in Windows, Mac, and Linux
Available in the cloud or on-premise
Time tracking (can be automatic) & time and attendance
Automatic time mapping
Easy to use / extremely user-friendly UI
Better at more complex time tracking insights
Real-time monitoring
Free trial
Simplifies payroll by integrating your payroll system and calculates project billing rates which allow for precise budgeting
Detailed insight into productivity, time spent on projects, and web/app usage
Daily, weekly or monthly reports that can be filtered by employee, team, organization, and date range
Easily export time & attendance for payroll processing
Live customer support for every price point
Screenshot blurring for privacy reasons
Convenient remote installation and mass deployment
Monthly or annual payment
Insightful Cons
The trial period is only seven days, which could be too short for larger companies and enterprises
Doesn't allow you to set KPIs for individual employees
Doesn't have a feature to compare the performance of similar teams
No website blocking
No software integration
No mobile apps
ActivTrak
ActivTrak Features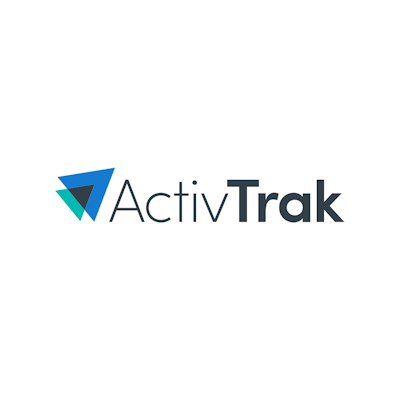 ActivTrak's first software-as-a-service (SaaS) product launched in 2012 and the workforce analytics platform launched in 2015. ActivTrak's monitoring solution wants to help keep your business productive and compliant and is well-suited for small to midsize on-site, remote, or hybrid businesses. Their tool works via Google Cloud Platform and can leverage a lot of Google's native capabilities around data analytics, security, and even artificial intelligence. They pride themselves on being privacy-conscious and promoting trust and transparency between employees and their employers.
Time Tracking
As previously mentioned, most SaaS monitoring solutions have time tracking and time attendance features. ActivTrak is no different as it has time tracking capabilities. Managing time attendance of your team, whether they are working from home or from the office, is made easy with this feature.
An employer or admin can have real-time insight into their employee's activity while on the clock, and they have the ability to label what activities are seen as productive or unproductive. ActivTrak users have noted that going through the process of determining what activities are seen as productive and which aren't can get a bit exhausting, especially in larger companies.
Unlike Insightful, ActivTrak doesn't have an automatic activity-based clock-in and clock-out option. This tool has pre-built and customizable notifications and alarms for different types of activities. Alarm triggers can be sent as an email notification, but also through Slack, Microsoft Teams, and other apps.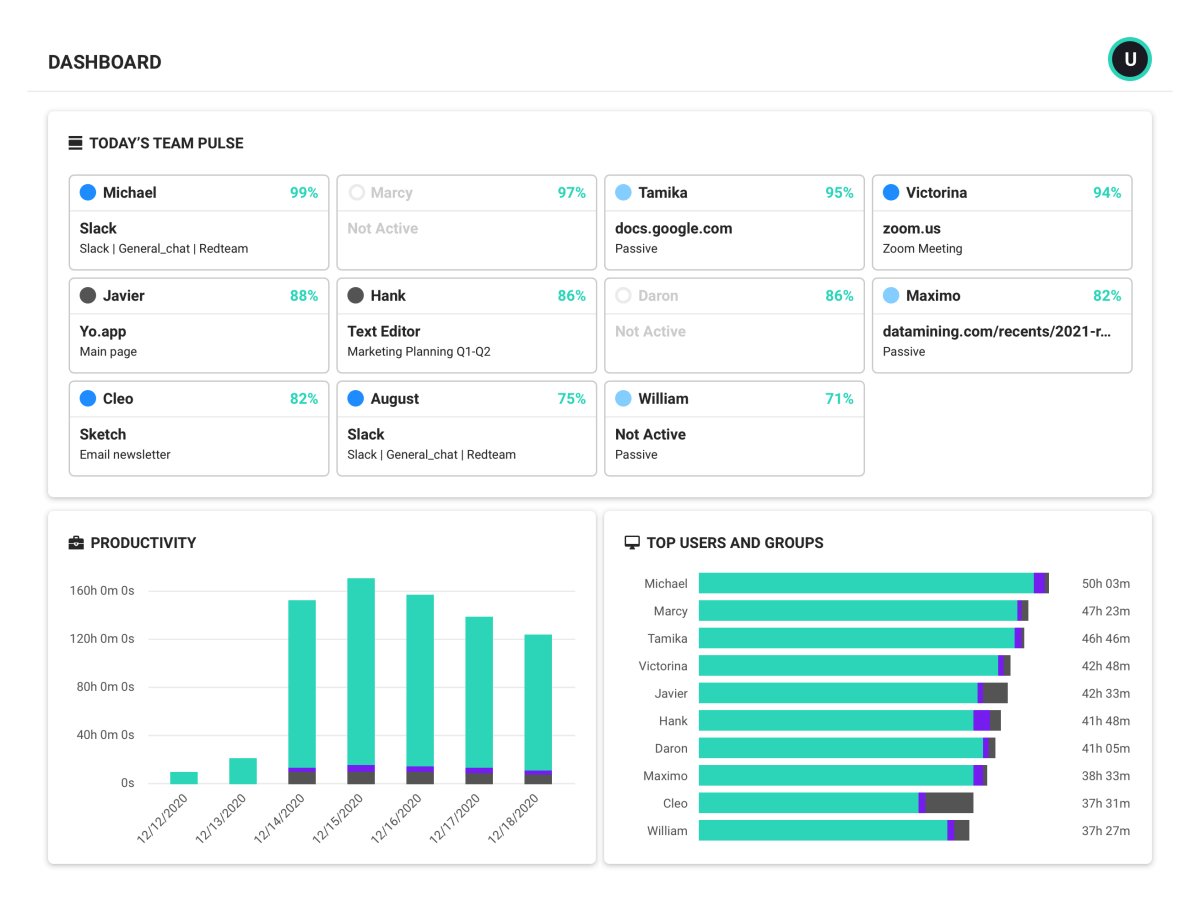 Productivity Monitoring
Productivity assessment starts with the collection and analysis of user activity data through computer monitoring. ActivTrak has deep insight into user activity data, allowing users to see when and where their productivity and performance peaks. You can customize productivity objectives to individuals, teams, and departments as well as view total hours and productive hours.
Apart from that, ActivTrak also offers you an overview of individual and teamwork time separated by app or category. Learning about the daily, weekly, and monthly activities of your employees through monitoring and productivity data can improve scheduling and planning. ActivTrak differentiates productive time (active time) and unproductive time (idle time). Trends in productive and unproductive time can help identify potentially overloaded and underperforming employees.
Admins can view the workload levels of all of the employees. Through workload overview, the admin can easily spot which employee is at risk of burnout, since it will tell you which employee has an imbalance.
The analytics dashboard provides users with an overview of their performance as well as utilization levels. This also leaves room for self-improvement, since the user can see what their potential "problem areas" are.
Productivity data and reports can be leveraged as coaching tools to increase both employee engagement and overall job satisfaction. Workforce insights offer side-by-side comparisons of current versus historical data sets, which can help track improvement and employee satisfaction.
Screenshots
This SaaS solution allows its users to configure screenshots on a user-by-user basis. ActivTrak emphasizes screenshotting and mouse movement, as this solution doesn't have a keylogger. computer screenshots are taken at regular intervals; however, URLs and website handle get screenshots in a time interval of 10 seconds.
When snapshots are turned on for your team and it's time for the software to capture the screens, each member will see a screengrab of their colleague's screens. You can configure screenshot timing through alarms. With an Advanced subscription plan, you can simultaneously take screenshots for URLs or apps opened.
ActivTrak markets screenshots are a tool for reporting and keeping the company safe from compliance risks. They are high quality, meaning that you can zoom in and see even the smallest details on the screen. This is especially useful if you are working on a project and realize that a mistake or a mishap occurred. You can retrace your steps, find what went wrong, and correct your mistake. On their website, interestingly enough, ActivkTrak claims that screenshots should be used sparsely and on an as-needed basis.
People that have used or tested this software did mention that ActivTrak is a stealthy monitoring system that doesn't let employees stop or start tracking. This means that the employee or user isn't always aware that ActivTrak is running and monitoring their activity. Only the administrator has access to these screenshots.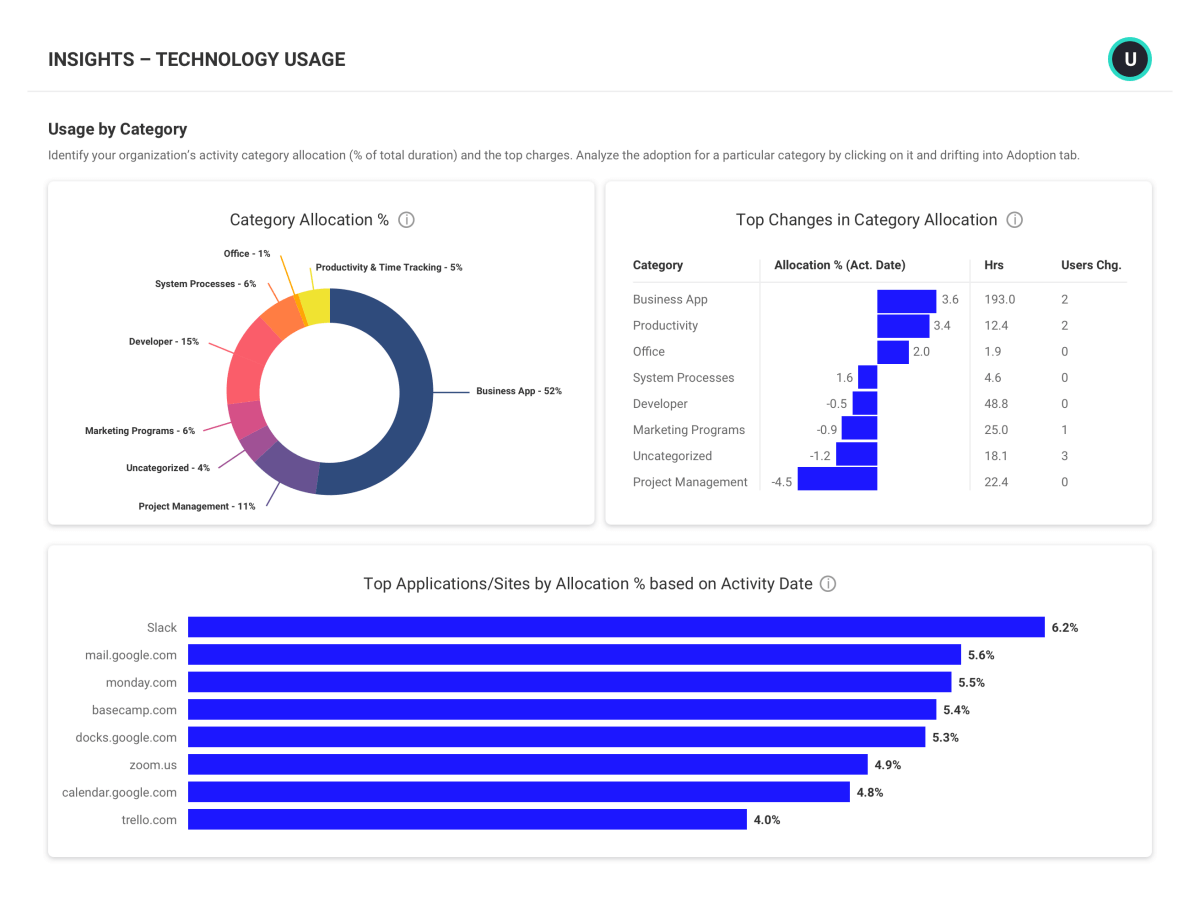 Screen Monitoring + Web/App Usage
As previously mentioned, the website and app usage are categorized under productive and unproductive segments, and by type. This way, a user of this software will quickly gain a complete overview of what apps or categories most of employees' time was spent. This can also uncover some unnecessary apps resulting in reduced costs for licenses. Reporting can also show which apps and websites were the most used or visited.
ActivTrak can analyze the impact of non-business activities on productive, work time. By viewing a breakdown of time spent on activities related to work, an employee can gain better insight into what distracts them during working time.
There is a content filtering service that is meant to protect remote workers from cyberattacks and to prevent employees from visiting problematic websites. ActivTrak then assesses user risk based on risky user activity.
Reports
Reporting is made easier with ActivTrak's reporting features. Managers or HR specialists can set up scheduled reports, as well as filter reports by date range, computer, or user. These reports will provide them with an overview of how much time spent working was productive, or unproductive and how much time was spent active versus inactive.
Reporting is done through email subscriptions meaning that employees can subscribe to any dashboard. Email content can be configured through various filters. Through reporting, you can view top categories, top users, top websites, top applications, activity, and alarm logs. ActivTrak's reports can be set up daily, weekly, monthly, or annually. This feature makes creating reports and supporting employee training easier.
Integrations
This tracking solution integrates with the most commonly used workplace tools such as Zoom, Slack, Microsoft Teams, Asana, Jira, etc. Custom integrations aren't mentioned, however, there is likely a possibility to work something out with the ActivTrak team.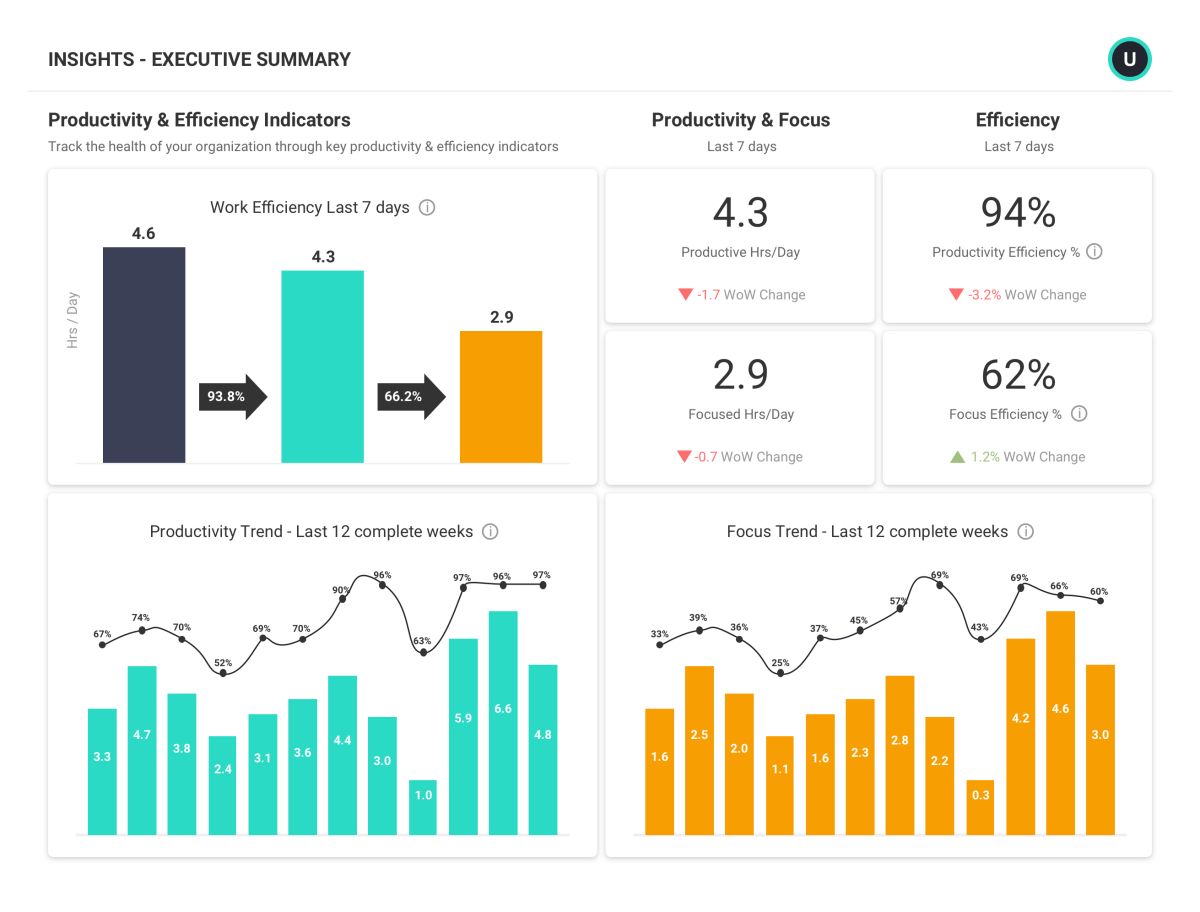 Security
Like most monitoring software, ActivTrak doesn't gather data post office hours. Their suit to protect user privacy includes audit logs, non-track lists, protection of critical data, anonymizing information (when necessary), and configuring user permissions.
ActivTrak takes its security a step further with USB blocking and file transfer prevention; preventing any chance of malware, viruses, and other cybersecurity threats and lowering the chances of data breaches. You can set up notifications and alarms triggered by risky employee behavior.
Pricing
Add-ons are available in Advanced and Premium plans and are billed on a per-user basis.
14-day free trial period
Advanced 9$
Premium 15$
ActiveConnect Add On $2
ActivTrak Pros
Available for Mac, Windows, Android, and iOS
Available in the cloud
Time tracking & attendance
Proof of work
User-friendly UI
Can set KPIs for individual employees
Workload balance insight for employee burnout prevention
Business tool integrations
Detailed workforce insight
Real-time monitoring
Free trial & free version
Protection from malware, viruses, and other similar threats
Detailed web and app usage details and reporting
Easy installation
Dedicated customer support
ActivTrak Cons
No keylogger
Takes up more RAM
Users report feeling confused while navigating the interface
No activity-based time tracking
Doesn't have more detailed time/project management features
Doesn't do on-premise hosting on a network or private cloud
Only allows annual billing
"Freemium" plan only allows for basic testing
ActivConnect is not integral to ActivTrak
Paid add-on features that are billed separately (video playback, screenshot flagging, screenshot redaction, and raw data access)
Screenshots show the entire screen without blurring
Doesn't track attendance
Not suitable for companies with stricter privacy policies
Users reported issues with the rollout of the software
Conclusion
Every company has different needs. Those needs require a different solution. Therefore, if your company deals with lots of sensitive data and encounters security issues on a regular basis and you don't mind paying more for add-ons, you might want to consider trying ActivTrak.
But, if you are managing a hybrid, fully remote, or onsite team and want to make payroll and project management easier, Insightful may be the better choice for you.
It's highly intuitive, easy-to-use software that can be deployed and used within 10 minutes after installation. In comparison to ActivTrak, Insightful is cheaper and it can easily suit any company – no matter the size, industry or complexity.
---
About the Author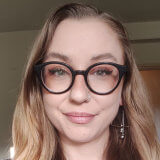 Vanja Zivkovic is a content writer at Insightful with a particular interest in SaaS and improving the workspace through technology and information. She was born and raised in Rotterdam, educated in Belgrade and Iowa, and is currently living and working in Belgrade. Apart from writing about technology and how it transforms the world that we live in, she enjoys poetry, learning, and traveling.
Get notified about our new posts
By submitting this form I accept the
Privacy Policy
and I agree to receive blog-related information from Super Monitoring.