Use Buzzsumo to be the Master of Online Content
Got a blog or website but often struggle to create the perfect content that achieves its intended purpose? Tried without success to grasp the basics of SEO and other techniques needed to make your online content stand among if not apart from the top contenders of the trade? Well, you've managed to reach the correct article. In here we're solving one of the biggest mysteries of online content writing – creating SEO friendly, key content that performs best for any topic and if you're lucky, to know what content performs best for your competitors.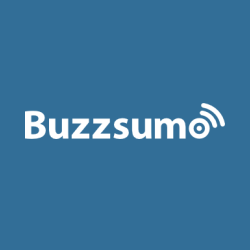 Let's start with the first step – knowing the tool that can actually help; introducing Buzzsumo!
Buzzsumo – Helps find key influencers that promote content
Content is what first attracts a customer to an organization. Today, most people rely on feedback and reviews for products and services on online forums before finalizing their transactions. After studying that aspect they move on to an organization's webpage to dive deeper. While getting good testimonials and reviews is not that tough a task, especially for those who don't mind getting a little unethical, building an impressive, hard-hitting website is not a piece of cake. More than the layout, color schemes and graphics, website content is what decides whether a casual visitor will turn into a prospective customer or not.
When the content is so important, do you make sure you spend the amount of time and resources you should on it? If you have doubts or would like to improve, trust Buzzsumo to help you out.
Buzzsumo.com is an online analyzer that lets you know what content works best for an industry and who the major influencers are. It assists you in identifying the topics related to your business that get the most attention. The tool is easy to use and most users claim it gives them immediate value by enabling search for terms/phrases that quickly identify content that's performing well in a niche or with an audience. In a nutshell, Buzzsumo makes sure you publish exactly what your intended audience wants to see on your website. End result – more business!
Key benefits of the tool
There's actually a whole lot of cool stuff packed within the tool, so much so that dedicating a section to it would be justified. Here are the 4 key ways in which you can use Buzzsumo:
Content Discovery
Buzzsumo filters out the content most-accessed by people (trending) and the one that's about to trend across all major social networks like Facebook, Twitter, Linkedin, Pinterest, Google+ etc. Moreover, it lets you customize the filtering based on criteria such as Time Period, Social Network, Content Type, Author, Domain and more.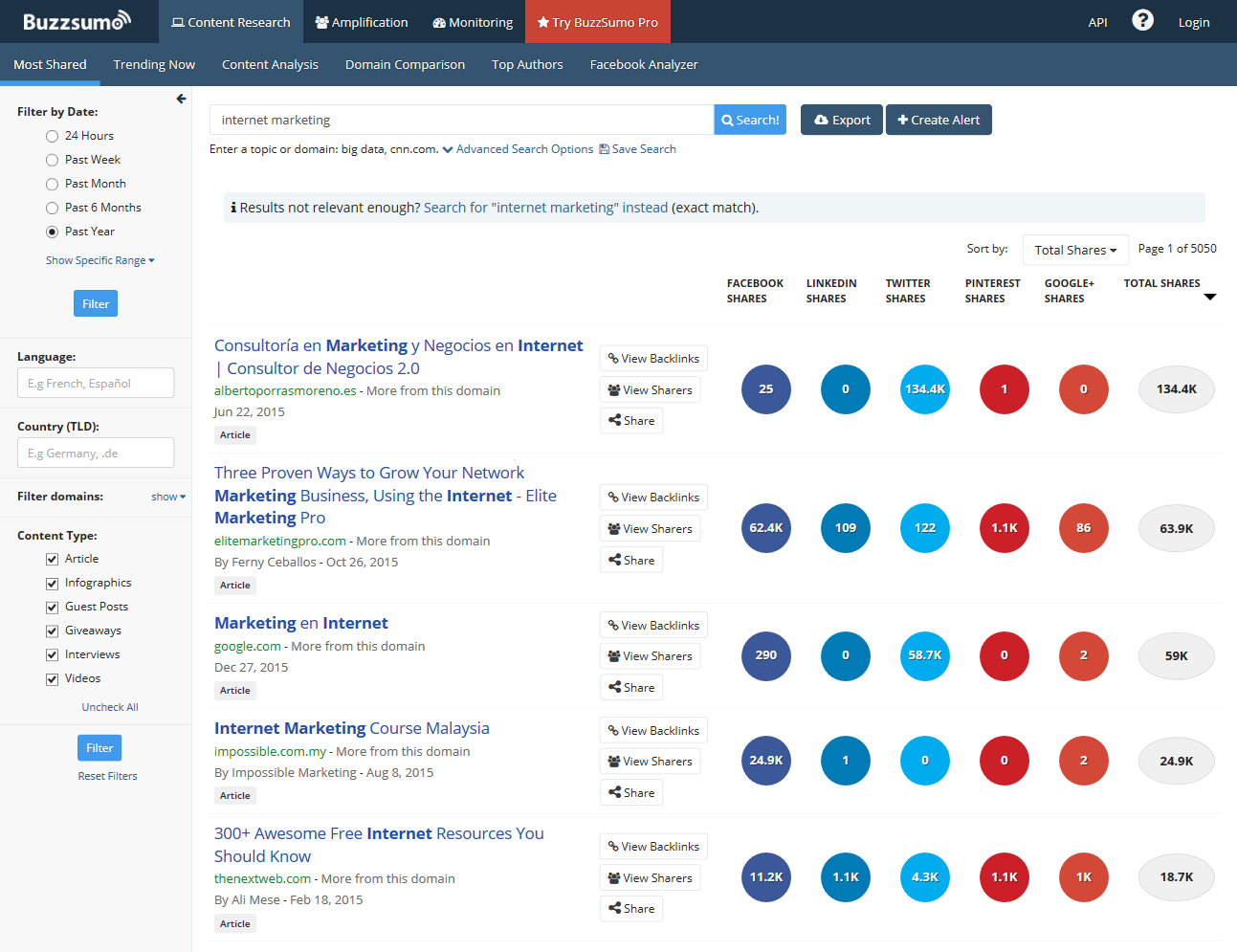 Monitoring
The tools enables you to set alerts for trending content, keywords, authors, domains and competitor sites. You can even create a personalized dashboard to monitor all alerts you've set. Plus, you can choose to have alerts delivered to your mailbox or setup an RSS feed.
Influencers & Outreach
Influencers are people who already have an audience that follows them. Discovering and understanding their methodology can give crucial insights as to how to capture people's interest and also drive some of their traffic to your website. Buzzsumo lets you find, analyze and follow influencers, see what content they share, export all findings to a trackable format (like CSV/Excel) and maintain outreach lists.
Competitive Intelligence
For promoting yourself better, you need to know your competitors well. Buzzsumo enables you to find out your competitors' most shared content, amplifiers who share your competitors' content, set alerts every time your competitor publishes content, create competitor content performance reports and more.
Tool Usage
Diving straight in is really simple. Just click on the "Try Buzzsumo for Free Now" button on the main page to be redirected to the search screen. In the search box, type a topic, keyword or domain to search and hit Enter. You can start looking at results immediately – what all related to the keyword you typed has been published, where and how much buzz has it created on social networks. You can play around for 5 keywords after which you'll be asked to sign-up for free for a 14-day trial on the Pro plan.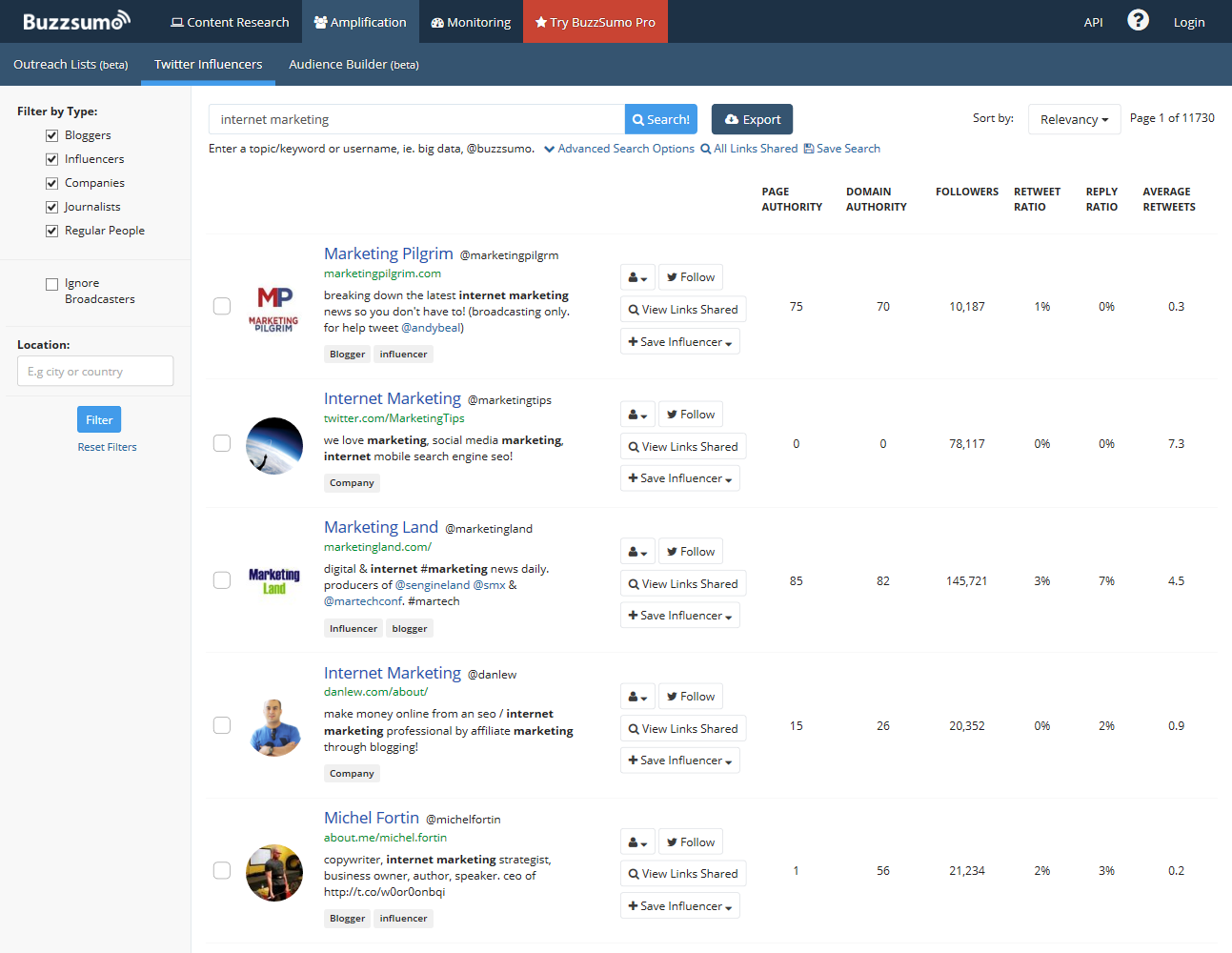 Thereafter you'll be led through a quick startup tour that you can skip if desired to end up on the search page again with some results related to the information you entered during setup. Now here's where you can start to play. Filter search results by:
Date (24 hours, past week, past month, past 6 months, past year, specific date range)
Language
Country
Domains (inclusive or exclusive)
Content Type (Article, Infographics, Guest Posts, Giveaways, Interviews, Videos)
Alter what you want and start exploring. Every result that turns up can be analyzed to find out what kind of stuff readers want and how enthusiastically they share or link to it. If the numbers don't match up to your expectations, you'll know where to improve instantly. You can choose to view your content sharers, export result data to CSV/Excel, set alerts and lots more.
Pros VS Cons
The pros of the tool can be deduced from the features section. Highlights include:
Uniquely simple to use and understand
Achieves its purpose 100%
Helps publishers serve better content and get more attention
Helps track where the maximum traffic is coming from
Offers monitoring capabilities
Affordable
As far as cons are concerned, they're truly aren't many except where the tool forgets to mention that you won't find the results much helpful if you're a newbie at publishing and have only a few social network followers. You need to have at least 20 followers on Twitter to be able to view who is sharing your content too. So don't bother if you're yet to get there. For large players though, the tool is a win-win.
Analyze the best performing content for any topic or competitor with @BuzzSumo buzzsumo.com/ via @supermonitoring
Final Words
Great tool with an awesome purpose; every organization looking to expand its online reach should try Buzzsumo out!
Get notified about our new posts
By submitting this form I accept the
Privacy Policy
and I agree to receive blog-related information from Super Monitoring.