Track work and get results with Asana
The market for team and work management tools is ever expanding and with the competition getting cutthroat by the day, users are expecting almost everything regarding collaboration from such tools. As more and more players jump into the field with claims of success with large famous organizations, users are bound to get confused as to which tool to go for. However, the answer to that question is simple really – a tool that accomplishes all current needs, adds some value, and fits the budget. Rather than picking a "popular" tool that internal teams find not-so-useful and not-so-easy to work with, opting for one that ensures everyone understands it, is comfortable with it, and can actually use it to work better would be the way to go.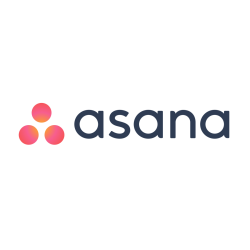 And when it comes to user-friendliness, the guys behind Asana are pros. With the fame of Facebook behind their backs, who would better understand what users want and how to get their attention? Presenting Asana, the brainchild of Dustin Moskovitz (ex-co-founder and key technical leader at Facebook) and Justin Rosenstein (co-inventor of the Like Button and Facebook Pages at Facebook and Gmail Chat and Google Drive at Google).
Asana – helping humanity thrive by enabling all teams to work together effortlessly
Asana works with some simple visions:
Building a place where everything from the most immediate details to the big picture are organized
Each person knows what they're doing and why
Introducing clarity, transparency, and focus to allow teams to collaborate with less friction and produce great results
Fostering an environment where coordination is effortless and people love what they do and are appreciated
Such strong values have paved the way for making Asana one of the fastest growing SaaS companies ever.
Asana as a project management tool is different at many levels. It makes sure teams move their work from start to finish in a better manner with tasks, projects, conversations and dashboards. Everyone within the project is able to track progress without the need for scheduling a status meeting or sending emails. Features to turn conversions into actionable tasks makes taking the next steps easy. Plus, with Asana, you can ensure you get only the updates you need instead of a flood of unwanted messages.
We're sure you get the drift by now but still, here's a brief overview of Asana's impressive features:
Lets you create and assign tasks, organize tasks into shared projects
Sections allow you to match workflows and structure projects
Due date reminders ensure all tasks get completed on time
Better communication is brought about through task and project conversations and team pages
Customized views for your tasks, inbox, dashboards, calendars, files and even search helps prioritize things
Team management is enhanced by giving tasks a clear owner, allows interested people to follow tasks and projects, and enabling teams to collaborate with vendors, contractors and Asana partners
Seamless integration with Dropbox, Chrome, Slack, GitHub, Okta, Google Drive and more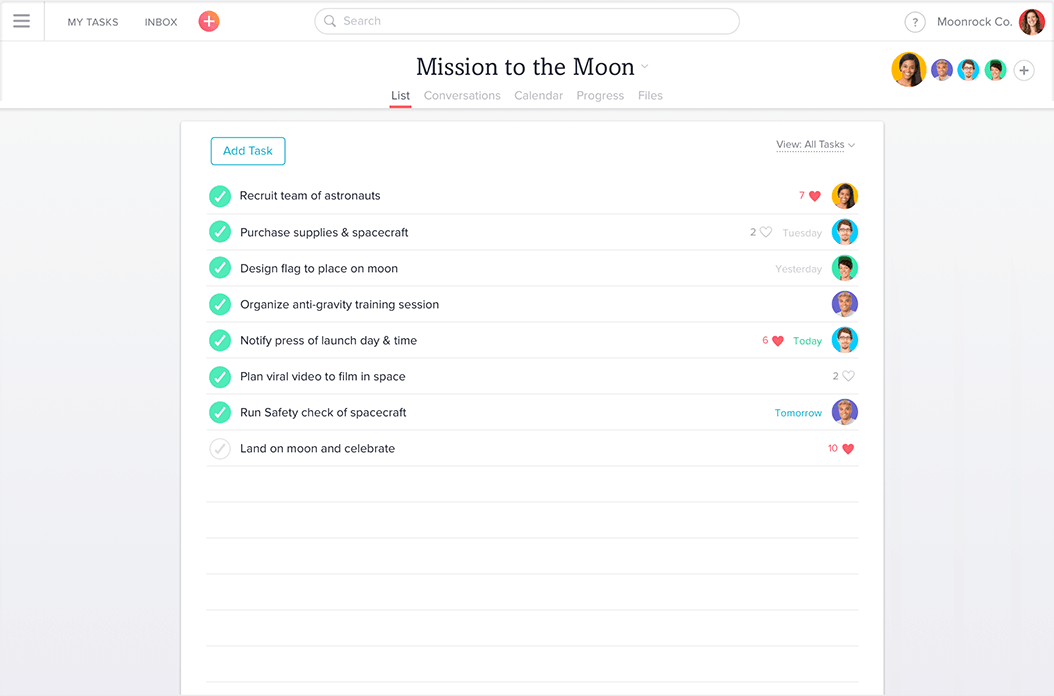 How it rolls
To start using Asana, sign up for free through any of the links given on the home page. Once completed, you're asked to complete your profile. Fill in basic details and upload your picture if you wish to. Fill in other details like any teammate's particulars and proceed to the main interface.
The layout and feel of the tool is very soothing and easy-going with pointers directing the way for first time users. The interface is divided into 5 sections:
Sidebar to the left that lets you access:

Dashboards – high-level view of the status and progress of your projects. Clicking on "My Dashboard" opens a pop-up where you can add/remove projects.
Team Pages – central location to access all your team's work. There are 2 main views in this area:

Conversations – allows you to share team-wide announcements, discuss projects or celebrate accomplishments. Starting a conversation is similar to publishing a Facebook post.
Calendar – enables senior managers to stay informed on your team's planned work through team check-ins. You can also book events here and sync the team's calendar.

Projects – lists of tasks. Clicking on a project's name loads it in the main window. The three dots icon adjacent to a project lists options on clicking (highlight, use as template, delete, archive etc.)
Favorites – bookmarked projects, people, tags or custom views for easier access. Favorites are indicated by a star icon
Recents – quick navigation to the items viewed recently. Recents are indicated by a clock icon.

Top Bar that lets you access:

Tasks – work assigned to you
Inbox – notification center in Asana
Quick Add – to create a task, project, conversation or invite people
Search – for tasks, people, conversations, tags or projects
Help – tips for help
Profile settings & option to switch between workspaces

Header that lets you:

Favorite – a project, task or view currently being viewed
Access Options – for print, archive, delete, export etc. Options can be accessed by clicking on a drop down arrow
Change View – between list, conversations, calendar, progress, files
View list of Project Members

Main Pane is the large section of the interface at the center that contains details of the items you click on from the sidebar. This is also where you see search results, inbox notifications, conversation posts and dashboard project cards. The main pane allows you to:

Add tasks
Sort and filter the list
Mark task complete/incomplete
Identify task's due date and assignee etc.

Right Pane to the right that lets you see the details for a task you've selected in the main pane. From the right pane you can:

Assign task
Identify what project the task belongs to
Follow/Unfollow task
Attach files etc.
Asana is relatively very easy to understand and use compared to many other project management tools and that's where its power lies. Plus, it comes with a complete and extremely useful "Help" documentation that serves as an extensive guide through its operations and terminology.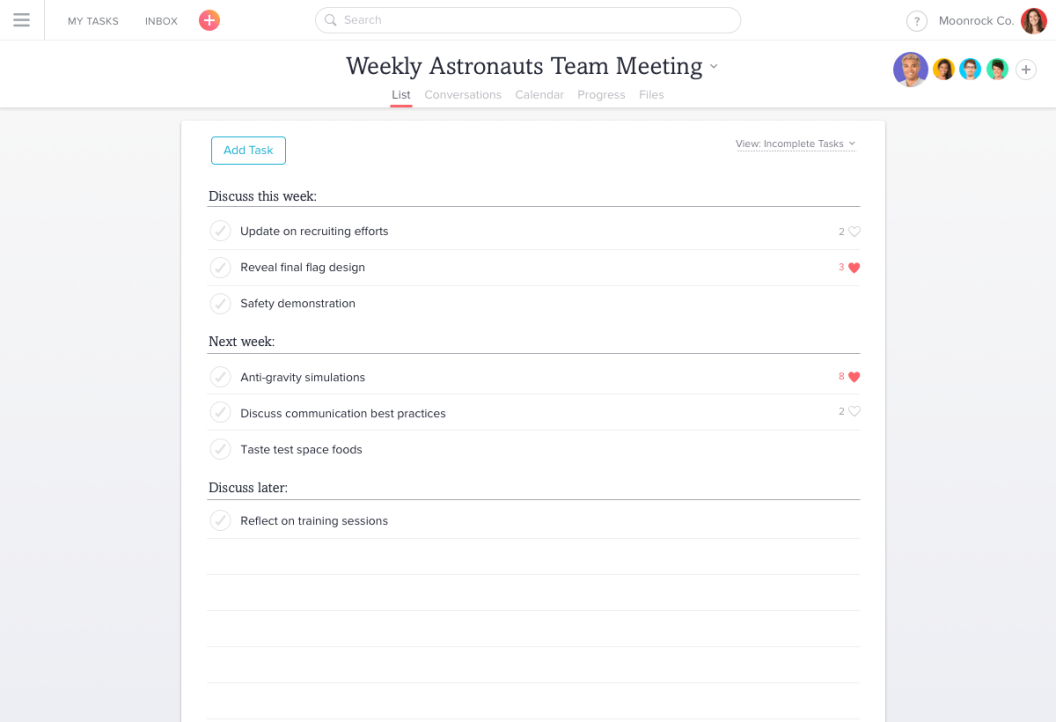 Product Strengths VS Product Weaknesses
Do we really need to revisit the strengths? Have a look at the features and usage description of Asana above to get an idea of the tool's awesomeness.
As far as weakness is concerned, it all comes down to the pricing. Although for small teams of up to 15 people, a basic account with Asana can be used for free, users can choose to upgrade their membership for approximately $8.5 per user per month (that's roughly $100 for 1 user annually) for more features. There are offers for discounted pricing as well, so pricing shouldn't really be a concern for large corporations willing to make their life easier.
Let your teams work and collaborate effortlessly with @asana asana.com/ via @supermonitoring
Final Words
All in all, it's difficult to find a fault with Asana. It's a great tool that promises to simplify things at an affordable price. If you haven't already, you should check it out!
Get notified about our new posts
By submitting this form I accept the
Privacy Policy
and I agree to receive blog-related information from Super Monitoring.