Smooth screen sharing & web conferencing with join.me
Collaboration is the key to success in the modern world. Be it technology, design, or business, teams need to share their ideas and brainstorm in order to come up with the perfect product or service. As such, there's no dearth of great tools that can provide an optimum platform for the same. But in a market practically overloaded with online, free utilities for the purpose, picking a trustworthy and competent one could be difficult.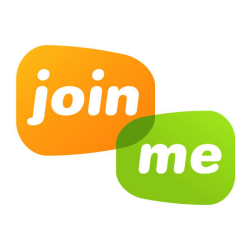 Not actually, if you've got us to help you out! As always, we're reviewing another brilliant online platform in this article. The tool in focus today is join.me; quite a popular name among collaboration tools.
Join.me – Collaborate better, online!
If you work in a distributed team, a simple task such as a status meeting could mean having everyone connected through conference calls. Imagine the kind of technical aspects that would need to be taken care of if you needed to demonstrate a design or a POC (proof of concept) or functionality to your counterparts or clients sitting in another country. You'll need equipment to establish a secure connection, voice and image sharing tools and often screen sharing tools too. What if you could have all of that through one platform that comes with two major advantages – it's free of cost and it doesn't need any installations.
Join.me makes this possible. It is an instant online meeting solution that makes team-work easier than ever before. Screen sharing, audio / video conferencing and collaboration in a few clicks; that's how simple it really is. The success mantra behind this platform is that it is easy to start, join and manage. And if you're a viewer (not an active participant) in the meeting, you don't even need to install anything on your machine. Just log on to the portal and choose to "Join a meeting".
Here's a look at the most prominent features of join.me:
The tool offers a new take on video conferencing. Called video bubbles, join.me facilitates light, floating visual images of you and other members. You can view live bubbles of one-another during meetings. You can even play with them (grab and bounce) if you're bored!
User provisioning, tight policy and permission control, single-sign on, and detailed reporting, join.me is one of the most secure online meeting solutions.
It facilitates unlimited audio services using VoIP and dedicated conference lines in more than 40 countries. Includes audio conferencing by phone and Internet audio (VoIP) to enable you to see and hear everything in real time.
Gives users the freedom to join meeting from any device (desktops, laptops, tablets, or Smartphone) thus empowering your workforce to be more productive while on the move.
Allows you to record meetings so that you can refer to them later or share the recording with participants who missed them. To store recorded videos you'll need a Pro account (5GB cloud storage) or an Enterprise account (5TB cloud storage).
One-click scheduler lets you set up meetings in advance. You can also choose to setup join.me meetings directly in Outlook or Google Calendar.
Swapping screens between presenters is super smooth too. One presenter can simply make any other participant the presenter so they can broadcast their screen with full control.
Offers you the control to personalize the link to join a meeting.
With join.me Pro account, you can add team members to make the whole experience more effective.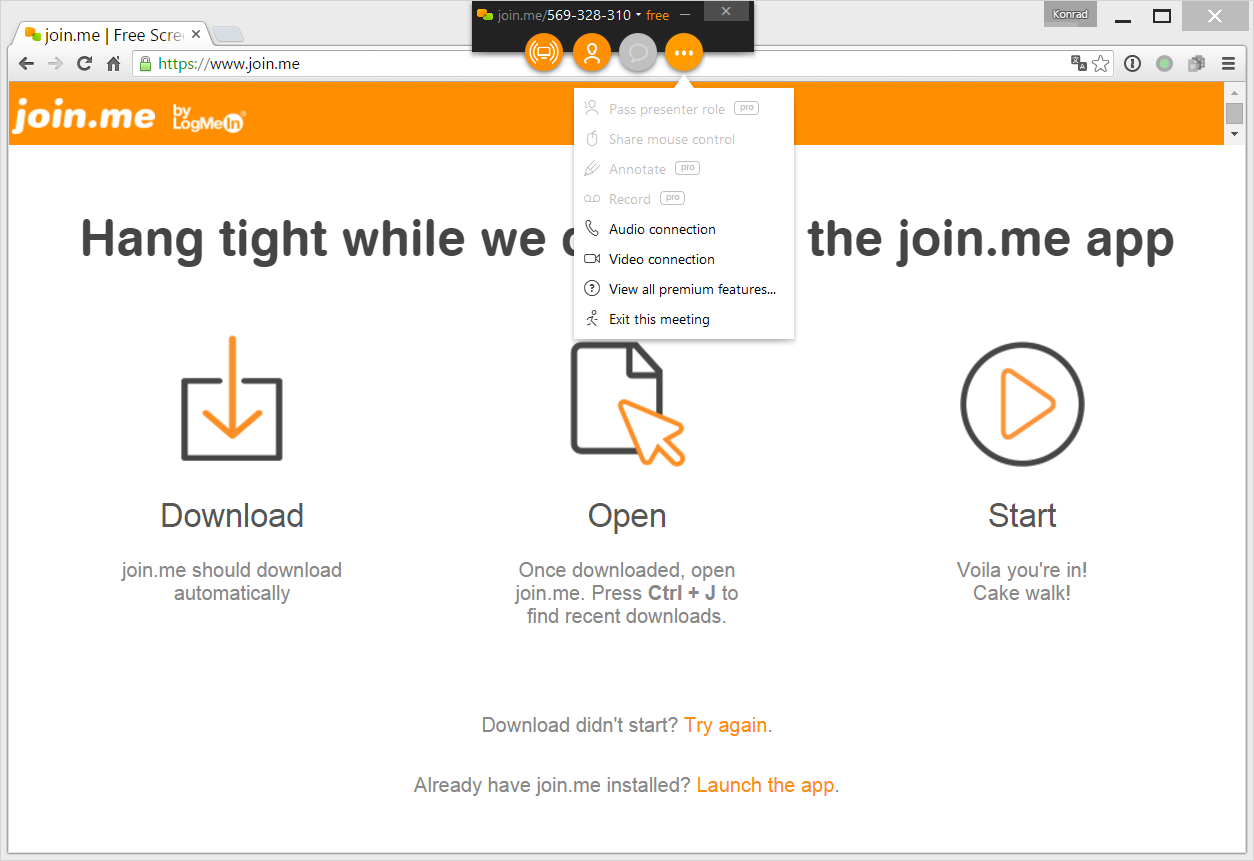 Ranked number 1 in speed and ease of use, join.me has up to 90% of the fortune 500 companies among its user base. The service is ideal for sales demos, idea generation, external presentations and ad hoc get-togethers.
Tool Usage
To start using join.me for free, click on "Log in" on the upper right corner of the screen. First time users can then sign up for an account with LogMeIn services (creators or join.me). Once your account is created, you'll see a pop-up asking you to start your Pro account trial. If you're not ready to start with that yet, there's an option to "skip" this step for now. Following screens are related to the Pro account as well so you can just let them be.
To get a glimpse of the action, start hosting a meeting or join a meeting through a smaller pop-up window just below the Pro account one. If you host a meeting, you'll get a one-time code that you can share via email with other participants. To join a meeting, enter the one-time code that someone else shared with you via email. If you choose to host a meeting, you'll need to download and install the join.me app on your machine. The download will begin automatically and once it completes, open it and start sharing your screen.
Pros VS Cons
Do we really need to revisit the plus points? Well, if you insist!
Instant screen sharing & video conferencing with VoIP
Online meetings with unlimited audio conferencing and more features for less than $20 per user / month that's billed annually
Premium meetings with advanced management capabilities for less than $25 per user / month that's billed annually
Smooth working on a variety of devices
Facility to record and save meetings
One-click meeting scheduler
Allows file transfer and presenter swapping
When it comes to pointing out the negative points of join.me they're quite difficult to find. Except of course the fact that despite the claims of the tool to be number 1 in speed, the quality of the video or screen sharing will depend upon your internet connection speed.
Communicate using instant screen sharing and web conferencing through @joinme join.me/ via @supermonitoring
Summing it up
All in all, join.me is one of the best collaboration tools in the market today. It's simple and straightforward; a tool that actually focuses more on work and less on talk. So get productive!
Get notified about our new posts
By submitting this form I accept the
Privacy Policy
and I agree to receive blog-related information from Super Monitoring.
One comment:
Steve:

Join.me is good. Another very good alternative which you may consider is a R-HUB web conferencing server.

May 19th, 2016 at 6:25 am