Collaborate Better with RealtimeBoard
People who work in teams understand the purpose and vitality of whiteboards. What looks like a simple, glossy, white surface actually solves the purpose of a thousand notebooks, scrap books, blueprints, maps, or any other term you might want to give to something that is used while planning and brainstorming for development. Today, you'd hardly find an organization that doesn't use whiteboards in its discussion rooms. Even schools have made a switch from black and green boards to the more sleek white boards, and there's a genuine reason behind the liking. Whiteboards are smoother, easier and quicker to clean, and can also be used as projector backgrounds. No wonder they've become so popular.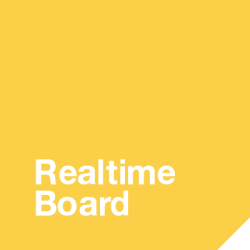 With technology taking people places, project teams have become distributed. People often make use of online tools to collaborate and share ideas. Even meetings are conducted through video conferencing. But then, how can whiteboards be carried around? Does that mean teams no longer have a tangible place to brainstorm and depict their ideas through flow diagrams?
Well, that's where RealtimeBoard comes into picture.
RealtimeBoard – collaboration made simple!
RealtimeBoard is an online tool that plays the role of an infinite whiteboard. Just as whiteboard can be reused over and over again by erasing and rewriting on it, RealtimeBoard lets distributed teams brainstorm seamlessly. The platform is laced with simple sharing options and powerful collaboration features to provide seamless communication and boost productivity. Moreover, it allows users to keep everything they need on a daily basis at one place including post-it notes, images, videos, documents, diagrams, spreadsheets, Google Drive files and more.'
The makers of the tool work with the mantra – "a picture paints a thousand words". If you ask us, RealtimeBoard lives up to that mantra in every single aspect.
Here are some of its most remarkable features:
Easily customizable flexible workspace to jot down ideas, or build an entire project on the board
Facilitates remote collaboration with teams scattered all around the world
Uses an intuitive toolkit to create mockups and schemes, and leave feedback on your colleagues' inputs
Enables easy addition of files, images and documents from your computer and Google Drive
Contains built-in collections and integrated libraries of icons, wireframes and other content ready to be used on your boards
Includes cool templates that you can refer to draw ideas for your projects
Allows you to share your whiteboard with your team and collaborate in real time
Easy conversion of whiteboard into presentations using the Frames tool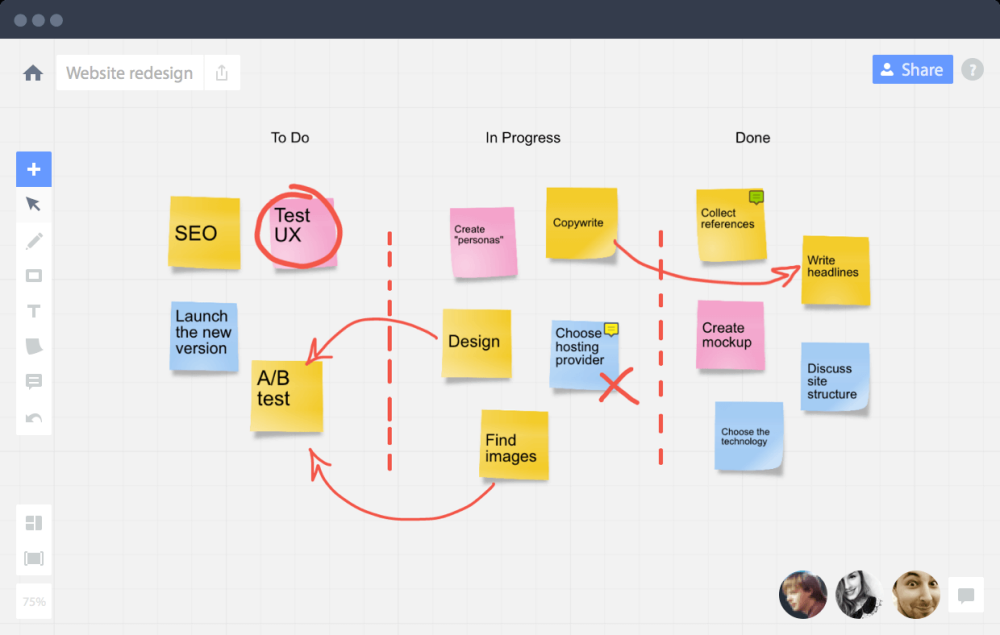 Here's how you can use RealtimeBoard
Visit the tool's homepage and click on the blue button that says, "Start Collaborating Now". You'll be asked to sign up. Just punch in your name, work email and a password. Next, you'll be asked to provide your official details, as in, team name, company size and a work phone. You can also start adding teammates immediately or leave that to later. A few more details later, you'll be all set. If you wish to, you can watch a 2 minute video about how to use RealtimeBoard on the next screen. That will save you a lot of time of exploring the platform.
Post signup, you'll have access to all premium features of the tool for 14 days. Once the trial period expires, you'll have the choice to either downgrade your account to a basic one or pay to keep your premium features.
Once you've reached your board, you'll see a grid layout depicting your whiteboard. On the left hand panel you'll see a toolbar including various editing options – Insert Tool, Selection, Text Box, Sticky Note, Shape Drawing Tool, Pencil, Comment Box, Undo / Redo Button, Frames Tool (to create presentations from whiteboard), Full screen Toggle, Zoom In / Out Button. Go ahead, give the whiteboard a try, it's quite simple really.
Once you have some ideas drawn or inserted or pasted (sticky notes) on the board, you can choose to export it as an image, PDF, download as backup, save to Google Drive, or attach to JIRA. To do this, click on the up arrow on the top left side of the screen next to your board's name. Alternatively, you can invite teammates to edit the ideas or leave their comments. This can be done by clicking on the message icon on the bottom right corner of the screen. You can also share the board with other people by emailing them the link of the board. For this, click on the "Share" button on the upper right corner of the screen.
If you click on the home icon on the upper left corner of the screen, you'll be redirected to your dashboard. Here, you can view all your different whiteboards and also keep monitoring the whiteboards other people have shared with you. This screen also displays some helpful examples of whiteboards fitting to different scenarios.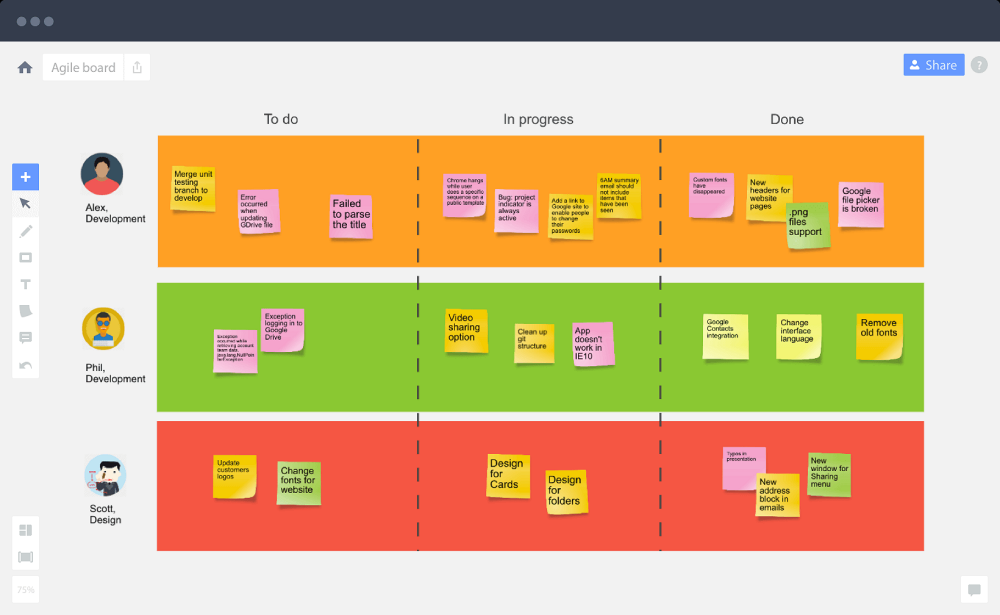 Pros VS Cons
RealtimeBoard proves to be quite an interesting brainstorming platform for distributed teams. It has a lot of pros associated with it which are evident from its feature description and usage. But there are a few drawbacks too.
Deleting stuff on the board is tricky. You have to select the object to be deleted through the selecting pointer (arrow on the upper left corner of the toolbar), then right click to open a pop-up menu and then select delete. A simple erase button would've been more convenient.
The tool is truly beneficial only for teams that have people located at different physical places. In house teams can be much quicker with actual whiteboards.
The tool isn't free of cost unlike the good old physical whiteboards.
Take your whiteboard wherever you go, try @realtimeboard realtimeboard.com/ via @supermonitoring
Final Verdict
Good tool, but only for those who wish to bring in a certain level of organization to their brainstorming sessions.
Get notified about our new posts
By submitting this form I accept the
Privacy Policy
and I agree to receive blog-related information from Super Monitoring.