10 Alternatives to SEO Site Checkup (Free SEO Analyzers)
In this blog post, we address different websites that will provide all the benefits that were provided by SEO Site Checkup to you with a single click.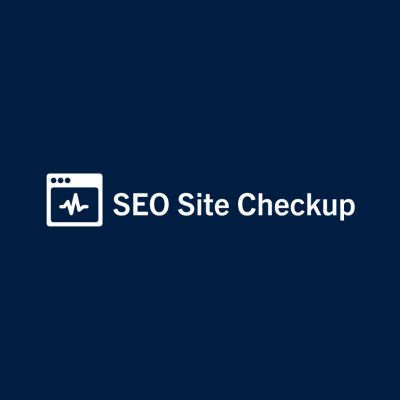 One of the best free SEO tools, SEO Site Checkup, is no longer offering free website analysis. Isn't it bad news? But don't be worried, as there are 10 good alternatives where you can run analysis without paying or even registering. Let's dive into the detail.
1. SEOptimer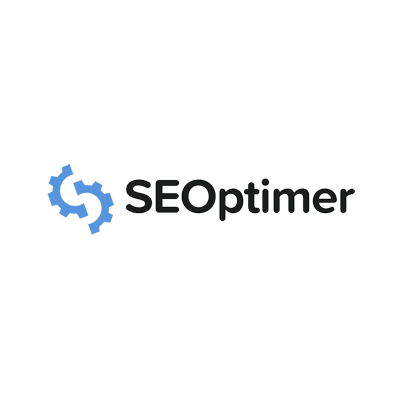 SEOptimer is a free website auditing and reporting tool that evaluates the performance of the audited site by quickly analyzing more than 100 SEO parameters. After completion of the audit and generation of the analysis report, SEOptimer also offers a list of related suggestions to be followed to address any issues found on the website and enhance its overall performance. With more than 100,000 visitors each month, 800 clients globally, 9 reporting languages, and millions of audits generated, SEOptimer is undoubtedly one of the greatest free audit tools today. Both small companies and digital marketers may benefit from it.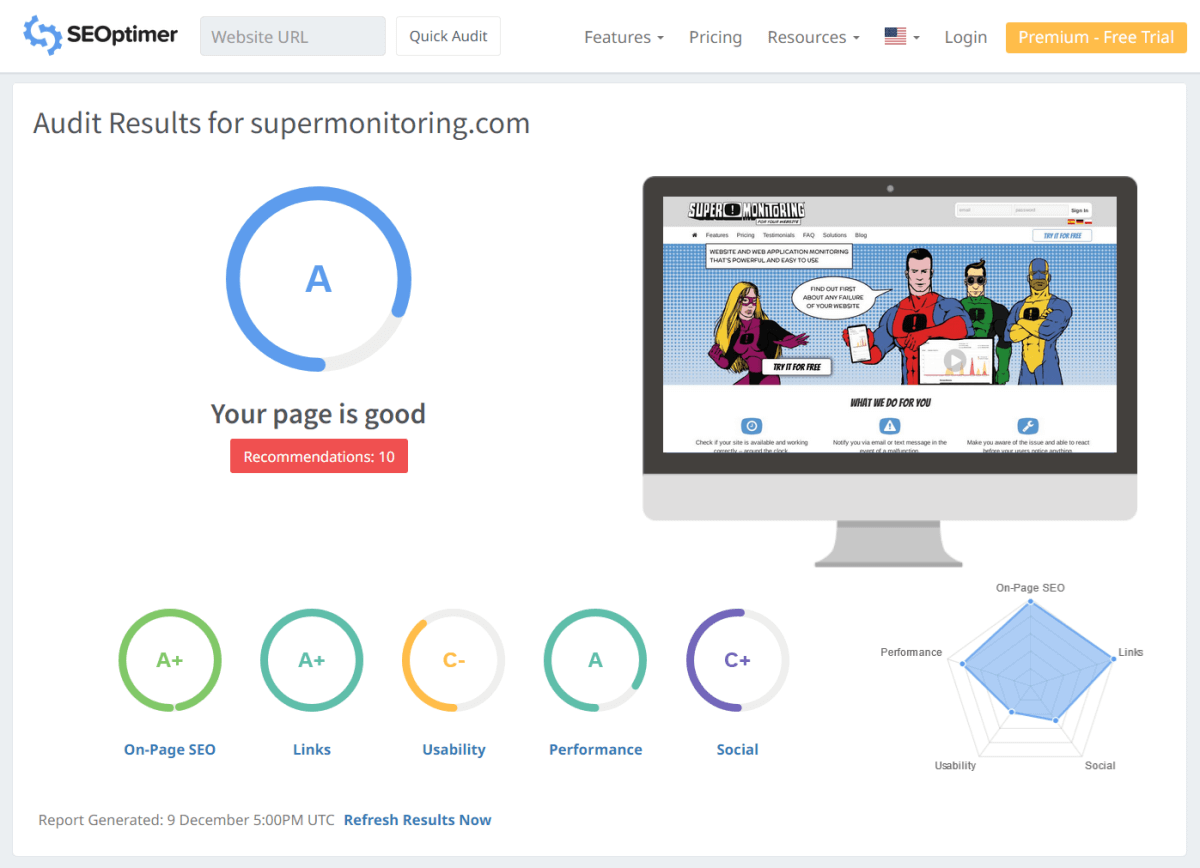 2. Spotibo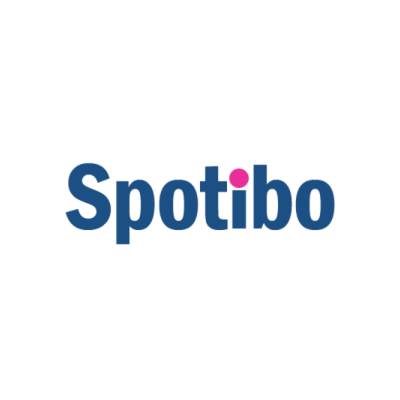 You may use Spotibo to view your website through the eyes of your preferred search engine, including Google, Bing, Yahoo, and several others. With only one click, you may obtain a comprehensive analysis of your website. Numerous SEO indicators are checked by Spotibo, including ranking, website loading times, page scoring, keyword optimization, and many more. Up to 500 web pages can be accessed for free.
With Spotibo's SEO audit tool, you can easily and quickly discover indexing issues, duplicate content issues, incorrect redirects, sites with error statuses, photos without ALT texts, and much more in a single report. Each alert or issue has a specific explanation. Spotibo neglects unimportant issues like missing CSS styles or meta keywords in the source code. Thanks to the automated analysis and assessment, you don't miss anything vital in your on-page analysis. With Spotibo, you can complete your on-page SEO audit much more quickly. It has cloud services for customers. On Amazon Web Services, where their web crawler is hosted, the data is also preserved. So, even if your website is quite vast, don't worry.
Consider that you need to use Excel to filter 100,000 rows of data. Horrible, isn't it? You may analyze all data while using Spotibo, right in the user interface, even the complex ones. However, you may quickly export whatever you require if you still want to work in Excel.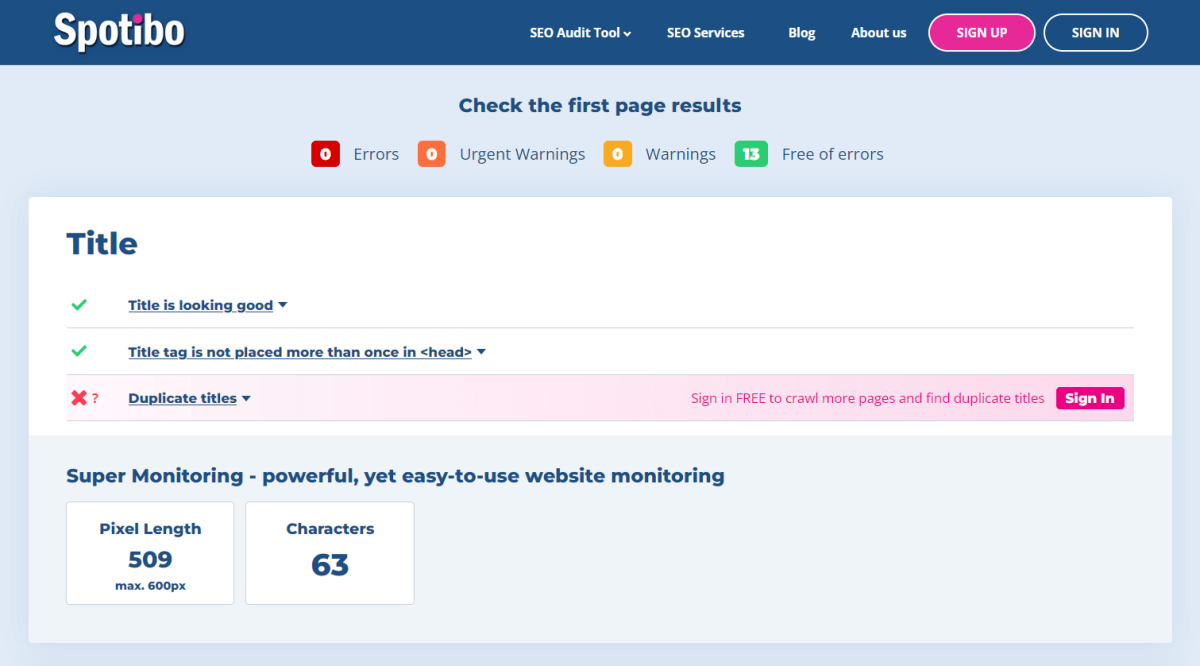 3. SEO Tester Online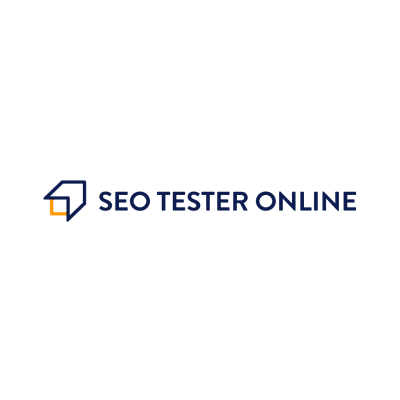 A suite of SEO tools called SEO Tester Online is intended to assist firms in improving their website rankings across search engines. In addition to SEO checker, SERP checker 360°, keyword rank tracker, SEO editor, keyword explorer, lead generation tool, and keyword list manager, it offers several other products. Businesses may use SEO Tester Online's SEO checker and keyword explorer programs to examine website snippets, h1 or h2 tags, content distribution, and density, find keywords that your competitors are using, and then export and transfer those keywords to Google Keyword Planner to boost ranking. You can evaluate competitors' website ranks on search engines like Google, Yahoo, Yandex, and Bing by using SERP Checker 360°. In addition, you can use SEO Editor to find major or secondary keywords for improving article ranking. It offers a copy metrics tool that enables companies to scan and analyze content on various web pages for SEO goals. A free version is accessible, and assistance is offered online by phone, email, chat, and other methods.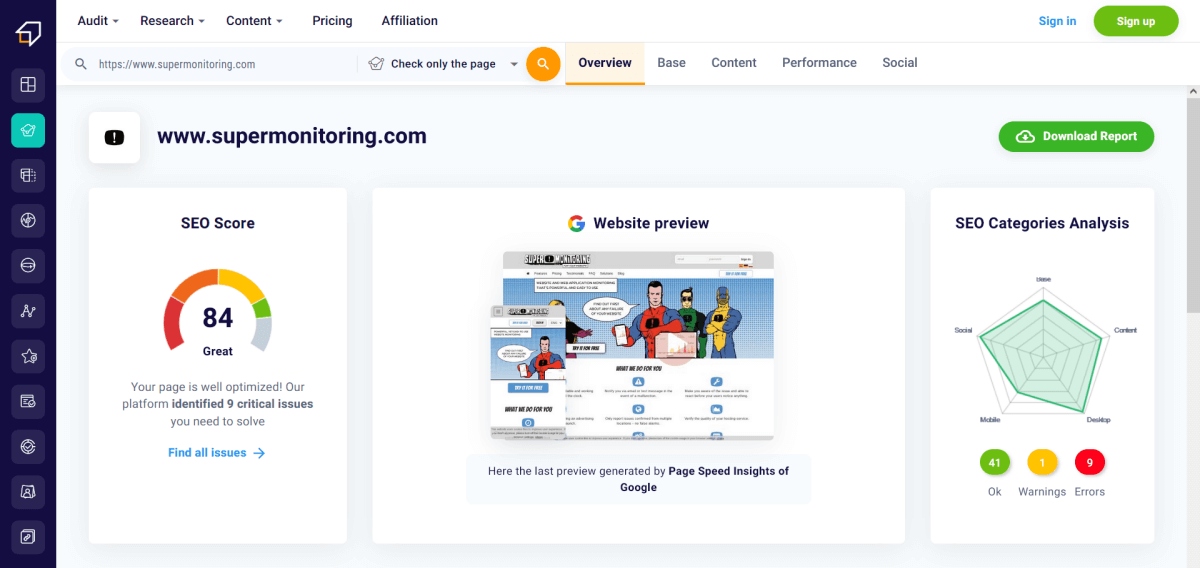 4. Rank Math SEO Analyzer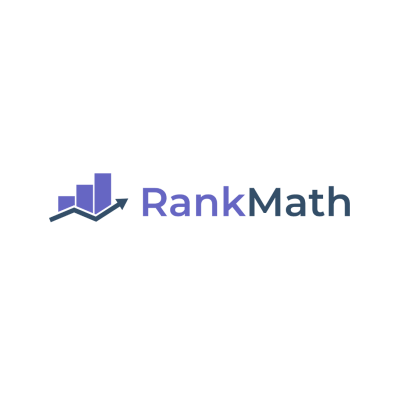 With its strong and simple features, Rank Math SEO Analyzer provides you with a significant advantage. Additionally, it provides advanced snippet previews. You can get a preview of your website's appearance in the SERPs, rich snippets, and even when it is shared on social media. You can view the keywords you rank for, the status of your sitemap, and any indexing problems. You may get a free, in-depth SEO report from Rank Math for your website. So that you may identify what you did well and where your pages need improvement. Your website's SEO difficulties will be solved thanks to free SEO analysis.
With the help of SEO Analyzer from Rank Math, you can check your content's keyword optimization. The number of internal and external links in your content is counted by the link counter. Your website may be optimized using local SEO and knowledge graphs, while image SEO improves image SEO and automatically sets alt and title tags. Additionally, it contains Google Analytics, internal link suggestions, a 404 monitor, and basic SEO to customize titles and descriptions.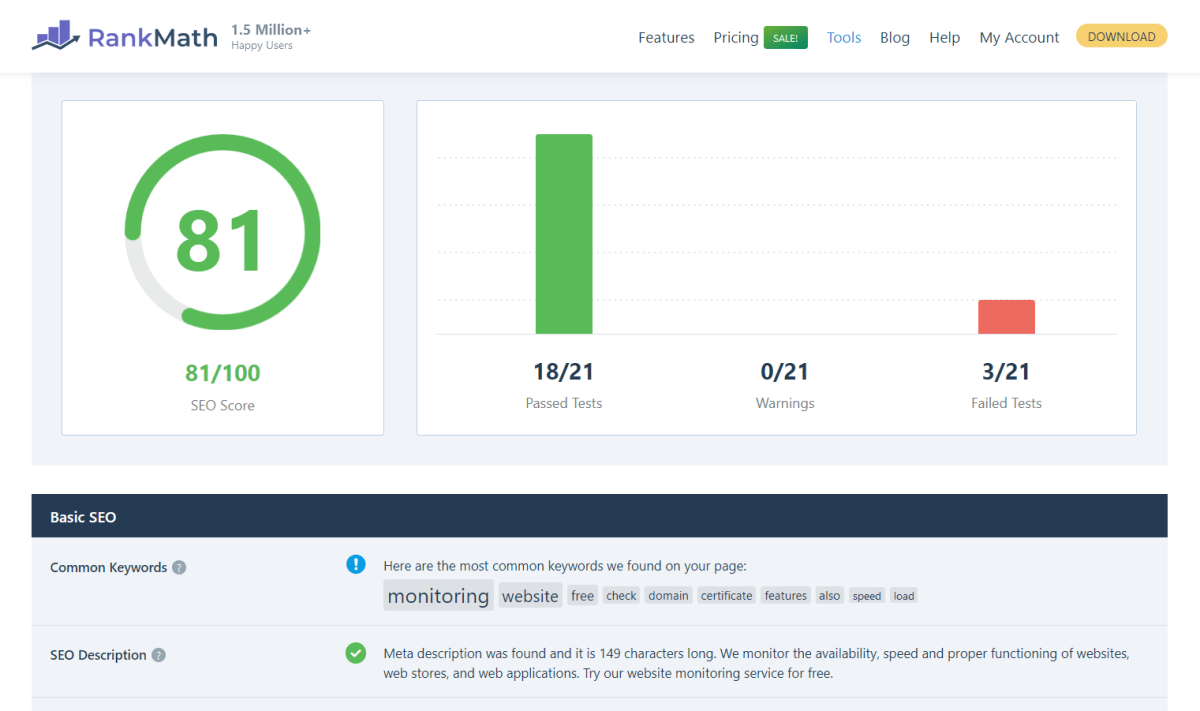 You are still able to examine up to five target keywords at once using Rank Math's free edition. Simply input the keywords you wish to target, and Rank Math will provide you with a score between 0 and 100. In addition to some color labeling. You will receive the "green," which is good and lists particular requirements that you have satisfied if your score is higher than 80.
5. Neil Patel SEO Analyzer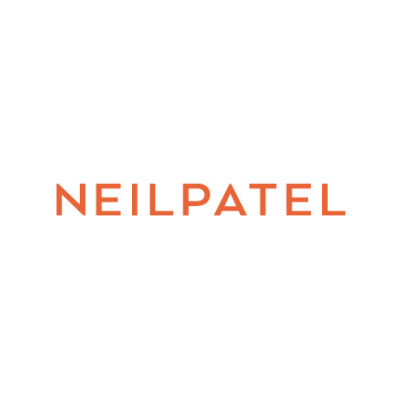 Neil Patel SEO Analyzer is a useful tool that is completely free. The visual design is clear and simple and offers a lot of important data, such as an expected traffic score, an SEO score, and backlinks. SEO audit reports and SEO analysis reports are very clear and understandable.
It let you know if any of your pages are damaged or banned. The report-generation process takes about 10 minutes. It also discusses SEO related issues, assess how well your site works on mobile devices, and provide you with suggestions for site improvement.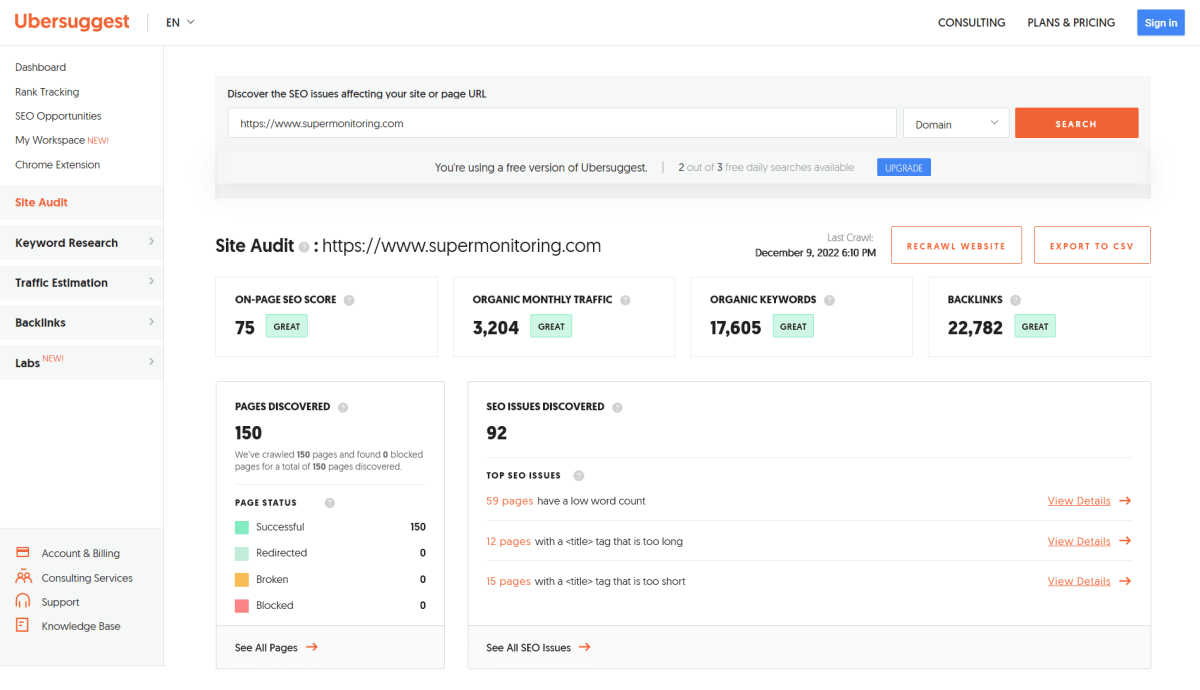 6. Small SEO Tools Website SEO Score Checker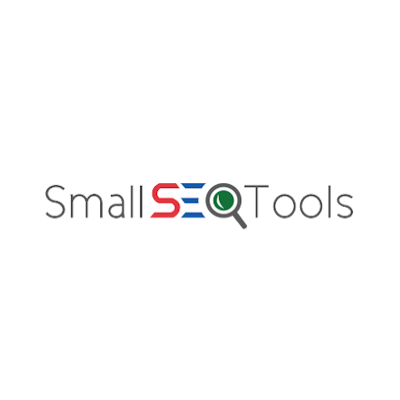 Anyone may use this tool for free to obtain a report on their website's SEO because it is designed to give precise, beneficial, and trustworthy data. But the tool is not limited to only examining site SEO rankings. With only one click, it provides the website's SEO data and performance in almost all aspects.
Your SEO Score, the test's "Status" and other information are provided in the Small SEO Tools Website SEO Score Checker report. It evaluates your website's performance, SEO, mobile-friendliness, and security using important criteria. The Checker will automatically generate both major and minor SEO grading certificates based on the evaluation of your website.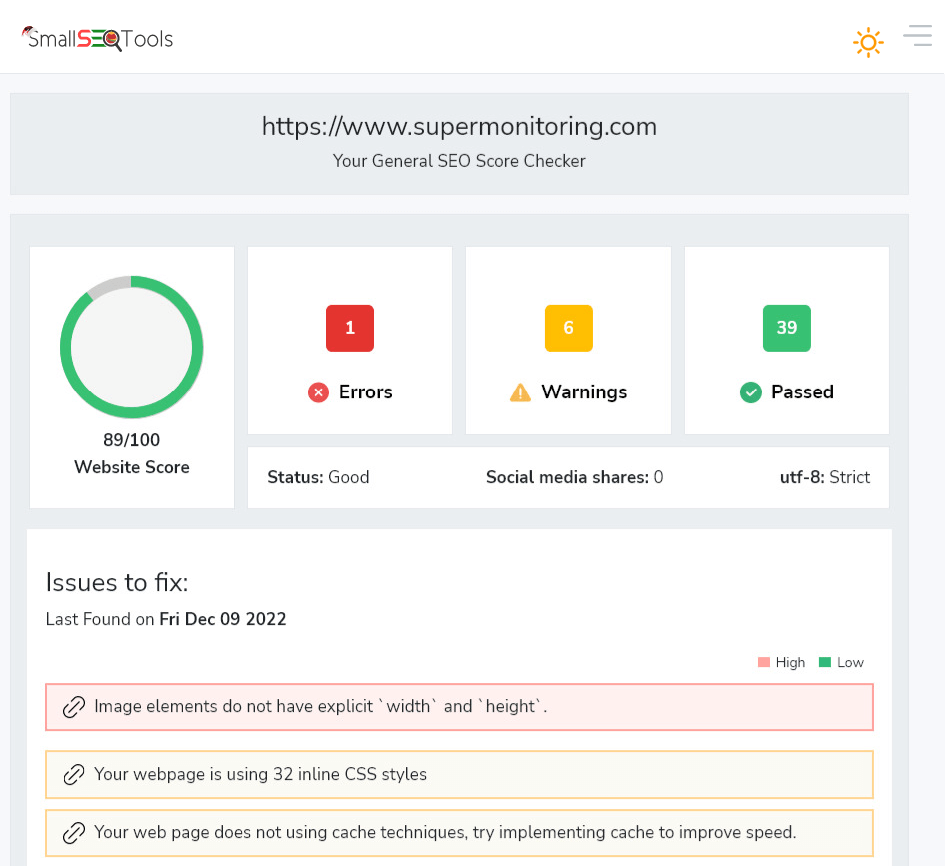 In general SEO assessment, things grow more intriguing as you go along. Website Ranking Checker will display a variety of "General SEO" indicators and data to you with only the first click. In essence, it scans and tests for SEO aspects like page titles, meta descriptions, keyword analysis up to 4 words, robots.txt, sitemaps, favicons, and many more. Detailed information and advice specific to your site are also displayed in the status for each one. Google is fairly serious about security. To determine the security of your website, this free SEO score tool examines a lot of components on your server. These consist of:
HTTPS Test
Safe Browsing Test
Directory Browsing Test
Server Signature Test
Plaintext Emails Test
7. Rankwatch Website Checker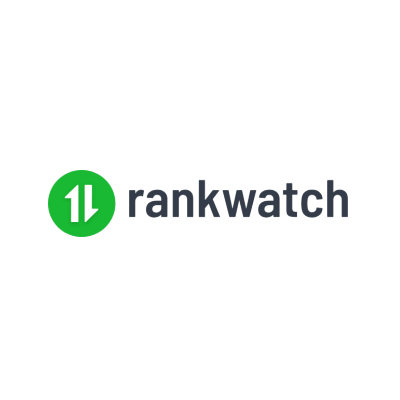 The Website Checker from RankWatch is an SEO audit tool that examines all the elements. It assists you in identifying any problems that can de-rank your website. This tool provides you with a thorough understanding of your site's SEO content, including meta tags, Google SERP preview, sitemaps, robots.txt, and many other crucial facts, by completing a thorough SEO Site Checkup.
With additional features & recommendations, RankWatch's Website Speed Checker Test enables you to assess website speed using actual real-time browsers. Your website's social distribution across various social media platforms is quickly described by a web analysis tool. You learn how your website performs on numerous social media platforms, like Facebook, Twitter, and others. Additionally, it provides a real-time display of your Twitter feed.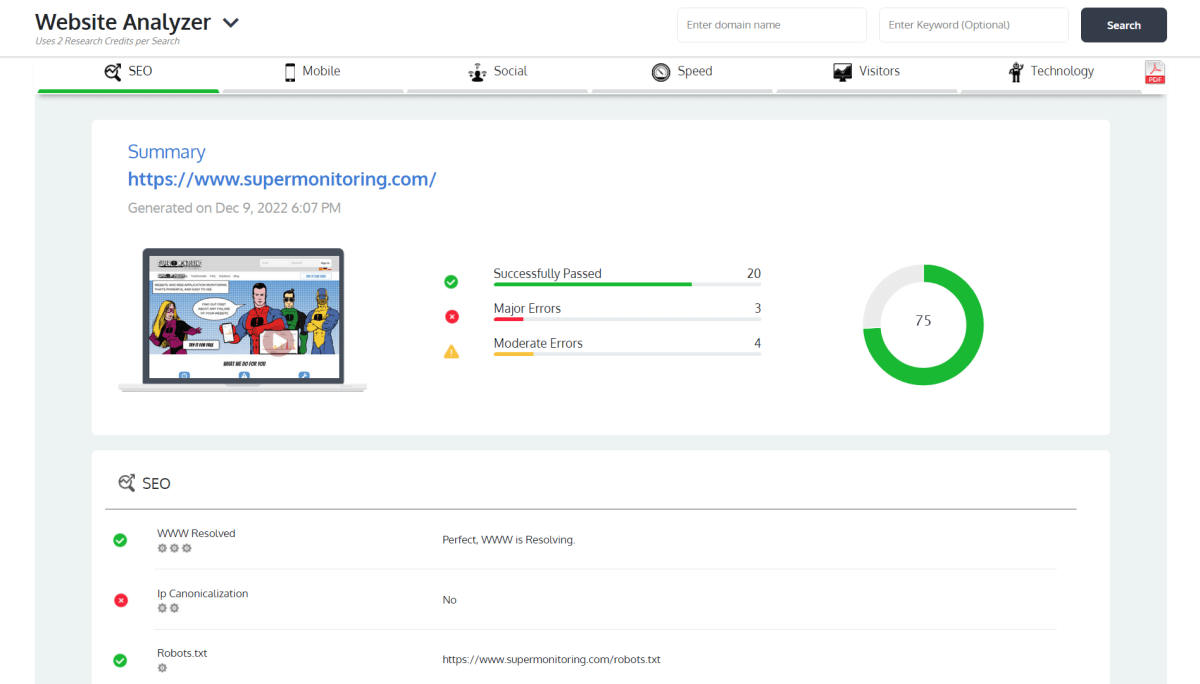 You may do a thorough website traffic analysis and learn about your website's global rank in this section of the Website Checker Tool. Along with important indicators like the bounce rate of your website. These data indicators might help you better develop your website strategy.
Find out the technologies that the domain is built on by using this built-in component of Web Analyzer. In a single tool, it reveals the parameters of the technologies employed, content management systems (CMS), server software, and online platforms.
8. SEO Review Tools Website Checker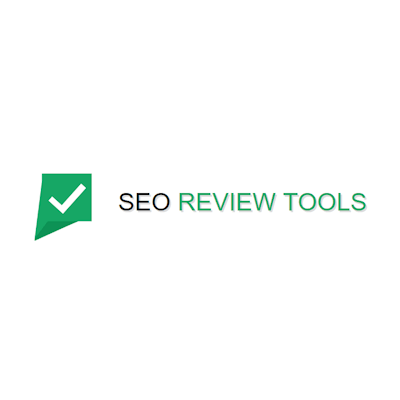 The audit report from SEO Review Tools Website Checker provides you with a thorough list of suggestions to assist you in optimizing your website. To create an actionable to-do list, all suggestions are grouped, i.e. errors, warnings, and passed content.
White-label SEO analysis is offered in the Website SEO Checker report. It also contains URL and backlink analysis, providing details on unique domains and IP addresses. It offers keyword information like CPC and aids in researching trending keywords. The analysis includes checking the Google Site Speed, internal links analyzed in the content, content length, title tag, and meta descriptions. The Website SEO Checker guarantees that your website contains AMP and Robots.txt files. The report also includes information on social media interactions and canonical URLs.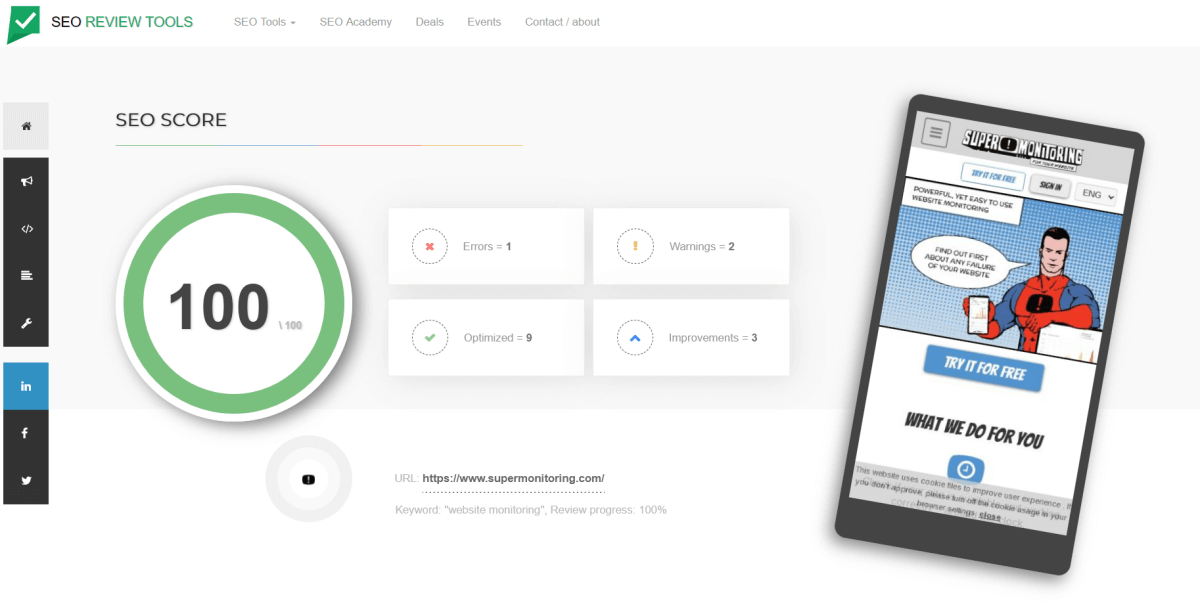 9. IONOS SEO Checker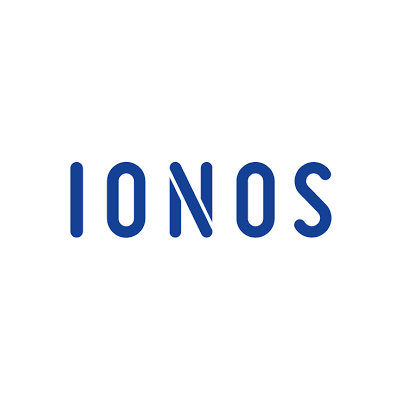 It's simple to check your website's SEO ranking on search engines using IONOS SEO Checker. You may run a thorough SEO test online in a matter of clicks to see whether your website complies with Google and Bing's standards. You may start or continue optimizing for search using this crucial information.
The SEO Checker program evaluates each important component of search engine optimization. You will get a thorough examination of the on-page SEO content, off-page SEO, responsive site design, and social media SEO, among other parameters. After entering your website address into the SEO site inspection tool, it will instantly start examining different parts of your website. The SEO analyzer is free for initial use. The average load time for IONOS has significantly decreased and is currently 736 milliseconds.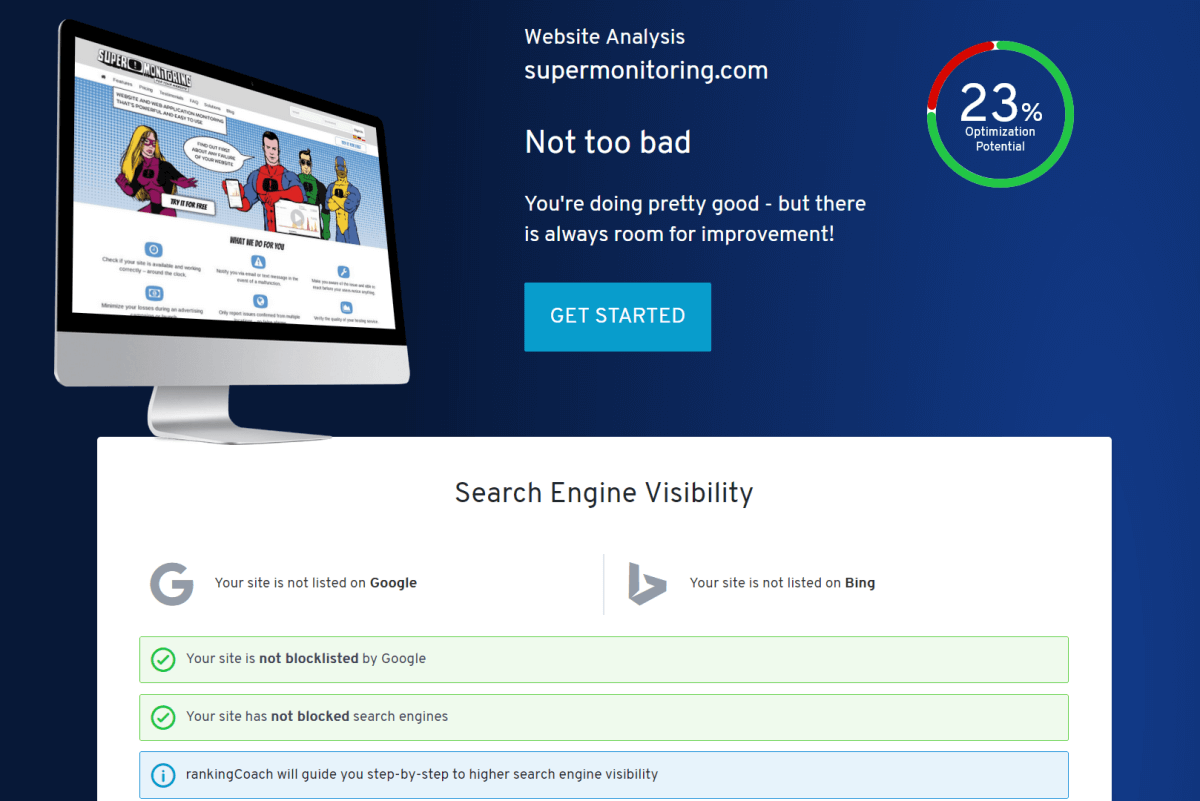 10. All-in-One SEO Analyzer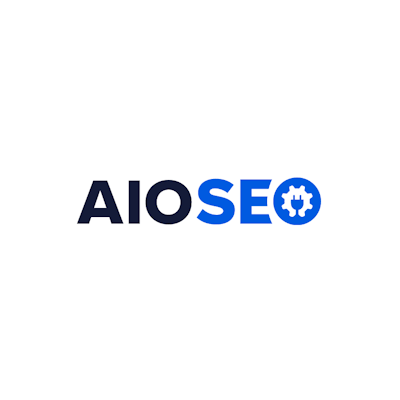 As the name suggests, it is an all-rounder tool that examines your content in just a couple of minutes! It does a quick SEO analysis of your website. Find any major errors that can be affecting your rankings and look at recommended SEO fixes in content.
There are no hidden error messages since all critical faults are thoroughly described with reports provided, so you know exactly how to resolve them. An increasingly significant ranking element is site speed. All-in-One SEO Analyzer evaluates your site's performance and provides detailed instructions on how to speed it up. The title, meta description, keywords, and other elements required for on-page SEO optimization are simple to add. Rich snippets for the Google Knowledge Graph and schema are fully supported by AIOSEO.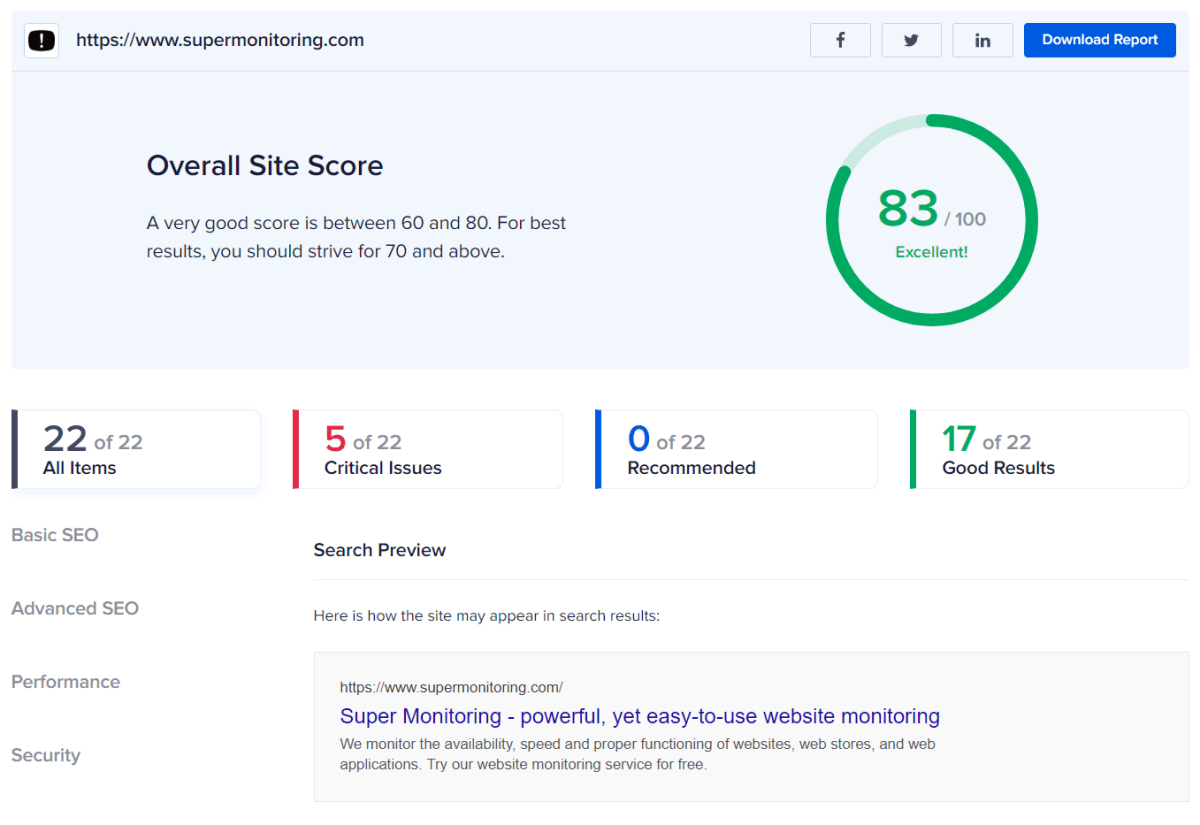 It quickly generates a WordPress XML sitemap as well as a video sitemap by connecting with Google Search Console, Baidu, Bing, Yandex, and Pinterest webmaster tools and notifying all search engines of any changes. By utilizing the Robots.txt Editor, you can give the web crawler full control over the folders and files you want AIOSEO to look through on your website.
Final Verdict
The success of your website depends on how well you follow search engine standards. These are the best alternatives to SEO Site Checkup, as discussed above. I have tried to evaluate different features of free websites for you at a single platform. I have used some of them, but the two I prefer the most are Rank Math and All-in-One SEO.
These sites provide a detailed report on their website, and their suggestions are much more reliable. These websites check all the matrices either keywords or sitemaps suggestions which are comparably good. You can get started with a couple of these free SEO tools, some of which are rather effective. All these tools are free and quite easy to use, but it's up to your requirements which website suits you better. With the help of these, you can rank your website in the top places.
Get notified about our new posts
By submitting this form I accept the
Privacy Policy
and I agree to receive blog-related information from Super Monitoring.