Reclaim – The "Super tool" to Get Your Time Back
There are times when a to-do list just becomes markings on the calendar without a proper course of action. Even if you've labored so much to order the things that you must do, the most confusing part is the tussle of figuring out when exactly you're going to do each task, in short, the arrangement of your time. Sometimes, there are meetings and daily tasks which force you to alter your schedule and you have to rearrange your to-do list repeatedly. This can create a lot of confusion and unnecessary stress.
All of this hassle can be solved with a smart calendar assistant tool. And this is where Reclaim comes into the picture.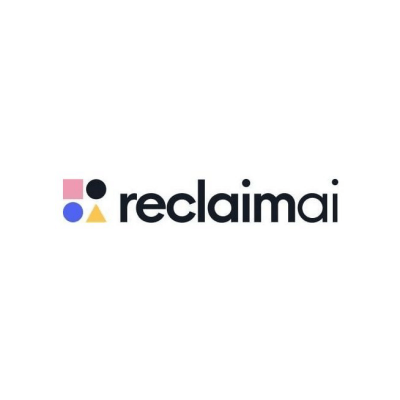 Reclaim helps you get your time back by assisting you to organize your calendar to focus on specific areas of your life. It is a smart tool that blocks flexible time for anything you want to do. Reclaim uses AI to ensure there are no clashes in your regular work and special events, so that you can use your time in the best way. It is integrated with Slack and gives pop-up notifications to remind you about your tasks and daily habits.
To know more about Reclaim just follow this article.
What is Reclaim?
Reclaim is a smart tool for organizing multiple calendars. It helps you automatically block time for your tasks and routines across all of your work events and personal schedule. This tool is designed for everyone to eliminate unnecessary time bounding and wastage.
Reclaim helps align your priorities with your calendar by understanding the amount of time you spend on different tasks every week, and arranging the time suitable for your important solo work through smart time blocking. This smart tool claims to save up to 40% of your workweek by optimizing your schedule and making sure your to-do list has a scheduled time to be completed.
Reclaim is primarily for the type of occupations that are more dedicated to being done remotely and on a computer, but it could also be used to schedule personal projects in spare time. The company ensures that all your data is encrypted every time, and it only stores the data that is necessary for the tool to perform better.
Features
Listed below are some basic features of Reclaim.
Flexible time blocking
It blocks time flexibly for your to-dos and other routines, and smartly toggles them into "free" and "busy" sections according to your schedule. It maximizes your availability while defending your time so you don't have to go beyond your limits to complete something.
Tasks and routines
Reclaim allows you to personalize your time blocks for Tasks and Habits with names and descriptions. With this, users have an insight into their priorities so that they end up disrupting their working cycle as least as possible.
Prioritized scheduling
It has the ability to customize the Tasks and Habits you want to prioritize week to week and order them by importance. You can completely reshuffle your schedule according to your high-priority time blocks when there is a sudden change in your routine.
Integrations
Reclaim is integrated with Google Calendar and Google Tasks, as well as Slack so you can manage your goals, create Tasks from Slack messages, check your to-dos, change your Tasks and Habits, and merge your Slack status to your calendar.
Support for synced calendars
It allows you to sync unlimited calendars with different objectives, and sync all of them to increase the availability of time so you can get a glance at your schedule at once.
Calendar privacy options
Reclaim provides options to customize how your events and time blocks will appear to others. You can also arrange your time blocks with advanced options for privacy controls such as "Personal Commitment".
Free tier limits
There is no limit on organization caps on the free tier and includes basic calendar sync, unlimited Task and Habit scheduling with limited customization, and it supports full integration with Slack and Google Tasks, and other calendars.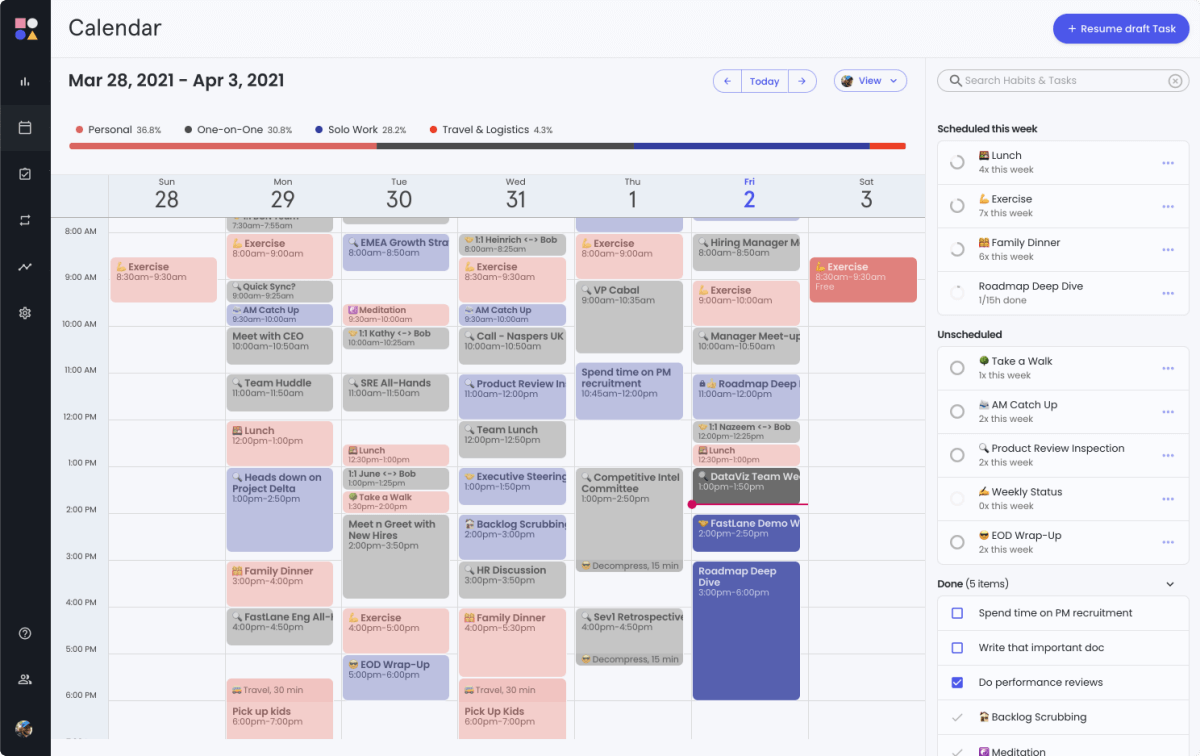 How to start working with Reclaim?
After signing up with Reclaim and importing all the integrated calendars, you have to go to the Settings through the left-hand side menu. From the list, you'll be able to choose the privacy settings for your calendar events and decide whether you want Reclaim to set up events for travel or whether to give you an unwinding session after back-to-back meetings with video conferences.
You can change the colors of the events you have set. With this Reclaim will also track and send you a report each week for evaluation. For example, you can compare the percentages of your time spent in "solo work" or in "team meetings." This feature of tracking, in general, is very useful for people who work in larger teams so they can better arrange their time according to their stats on different tasks.
A very important option in the Settings menu is the "Hours" option. In it you can set your working hours and personal hours for each day of the week. You are allowed to set more than one window each day, for example, Monday's working hours may be 9-5 while Tuesday's may be 9-12 and 3-6.
You can also adjust the amount of time you want to spend on each activity, set the window in which it should occur, and how often each week you want them to be scheduled. In addition, you can change the "Time Defense," or priority level, which is designed how hard Reclaim will work to prevent having to move these blocks.
Evaluating Reclaim
Let's see what the pros and cons of Reclaim are to better understand this tool:
Pros
It has an amazing depth of calendar management.
It provides you the flexibility to change time slots on the spot.
It works very well for arranging 1:1 meetings.
It creates automatic buffers after a meeting.
Cons
It's a little difficult to start working with it at the beginning.
You have to log in to the tool's website to manage a lot of stuff.
.@reclaimai – Smart calendar management for smart workers reclaim.ai/ via @supermonitoring
Conclusion
Converting a list of tasks into a proper plan is one of the most difficult aspects of work. Reclaim works in the very best way to grant users some autonomy over their schedules so that they can reliably estimate how much time they'll need for their tasks. Overall, it is a very smart application with scope for much advancement.
Get notified about our new posts
By submitting this form I accept the
Privacy Policy
and I agree to receive blog-related information from Super Monitoring.