Paraphrasingtool.ai – write plagiarism-free content
Paraphrasingtool.ai is the leading online paraphraser. The tool can generate multiple versions of any content. It is backed by advanced NLP, natural language processing, the branch of AI which enables computers to understand and respond to human language (spoken or written) in real-time.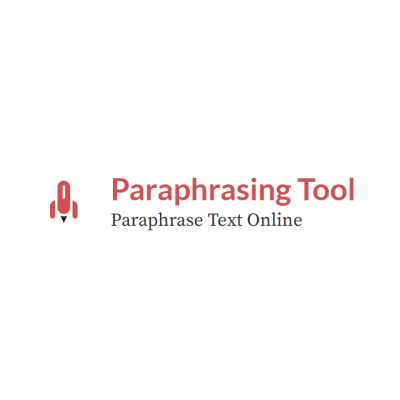 Since the demand for content is at an all-time high, the tool is being utilized by professionals all around the world to fulfill that need. Every copy contains the same central theme with a different word selection. Due to advanced programming, this sentence paraphraser can also improve the quality of your parent input as well.
Benefits Of Using Paraphrasingtool.ai
Here is how this tool can help you.
Reshapes sentence structure
Summarizes your paragraphs
Generates 100% original text
Eliminates Plagiarism
Makes your text coherence
Improves your sentence flow
Can do word substitution
Has an inbuilt grammar checker
Can translate into multiple languages
How Much Does it Cost?
Paraphrasingtool.ai is a free paraphrasing tool which doesn't require any credit card for subscription. The tool can be used for unlimited time while there are some restriction on the words for some tools.
For example, the Paraphrasing Tool can be used for 1000 words in one go while the Plagiarism checker can check up to 500 words.
How it can help to write plagiarism free content
The tool offers features that are used to drop the plagiarism percentage to 0%. The details are as follows:
1. Plagiarism checker
The first step in removing plagiarism is to find its percentage. The tool has an inbuilt plagiarism checker which can detect plagiarism.
We selected the following text to check plagiarism:
"With an array of data criteria including names, email addresses and firmographic information from which to choose, pinpoint exactly the lead generation approach that works best for you. Business Content's analytics will help you define your target market precisely.
Engaging content spans multiple marketing channels and carries your message in media to which readers respond. Well-crafted email campaigns, landing pages and blog posts are vital components to sparking interest and starting a dialogue."
Now, paste this text on the left window of the plagiarism checker.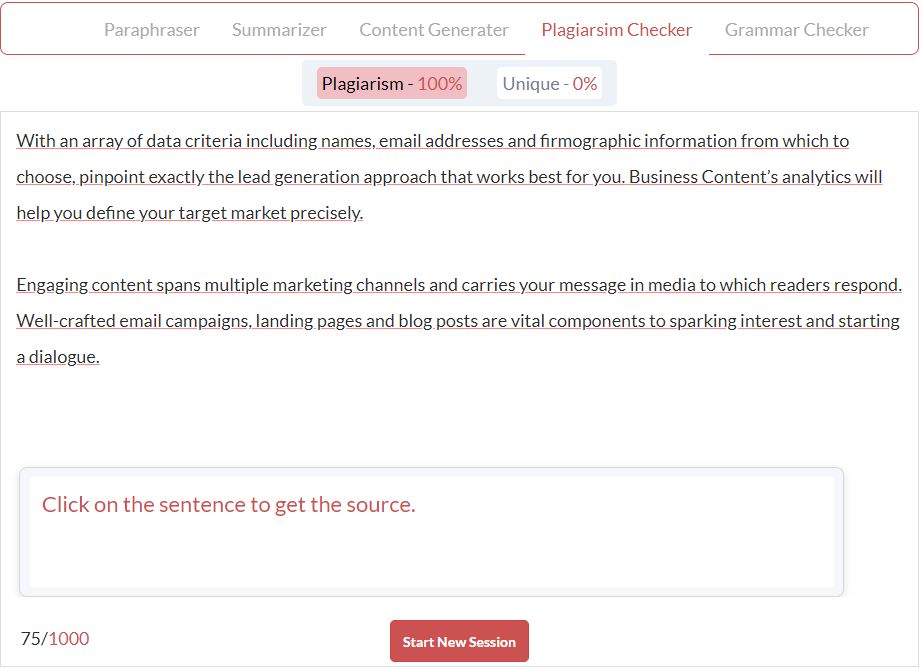 The tool shows a 100% plagiarism percentage.
2. Paraphrase
As evident from the name, the fundamental job of Paraphrasingtool.ai is to paraphrase the content. To facilitate the user demand, it offers multiple modes of rewrite. The usage of which depends on the requirement. These modes are:
A. Plagiarism Remover
It is the most basic mode. It is applied when you only have to do keyword substitution while keeping overall content the same. The tool alters keywords in a way that plagiarism can't be detected by any online tool.
We have pasted our content in plagiarism remover. Here's the result.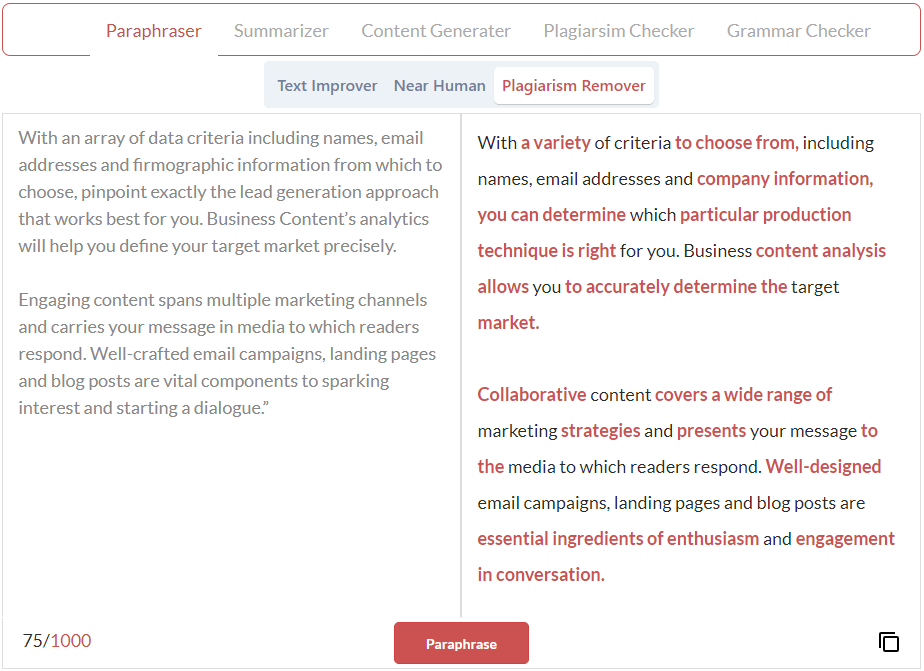 All the keywords have been changed.
B. Near Human
It is an advanced mode, which overhauls the rewrite. The text looks human and is undetectable.
That is how it looks in practice.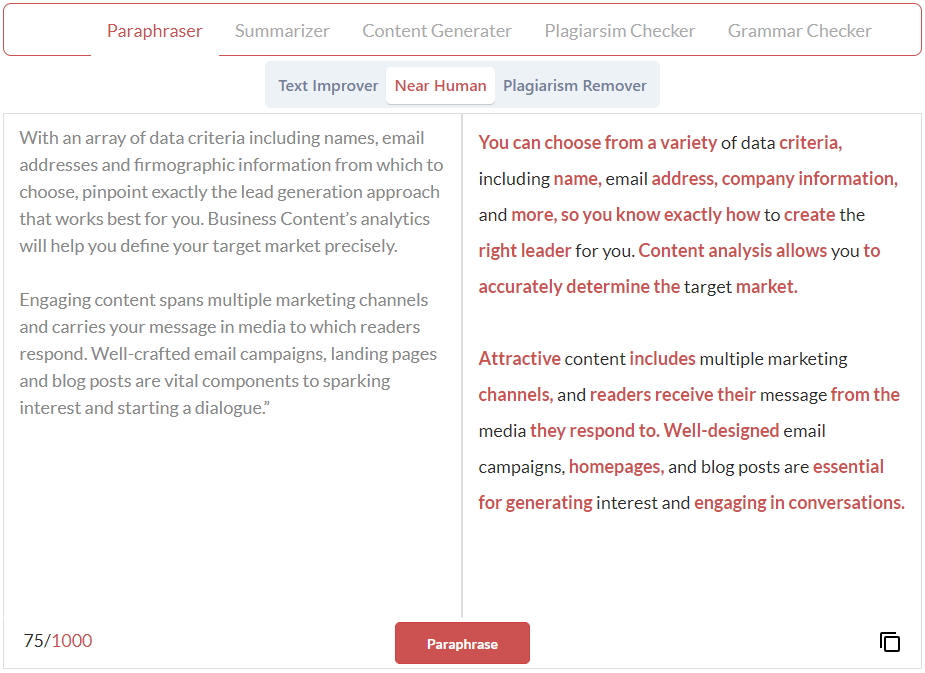 You see the same thoughts have been rewritten differently.
C. Text Improver
The most advanced mode. It rewrites content to make it more coherent, and better structured so that the audience can connect with it. The overall quality looks that of a professional writer.
In the picture below, you can see the "Text improver" option is applied.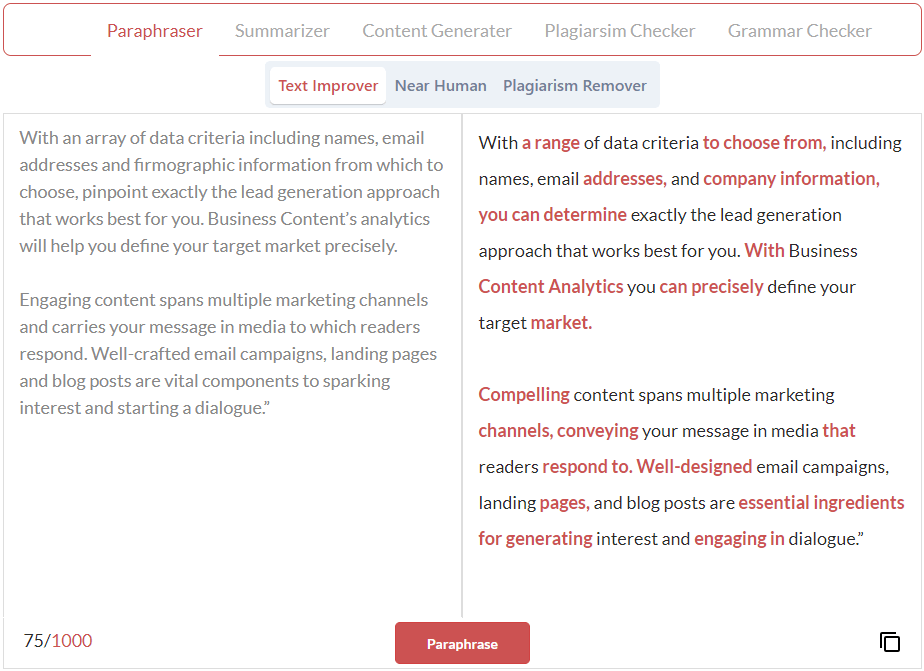 3. Summarizer
To further reduce plagiarism, you can opt for the "Summarizer" option as well. It takes your paraphrased content and rewrites the key points periodically.
The summarizer can sum up from 25-50% of the content in the form of bullets or paragraphs. The extent can be selected as per requirement. The summarizer condenses the key points of your rewrite so that nobody can determine the actual source.
In our example, we have pasted our rewrite from "Text Improver" in the summarizer. The selected percentage is 50%, the extreme limit of 25-50% range. Let's see how it appears.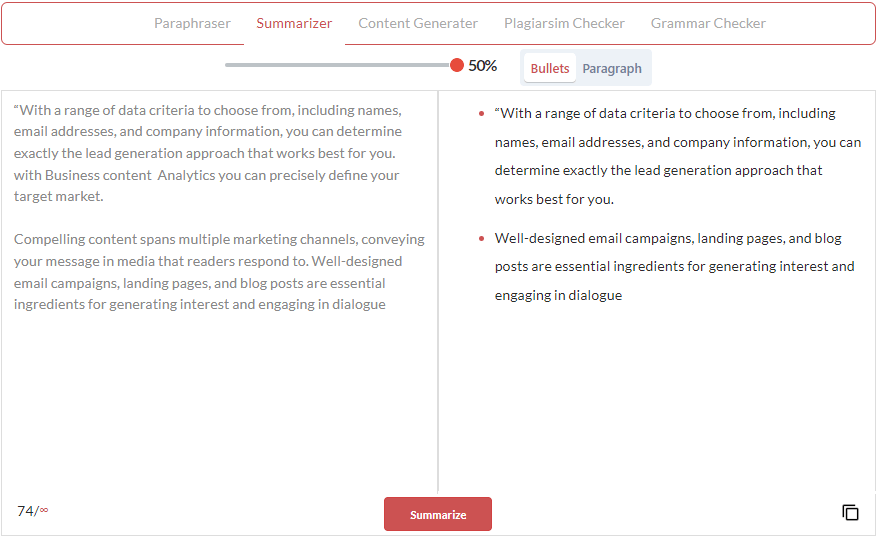 You can see we have selected the "Bullet" option in the summarizer. 50% of the content has been converted into bullets.
If you see below on the left window, you can realize that there isn't any word limit. That means you can generate such a summarizer with any input you want. The limit is infinity.
4. Content Generator
After that, you can simply paste your summary text into "Content Generator", It will expand the key points while using its algorithms. The article will be rewritten following the same theme but with elaboration.
The content generator has an option of receiving 100,200,500 and 1,000 words. For the free version, this limit is up to 100 only.
Let's see how it applies to our content. This is what happens when we enter our summarized paragraph on the content generator.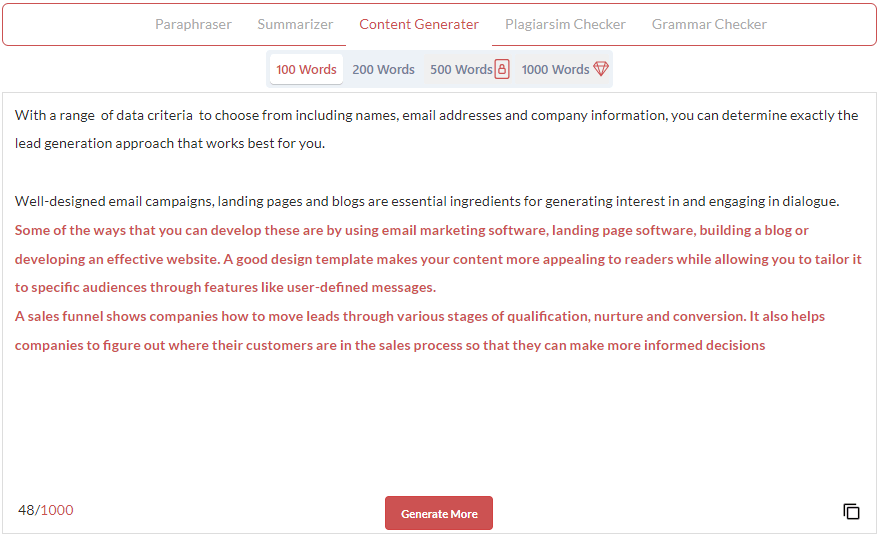 The red letters show how the content has been generated focusing on the topic of "Reader's Interest". You can generate further content by simply using the "Generate more" option shown below.
5. Grammar Checker
The next step is to check the grammatical accuracy of your content. For that, the tool has an inbuilt grammar checker, where you simply have to copy our content.
The tool would do the rest.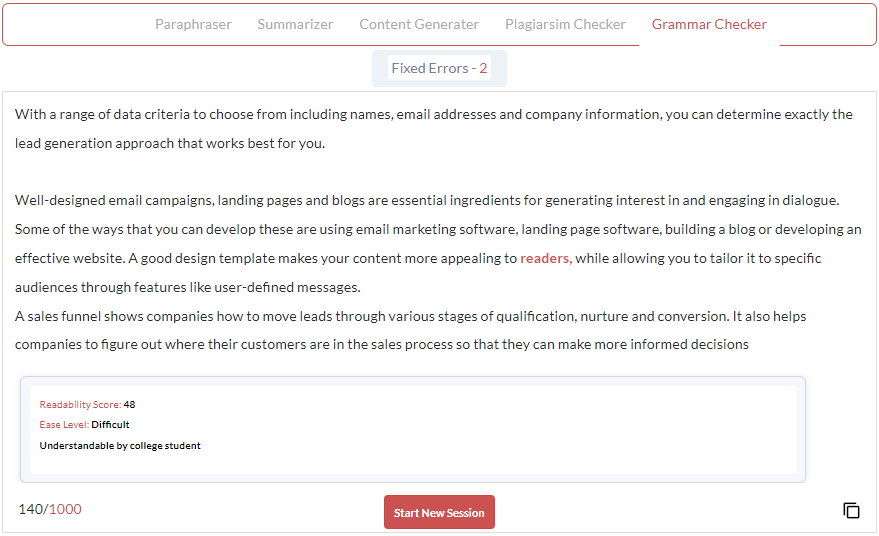 You can see that 2 Errors have been fixed. On the bottom, it shows the readability score and ease level of writing as well.
6. Plagiarism Checker Verification
In the end, you should get back from you started. Simply verify the content with a plagiarism checker. It would show that the content is unique.
In our case, here's the result of verification.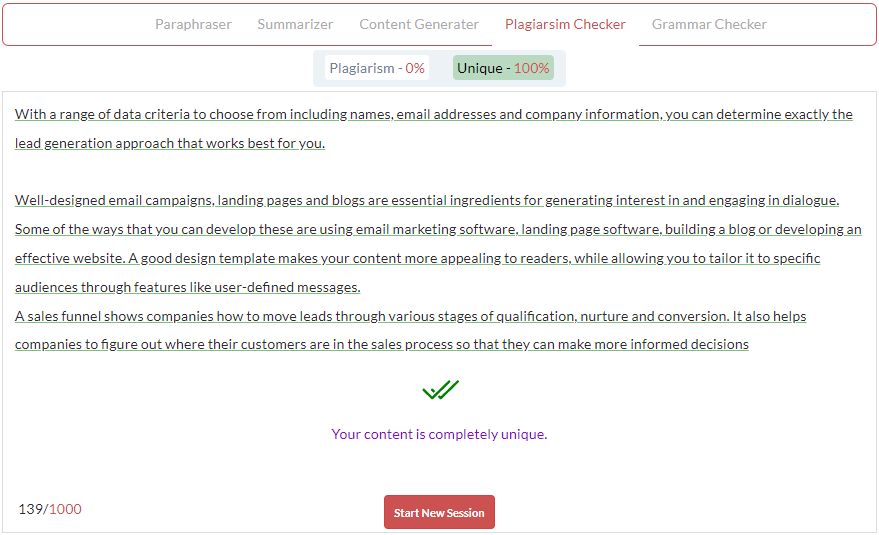 As shown above, the content is unique.
By using this method, you can remove plagiarism from any content you want.
What are some ideal uses of Paraphrasingtool.ai?
Well, this tool is not made for a specific purpose as paraphrasing tool may be use for different processionals. However, we have discussed some ideas use cases of this online AI-based tool below:
Academic Writing
Paraphrasingtool.ai can be a great help for academic writing, especially if you need to rewrite a paper quickly and accurately.
This tool will not only change the words of a text but will also keep the meaning intact. This is a great way to make sure that your paper is plagiarism-free and meets all the requirements of your professor.
Bloggers
This tool can be a blogger's best friend. It's a great way to ensure that your content is original, and it also helps to avoid any potential plagiarism issues.
When you use a paraphrasing tool, you are essentially rewriting the content in your own words. This ensures that the content is unique, and it also makes it easier for readers to understand.
The best way to use a paraphrasing tool is to make sure that the content you are paraphrasing is in your own words.
This way, you can be sure that the content is still accurate, and that you are not plagiarizing. For this, the "Plagiarism Removal" mode can be helpful.
Final Thoughts
If you are a content creator, you need to have Paraphrasingtool.ai. The tool would make your life easier by providing unlimited rephrasing with a quality that would be better than your initial draft.
After reading this, we expect you to know the introduction, various functions, and how to use this tool.
---
About the Author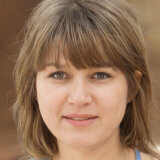 Emma John is a profound writer on AI tools and has a deep understanding of AI rewriters and paraphrasing tools. Emma studies computer science at the University of St Andrews and writes about the latest technology on a variety of websites.
Get notified about our new posts
By submitting this form I accept the
Privacy Policy
and I agree to receive blog-related information from Super Monitoring.