Know your competition with SimilarWeb
Nowadays, everybody is vying for online presence. As the internet market grows, so does the number of blogs, online stores, and websites. You can see it for yourself; the sheer volume of online stores and markets is ever-increasing. Because the Internet is ruling everything, you want to make sure you stand out of the crowd. Of course, there are a dozen other people doing exactly what you do and hoping to leave you behind. To be able to beat them and do better, you need to monitor them and know how they do what they do. Well, there's a way to know that too.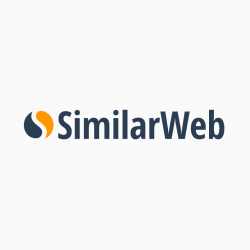 These days, a number of comparative tools are available online; tools that will tell you how you are faring on the Internet as well as how your competitors are faring. With the help of these applications, you can know how to grow on the Internet.
One such application is SimilarWeb. When we used it, we loved it! Read on to find out why.
SimilarWeb – Find out which way you're sliding over the Internet!
Started by an Israeli company that goes by the name of SimilarGroup, the SimilarWeb online competition intelligence tool gives you the insights and traffic on your website. All you have to do is provide the URL of your live website and see where you rank, how far you have managed to reach your audience, and how you do in user engagement. With these and more powerful insights, it is easy to know where you are going wrong and what you can do to make your website rule the marketplace.
Some of the important features of the SimilarWeb application are:
The tool lets you know where you rank as compared the top 50 websites in the selected industry or country.
It gives traffic estimates on a monthly basis. You can look up your website's traffic estimates for up to the last six months.
It enables you to see the number of times your page has been visited and the number of page views for up to the last six months.
The tool shows you where in the world your users are streaming in from. The percentage of user traffic from five leading countries can be viewed.
SimilarWeb provides a list of referring sites that your traffic is pouring in from. The list includes both, inbound and outbound referrals.
It lets you search traffic based on organic keywords and paid keywords.
You can use the tool to rank the top 5 social websites, such as Facebook, twitter, and Instagram, that send in traffic to your website.
It also provides you with the ability to view sites that have similar content like your site.
With a strong team and data-driven marketing strategies firmly backing it, SimilarWeb is ideal for agencies, marketers, analysts, and business developers.
How to use the tool
To start playing around with SimilarWeb sign up with Google, LinkedIn, or punch in your corporate email id and a few other details. Thereafter, you'll be asked to provide a phone number, website URL, and some information about your company to proceed. A slight inconvenience here is that the tool won't let you proceed with a free sign-up without asking for a valid phone number and other details. While providing a URL and information like team size and industry is ok, some users might not be comfortable in sharing their phone numbers with a tool they're just trying out. Demo versions should ideally not ask for such personal information.
Once you're through the sign-up phase, you'll be asked to key in your website's URL and the websites you wish to compare it with (your competitors). Thereafter you'll be redirected to a dashboard with various options like website overview, website audience, traffic sources, traffic destination, website content, competitors, etc. All these options are listed within the dashboard's left hand panel and can be expanded to reveal sub-options by clicking. The Filter button on the top right corner can be clicked to filter the data by date and by country. You can view the data for up to the last six months and from five leading countries, namely The United States, France, Netherlands, Germany, and The United Kingdom. In addition to these, the tool has usual notifications, favorite, emails, etc. options.
Each parameter in SimilarWeb's dashboard offers key insights into your website's online presence and ranking and help you analyze where you stand in comparison to your competitors. You can use this information to find out your improvement zones and work on them to boost website rankings.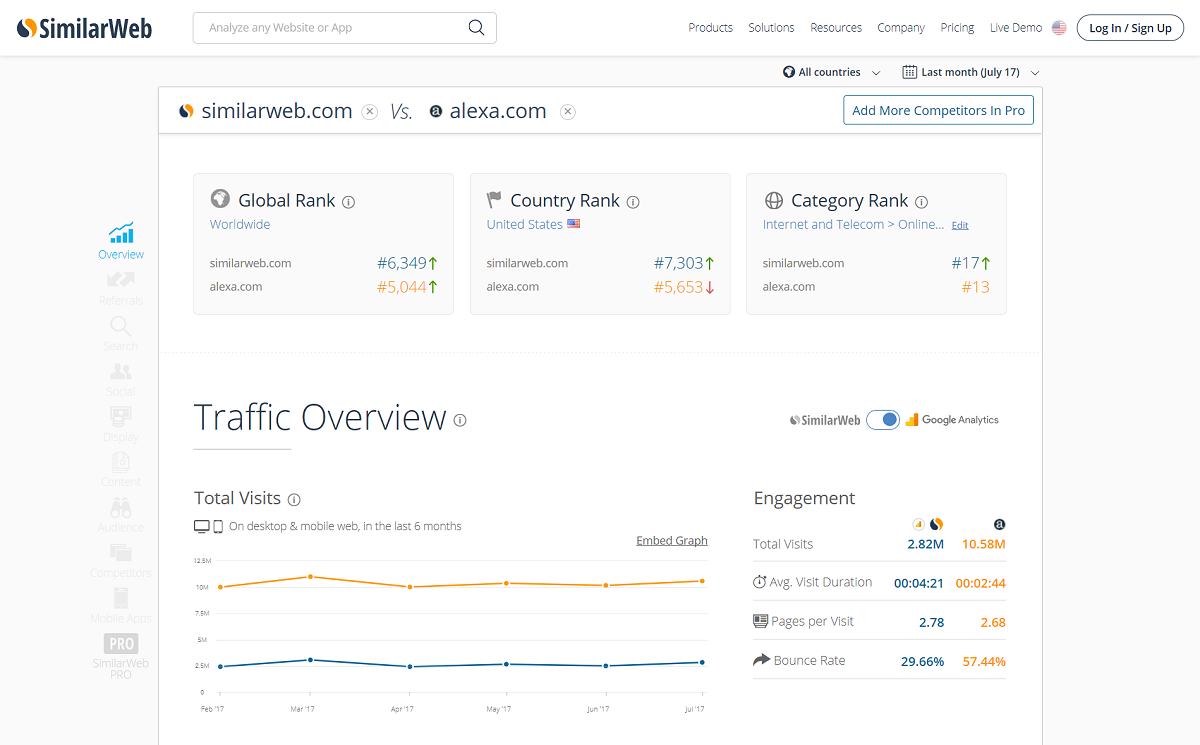 Why we love SimilarWeb and what we wish it would have
Pros:
It's fairly priced. After you wish to upgrade from the free package, depending on your requirement, you can move on to the Basic, Advanced, or the Ultimate package.
The free version comes with a lot of good features.
The interface is supremely easy to use.
The data provided is on a very large scale. You can see sources of traffic, their geographical distribution, traffic from social media, etc.
You can export reports and save them locally on your system or network.
While there are a lot of applications that will give you competitor analysis, there are only a few that will give you industry analysis. SimilarWeb is one of the few ones. SimilarWeb does the industry analysis job and does it very well.
If you are invested in the mobile market, SimilarWeb is really for you. It gives you app analysis so that you can draw conclusions about how you are doing in the mobile industry and what you can do to beat your competition.
SimilarWeb also gives you a complete report on how your competitors are doing and marks them against you, so that you can see where you are doing better than others and where you have the potential to up your game a bit.
Cons:
Sign-up issues
While data can be seen up to the last six months, it is shows only in full-month time frames. You cannot set the date range for data.
Estimates are provided on desktop traffic and not mobile and tablet traffic.
SimilarWeb does not give you a count of individual visitors
Estimate your competitors' traffic with @SimilarWeb similarweb.com/ via @supermonitoring
Verdict
We like the free version, and we urge you to try it out too. While there is a room for improvement, SimilarWeb is a good tool to have handy when you are just starting out to work on improving your online presence and performing competitor analysis. The free version has some limitations, but when you upgrade to one of the packages, you will be able to get the most out of the application.
Get notified about our new posts
By submitting this form I accept the
Privacy Policy
and I agree to receive blog-related information from Super Monitoring.
One comment:
Top Site:

Appreciate the recommendation. Will try it out.

October 5th, 2017 at 2:59 am