KeywordTool – serve content your customers are looking for
What is the difference between an article and a really good article that gets lots of traffic? Keywords! Keywords are the magic tricks that add that special "something" to a write-up to make it attract readers and benefit you. If you're a content manager or online marketing expert, you know what keywords mean. Others, imagine you could find out exactly what words people around the world are typing in their search engines. Wouldn't that knowledge help you in producing more output for your business, product or service?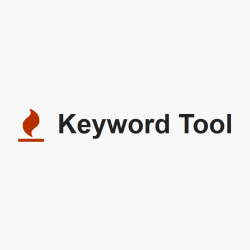 If you believe knowing the right keywords matter, this post is a must-read for you. Herein, we're highlighting an online tool that's built to let you know the most-relevant keywords for your online content. Meet, KeywordTool!
KeywordTool – Probably the best keyword research tool out there
Every time a user enters a word into a search engine, it reflects what they desire or maybe what they wish to express. And when it comes to expressing, the right words can make all the difference. KeywordTool gives weight to this thought by letting you know what people around the world are "searching" (as in Google-ing) for.
KeywordTool makes use of Google Autocomplete to generate long-tail keywords relevant to a search term. Long-tail keywords are 3 – 4 word phrases that people search about on various engines to find out exactly what they wish to purchase, read or invest in. As a seller, having the knowledge of the exact long-tail keywords that your target audience is searching for can benefit immensely. All you need to do is put in the right phrases in your content and watch your sales boom.
To help you understand the tool better, we've compiled a list of its attractive features here:
It performs quick searches based on monitoring terms that are searched often in the past and the frequency at which they are searched
It makes use of different Google domains and language combinations to extract Google suggestions and present them to you in a quick-grasp format
It is different from other tools that deliver keywords that are too general and not very descriptive
It doesn't hide popular keywords to increase ompetition or its revenue
Helps greatly in SEO and content creation
Especially beneficial for business running Pay-Per-Click (PPC) advertising campaigns
This is one tool any and everyone can use for keyword research.
Tool Usage
To start using KeywordTool just type a keyword relevant to your business (or a random keyword to try it out) in the search box given at the top of the tool's website. Select your target audience's country (India, U.S, Japan etc) from a drop-down. Also select a language and then press Enter to being the search. While you're customizing your search, you might want to pick the search platform you wish to target specifically. Your choices are – Google, YouTube, Bing, Amazon, and App Store. So basically, pick the search platform, country and language you wish to aim for, type in a keyword and hit Enter.
The resulting page highlights your search query on the top and presents a list of all unique keywords found. The list is divided into 5 sections:
Search Terms: the exact term of search (this may just be the term you searched for or a combination of 3 – 4 words to make a long-tail keyword related to your search term)
Keyword: the words or phrases related to your search term that people most search for
Search Volume: how often is the keyword or phrase searched for (this information is available only to Pro account holders)
CPC: cost-per-click that can be earned (paid by advertisers) from that keyword or phrase (this information is available only to Pro account holders)
Adwords competition: number of advertisers bidding on that keyword or phrase relative to all keywords across Google. This helps understand how competitive the keyword is. (this information is available only to Pro account holders)
You can make the search more useful by excluding negative (unwanted) keywords from it. For example, if you're searching for the fruit "apple", you can specify that you do not wish to include the unwanted keywords "iPhone", "iPad, or "Mac" in the search results. To specify more than 5 negative keywords, you'll need a Pro account. Once the results are loaded, you can copy all the relevant keywords or phrases found to the clipboard and paste to an excel sheet to keep a track for reference.
Apart from this information, you'll find some more useful stuff in an adjacent tab called "Questions". As is probably from the title, this section contains most frequently asked questions containing your search term. For example, if your search term was 'property', the questions tab would list results like how often is the question "are property prices going down" asked. The same 5 sections described above are found in this result page as well.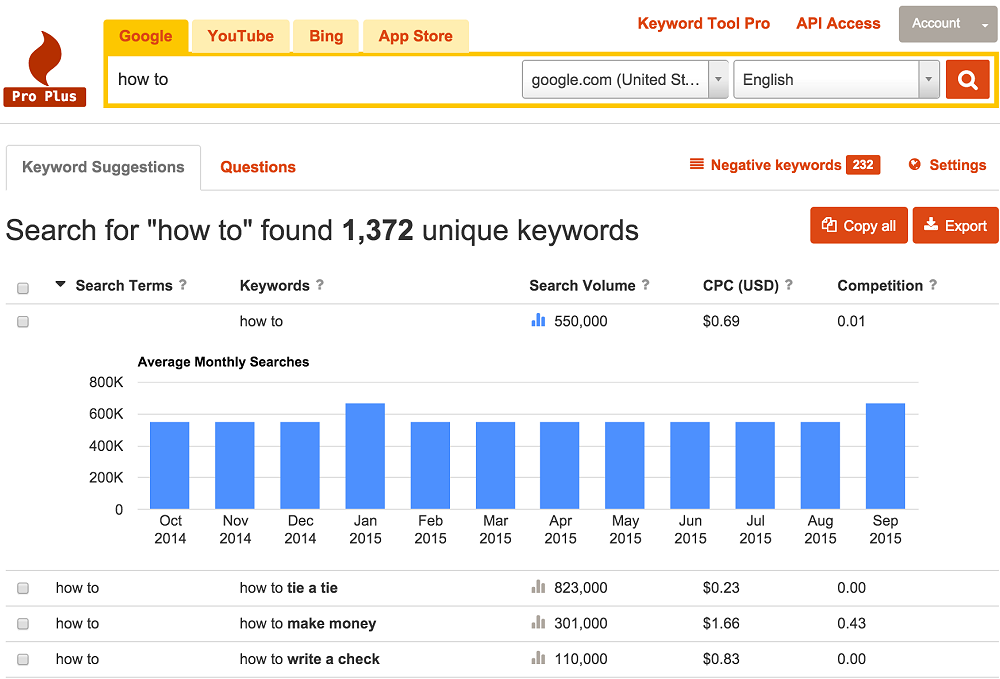 Additional Feature
KeywordTool also offers a convenient REST API that lets you generate thousands of accurate long-tail keywords, cost-per-click and adwords competition data for your list of keywords in JSON or XML format. To use it all you have to do is create an API request, specify location, language and receive data in JSON or XML format in seconds. The API can search volume data for up to 800 words.
High-points VS Low-points
The highs of the tool are evident. Considering the utility of the right keywords and phrases, this tool could be indispensable for businesses that make heavy use of online audience.
Coming to the lows, there aren't any really. There is a PRO account that comes at a somewhat hefty price, but for most everyday purposes and most small businesses, a pro account won't be necessary. So only the people who really want to go beyond the average use of the tool need to and actually can invest in the tool.
Find valuable keywords that AdWords hide from you: keywordtool.io/ @keywordtoolio via @supermonitoring
Concluding Lines
All-in-all, a highly constructive tool for online marketing experts, content experts and businesses; there isn't much thought required into whether you should use this tool or not. If SEO and content matter to you, this tool is perfect for you.
Get notified about our new posts
By submitting this form I accept the
Privacy Policy
and I agree to receive blog-related information from Super Monitoring.