Grab deleted domains and make money with ExpiredDomains.net
Quite a few of you reading this would be followers of the common belief that a domain that has expired or has been deleted is just gone. There's nothing more to it; it's just a website name which has lived out its life and has then been put to rest. However, this belief stands challenged by a service that goes by the name ExpiredDomains.net. If you simply go through this website, we're sure you'll discover a whole new side to the concept of domains. You'll discover that even a domain that has expired could be used to make a fresh start, with the same name but a whole new purpose.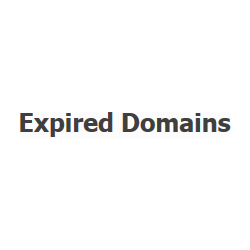 ExpiredDomains.net – The idea behind the service
They say one man's garbage is another man's treasure. Well you could imagine the same idea applying here. ExpiredDomains.net lists expired or deleted domains from different categories (.com, .net, .org, etc.) and different vendors (SnapNames, Flippa etc.) that can be backordered or re-registered.
Numerous domains expire each day for various reasons including failure to renew in time, fulfilling of original purpose or moving on to new projects. For most general users these expired domains don't have any value. But just like the skillful eye most aptly recognizes a diamond, expired domains present some amazing moneymaking opportunities but only to those who know what they're worth. These people include SEO and Backlinks experts. For them, an expired domain's backlinks and SEO strategies make it invaluable.
Often, even after a domain has expired, high value links pointing to it remain alive and well. Such active links if used the right way have the potential of pushing your webpage to a much higher ranking on Google search. So basically with ExpiredDomains.net, all you need to do is know how to separate a good expired domain from a bad one and pick it up in time (while its active links are still worth it).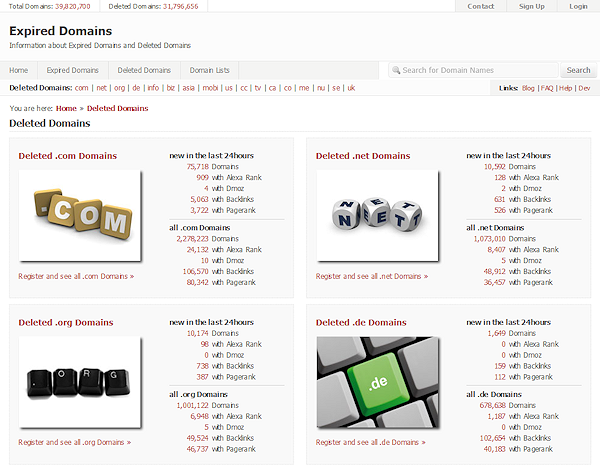 How it works
The first look of the website is very basic which actually gets you straight to the point without any distractions. So you land up at the website, read through the basic introductions (if you want to know more) and then just click on one of the domain categories (segregated by type or vendor) to see the real action.
For example, suppose you clicked on the "Deleted .com domains" link, you will be redirected to a page that lists down all deleted .com domains in descending order, that is, the ones deleted most recently (as recent as the day before) to the ones deleted up to 24 hours before and older.
This list actually contains the real information. It shows the name of the domain and adjacent to it is a bunch of valuable information and statistical data about that domain which can benefit anyone who wishes to purchase it. This information includes fields like the domains PageRank (PR), Alexa Traffic Rank, DNS availability of the domain (with .com, .net, .org variants and more), the timestamp when it was dropped, a link to backorder it and more. Just hover over any abbreviations of fields and helpful tooltips will explain what they mean.
While the ones deleted the day before can be found directly in this list divided into pages (there will be a lot of domains depending upon the timestamp at which they were deleted), the ones deleted more than 24 hours earlier can be found at the so called "free Memberarea" which is basically a prompt for you to register. The registration is free and a no-hassle task so you can go ahead with it if you need to view older domains.
Once you're inside the member area, you can see quite a lot of additional information about expired domains and a helpful "Introduction into the Member Area" link shows you where to find what.
To reorder a domain simply click on the "available" sign highlighted in green font adjacent to it and you'll be redirected to the GoDaddy purchase page for it.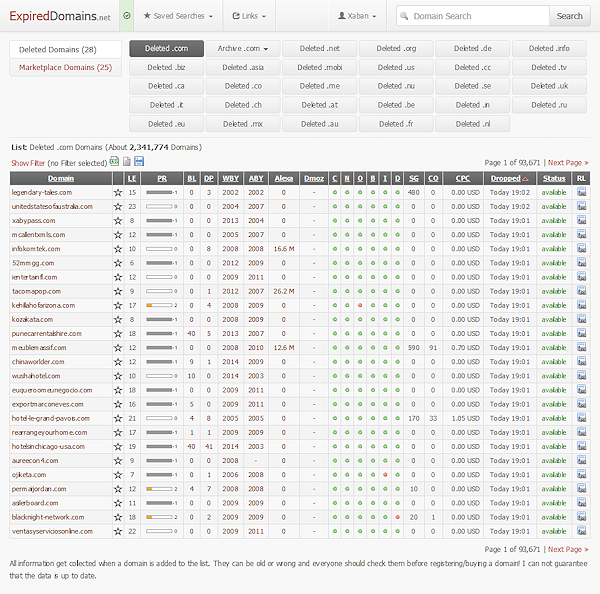 Pros v/s Cons
ExpiredDomains.net has some big pros in its favor. One, it quickly achieves what it claims to do. Two, it gives a potential expired domain buyer a lot of information about the domain before presenting the opportunity to buy. Three, it is one of the more reasonable expired domain backorder services present in the market. Four, free signup!
All that said, there are a few big cons against it too. One, it only pulls relatively recently expired domains. So if you want to search for domains that expired say 2 – 3 years ago, you'll have to search elsewhere. Two, you might find more user centric features on its competitors like prompts to specify whether you wish to purchase the domain as a Domain Investor / SEO expert or a simple website owner. Three, you'll find that additional popular features like domain auctions, domain brokerage etc. are missing from ExpiredDomains.net. And finally, it could sometimes prove to be beneficial only if you want to search for free domains.
Find lucrative opportunities among expired domains with expireddomains.net/ via @supermonitoring
Final Verdict
All in all, ExpiredDomains.net is a good place if you need to find quick information on deleted domains for free. It brings together quite a lot of data at one place enough to act as a one-stop solution for experts on the matter. Plus, you can view most of the information and even place reorders for recently expired domains without even having to sign up. If all this satisfies your purpose, this is what you should be using. For advanced features like domain auctions or more buyer preferences, you should scout for other services.
Get notified about our new posts
By submitting this form I accept the
Privacy Policy
and I agree to receive blog-related information from Super Monitoring.