Give Review, Get Review on Criticue.com
It can be difficult to get a review about website and apps for a budding web designer, bootstrapped companies or start-ups and paid reviews won't appear affordable when you have a shoestring budget. But you shouldn't drop the idea to have your website reviewed as it would always be helpful to get a review about your design as they always help you improve on your design.
Unfortunatelly, the application described here – Criticue – has been shut down and is no longer available. 🙁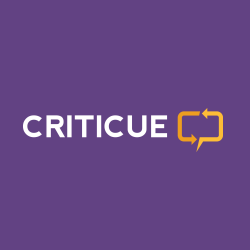 Critcue.com, launched in June 2013 and based in Poland is a platform for web designers, web administrators to exchange reviews and critiques about each other's website. To get a review all you have to do is submit your website for a review and other people would tell you what they think about the website. The average review is short, crisp, exactly to the point and has 53 words.
Submitting Your Website for a Review
For submitting your website all you have to do is type the URL of the webpage you want the review for and click on Take Screenshot or Upload Screenshot on Criticue.com homepage. The website would take a screenshot of your website automatically and submit it for a feedback. Before you receive a review about your website you would have to write a review for another user's website this forms the second step as you would be able to access your review only when you give others a review. It's like helping others to help yourself. The reviews that you submit are moderated by the team to make sure that your review is spam free, focused and is sensible. After moderation you'll receive the credit for your review and would be able to access the review for your own website. The Criticue team would take some minutes to review your feedback and you may have to wait for some time before you get the credits.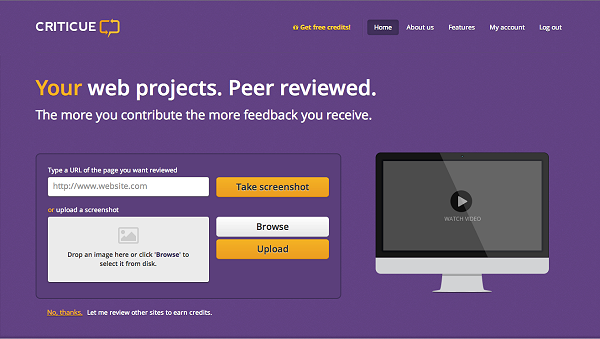 If you wish to get a feedback about a specific element on your website adding a personal message along with the screenshot. Adding a personal message would help the reviewers know that you want a feedback about a certain feature on your website. Criticue.com also provides the reviewers with a link to visit your website and experience it as any other regular visitor would .The reviewer is also allowed to rate your website on a scale of five.
Criticue also keeps a track of the time the reviewer spent on your website though it may not be that accurate but you can at least have an approximate value for the same. If you do not have time to visit other's website and post a review to earn credits you can surely buy it too and you'll have reviews pouring in within minutes.
Reviewing a Website
As you know that you'll have to post a review to get your website reviewed and these reviews are moderated so that the person who'll be receiving the review would get something out of it which means the review you post are supposed to be more than a sentence, should not contain foul words and should be easily understandable. There are many applications offering similar services but the way it is implemented on Criticue is unique and you would love the way you get your website reviewed on Criticue. They enforce the option of reviewing websites for others and this is what makes you have valuable comments about your design and you too would like to leave valuable comments for the other person to help him with the design. You can also post reviews about websites and help someone if you are bored or would like to have some time off your work.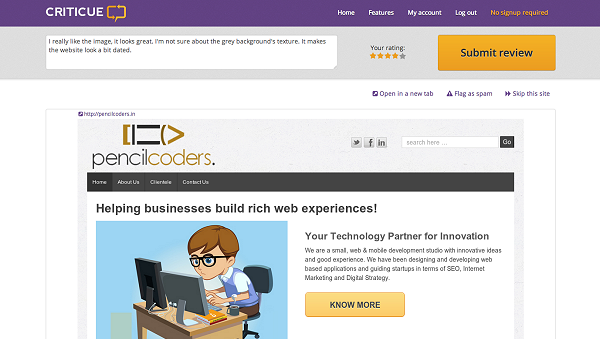 Receiving a Review
When you receive a review for your website you'll be allowed to rate the review you have just received. The site is based on peer reviews so you can never be sure of receiving a quality review as you cannot be sure that the other person has left you an honest and intelligent review. One should also be prepared to get a negative feedback while you post your website on Criticue. On the other hand there are some users on Criticue who would leave you a feedback that is not only limited to the design but also on the copy of your website, some wonderful ideas to implement and would let you know about some coding errors and typos too. There are people who would go beyond expectations to leave you an efficient review.
You can also respond to a review and get into conversation with the person who just sent you a review to clarify and follow up after a review, you can also see what the reputation of a reviewer is while the identity of the reviewer is kept anonymous and reviews confidential.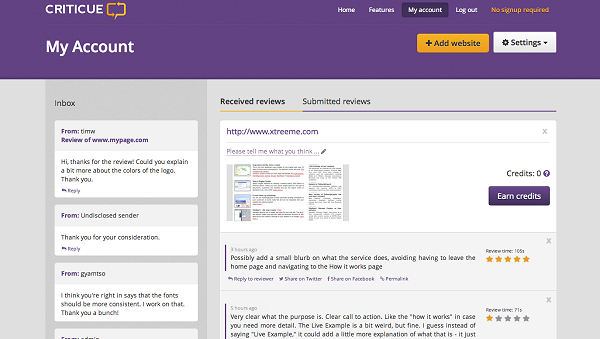 Plans and Pricing
Criticue.com is free to use if you review websites for others and if you don't have time to review websites to get reviews for your own website you can buy credits and that would cost 9$ for 5, 19$ for 15, 39$ for 30 reviews. They also run a referral program which enables you to earn credits by referring Criticue to people through your referral link.
The users at criticue come from different countries and backgrounds and everyone finds it helpful to get his or her website reviewed as it is an incredibly useful resource and it is almost invaluable to have a feedback about your website and design from others. With criticue you can keep on experimenting with new features and designs on your website and get first impressions from your peers at criticue as there is nothing as important as a first impression about a service. The reviews help you to get more perfect and clear to your customers. And you can have as many reviews about your websites as you want keep on making changes and submit your website for a review again and you would surely succeed one day as it is rightly said try, and try until you succeed.
The free critique community for startups and Web Designers – Criticue.com/ via @supermonitoring
This website is the simplest and one of the most promising startups of the year 2013. I would love to use this service and hope you would too! Do let us know your views about Criticue in the comments too.
Get notified about our new posts
By submitting this form I accept the
Privacy Policy
and I agree to receive blog-related information from Super Monitoring.