Generate a unique color palette instantly with Coolors
As a website designer, you need to play around with colors quite often. Be it picking the right color for banners, buttons, image borders or the entire theme of your website, a majority of a website designer's tasks revolve around combinations of VIBGYOR. And though it may seem to be trivial, selecting just the right combination of colors has a deeper impact on the appeal of your website than you might think. A good color scheme adds a lot of weight to a website's design and that's why web designers need to be spot-on with their choice of hues in order to deliver the perfect design.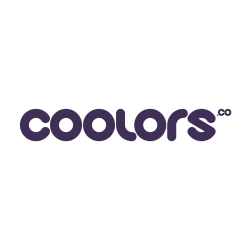 Every organization, individual and type of work/service has some color that is most suitable to them. But when it comes to promoting that organization, individual, or work/service online through a website, a designing editor or tool might not support each color. Thus, often, designers need to program color-codes into their designs. But, this process is rather tedious and involves a lot of monitoring and hit-and-trials to find the exact colors suitable. Wouldn't it be easier if there was a more direct way to choose any desired color instantly? With Coolors.co, now there is!
Coolors.co – Generate cool color schemes at lightning speed!
Coolors is an intuitive color scheme generator that makes color selection for your website designs extremely simple. Aimed at web-designers primarily, this handy application also has appeal for photographers in finding the right colors to complement their clicks.
Available as an Android / iOS app, you can install it on your mobile device / tablet, or use it as a desktop application through an Internet browser. It can also be used as an Adobe Illustrator / Photoshop add-on. Talk about flexibility!
The app lets you instantly generate a 5 color palette for any situation with the simple click of a button. And if you don't like it, just hit the button to generate a new palette. Talk about simplicity and ease-of-use!
It will keep cycling through different palettes that are all beautiful. What's more, if there are specific colors you like, lock them in and then let Coolors find the remaining colors for your palette that complement the ones you've locked in. Talk about variety, and awesomeness!
Above all, the tool if used as a desktop application is completely free of cost, no sign-ups required too. Talk about pocket-friendliness!
6 great plus points in just its introduction! No wonder, the app has users going ga-ga over it and media pouring in attention too! Let's check out its usage.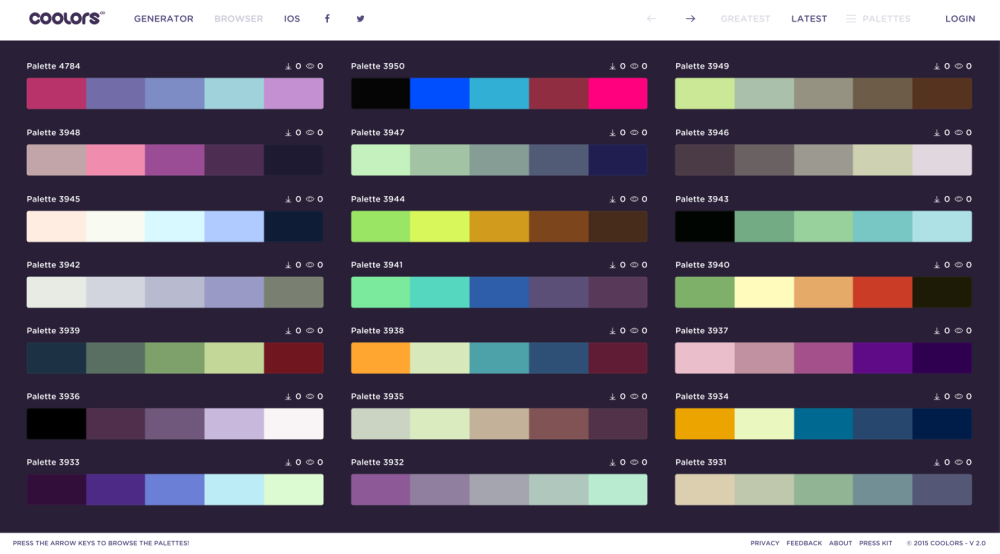 How to use Coolors.co?
As mentioned earlier too, using the app is a piece of cake.
Generator
Just visit the tool's homepage and click on the "GENERATOR" or "Start the Generator" button to start generating random color palettes.
You'll be directed to a page displaying a random color palette with 5 colors. Each color has a broad color bar depicting it and the associated hex code for the color is displayed at the bottom of each bar. Hover the mouse on any color bar and some options will appear:
HSB color model
RGB color model
CMYK color model
PMS value
COPIC value
A 2-way arrow
A camera icon
A lock
You can choose any of these options by clicking on them. Respective to each option, a few sub-options will be displayed beneath. For each color model 3 sliders depicting the current combination values and for PMS and COPIC values, the numeric values. You can use the slider to change the color values in color models or type in new numeric values for PMS and COPIC if desired. Each action will cause a change in the color of the respective color bar and also in the hex value displayed at the bottom. The 2-way arrow is a toggle button that lets you lock – unlock that color. The camera icon lets you upload an image or provide the URL of an image from which you wish to choose a specific color and find a matching palette. The lock icon depicts if the color is locked or unlocked.
If at any point you think you've made a change you don't like, hit on the 'UNDO' button from the top-right menu to reverse your action. You can also choose to alter other aspects of the color palette by clicking on the 'REFINE' button. Clicking on it will reveal 4 options:
Hue
Saturation
Brightness
Temperature
Each of these options will have buttons to increase / decrease their set values. As with the previous options, all actions will cause the color of color bars and their hex values to change. The only difference with these options being that these affect all bars at once whereas the previous set of options were specific to each color bar.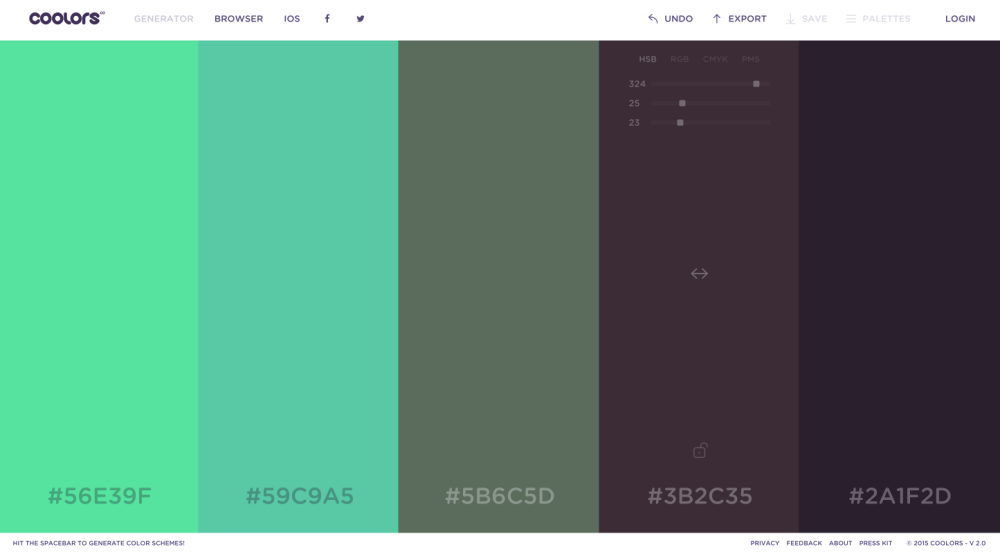 Once you're satisfied with the palette you've created / modified, you can export it by clicking on the 'EXPORT' button. Clicking on the button provides you with another set of options in which to save your palette:
Copy URL
PDF
PNG
SCSS
SVG
COPIC
If you wish to make alterations to the palette in the future, copy its URL. The URL will let you access it instantly without any login required. To save your color palette offline and share with other, save it as PNG, PDF, SVG, etc.
In order to save your color palettes within the Coolors app, you'll need to create a free account. Signing up is easy and quick. Once logged in, you can view all color palettes you've created and can save new ones for later use.
Browser
The other way you can use Coolors is through the color palette browser. Click on the 'BROWSER' button from the main menu to see all color palettes generated by users. You can choose to 'Resave' a palette to your account, 'Export' another user's palette or 'View' it in detail.
Tool Pricing
While the browser version of the application is free, you'll need to pay if you wish to use the app on your Android or Apple device or as an Adobe add-on. The prices for each are very nominal though and completely justified for an app that's so helpful and totally cool.
The easiest way to pick the right color set for your website graphics is here: coolors.co/ @coolors_co via @supermonitoring
Time to sum it up
We've already mentioned all the plus points of the app and as far as the negatives are concerned, there really aren't any. Bottom line – if you're a web designer or a photographer looking for interesting and out of the box color suggestions, do check out Coolors; you'll be beyond delighted!
Get notified about our new posts
By submitting this form I accept the
Privacy Policy
and I agree to receive blog-related information from Super Monitoring.