Design great HTML5 banners with Bannerwise
One of the most effective ways to market your brand online is through banners. Attractive, eye-catching banners don't just play the part of getting customer attention they are also one of the most traditional-but-still-relevant methods of promoting your brand image. The easiest example of effective banner marketing is affiliate program banners. They have all the relevant information squeezed into a box sized attractive banner that's so catchy that a significant percentage of people viewing them end up either visiting the affiliate marketer's website or actually enrolling for it.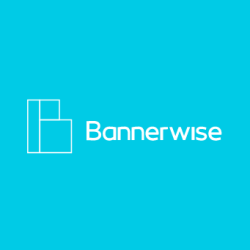 While using banners is one thing, designing them is an entirely different story. Actually, the way your banners perform depends to a large extent on the way they are designed. That's probably the reason organizations really wanting to reap a significant advantage hire banner designers and marketers dedicated to the end. However, affording good banner designers is not everyone's cup of tea.
So if you're a professional just starting out, does that mean you have to lose out on online marketing? Of course not! With Bannerwise, you can design and use engaging banners at an affordable price and capture all the audience attention you want.
Bannerwise – Easily create beautiful banners!
Bannerwise is a tool that lets you easily design ad banners of different sizes for different devices like mobile, desktop, and laptop. Suitable for businesses of all sizes, this cloud-based tool provides users with an interactive online interface where users can either upload images and design custom banners or choose from a rich library of pre-built templates. With users across the globe raving about it, Bannerwise is well on the road to grabbing the spot of the most coveted online banner designing product.
Key advantages Bannerwise offers include:
Allows thousands of businesses to scale-up their banner production
Optimize their display campaigns
Improve their workflow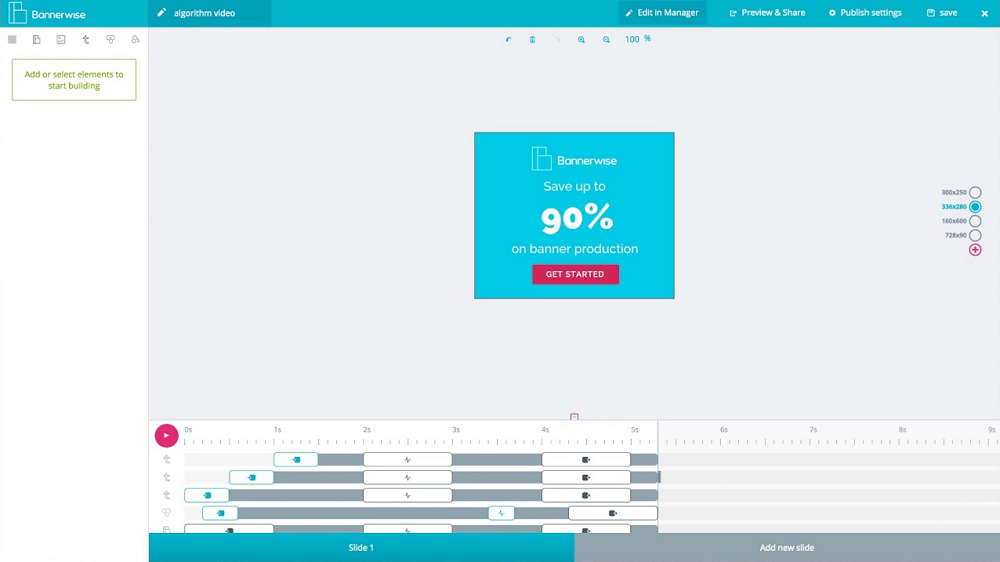 Here's a quick glance at the best features of Bannerwise:
Enables users to create professional HMTL5 banner ads quickly and easily
Intuitive interface means no coding skills needed
More than 100 professional animated banner templates
Allows you to create one design and scaled it to fit all sizes and formats automatically
You can edit all your banners simultaneously and monitor the changes keenly
Banners designed with the tool are compatible with most popular ad networks
Banners are high resolution but low in size
Professional animations in a few clicks
Allows easy banner optimization and testing
How the tool works
Trying a tool out before putting money on the line is the smart thing to do. So start using Bannerwise through the free 14-day trial by clicking on the dark pink button that says "Get My Free Trial" on the home page; doing that will redirect you to a sign-up page where you need to fill in your details. Once done, you'll reach a login activate page with the message "We're very excited to have you on board!"
But this is where the story sadly took a halt. Quite surprisingly, this message was followed by another one stating that we'll be contacted by one of Bannerwise's display experts soon. We weren't sure why we were rebuffed like that when the next screen we should have seen was the tool's dashboard. One reason we could think of was that we filled in dummy details since we simply wanted to check out how the tool looked in action.
But even after trying with legitimate details the message was the same. Either the platform was under maintenance or they weren't accepting new registrations at the time, or maybe that was just the way they operated. But it was unusual. There was nothing more we could do except wait around to be contacted.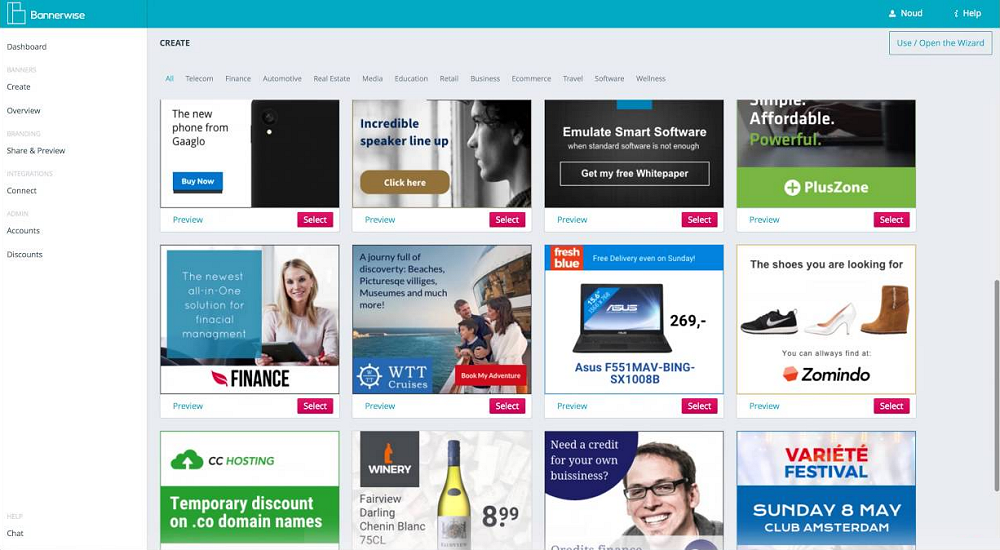 Pricing & Licenses
Bannerwise can be used in one of 3 flavors:
Starter plan that gives a single user access to create about 25 banners for €99 per month
Standard plan that allows up to 2 users to create unlimited banners for €239 per month
Professional plan that lets up to 5 users create unlimited banners for €399 per month
There are additional benefits associated with each plan with more features being available with the higher priced plans, obviously. Steep prices if you ask us, but then, if you strike the right cord with your audience through banners created using the tool, you'll end up making much more that you spend.
Design creative, elegant, catchy HTML5 banners within a few clicks with @BannerwiseNL bannerwise.io/ via @supermonitoring
Verdict
We actually couldn't find out any pros or cons with Bannerwise because we didn't get a chance to use it. At the time of writing this review, we were waiting for someone from Bannerwise to contact us and take things forward. So saying anything at this point would be futile. But we promise to put up a review of the tool's working with its pros and cons as soon as we get the chance to experience it.
Get notified about our new posts
By submitting this form I accept the
Privacy Policy
and I agree to receive blog-related information from Super Monitoring.
One comment:
Tim:

Hey guys,

Thanks for your very empathetic article on our tool! Indeed, we have closed our free trial and call back new sign ups that leave their (real) name and number. Maybe you guys have slipped through the cracks. Please reach out to me so I can check that out for you.

Cheers!

Tim

December 15th, 2017 at 6:28 am