Copyscape – The Plagiarism Police
Stealing and publishing content, ideas, expressions and thoughts authored by some other writer and representing it as one's own authentic work is called as Plagiarism. Plagiarism can be considered as an academic dishonesty, though it is not a crime but a serious ethical offence and Plagiarism can be considered equivalent to copyright infringement. With an increase in the use of internet over the last few decades there has been an increase in the number of cases of violation of right to intellectual property or copyright infringement.
After giving in a huge amount of time and efforts to create fresh, unique and engrossing content for your blog, you won't like it if someone steals or copies it and publishes the same content on his own website with his name or without giving you the credit for the content which he just copied from your website or blog. Plagiarism is one of the biggest problems faced by people on the internet today. Webmasters along with the popular search engine, Google are trying to figure out ways to combat plagiarism so that the people who use their search engine get the most useful results.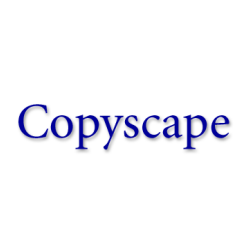 Copyscape.com is an online service which allows you to check if your content is unique and if it has been copied on some other website. Through Copyscape you can ensure that the whole of your content or a part if it is not in use on some other website. Copyscape is used widely by many big companies on the internet to keep a check on the theft of content from their websites.
Of all the anti-plagiarism tools available online Copyscape is the simplest, easiest and best available. It not only helps webmasters to keep a check on the copied content but also helps academicians to check if the student has cheated from the internet. All you need to do is enter the URL of your content (available with premium Copyscape service only) or you can copy it whole and then paste it on the website to generate a report containing all the links to the websites which have copied your text on their website.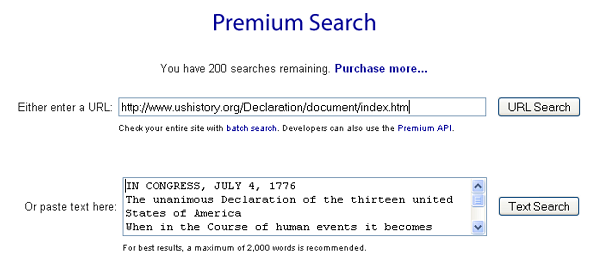 Without using Copyscape it would take you a huge amount of time and efforts to figure out the websites which copy your content and perform searches for the same on the internet for your content. And you may still skip some of the websites which may copy your words. While Copyscape comes up with links to the websites which have your content within seconds. Copyscape also offers you to place a banner on your website or blog saying that the content on this website is protected with copyscape and thus this may reduce the number of plagiarizers if you place this banner on your website.
How to use Copyscape:
Copy and paste your content into the text box or using the premium service copy and paste the URL and perform a batch search so that you can check all the content that is on your website.
The content you copy and paste should be at least 300 words and then copyscape would come up with the links of all the results. Even if there is a single sentence or a part of it copied from your website it would show up in the results and would be highlighted, it would even detect if a few words are used in the same sequence as on your website. If you are using copyscape to detect a few lines you may not get the results with that depth though.
Check out your results and figure out the text which has been highlighted and look for more appropriate content which matches the text you already have on your website.
Now that you have figured out which websites copy your text you can try contacting them to get the plagiarized content removed but this may take time and you may not get a response as well. In such cases you can report it to Google.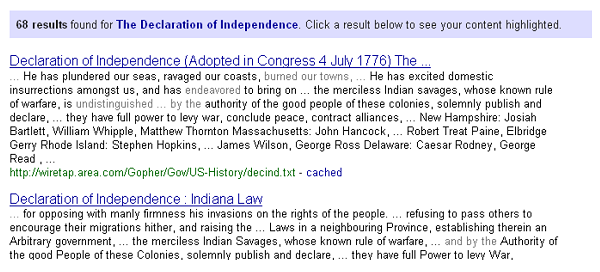 Individuals having more than one websites find the Batch Searching process very rewarding. It allows you to search many websites at a single click and you may resume your work once Copyscape starts searching. When the whole process ends, copyscape would send you an email with all the details of the search. You can integrate copyscape into your website or blog. It can be easily integrated to your content management system such as WordPress. This would save you the effort of logging on to the copyscape website to check for plagiarism when you are about to post new content on your blog or website. The copyscape website has a forum as well where you can interact with other users as well and get more ideas to prevent your website from content theft and what you should do if you that someone has plagiarized your content.
One of the most beneficial application of copyscape can be getting backlinks to your website. Yes you can get backlinks to your website by using copyscape! Amazing right?! We all want to increase the number of pages which hyperlink to our website so that we get some more traffic on our website, Using copyscape you can trace who has your content on his website and contact him with a message to remove the content or post the link to your webpage where the content originally comes from with proper citation and credits given to you or your website for the content copied. You can use copyscape along with other SEO tools to check out the website rankings of these websites and using this page rank you can decide whether it would be worth contacting the plagiarist and getting a link to your website added. In case you can't find any way to contact the website admin you can perform a WhoIs look up to get to them.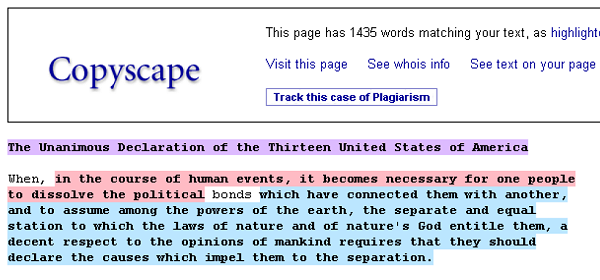 The Copyscape Premium version costs 5 cents per search and is an advanced version of the free version of the copyscape available. It allows you to work with a team of editors at a minimum cost. Manage all your cases of plagiarism until they are changed, removed or credited. Premium API ensures all your pages are protected. And with this premium version you'll be able to find more copies of each page searched comprehensively.
Check your content for plagiarism with the most popular plagiarism police – @Copyscape copyscape.com/ via @supermonitoring
Copyscape is the best tool available online for preventing Plagiarism. I would recommend you to give it a try and you won't regret using it. That's all for now. Do share your Copyscape experiences with us in the comments. Toodles!!
Get notified about our new posts
By submitting this form I accept the
Privacy Policy
and I agree to receive blog-related information from Super Monitoring.