PlagAware – Monitor Your Website for Duplicate Content and Plagiarisms
The currency of the internet includes original, high-quality content – useful articles that attract a person's attention and spawns links from other sites. This results in increased search engine visibility, which attracts more visitors to a person's website. When people spend more time on a website, its Google rankings are increased. It's really no surprise that there are established services available that protect a website's most valuable content from unauthorized plagiarism and copying.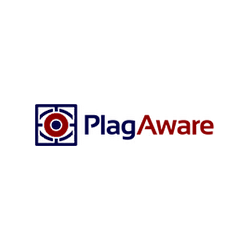 PlagAware
PlagAware is one of many available services that is best-known for its website plagiarism checks. While this provider is relatively small, it is every bit as effective as more well-known services like CopySentry and hence a viable CopyScape alternative. In fact, PlagAware's plagiarism searches were shown to be equivalent to, if not better than, the competition. This reason alone made us want to explore the company in-depth. We took a closer look at their service by using the texts on our website as an example. PlagAware requires you to register, but it is entirely free. Facebook and Google accounts are not supported with their registration setup, but it runs smoothly with no major issues. The interface may appear awkward, but its functionality is unmatched.
Once we were registered, we put PlagAware to work searching for any plagiarism that may exist on our website.
In addition to direct plagiarism searches which primarily focus on students and universities, PlagAware can also monitor website texts. This feature was what interested us the most, so we gave them a link to our domain. We had to authenticate our webpage, which was a little annoying. This can be done by placing a small text file inside of your website's directory (where an index.html file might be found). PlagAware wants to make sure that the websites they are monitoring actually belong to the people who run them. While this endeavor is certainly admirable, we would prefer instead that they use a DNS entry or a metadata tag to authenticate websites.
There were several positive attributes about PlagAware. For one thing, each individual page of our domain was fully automated. There is a default setting that adds all of the pages you would like to have monitored, while searching for plagiarism all at the same time. A small JavaScript snippet is also supported on PlagAware, similar to what Google Analytics uses, along with current sitemaps. Because the automated scan suited our needs, we did not test these other features. We weren't interested in monitoring pages that didn't contain any articles, so we defined exclusion patterns that allowed PlagAware to skip checking these pages. In order to achieve the desired results for our website, we tweaked the settings, which is something we strongly recommend if you plan on using this service.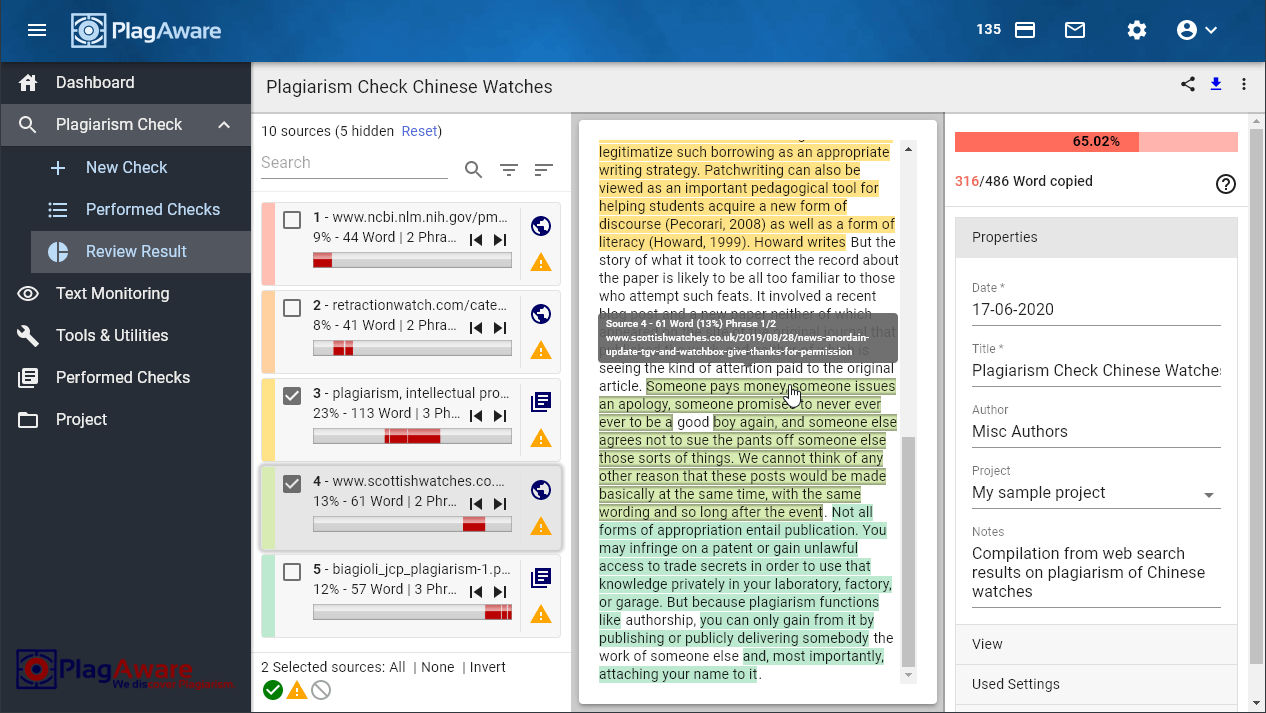 To Plagiarize or Not to Plagiarize
Once we changed some of the settings, PlagAware's plagiarism check of our webpage began running in the background. The first set of plagiarisms appeared under the "Monitored Texts" option. We were surprised with how much plagiarized content PlagAware found. There were 15 sites with duplicate content found on several of our pages. We were able to examine the sites in greater detail when we clicked on our page. We selected texts that were considered possible plagiarisms and viewed the results. We shared a teaser for an article that was featured on another page, and even included links to the article on our website. While this certainly was duplicate content, and we plan on revising our teaser texts from here on out, it was not really plagiarism because the source was actually cited. We considered the text PlagAware found as irrelevant. They included our decision on its whitelist so we wouldn't be warned about the page next time.
Tracking Plagiarism from Other Websites
This situation isn't the same for every site that PlagAware finds during its plagiarism searches. For instance, a variety of articles from other webpages used texts from our website and attempted to display them as their own original content. These pages were continuously monitored by PlagAware, while we contacted the operators of the websites that were using our content without our permission to request that they either remove it, or link the content to our website at the very least.
PlagAware also has a task management system that reminds you automatically to work on removing plagiarisms from your site and to classify new websites.
PlagAware Costs
PlagAware has several plans to choose from. All of their plagiarism checks use ScanCredits (e.g. if you have one page of plagiarism checked, it will cost you one ScanCredit).
If you only want to do a one-time check of your website or give the service a test drive, you should try a prepaid plan. The ScanCredits you purchase can be kept forever without a subscription. The least expensive prepaid plan for checking 100 pages is $13.99.
Subscriptions are available if you are looking for continuous website monitoring, starting at $3.99 a month. We recommend this option for smaller websites as it does the job efficiently for the price.
You can also scan up to 10 pages of website content with PlagAware's free plan. The operator will usually request that you indicate on your website that you are using PlagAware for regular monitoring.
A General Assessment of PlagAware
Pros
Can be used for free (up to 10 pages can be scanned)
Contains a variety of different setting options
Includes an automated webpage capture feature
Monitors texts continuously
Offers affordable packages (prepaid or subscription)
Cons
Their interface feels and looks old-fashioned
You cannot login with a Facebook or Google account
There are no plugins for Joomla, WordPress, or other CMS
You are required to verify your domain
Training is necessary in order to use it
Is It Worth Your While?
One question was raised at the end of our endeavor: was it really worth our while? You'll have to decide for yourself. We found the plagiarism check to be quite useful in detecting plagiarism on our website. The solution for resolving careless duplicate content was fairly simple. Private website operators can also be persuaded to either remove the texts entirely or reformulate them. For large crawl farms, the situation is very different. Their business models primarily consist of capturing large-style websites and producing entirely new content automatically. The solution to this situation is easy – you need to make it more difficult for crawlers to attempt to do this with your website's content.
The final verdict: PlagAware didn't have any major weaknesses that we were aware of. While the interface was a bit old-school, their plagiarism scanner worked well. Numerous plagiarisms were uncovered on our website that we weren't aware of previously, which affected the duplicate content of article abstracts on other webpages. Obvious plagiarisms were accurately recognized. We didn't track every single plagiarism issue, but overall, the overview was very useful.
We recommend that you use PlagAware on your website. This tool will reveal some surprising results!
---
About the Author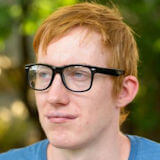 Nicholas Wiley is a lifelong social media enthusiast writing for several tech related blogs. He has a background in creative writing and storytelling and is passionate about high quality unique content.
Get notified about our new posts
By submitting this form I accept the
Privacy Policy
and I agree to receive blog-related information from Super Monitoring.