CoPatterns – A Master Resource for Psychological Patterns
Do you want to build a powerful product, content, campaign, or advertisement? If so, you might know the importance of human interactive elements.
People are often unable to match their thoughts with the audience, and this results in a constant disconnect and failure of the entire campaign. This is where behavioural science works wonders in creating an impact on viewers or readers.
Behavioural science helps you understand predictable patterns of human behaviour and once you have that box ticked, you can design an environment that helps people make a decision in your favour. But most of us struggle to include these elements since we rely mostly on lengthy research papers or Wikipedia pages for insights. It sure is boring to dig in and find out the hidden information since it's presented in a purely academic fashion.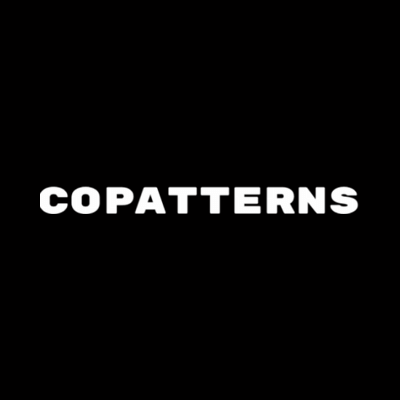 But what if we told you there's a better way to do this? In this article, we'll introduce you to CoPatterns, a resource that offers numerous templates of such behavioural connects. Join us to explore more.
CoPatterns – Timeless Psychological Patterns
CoPatterns is a library of psychological patterns that can guide you in the right direction. It's designed to assist you make your knowledge more accessible to the audience. It not only makes you include user-friendly language in your campaigns but also helps you communicate and connect better with the audience.
The resource has been constantly including new patterns and evolving to provide advanced features for better functionality. Here are some of the prominent features of the site.
Best psychological patterns at your disposal
The resource comes with an extensive library of patterns in form of articles that are easily accessible. If you're looking for insights into your campaign, product, or content, CoPatterns is the best resource for you.
Filter by objective
You can remove all unwanted components by using this feature. You don't have to go through all the articles if you're clear about the objective in your mind. You can choose one or multiple objectives given below and filter out others:
Trigger action and decision making
Help with memory and recall
Develop trustworthiness
Create Relevance and familiarity
Build a perception
Boost self-esteem
Arrange by order
Using this feature you can arrange your information in random, latest, or top-rated order. It will sort all the articles in a meaningful order to make it easier to understand. The latest order configuration will sort all the latest articles on the basis of your preference whereas the top-rated configuration order will provide you the most viewed or liked articles. It's the best way to limit reading without compromising the results.
Cards display
The website has been designed with a minimalistic outlook with easy access to information. Cards are used for displaying content and a basic description of a resource is given on the home page as a preview so that you can get an idea about the content even before opening it.
Different font sizes and bold text
You can adjust the different font sizes and change the text highlights according to your preferences.
Sharing option
It comes with an easy sharing option where you can simply copy the link of the text and share it over different social media platforms such as Facebook, Twitter, WhatsApp, Telegram, Pinterest, LinkedIn, Tumblr, Vkontakte, and Gmail.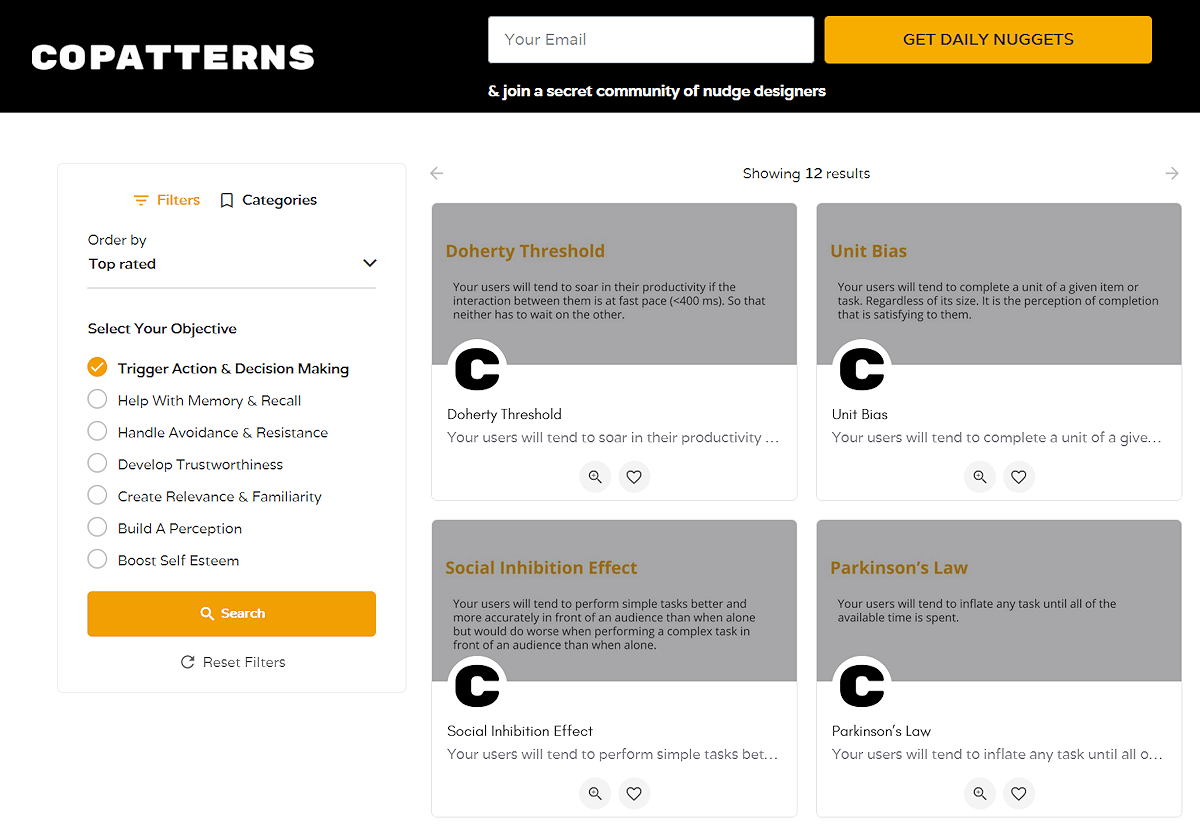 How it works?
You don't have to do much to access the content on CoPatterns as the website comes with free access. Moreover, you don't even need to sign up or create an account. You can also bookmark the articles for reference later. Here are the steps you need to follow:
Just head to CoPattern's official website. On the home page, you'll find a display of different behavioural insight cards with a short description preview for each.
On the right side of the home page, you'll find different filters where you can select the objective of your interest and remove unwanted insights for better results.
On the left side of the same page, the categorization tab is provided to filter your objectives in the random, latest, and top-rated category.
Once you open a card, you'll get a brief description with insights focusing on your audience. For better behaviour analysis, a situation or context is provided so you can better understand how to lay out the campaign or content. You will also get an idea about how you are going to apply this technique and the source of it.
The website is constantly updated with new insights and analysis. You can get access to new updates by providing your email and subscribing to their "Daily Nuggets" newsletter. On the top centre of the homepage, you can find the tab to provide your credentials.
Evaluating CoPatterns
What we like
The filters prevent the reader to go through all the articles and offers better visibility to the entire database.
No account or registration is needed to get started with it.
Simple design with card display visualization that offers a preview of articles.
You can share information free of cost with easy copy-paste link sharing.
Daily updates with simple email credentials.
Bookmark feature is available if you want to save the behaviour insight and read it later.
What can improve
No consultations are given to the people who are reviewing landing pages. Also no insights on how they can understand to apply the principles.
Real-life examples are missing. They can help understand principles for in-depth analysis and applicability.
Switch to a better way of research with copatterns.com/ via @supermonitoring
Final verdict
Behavioural science helps you predict, prevent, and manage the damage that can occur with dull content. It will help you manage better interaction with your viewers which is critical for active engagement and results. CoPatterns' timeless psychological patterns will provide you all the resources for better behaviour analysis of your customers. The features of this site will give you a better understanding of the psychological traits and help you use them in a better way in your day to day work for better business opportunities.
Get notified about our new posts
By submitting this form I accept the
Privacy Policy
and I agree to receive blog-related information from Super Monitoring.