Conduct meetings online with Bench
The corporate world is moving from physical to virtual offices. The days of going to office and attending important meetings are becoming fewer by the number. And why shouldn't they be? With the increase in transport and logistics problems, everybody prefers to stay at home and finish their work from there. In the bargain, they save some precious travelling time. With this increasing trend, we hear more terms like work from home, freelancing, and so on.
While the problem of staying connected to the network is increasingly solved by better remote network solutions, the challenge lies in connecting with your clients. The audio/video toll-free bridges did solve the problem to some extent, but that was all they could do: share voice and video. The need urgently arose for more. Organizations were looking for not just interaction, but collaboration. People needed to not just see and hear but also share more data in real time.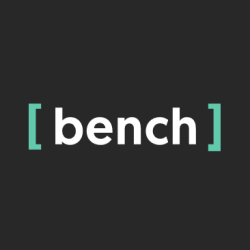 The online market cottoned on to this need of the hour and a huge surge in the number of online collaboration tools and applications was witnessed. In the last few years, many such applications have been launched with their number still increasing.
With so many competent tools out there, how do you pick one? Well, we're here to help! Today we bring to you the complete, tried-and-tested review of Bench. Read on to know if this online meeting platform can actually do what it claims: get shit done!
Benching with Bench
The highest selling point of Bench is that it works on a browser. That means you don't have to worry about downloading the program, checking if it is compatible with your system, installing it, and encourage other people to download it. Just log on to your account in Bench and share the browser link with your meeting participants. It's really that simple!
Think of the Bench as a physical work table that is used by all parties to work on and share what they are working on in real time. With Bench you can send text messages, make notes, share files, and even work on the files together as a team. And the best part of it all is that everything you do on the bench stays there unless you wish otherwise.
Let us take a look at some of the best features of Bench:
No more dialing-in business. With Bench, all you need to do is share your browser link with your team and you are set to collaborate.
Sending agendas on emails is in the past. You can make a note of things you wish to discuss with your team and share it with them before the meeting.
Bench comes with a whiteboard, so if during the meeting you need to sketch something out or just showcase your creativity, you can use the whiteboard to shine. Of course, everybody can work on the whiteboard simultaneously; that's what collaboration is, isn't it?
It allows you to share screenshots of single tabs, the whole desktop, whatever you need.
The files you want to share with the rest of the team can be saved before the meeting starts. The tool gives you the facility of creating folders and saving all your files in them. The folder is accessible by all participants.
The audio quality of Bench is out of this world. Give it a try, you will really feel like you are all working on a single work bench. The tool is a fun to work with and ensures full participation of all parties in the conference.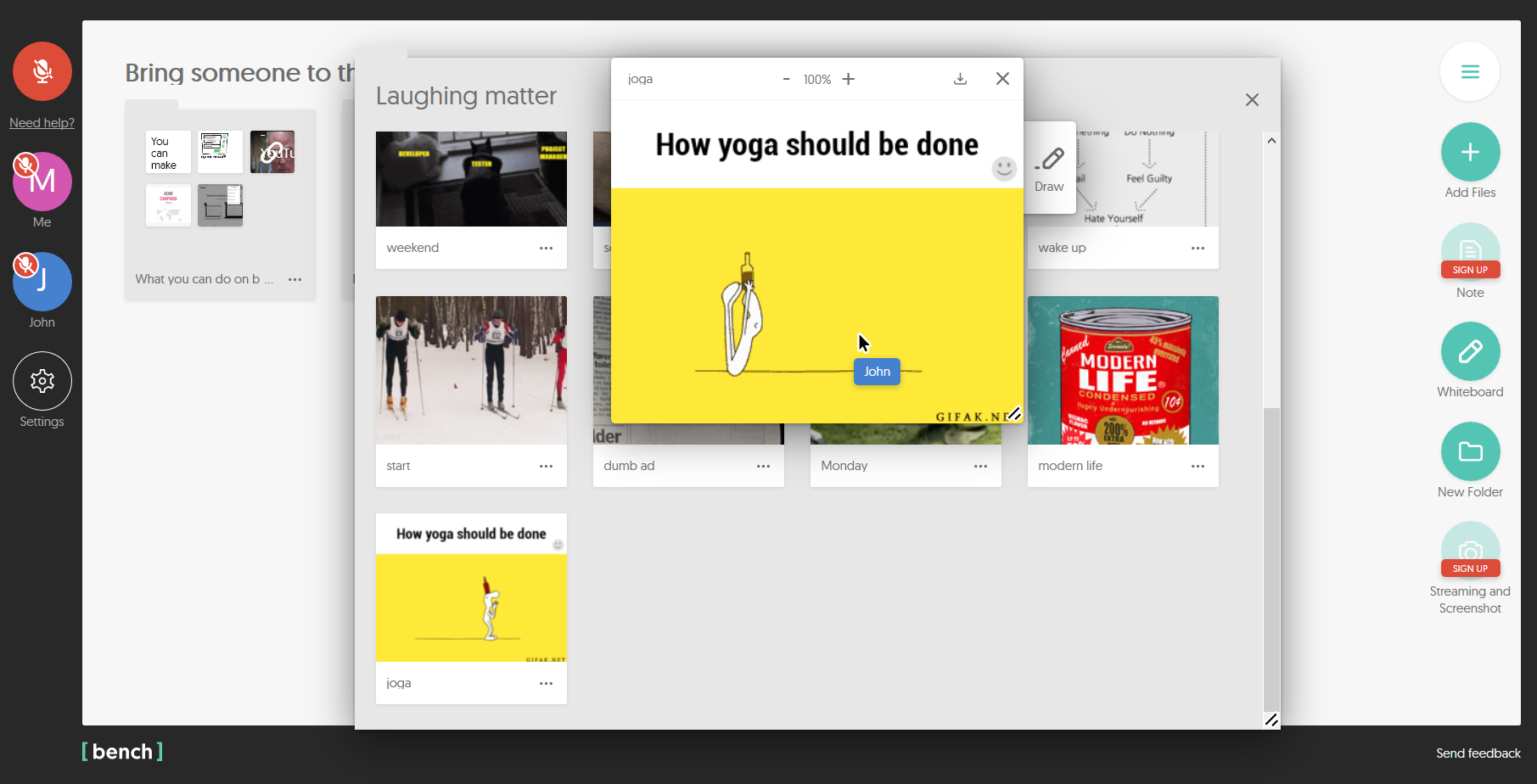 How to work with Bench
There's no installer program that comes with Bench; just a light-weight extension that can be installed on your browser. It takes no more than a few seconds. There is a demo available on the tool's website that you can check out to learn about it quickly. It doesn't need to sign up too!
To start using the tool you need to create an account. Click on "sign up" on the top right corner and punch in your credentials to do that. Once you create an account, Bench gives you a dashboard with your benches listed on it. You can click the New Bench button in the right navigation pane to create a new bench. The bench you create will be displayed within your dashboard. Click on it to open it.
After you open the bench, click the Invite to talk button in the left navigation pane to share the link of your meeting with everybody else. To share files with your team, click the Add files button in the right navigation pane. You can drag-and-drop files into the tool's interface, click to browse, or upload them via online platforms like Dropbox.
To create notes that you need to focus on in your next meetings or just points you need to remember, click the Note button. Clicking the Whiteboard button opens a drawing space with all the required drawing tools you might need. They're pretty basic but then, to present more complex ideas you'd be using a proper presentation tool, right? Other options include New Folder creation and Streaming and Screenshot that allow you to show your browser and desktop to the other participants LIVE.
To go back to your dashboard, click on "My Benches" on the top left.
Pros VS Cons
Key benefits of the tool include:
The tool is free of cost so it's ideal for freelancers and non-profit organizations. They have reasonably priced packages for teams as well as organizations.
Bench really does a good job at making remote working stress-free since everything is done in real-time.
The tool is completely collaboration-friendly; doesn't need any installations.
Drawbacks include:
The first time you use Bench, you might get a little confused with so many things happening at once. But since the learning curve is pretty low, everything starts to make sense really soon.
We really wish it could work with mobile phones. While it does work on tablets, we are hoping mobile integration is somewhere on the roadmap.
Make online collaboration fun, with Bench usebench.com/ via @supermonitoring
Final Take
Other than the few obvious limitations, we absolutely love Bench. And we totally encourage you to give it a chance. In our opinion, Bench could be better than any other collaborating app there exists today in the market.
Get notified about our new posts
By submitting this form I accept the
Privacy Policy
and I agree to receive blog-related information from Super Monitoring.